M&A Markets Continue to be Fluid
Beating 2019's record-setting deal count seems unlikely, though new deals continue to percolate.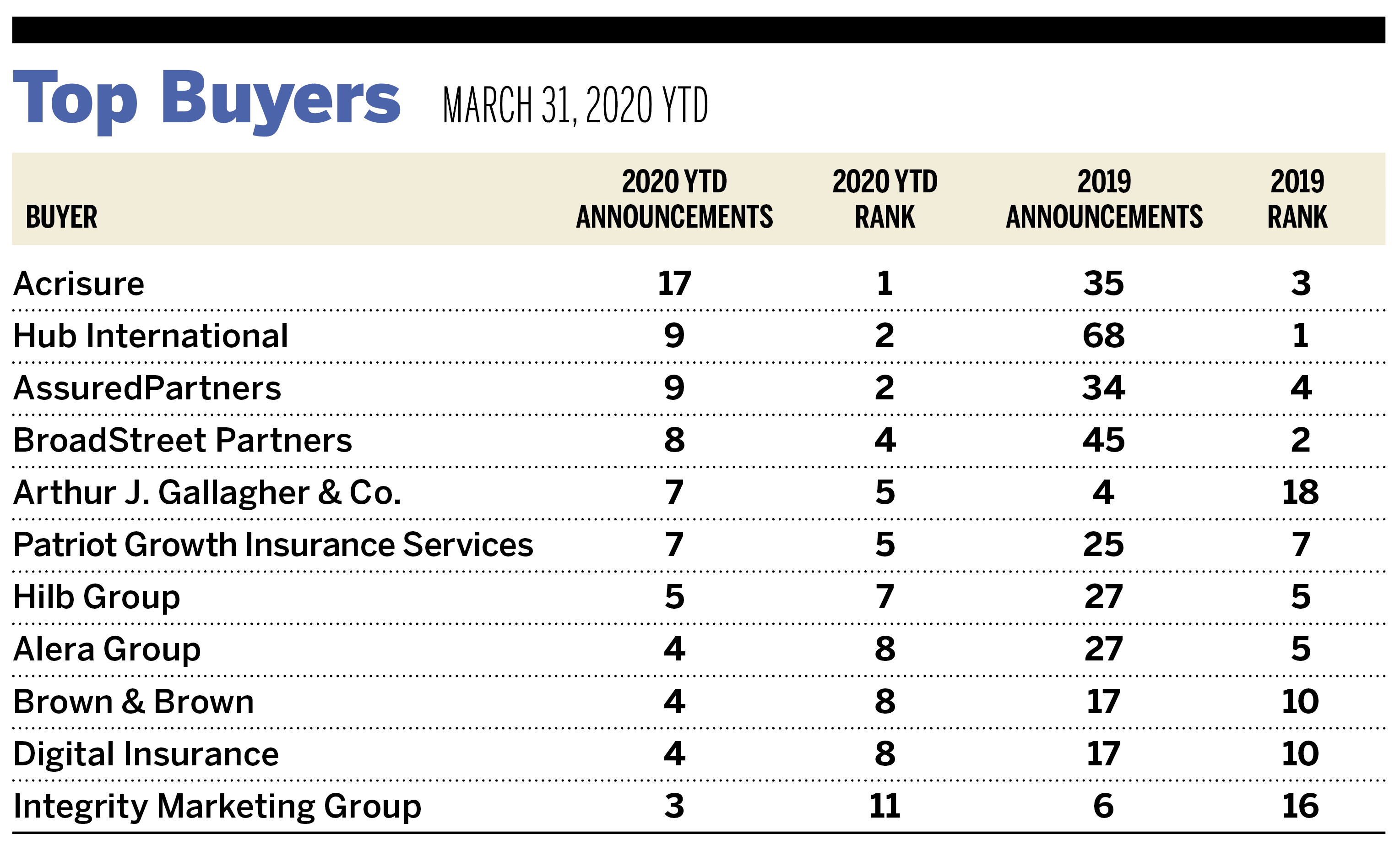 Is "fluid" even an appropriate word to use anymore?
I recently spoke with a CEO of one of the national brokerages, and he told me it's probably better to describe our situation as a raging river at this point. As you have all undoubtedly experienced, change is occurring on an hourly basis, let alone daily or weekly.
In the April issue of Leader's Edge, I predicted 700+ deals as we provided an overview of 2019 and looked ahead at 2020. This was pre-pandemic and finalized in early February for the April release date. The reality is we will likely fall short of 2019's record-setting deal count of 642 announced transactions. Any prediction of where 2020 will end would be pure speculation—something we are trying to avoid.
Here is what we know today. As of March 31, 2020, there have been 134 merger and acquisition deals announced for sellers based in the United States. The total number of transactions is a 29.1% decrease compared to this time in 2019 (189 total announced deals), but it is an 8% increase from the 2018 first-quarter total of 124 transactions. These figures are skewed due to an abnormally active month in January 2019, when 93 transactions were announced. Also, some firms are slow to announce, so some additional 2020 deals will likely be added in future updates.
We expect second-quarter transactions to continue at a fairly steady pace, as some deals closed in April and many others were set to close in May and June. There has been a slight slowdown as buyers work through the logistics of a fully remote workforce. Many acquirers are being thoughtful about how to onboard and begin integration in an environment of social distancing. Most buyers have plans to close the deals that were under Letter of Intent pre-pandemic. However, we are not yet sure how this new work environment will affect deals in the third and fourth quarters. We continue to sign up new clients and are having first meetings with potential partners/buyers, albeit virtually through videoconference technology.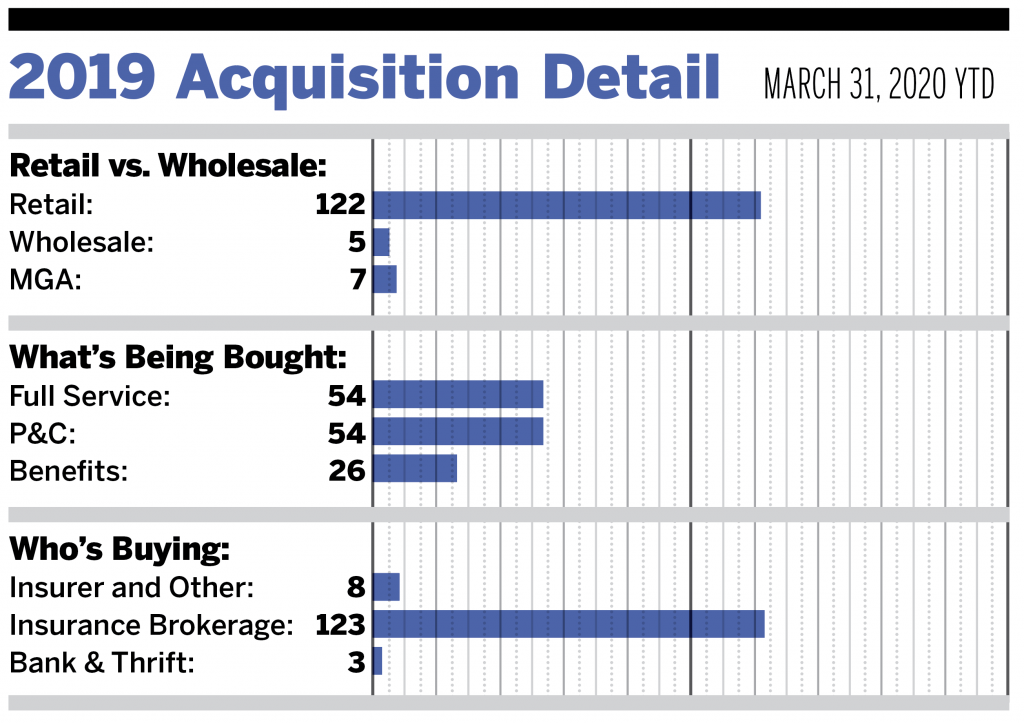 Private-equity backed firms have made 80 of the 134 (59.7%) announced transactions as of March 31 and maintain the incredibly strong presence we have been seeing for several years. Additionally, independent firms accounted for 29 of the 134 (21.6%) announced deals, in line with the segment's three-year (2017, 2018, 2019) average of 22.6%.
BroadStreet Partners, AssuredPartners, and Acrisure made up the top three most active buyers in the first three months of 2020, contributing to a combined 26.2% of the 134 deals announced. The top-10 most active PE-backed firms of 2020 have made 70 of the 134 total transactions (52.2% of the total).
On March 9, Aon and Willis Towers Watson announced a definitive agreement to combine in an all-stock transaction. The terms of the agreement state that each Willis shareholder will receive 1.08 ordinary shares of Aon and Aon shareholders will continue to own the same number of ordinary shares in the combined company immediately before the transaction closes. The current transaction will have a combined equity value of $30 billion, with the combined company having more than $20 billion in revenue. Subject to shareholder approval at both firms as well as regulatory approvals, close is expected in the first half of 2021.
Finally, another top-100 transaction was announced on April 1 when Marsh & McLennan Agency acquired Schaumburg, Illinois-based Assurance Holdings, which is slated to act as MMA's Midwest regional headquarters.