Ahh, the Open Road…
Some of the more complicated barriers to autonomous vehicle adoption are America's car culture and the intricate partnerships necessary for data regulation and safety.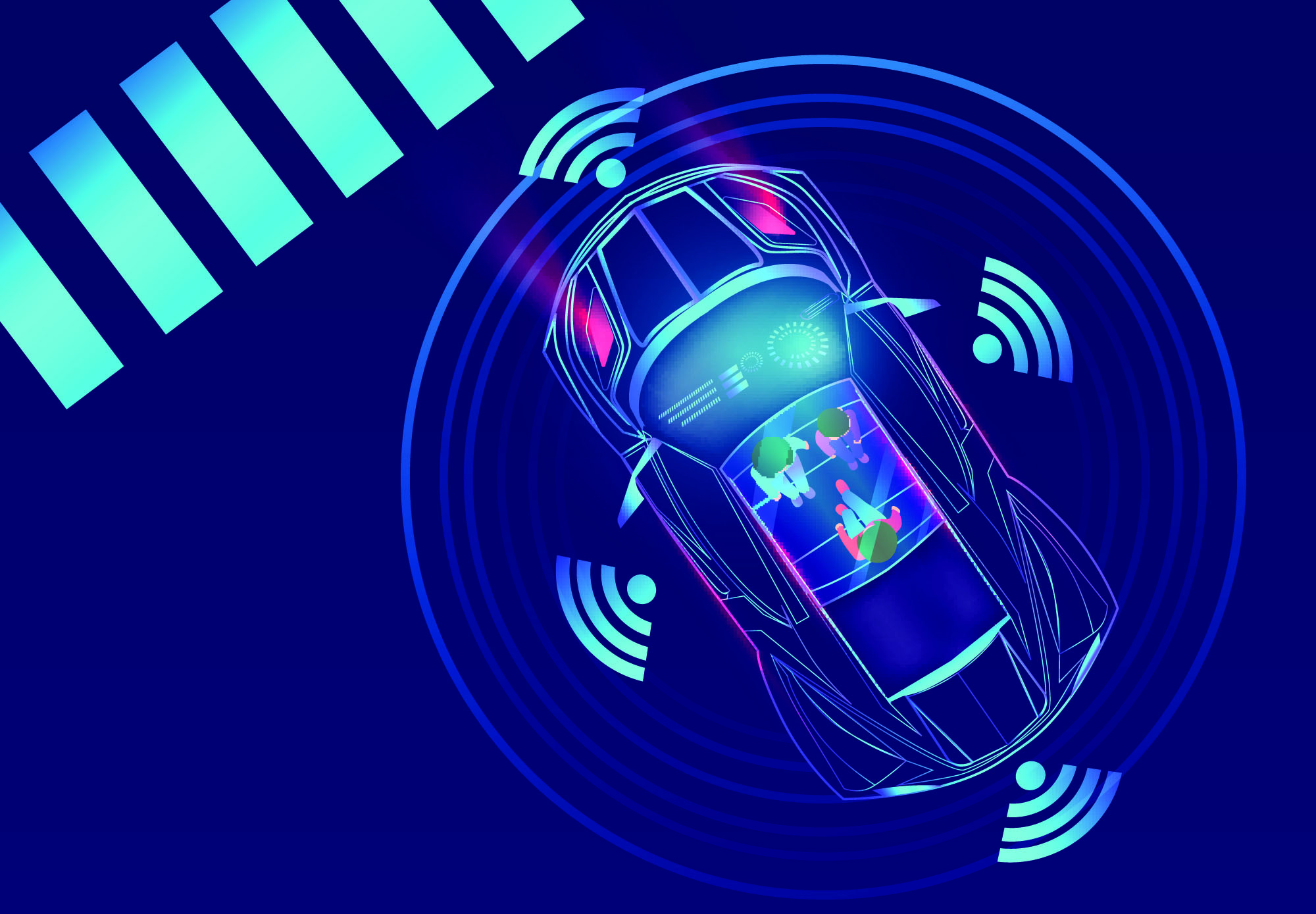 Since its invention by Henry Ford, the automobile has been a symbol of American freedom, mobility, and individuality. For many, the vehicle is an extension of the self.
So, as autonomous vehicle (AV) technology marches forward, there is an equally important cultural transition required for these vehicles to gain any sort of traction with the American public.
"The American public has to be convinced that A, I have to start giving up transportation using my privately owned vehicle for a significant part of my urban transportation needs. And then, B, the individual has to trust the fact that the urban transportation may be reliably provided by an autonomous vehicle," says Dr. Evangelos Simoudis, author on the future of mobility and autonomous vehicles and founding partner of Synapse Partners, an early-stage venture capital firm that specializes in Big Data and AI.
In addition to the challenges of a cultural shift, there are a number of other factors complicating this transition, including slow regulatory development and the need for cross-sector coordination to protect harvested data and safety.
Without cooperation in these areas, it is hard to build the trust necessary for the implementation of autonomous transportation.
According to Deloitte's 2020 Global Automotive Consumer Study, reports of accidents involving autonomous vehicles have had a significant and lasting impact on consumers' view of the technology. The study also found that 59% of U.S. consumers surveyed are somewhat/very concerned about the concept of biometric data being captured and shared with external parties due to connected vehicles.
The Urban Epicenter
Too many people have become hyper-focused on the robotaxi, says Simoudis, which is a complicated and intricate use case that demands advanced reading of the road and reaction times to pedestrian and bicycle movements, as well as any other unexpected interruptions that abruptly alter the flow of traffic. Instead, the process of autonomous implementation will begin "by creating very specific use cases, and by starting with low speed autonomy and moving up from there," he says.
Simoudis sees university and corporate campuses as environments in which fully autonomous vehicles could soon perform well. The shuttles that run through these campuses traverse predictable pathways and routes and are already largely associated with ride sharing among consumers, so the cultural hurdle is much easier to overcome.
Urban areas also provide the opportunity to bring operations to scale quickly, and with multiple forms of autonomous transportation and goods delivery. Consider sidewalk delivery robots, such as those of Starship Technologies which were put to increasing use during the pandemic to deliver groceries and other goods in Milton Keynes, a city roughly 50 miles outside of London.
Still, even with a shift to heavily autotomized urban mobility, private ownership of vehicles will not disappear, even in areas where autonomous transportation becomes easily accessible, according to Simoudis, who agrees that the private vehicle is too inextricably tied to personal identity to disappear from our culture anytime soon.
Cyber Coordination
As Leader's Edge recently reported, the cyber risk involved in connected cars is more than just an issue of carjacking, it's an issue of data hacking, and which subsequently becomes an issue of trust. According to a 2019 cybersecurity report from Deloitte, the top cyber concerns for autonomous vehicles were unauthorized control over car systems, car theft, and data breaches.
Simoudis and other experts agree that a public-private partnership between the government and auto manufacturers will be necessary to protect consumer data and the adjacent infrastructure network of publicly owned roads and highways.
But, as Simoudis notes, this partnership will demand more cross-sector coordination than most, because it will require the involvement and cooperation of manufacturers, local, state, and federal municipalities, as well as tech companies, insurers, and consumers.
The partnerships necessary to make this happen are slowly forming, as evident in the formal announcement of the Commission on the Future of Mobility in October 2020, which aims to recommend a framework in 2022 for "regulations in the American, European, and Asian markets post-2025 that reflects and facilitates the technological transformation taking place for emissions and safety regulations." The commission is made up of execs from leading transportation names such as Goodyear, FedEx, and Ford Motor Co.
Still, as Simoudis notes, "It becomes a hairball because you could have a vehicle with the Fisker badge, manufactured by a contract manufacturer such as Magna, and incorporating the Waymo AV technology," in reference to networking partnerships for regulation and data protection. Today, most agree that needed regulation lags behind the current state of autonomous technologies.
These cultural and trust concerns seem like major challenges to overcome before there is widespread adoption of autonomous vehicles. All the same, Deloitte, in its report "Quantifying an uncertain future: Insurance in the New Mobility Ecosystem," notes that the total of personal auto premiums could decrease to $145 billion by 2040, a reduction of nearly 70%, due to the introduction of increasingly autonomous vehicles and ride-sharing programs. It remains to be seen how we get there, from here.