Very Active 2022, Considering…
2022 is likely to end up, after all announcements, as the second-strongest year on record for brokerage M&A.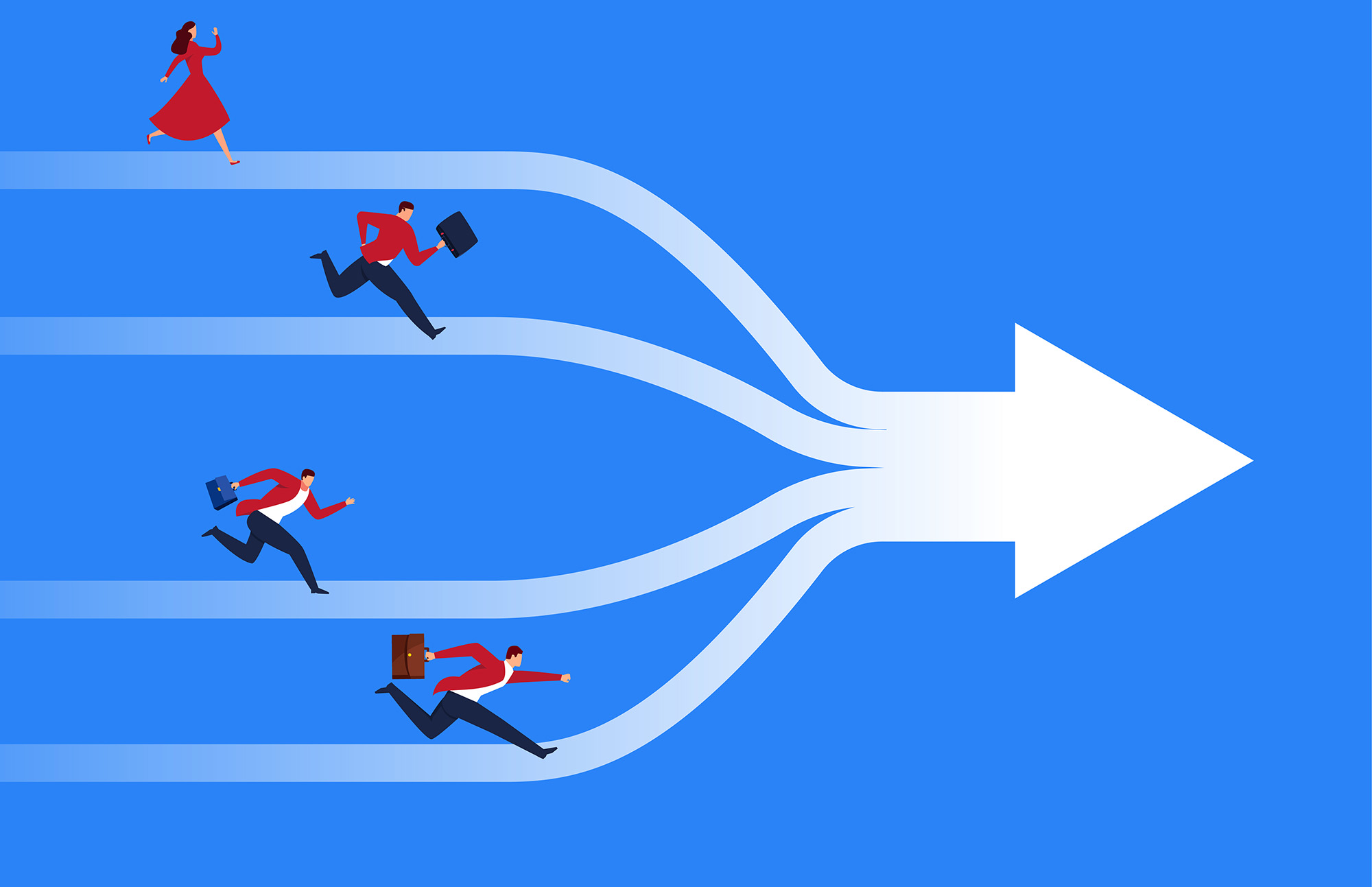 The merger and acquisition environment had more turbulence than anticipated given U.S. inflation and Federal Reserve actions to combat it. Rising interest rates caused certain buyers to take a pause from what had been a record-breaking pace of activity. Overall, however, many buyers continued to complement decade-leading organic growth results with strategic acquisitions, and we expect that to continue into 2023.
As of Jan. 3, 2023, there were 708 announced M&A transactions in the United States in 2022. This represents a 23.4% decrease compared to 2021 and a compound average growth rate of 5.1% since 2018. When the dust settles and all deals are announced, it will likely be the second-highest year on record behind 2021, eclipsing the 2020 total of 712 announced transactions.
The decline in activity from 2021 was largely driven by firms that were concerned about a potential federal capital gains tax increase in 2022. This resulted in many transactions that would have normally closed in first quarter 2022 to be rushed over the finish line before year-end 2021. In fact, 2021's third and fourth quarters were the two most active we have observed to date.
Private-capital backed buyers accounted for 525 of the 708 transactions (74.2%) in 2022. Independent agencies accounted for 83 (or 11.7%) of the total deal count, while deals involving specialty distributors as targets accounted for 22.5% of the total 708 deals in 2022. Specialty firm deals increased by a compound annual growth rate (CAGR) of 21.9% since 2018, a trend that is anticipated to continue as traditional retail brokerages expand into the wholesale and delegated authority space.
The 10 most active buyers accounted for 345 of the 708 transactions (48.7%),
while the top three (Acrisure, Hub International, and Peter C. Foy & Associates Insurance Services) accounted for 19.8% of total transactions.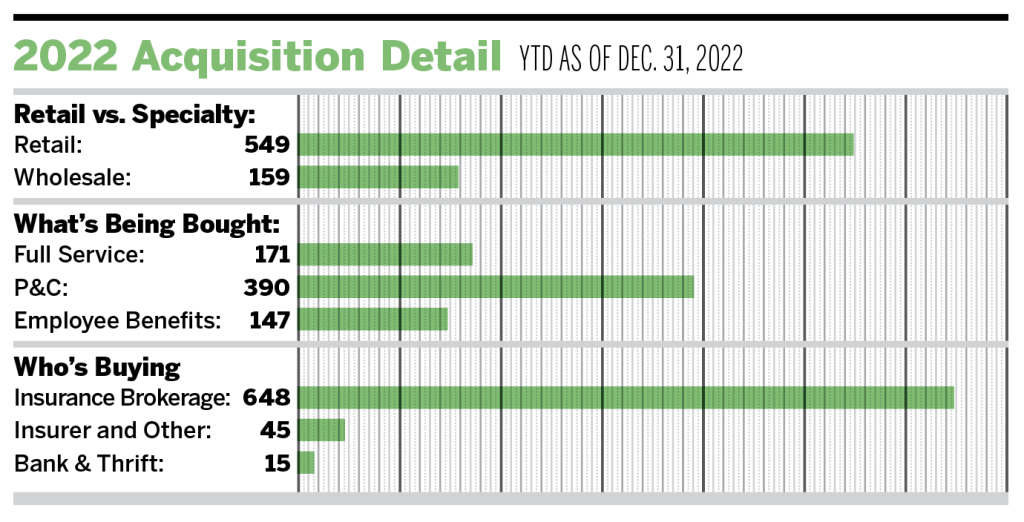 Some of the more notable transactions involving larger strategic brokerages as buyers in 2022 include:
March 1: Hub International and Bold Penguin announced an agreement to acquire Insureon Holdings, a digital insurance agency that delivers small-business insurance through its online marketplace. As a part of the transaction, Hub acquired Insureon's digital insurance agency and brand, while Bold Penguin acquired its technology platform.
March 16: Unison Risk Advisors announced a strategic investment partnership with Peloton Capital Management, a Canadian private equity firm. Unison Risk was formed in 2020 through the merger of Oswald Companies and RCM&D. With the transaction, Unison Risk remains privately held and majority employee-owned, with Peloton gaining a minority ownership position.
June 2: Marsh McLennan Agency announced its acquisition of Clark Insurance. Headquartered in Portland, Maine, Clark is a full-service agency providing business insurance solutions, employee benefits, and private client services to businesses and individuals across the Northeast.
June 3: Hub International announced it had acquired the assets of Alexander & Company, a Woodstock, Georgia-based full-service, independent employee benefits advisory firm. Alexander & Company has served public education sectors almost exclusively since 1995.
July 13: Specialty Program Group announced its acquisition of ESP Insurance Brokerage, a program administrator for the sports, events and entertainment industries. The firm's coverages insure over 850,000 youth sports participants and had insured limits of over $1.5 billion across special events of all types.
Aug. 8: Truist Insurance Holdings announced it agreed to acquire BenefitMall, the nation's largest benefits wholesale general agency. The transaction was to add approximately $150 million of annual revenue to Truist's wholesale division.
Sept. 28: One80 Intermediaries announced its acquisition of C&M First Services, a New York-based wholesale brokerage that provides commercial and personal lines to Asian-American retail brokerages throughout the United States.
Dec. 12: Arthur J. Gallagher announced its acquisition of Mahowold Insurance, a St. Cloud, Minnesota-based retail agency offering commercial and personal products as well as employee benefit packages for clients across the Midwest.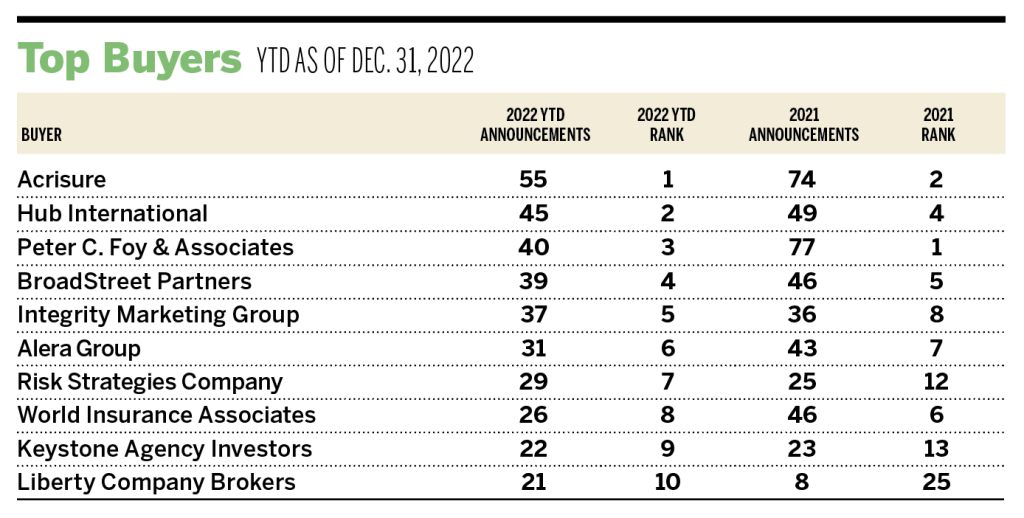 Some of the more notable transactions involving private equity funds investing in platform brokerages include:
April 12: Distinguished Programs entered into a definitive agreement with Aquiline Capital Partners to acquire a majority stake in the company. Distinguished Programs is one of the largest independent program managers in the country and underwrites and distributes 14 different programs with an approach centered on technology.
May 11: The Carlyle Group announced its acquisition of NSM Insurance Group from White Mountains Insurance Group. NSM is an independent program administrator that underwrites policies for behavioral healthcare and several other sectors. The transaction has been valued at $1.8 billion and closed in
August 2022.
Aug. 10: Partners Group acquired a controlling stake in Foundation Risk Partners, whose management team maintained a stake in the firm. Its previous PE sponsor, Warburg Pincus, will also retain a minority position.
Dec. 1: K2 Insurance Services announced it had come to an agreement to secure new private equity backing from Warburg Pincus. K2 provides centralized services to MGAs with specialized programs in the specialty, commercial, transportation, international and personal lines spaces. The transaction will lead to the exit of current PE sponsor Lee Equity Partners.
Disclosure: All deal count metrics are inclusive of completed deals with U.S. targets only. Scorecard year-to-date totals may change from month to month should an acquirer notify MarshBerry or the public of a prior acquisition. Send any announcements to M&A@MarshBerry.com.