COVID Slightly Dampens Deals
While not as hot as 2019, the M&A market is still more active than just four years ago.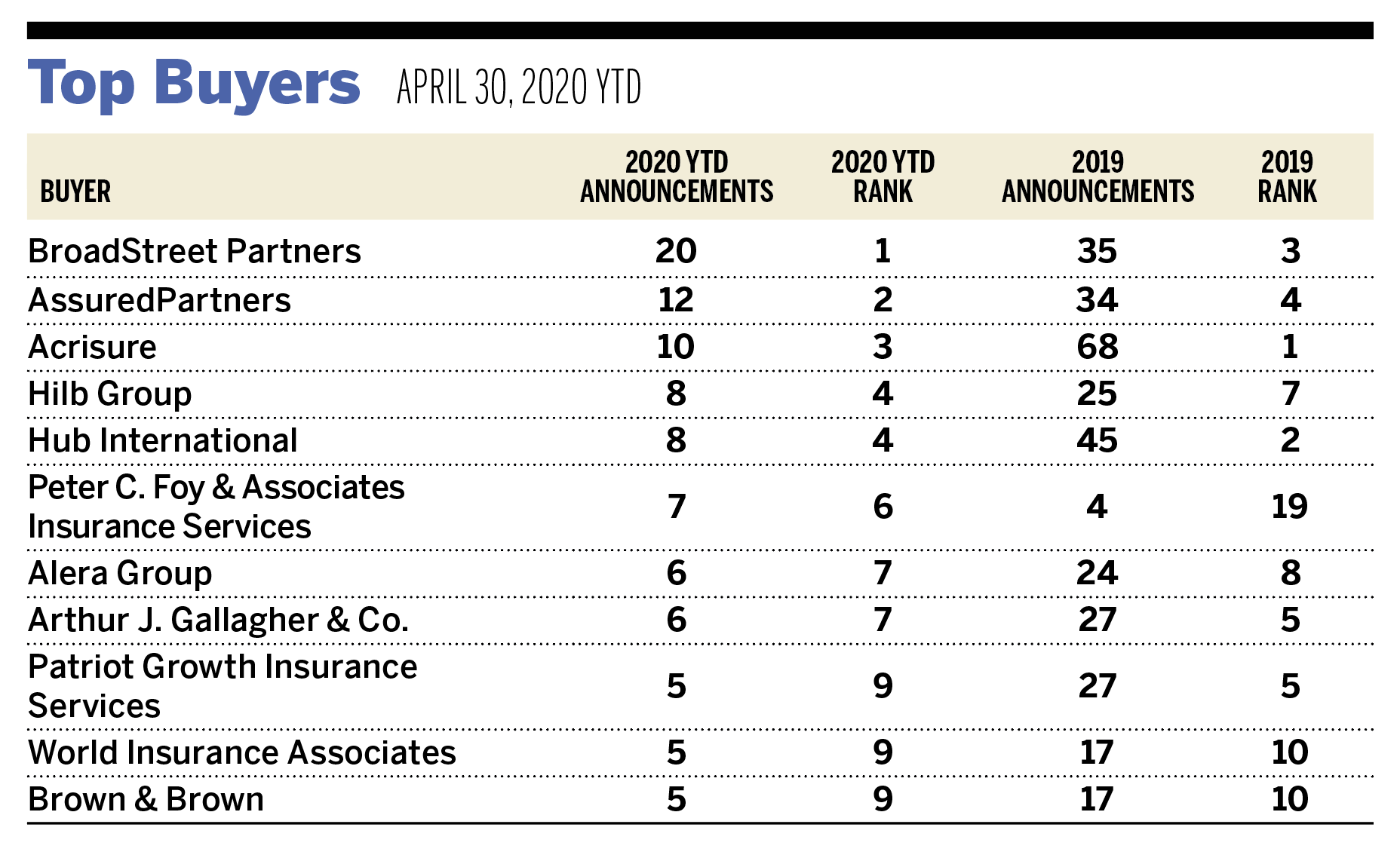 As of April 30, there have been 163 merger and acquisition transactions announced in the United States.
The total number of deals is down 31% compared to this time in 2019. As stated in previous updates, January 2019 was abnormally active, more than doubling the historical average for the month (93 announced deals compared to the 2006-2020 average of 40 deals in January).
The current activity is only a 10% decrease compared to the same time period in 2018 and 2017 and has been more active compared to 2016 and 2015 (a 7% and 4% increase, respectively). We also anticipate a slight uptick in announced transactions in May, as a number of deals are expected to close that were originally slated to transact in April but were delayed.
Private-equity backed firms continue to lead the charge on deal activity, closing 98 of the 163 (60.1%) announced transactions as of April.
Private-equity backed firms continue to lead the charge on deal activity, closing 98 of the 163 (60.1%) announced transactions as of April. Although there has been a slight reduction in the total number of deals in 2020, this buyer segment has maintained a virtually identical portion of the overall deal count (60.3% in 2019). Additionally, independent firms accounted for 34 of the 163 (20.9%) announced agreements. This is a slight reduction when compared to the segment's three-year average (22.6%) across 2017, 2018 and 2019.
BroadStreet Partners, AssuredPartners, and Acrisure make up the top three most active buyers in 2020, contributing a combined 25.8% of the 163 deals announced so far this year. The top 10 most active buyers completed 87 of the 163 total announced transactions (53.4% of the total).
We believe the majority of upcoming volume will be focused on smaller deals (non-top-100 brokerages). However, since the pandemic has begun, there have been at least four large transactions announced.
Aon's acquisition of Willis Towers Watson was announced March 9, 2020. The transaction is set to be an all-stock buy with an implied combined equity value of approximately $80 billion.
On April 1, Marsh & McLennan Agency acquired Assurance Holdings, a top-100 brokerage based in Schaumburg, Illinois, providing business insurance, employee benefits, private client insurance and retirement services. Assurance will operate as MMA's Midwest regional headquarters under Anthony Chimino, CEO of Assurance.
Also on April 1, HGGC announced it has closed its acquisition of Woodland Hills, California-based PCF Insurance (formerly known as Peter C. Foy & Associates Insurance Services).
Associated Banc-Corp announced on May 4 that it has entered into a definitive agreement to sell Associated Benefits & Risk Consulting (ABRC) to USI. ABRC is the 36th largest brokerage in the U.S., with prior 12-month pro forma revenues of approximately $89 million. Under the terms of the agreement, the purchase price is $265.755 million in cash, subject to other adjustments. The transaction is expected to close late in the second quarter or early third quarter of 2020.
Securities offered through MarshBerry Capital, member FINRA and SIPC. Send M&A announcements to M&A@marshberry.com.
All deal count metrics are inclusive of completed deals with U.S. targets only. Scorecard year-to-date totals may change from month to month should an acquirer notify MarshBerry or the public of a prior acquisition. 2019 full-year statistics are preliminary and may change in future publications.