Borrower's Burden
The cost of money is increasing, and buyers may require sellers to bear some of that burden through reduced valuations.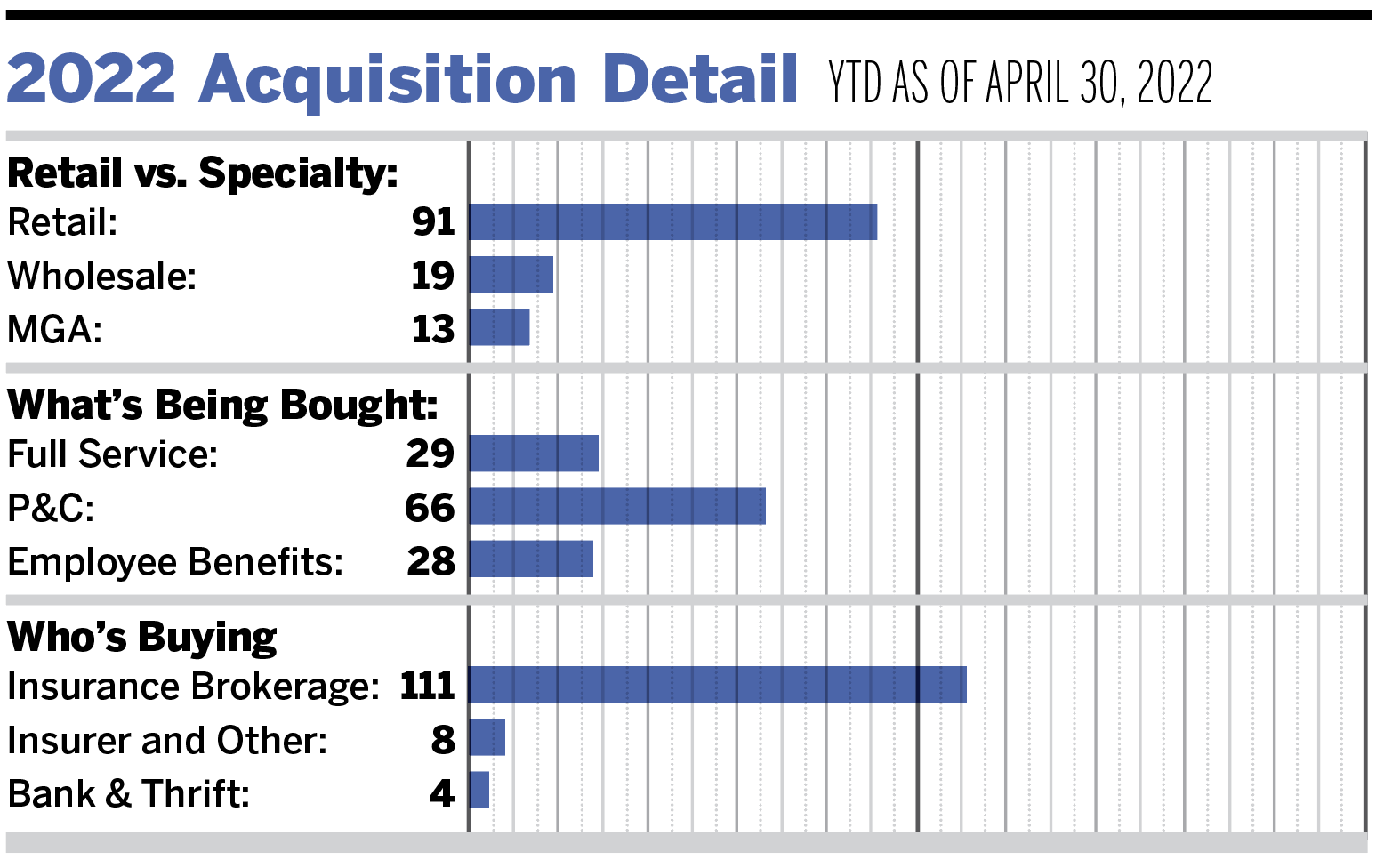 The world around us continues to evolve at a rapid pace. Many are still searching for solid ground as we move through the post-pandemic world.
There is unrest globally, inflation is impacting all Americans, and the Federal Reserve is raising interest rates in an effort to slow down the economy. Higher interest rates drive higher borrowing costs, which eventually leads to less consumer spending. This, theoretically, will help curb the increasing costs across the country. The higher rates will also mean higher borrowing costs for the buyers in the insurance distribution space. But will higher borrowing rates slow down the pace of M&A in our space? It really depends on what period you are comparing the results to.
We expect a very active M&A environment in insurance distribution for years to come. Many firms still lack a viable perpetuation plan (although it is not too late), and buyers remain flush with capital to continue an aggressive acquisition strategy. However, will the increase in costs tempt buyers to pass that expense down to sellers and effectively lower valuations? It is certainly possible, but there remains more demand than supply and the demand may offset buyers' desire to lower pricing. If they are not aggressive, will they still remain competitive? We will continue to keep a close eye on it.
Market Update
As of April 30, 2022, there have been 123 announced merger or acquisition transactions in the United States. While the first four months of the year represent an 85% decrease compared to 2021, deal activity and retroactive announcements are anticipated to pick up and shorten this gap.
However, will the increase in costs tempt buyers to pass that expense down to sellers and effectively lower valuations?
Private-capital backed buyers accounted for 92 of the 123 transactions (74.8%) through April, which is consistent with the proportion of announced transactions that we observed in 2021. Total deals by these buyers have increased at a compound annual growth rate of 26.9% since 2018. Announced transactions by independent agencies continued to decline in 2022. On average, 23.1% of deals were completed by independent agencies from 2018 to 2021 compared to 8.1% in 2022 so far. High valuations and availability of capital could be two of the main drivers for this section of buyers' decline in deal activity.
The portion of deals involving specialty distributors has also continued to increase year over year, accounting for 26% of total deals in 2022 compared to 22.8% in 2021. As more and more traditional retail brokerages continue to establish and expand specialty practices, we anticipate this trend to continue.
Strong deal activity from the marketplace's most active acquirers has remained constant to begin 2022. Ten buyers accounted for 53.7% of all announced transactions observed, while the top three accounted for 22.8% of the 123 total transactions.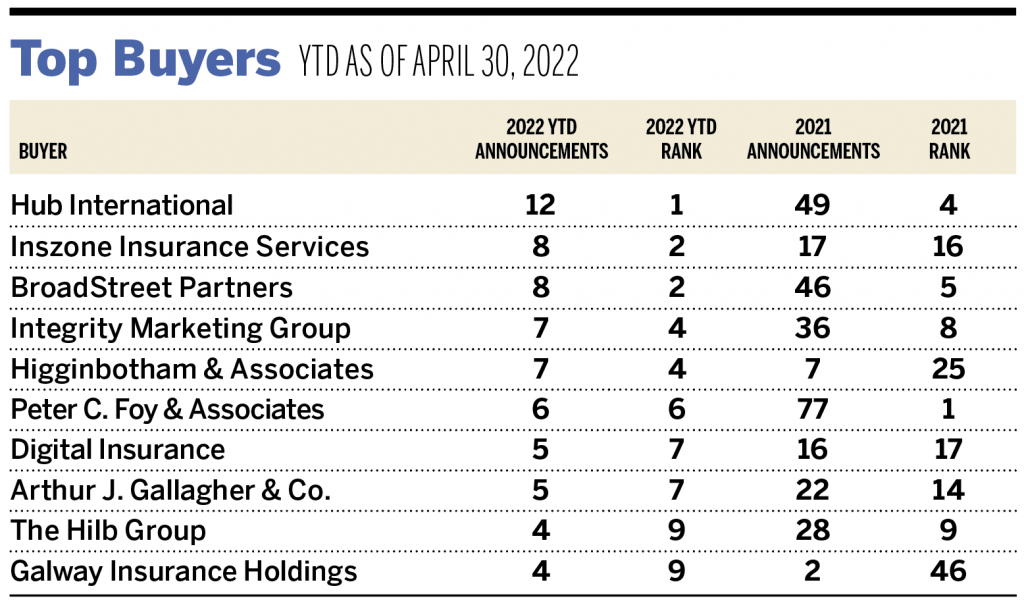 A few notable transactions announced over the past few months include:
March 1: Hub International and Bold Penguin announced an agreement to acquire Insureon Holdings. Insureon is a digital insurance agency that delivers small-business insurance through its online marketplace. As a part of the transaction, Hub acquired Insureon's digital insurance agency and brand, while Bold Penguin acquired its technology platform.
March 16: Unison Risk Advisors (URA) announced a strategic investment partnership with Peloton Capital Management (PCM), a Canadian private equity firm. URA was formed in 2020 through the merger of Oswald Companies and RCM&D. The firm ranks among the country's 30 largest insurance brokerage and risk management firms overall and in the top five largest independently owned firms. With the transaction, URA remains privately held and majority employee-owned, with PCM gaining a minority ownership position. MarshBerry served as the exclusive advisor to URA.
April 12: Distinguished Programs announced that it had entered into a definitive agreement for Aquiline Capital Partners to acquire a majority stake in the company. Distinguished Programs is one of the largest independent program managers in the country and underwrites and distributes 14 different programs with an approach centered on technology.
April 25: Lockton Affinity announced its acquisition of SBG. The acquisition complements Lockton's existing business and is part of a larger strategic vision to fully support registered investment advisors, financial advisors and other financial professionals. Based in Minnetonka, Minnesota, SBG provides wholesale distribution of annuities, life insurance, long-term care and disability insurance.