The Demand For Expertise
Big firms look to get bigger with an ecosystem of service offerings that are a mile wide and a mile deep.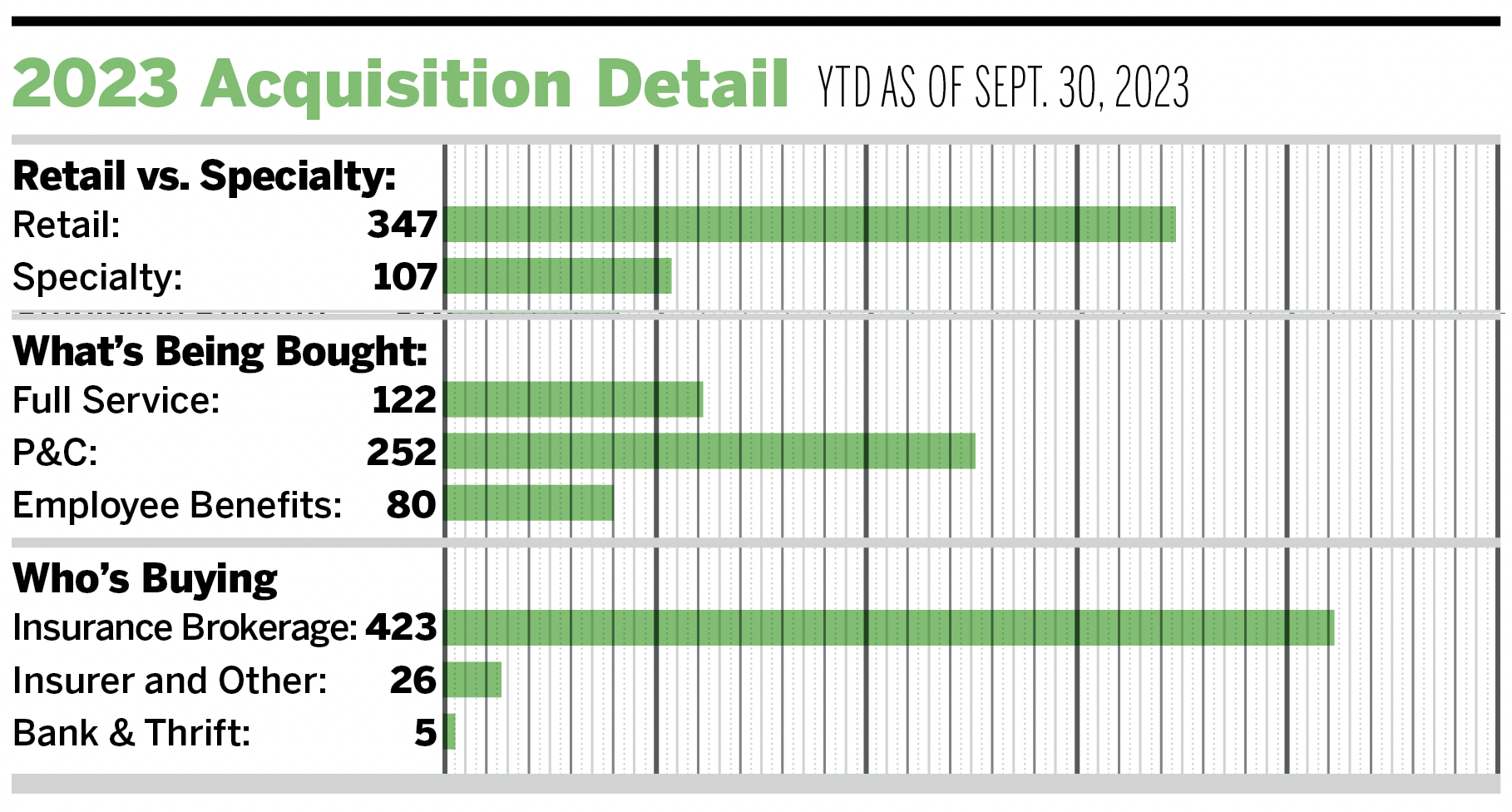 As 2023 heads into its final stretch, there are a lot of discussions about recapitalizations coming in 2024.
There are expectations for a number of impactful insurance brokerage merger and acquisition deals in the coming months, with large firms potentially announcing a new private equity partner, having an IPO, or selling to a strategic partner. There are lots of rumors swirling about who's going to combine with whom and what the future of the $1 billion+ broker will look like.
At The Council's 2023 Insurance Leadership Forum (ILF), Aon's next big move was a hot topic of swirling speculation. It is well known that Aon has been seeking to acquire a middle-market brokerage to help expand its middle-market retail presence and that it wants to re-enter the U.S. wholesale space. The questions are who might be the best fit and how that deal might impact others hunting for similar partnerships. Target timing for a possible Aon deal could be in the next few months.
All of this activity is being driven primarily by the expected financial returns associated with such partnerships. But there is also an increased strategic movement for brokerages to position themselves to provide better and broader services to their clients.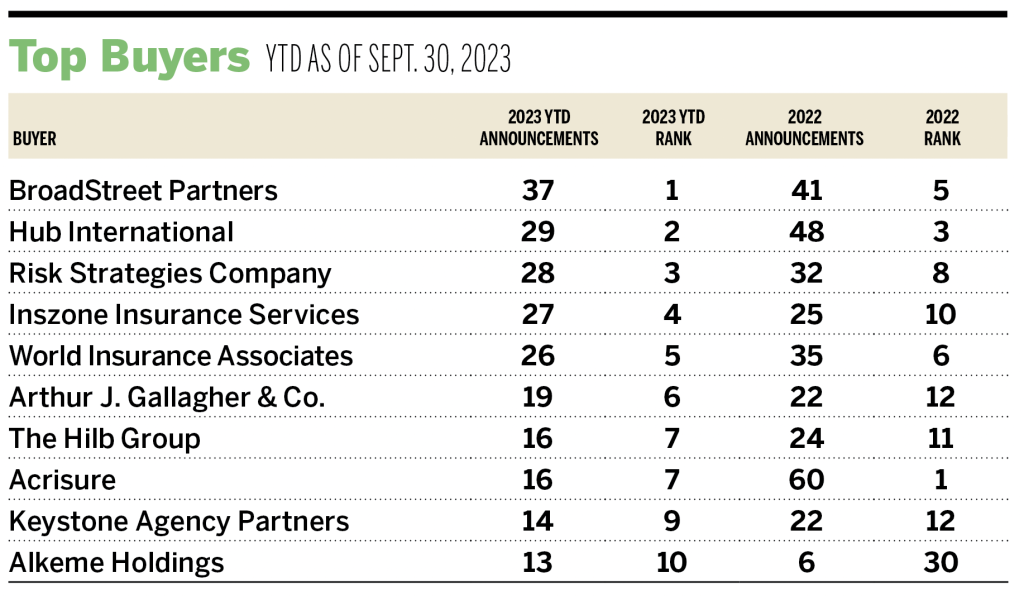 The end clients' needs are driving up the demand for brokers to provide a more holistic portfolio of product offerings. Because of this, firms are looking for ways to be more industry or niche focused but, at the same time, have multiple offerings, and they want to excel in all of those offerings. They want to be able to offer not just commercial lines but also high-net-worth personal lines, employee benefits, retirement and wealth management services, and more. They want to have the ability to offer their clients any services which can help support and build stronger relationships.
In the end, brokerages are trying to create an ecosystem of service offerings that's a mile wide and at the same time have expertise that's a mile deep. So there continues to be a convergence of demand for expertise in certain areas.
For most everyone, M&A is the best way, and the quickest way, to accomplish this goal. For many buyers, it's quicker to acquire expertise than to build it. For firms with expertise but without the breadth of tools and resources to help them scale, selling to a larger partner is the most expedient way. There is mutual interest in this strategy by both buyers and sellers.
As is usually the case, M&A activity tends to ramp up the closer we get to the new year, and the big deals will make the headlines. But the demand for expertise extends to a broad landscape of firms with strong organic growth, ideal cultural characteristics, and smart leadership. It will be interesting to see what deals transpire and what that landscape looks like in the final months of the year.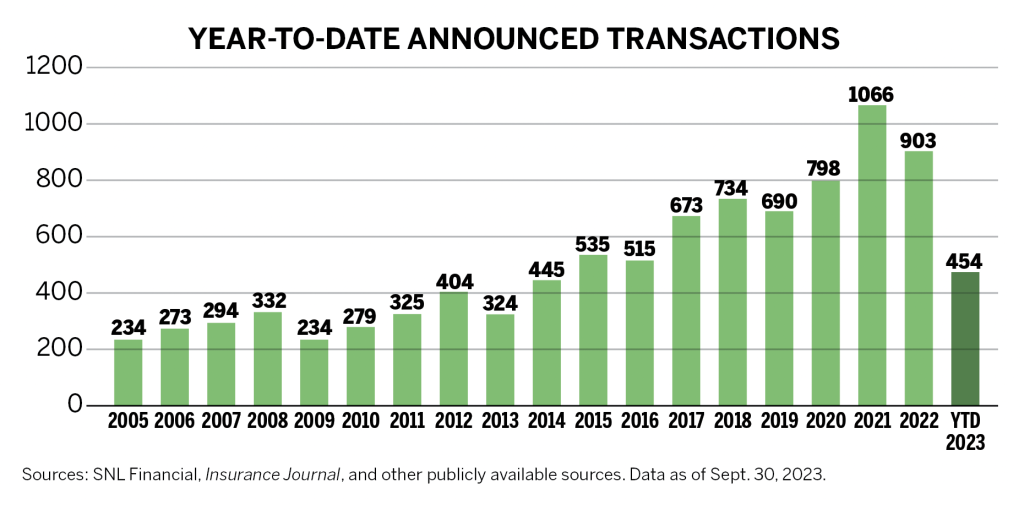 M&A Market Update
Through Sept. 30, 2023, there have been 454 announced insurance brokerage M&A transactions in the United States.
Private-capital backed buyers have accounted for 334 of the 454 transactions (73.6%) through September, which is nearly a 4% increase from the proportion of announced transactions at this time in 2022.
Through September, independent agencies as buyers accounted for 60 transactions (or 13.2%), down from 17.2% in 2022. Banks and thrifts as buyers accounted for five announced deals (or 1.1%), down from 2% in 2022.
Deal activity from the marketplace's most active acquirers has remained strong in 2023. Ten buyers have accounted for 49.6% of all announced transactions, while the top four (BroadStreet Partners, Hub International, Risk Strategies and Inszone) account for 26.7% of the 454 total transactions.
Notable Transactions
Sept. 7: Simplicity Group Holdings announced it has acquired wholesaler Hancock Brokerage. Based in Louisiana and founded in 1997, Hancock provides life insurance, disability insurance, long-term care, and annuity solutions to agents and advisors. This transaction signifies Simplicity's eighth specialty transaction of 2023.
Sept. 11: USI Insurance Services announced a substantial new equity investment of over $1 billion from its existing shareholder, KKR. As part of this agreement, KKR and USI will acquire shares of USI that are currently held by Caisse de dépôt et placement du Québec (CDPQ) and certain other investors. A majority of CDPQ's holdings, more than 50%, will be purchased in the transaction. Consequently, KKR will become the largest single shareholder of USI upon the completion of the deal.
Sept. 20: Risk Strategies announced it has acquired human resources and employee benefits firm OrchestrateHR and its affiliate Ebenconcepts Company. Dallas, Texas-based OrchestrateHR offers a broad range of services, including human resources and technology consulting, third-party administration, and associated administrative outsourcing services. Ebenconcepts is an HR consulting and custom employee benefits brokerage with offices across the United States. It is also an MGA able to provide a comprehensive suite of employer-funded and voluntary insurance products.
PE Sets Sights on Canada
Fifty of the 92 (54.4%) brokerage acquisitions in Canada through September were done by private-capital backed buyers, which is almost a 10% increase from that period last year.