Strong Start to 2021
The insurance M&A market appears resilient to economic drag.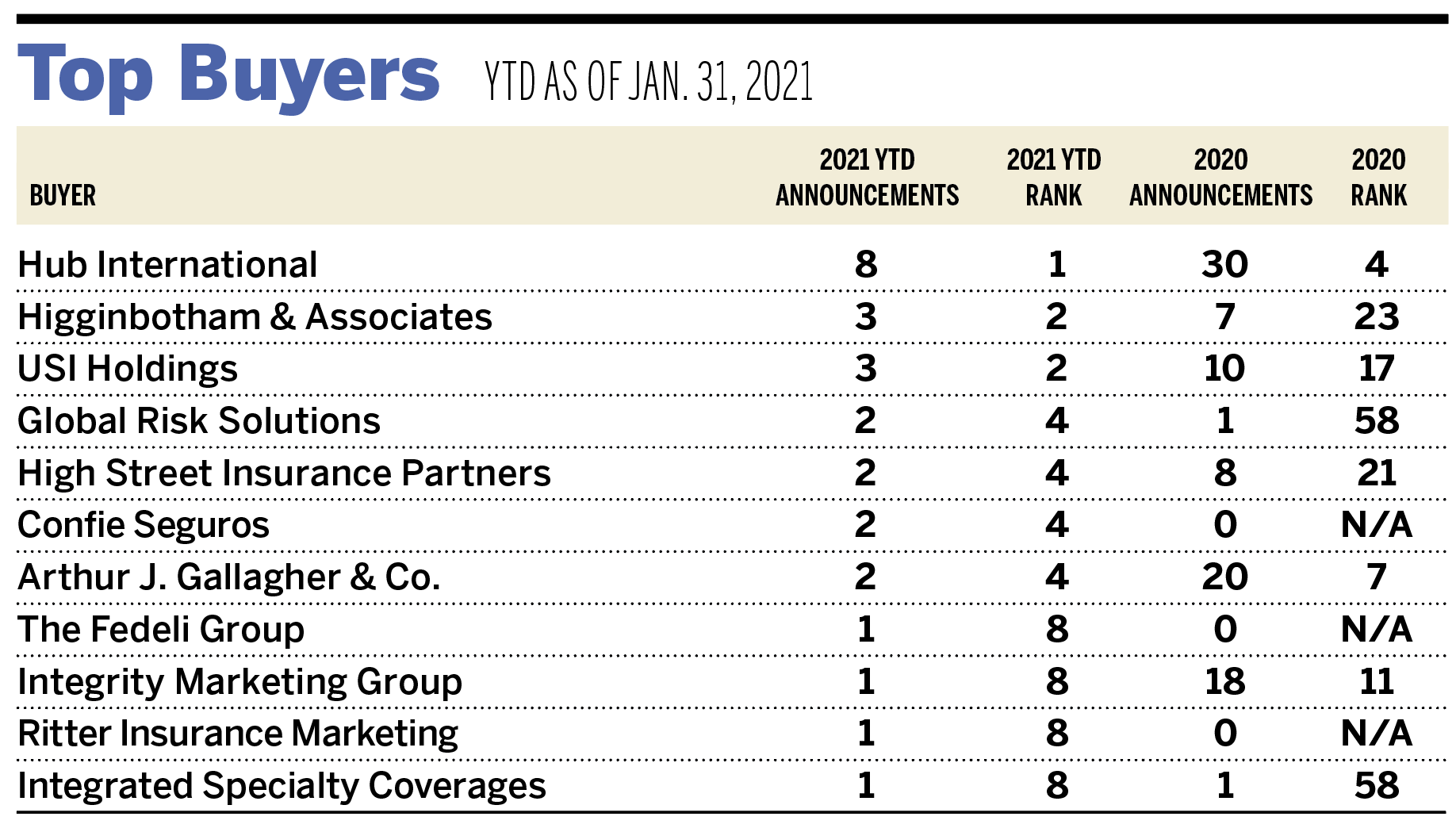 After the pandemic all but froze the M&A market in the second quarter of last year, buyer activity resumed with the pace and appetite that we had seen at the end of 2019 through first quarter 2020.
The result was a year that met our original expectations and should set 2021 up for even more activity now that the resiliency of the insurance industry has once again been reaffirmed.
Based on our 2020 data, the 705 announced mergers and acquisitions in the United States represent an 8% increase over the record numbers we saw in 2019. Through Jan. 31, 2021, we have observed activity similar to the last two years, with 45 announced transactions so far. We anticipate this figure to continue to grow as deals are announced and added retroactively throughout the year.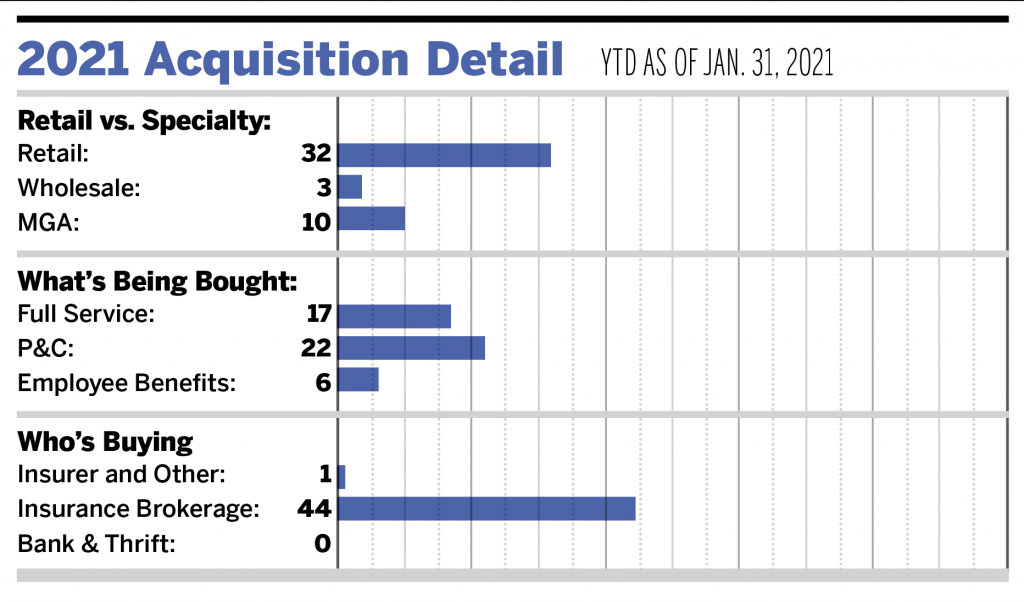 While the data collected for 2021 are still in the beginning stages, the same trends have continued regarding buyer types and their respective shares of the market. Private-capital backed buyers have accounted for 30 of the 45 transactions (66.7%) in January, while independent agencies made up 26.7% of the total. We anticipate the number of deals done by independent agencies to increase compared to 2020, as business continues to normalize following the pandemic and spending restrictions ease up.
Hub International, Higginbotham & Associates, and USI Insurance Services are the top three most active buyers in the United States to start 2021, contributing a combined 31.1% of the 45 total transactions. The top 10 most active buyers completed 25 of the 45 announced transactions (55.5% of total).
Through Jan. 31, 2021, we have observed activity similar to the last two years, with 45 announced transactions so far.
Some notable transactions to start the year:
On Jan. 7, Higginbotham announced that it had acquired Lipscomb & Pitts Insurance, the largest independent insurance firm in Tennessee. Lipscomb & Pitts provides full-service commercial and personal insurance, employee benefits, and other products. Financial terms of the transaction were not disclosed.
On Jan. 19, Arthur J. Gallagher & Co. announced the acquisition of San Diego-based Atlas General Holdings. Atlas is a multi-line program manager and managing general agent with expertise in the California workers compensation market. Atlas will be brought under the direction of Gallagher's U.S.-based wholesale brokerage division, Risk Placement Services.
AssuredPartners announced its acquisition of Murray Insurance Associates on Jan. 21. Based in Lancaster, Pa., Murray is a provider of solutions for risk management, insurance, employee benefits, wealth management, third-party administration, and human resources. It has 170 employees and $31 million in annualized revenue.
Investment banking services offered through MarshBerry Capital, Inc., member FINRA and SIPC, and an affiliate of Marsh, Berry & Co. Send M&A announcements to M&A@marshberry.com. All deal count metrics are inclusive of completed deals with U.S. targets only. Scorecard year-to-date totals may change from month to month should an acquirer notify MarshBerry or the public of a prior acquisition. 2021 statistics are preliminary and may change in future publications.