Not Crimped by COVID
Brokerage M&A in 2020 finished right on the heels of 2019.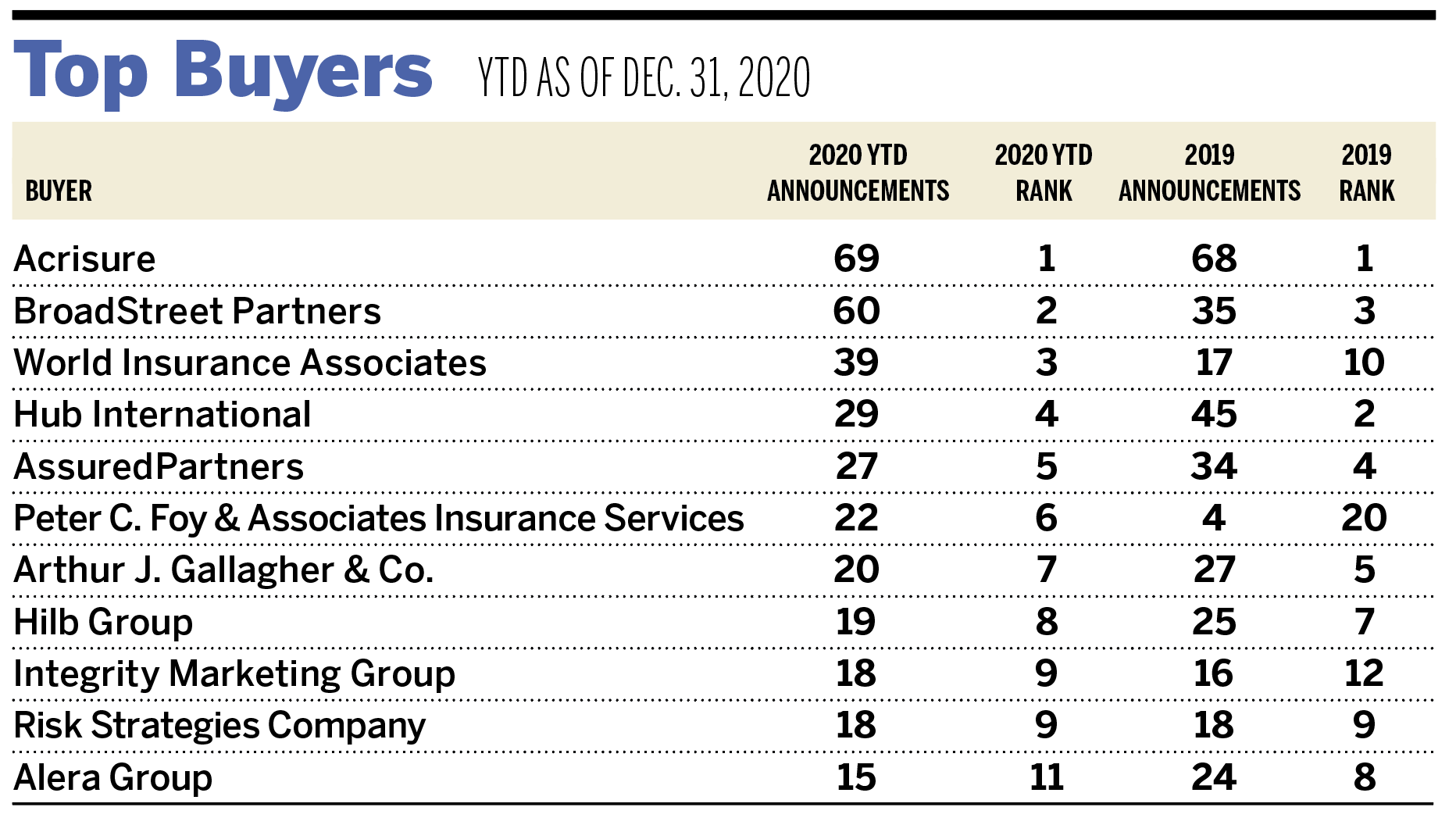 After a turbulent second quarter of 2020, merger and acquisition activity picked back up and continued at the rapid pace that we had originally anticipated for the calendar year.
As of December 2020, there were 646 brokerage M&A transactions announced in the United States. The current figure is far higher than what we had anticipated in the beginning stages of the pandemic, when deal activity all but came to a halt for a brief period of time. The deal count in 2020 is a mirror image of 2019, which consisted of 651 announced transactions.
Private-capital backed buyers remain at the top of the market in terms of number of announced transactions, completing 66.9% of all announced transactions. Independent firms accounted for 95 (14.7%) of the 646 announced deals. This buyer segment has slipped considerably in terms of overall deals as the year has progressed. Seller line of business has remained consistent in 2020, with 51% being P&C focused, 32% multi-line and 17% of sellers in the employee benefits and consulting space.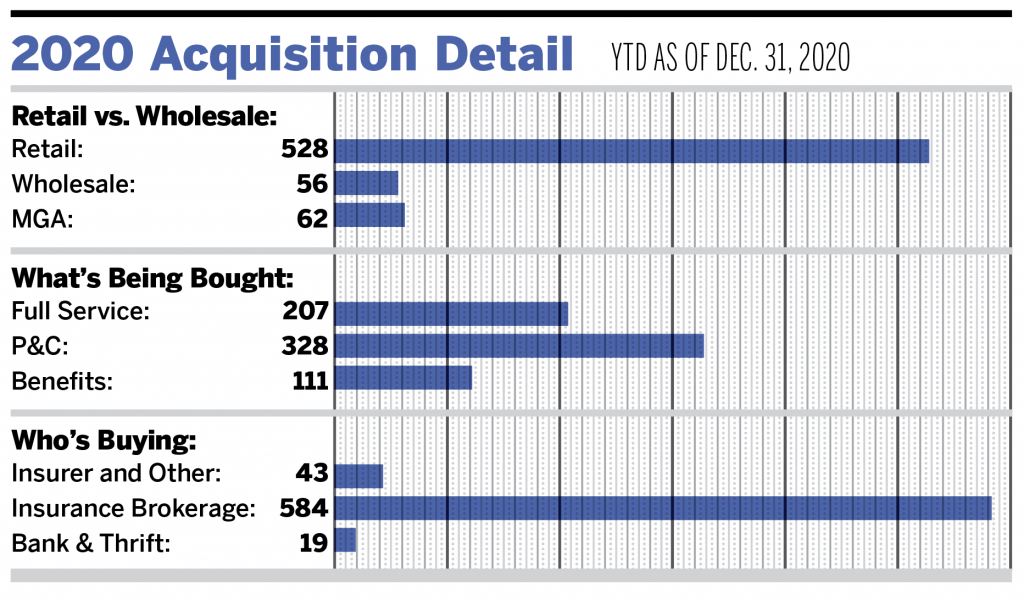 Acrisure, BroadStreet Partners, and World Insurance Associates remained the top three most active buyers in 2020, based on reported deal count, contributing a combined 26% of the 646 deals announced so far for 2020. The top 10 most active buyers completed 336 of the 646 total announced transactions (52% of the total). Activity continued to surge with these top buyers as the year-end push to close deals came to an end.
A few notable large transactions took place recently to close out 2020.
Alera Group acquired Lighthouse Group, effective Dec. 1. Lighthouse is a Midwest leader in employee benefits and property/casualty insurance solutions. The firm has completed 40 acquisitions in its 25-year history and now serves clients in more than 20 verticals, with specialties including construction, manufacturing and retail.
On Dec. 17, four premier retail brokerages announced that they intend to combine to form Oakbridge Insurance Agency. The four firms are Founders Insurance, Hutchinson Traylor Insurance, McGinty-Gordon & Associates, and Waites & Foshee. Oakbridge received a strategic investment from Corsair Capital as a part of the transaction and will be one of the country's "Top 100" agencies.
On Dec. 31, BRP Group completed its acquisition of Burnham Benefits Insurance Services and Burnham Gibson Wealth Advisors. With annual revenues of approximately $52.6 million, Burnham sits at No. 79 on Business Insurance's "Top 100" list of U.S. brokerages and represents one of the largest partnerships in BRP Group's history.
Investment banking services offered through MarshBerry Capital, Inc., Member FINRA and SIPC, and an affiliate of Marsh, Berry & Co. Send M&A announcements to M&A@marshberry.com.