Integration Is Important
How you communicate your strategy is critical.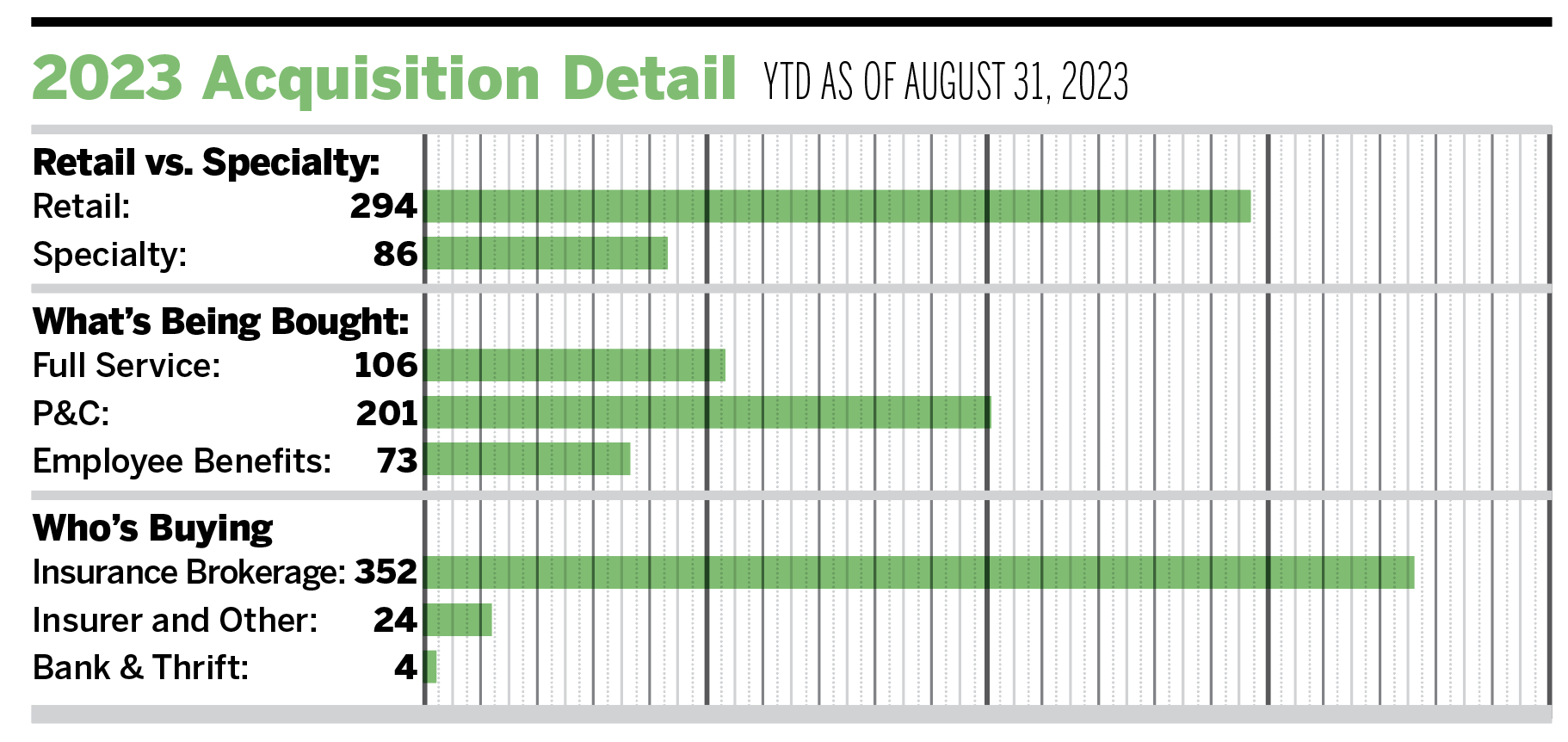 In the mid-third quarter, World Insurance Associates announced it received a new investment from Goldman Sachs Asset Management.
There are rumors that another six to eight private-equity backed insurance brokerages might explore bringing in a new capital partner between now and the end of 2024. This is a significant amount of potential activity that could shake up the market. While private equity investors continue to view insurance distribution as a top performing industry, there may not be enough capital to meet this volume of demand for new investments.
With this much supply, brokerages need to be able to highlight their unique differences to a potential investor. Their approach to integration and use of data may very well end up being the key differentiator between those who find a new investment partner and those who need to go back to the drawing board.
As brokerages of all sizes consider their capital strategies, they should be very intentional about how they are actually building their business. Strategies for technology and data are becoming increasingly important, as organizations have to determine the most efficient way to aggregate data and manage their businesses. This is not a straightforward path for most, especially because of the acquisition/partnership strategy most have taken over the past decade.
For many firms, the approach has been to acquire as much as possible and figure out integration later. For others, leaving firms decentralized has been a compelling part of their "pitch" to the market. The challenge that has developed, however, is that investors want to put their money in an organization that is more than just a consolidator of revenue. They want to invest in a business structured for continued scale. As interest rates continue to rise, investors want to make sure that the firm is designed for growth without acquisitions.
As a result of this trending perspective, no buyer in today's merger and acquisition marketplace wants to be called an "aggregator." That term has become a dirty word across the industry.
As brokerages continue to focus on how they are going to integrate firms already acquired as well as future partnerships, communication of their strategy is critically important. Buyers need to have a different talk track for potential investors and for those they hope to partner with.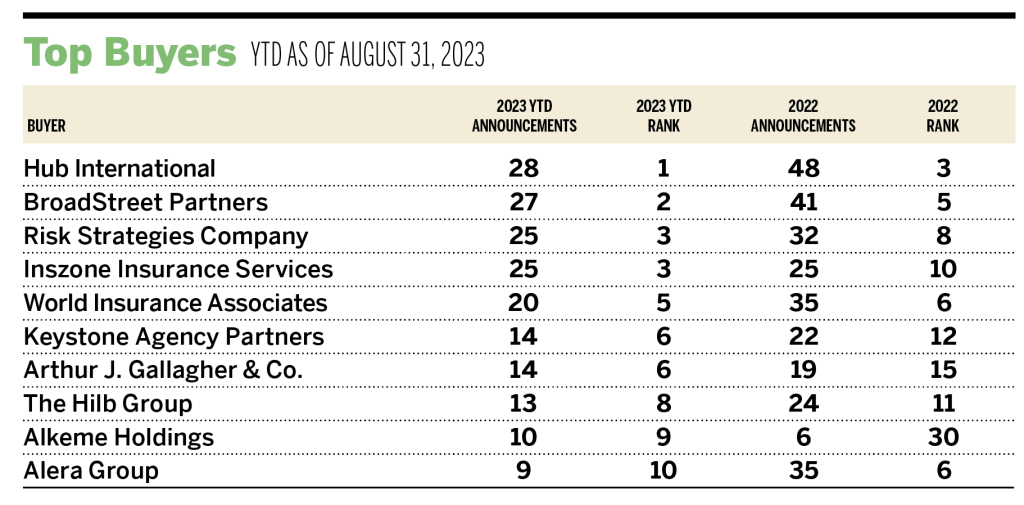 Investors want to know that you are creating a connected organization that can be measured and managed with the push of a button. They want to feel comfortable that the brokerage has a plan to scale and utilize data with trading partners and vendors and across their platform to leverage insurance knowledge in order to stimulate future growth.
However, the same message a buyer highlights for an investor will not resonate with the $10 million brokerage it hopes to win over and acquire. Sellers continue look for tools and resources that will make them more competitive, but they remain fearful that an integration strategy will swallow them up and take their soul. The most successful acquirers are able to thread the needle and articulate to potential sellers why an integrated platform, technology stack and data strategy are all beneficial to their end clients and internal employees. While it may be disruptive initially, the integration strategy makes resources more accessible and is ultimately in the best interest of all constituents.
All buyers—private-equity backed, public and independent—need to have a strategy to connect their partners together. There is no perfect solution, but regardless of the approach, communication needs to be tailored to the audience and not be a one size fits all.
Market Update
As of Aug. 31, 2023, there have been 380 announced insurance brokerage merger or acquisition transactions in the United States.
Private-capital backed buyers have accounted for 274 of the 380 transactions(72.1%) through August, which is consistent with the proportion of announced transactions in 2022. The total number of deals by these buyers has increased at a compound annual growth rate (CAGR) of 11.1% since 2018, with a marked increase after the onset of the pandemic. The percentage of announced transactions by independent agencies has continued to slowly decline over the same time frame. Some 22.6% of total deals were done by independent agencies in 2018, compared to 17.2% in 2022 and 14.5% in 2023. High valuations, coupled with limited availability of capital, are likely contributing to this decline in share of deal activity.
Deal activity from the marketplace's most active acquirers has remained strong in 2023. Ten buyers have accounted for 48.7% of all announced transactions, while the top four (Hub International, BroadStreet Partners, Risk Strategies, and Inszone Insurance) account for 27.6% of the 380 total transactions.
Notable Transactions
Aug. 7: Ambac Financial Group has completed the acquisition of a majority stake in Riverton Insurance Agency Corp., a company based in New Jersey that offers insurance services. Riverton's MGA, Professionals' Best, specializes in providing professional liability insurance programs for licensed architects, engineers, construction managers, and real estate professionals. Riverton also owns Affinity Liability Insurance Agency (ALIA), a retail agency that arranges professional liability insurance for real estate agents through various insurance markets. This is Ambac's first transaction of 2023 in the insurance brokerage sector.
Aug.17: Gibson, an employee-owned, top-100 U.S. insurance agency, announced the acquisition of Brisk Advisors. This is Gibson's first presence in Utah, and it plans to expand throughout the state. Brisk Advisors (formerly Insurance Network) has provided risk management and personal insurance solutions to clients for more than 50 years. This is Gibson's first transaction of 2023.
Aug. 29: Risk Strategies' specialty business, One80 Intermediaries, acquired GMI Insurance. GMI Insurance, an MGA established in 1980, specializes in providing insurance solutions for commercial transportation and related industries. Initially focusing on auto rental coverage, GMI has expanded its offerings over the years to include a market-leading monoline business auto program, catering to accounts that do not require a comprehensive insurance package. The transaction is Risk Strategies' 25th acquisition and seventh specialty acquisition of 2023.