Final Numbers for 2021 Set New Highs
With late announcements, 2021 insurance brokerage M&A in the United States blew away prior years.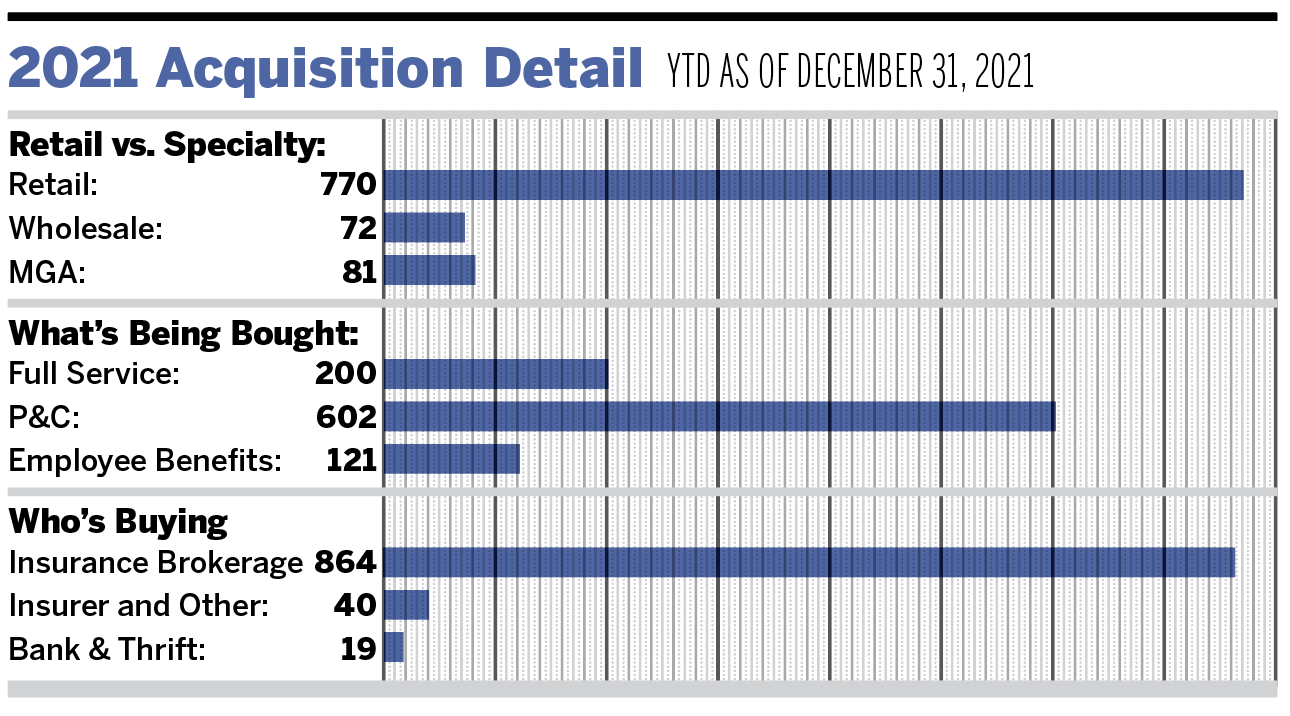 Merger and acquisition activity in the insurance brokerage distribution space saw its most active year on record in 2021. 
With 923 announced deals, the blistering pace of transactions in 2021 represents a 29.8% increase compared to the 2020 announced deal tally of 711.
Private-capital backed buyers accounted for 703 of the 923 transactions (76.2%) in 2021, which also represents a 45% increase in deal volume over 2020. The total number of deals by these buyers has increased at a compound annual growth rate of 26.9% since 2018. The astonishing growth in activity by private capital in the marketplace is a result of the proven attractiveness of insurance brokerages as an investment as well as more sellers coming to the table due to a variety of factors.
Independent firms accounted for 109 (11.8%) of the total acquirer count during 2021.
Independent firms accounted for 109 (11.8%) of the total acquirer count during 2021. This portion of the total announced transactions has declined considerably since 2019, partly due to spending restrictions (conserving capital) during the pandemic as well as being outpriced by larger acquirers.
Peter C. Foy & Associates Insurance Services, Acrisure, and High Street Insurance Partners were the top three most active buyers in the United States in 2021 based on announced deal activity, representing a combined 22.1% of the 923 total transactions. The top 10 most active buyers combined completed 479 of the 923 announced transactions (51.9% of total).
Deal activity in 2022 has had a sluggish start following the year-end blitz of 2021. There have been 28 total announced transactions, which is roughly 50% of the number announced in January 2021. However, there will likely be retroactive announcements throughout the year that will probably bring this count more in line with prior years. This includes deals with targeted 2021 close dates that were moved to 2022. Deal announcements are anticipated to pick up considerably throughout the remainder of the first quarter as concerns over capital gains tax changes have calmed somewhat but have not gone away completely.
We expect 2022 activity to come in at the 2019/2020 levels, landing somewhere around 750 announced transactions. Appetite from buyers in the marketplace remains strong, and 2022 could ultimately show the second highest deal total on record.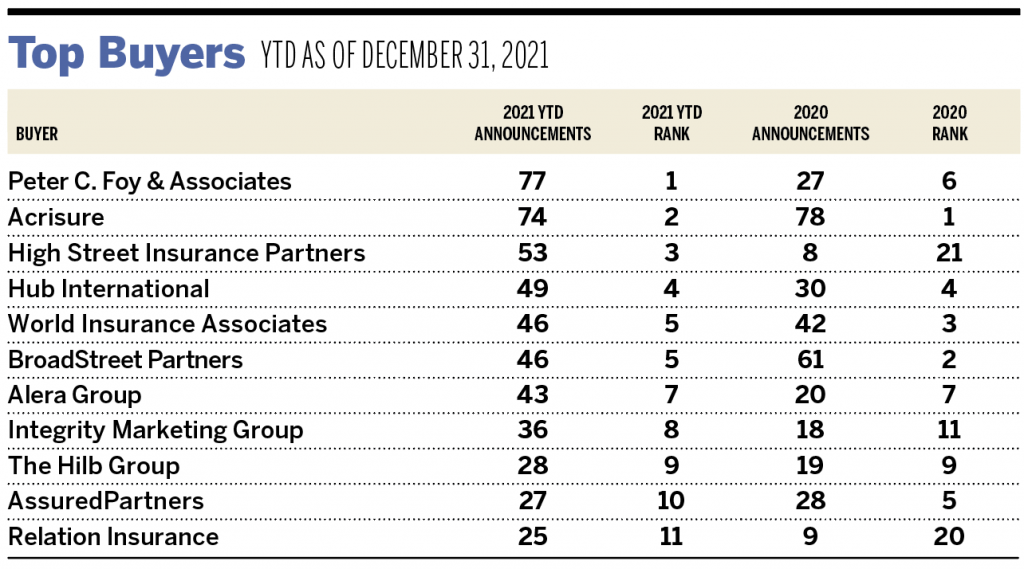 Disclosure: All deal count metrics are inclusive of completed deals with U.S. targets only. Scorecard year-to-date totals may change from month to month should an acquirer notify MarshBerry or the public of a prior acquisition. Send any announcements to M&A@MarshBerry.com.