No Going Back
Strategic investments and record health tech funding numbers show just how embedded digital healthcare has become.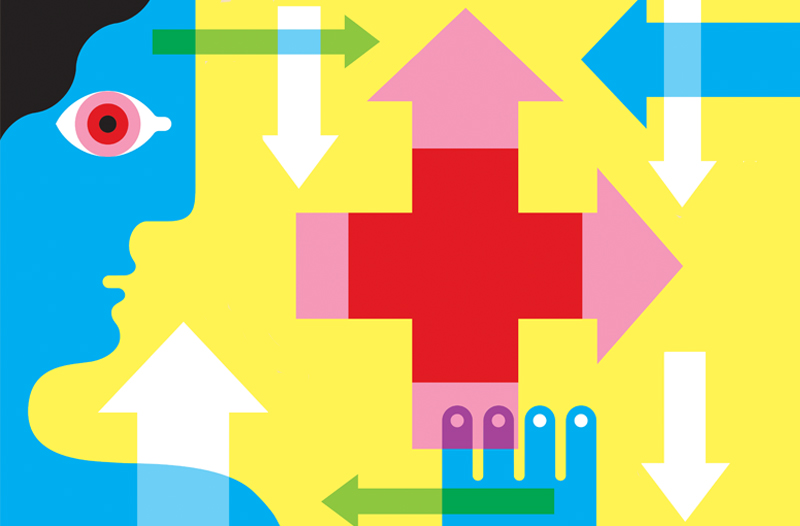 Pandemic quarantines forced many longtime technophobes to become tech-literate—and in a hurry. People who had been uncomfortable buying groceries online or having virtual meetings no longer had a choice.
Even the healthcare and insurance industries, both known for their apprehension in adopting new technology—especially when compared to, say, the banking sector—could not keep their corporate heads in the sand. But instead of a gradual move toward change, 2021 brought record amounts of money flowing into new technologies. Meanwhile, digital health has reached some unlikely consumers, including Medicare recipients.
For brokers, adopting technology for internal efficiencies and client-facing services is a must. Customers and employees are demanding they do so. As a result, many brokers are forging ahead, through partnerships, investments or acquisitions.
In the last two years, digital health has reached some unlikely consumers, including Medicare recipients.
U.S. digital health startups achieved $37.9 billion in funding in 2021, a one-year increase of 75%.
Businesses are acquiring or merging with tech companies to scale their product and improve their value proposition.
Record Health Tech Funding
A recent CB Insights report found that digital health startups in the United States achieved a record $37.9 billion in funding in 2021, up 75% from the previous year. This is due, in part, to a leap in "mega round" funding, deals of more than $100 million. Health technology companies are moving more quickly from mid- to late-startup, and the deals are closing at much higher numbers, according to the report.
Globally, 2021 funding increased by the same percentage as in the United States, hitting $57.2 billion. While the United States tends to be a leader in this space, some other regions also had record-breaking investment numbers, including Latin America.
The mass of the U.S. health system accounts for its being a major player in this industry. Healthcare accounts for about 20% of U.S. gross domestic product but only about 10% to 12% in other modern economies, says Chris Burns, CEO of CRB Consulting Group.
"The sheer size of the U.S. healthcare market drives more vibrancy, and there is more space where companies can grow within the industry," Burns says. "That is the major differentiator for the U.S."
The boom of these technology companies has many businesses looking to mergers and acquisitions to scale their product, fill in gaps and improve their value proposition. According to the CB Insights report, M&A activity in digital health increased by 44% in 2021, hitting a global record of 574 transactions.
Burns lived in the technology mecca of Silicon Valley from 2014 to 2018. At that time, he says, companies were just beginning to use technology in the internal processes of brokerage firms or to increase patient engagement with their healthcare providers.
He likened insurtech then to being in the first inning of a baseball game. Without the pandemic, he estimates, this technology now would be in inning three. The pandemic, however, catapulted the industry beyond the seventh-inning stretch.
"It was like shooting them [tech companies] out of a canon and projecting them into the benefits and brokerage space," Burns says. "Some digital health firms grew by 300% or more just during COVID, particularly mental health."
New technology and mergers and acquisitions in the industry are clearly aimed at areas of need. Brokers see mental health and managing musculoskeletal pain as clients' top demands.
One major 2021 merger was the combination of Headspace and Ginger. Putting together the former's meditation app with the latter's teletherapy services will allow the new organization to reach 100 million consumers, according to a Headspace press release.
A notable acquisition in 2021 was Hinge Health's purchase of wrnch. The acquisition of wrnch, a motion-tracking technology company, has given Hinge, a digital musculoskeletal clinic, the largest computer vision team in digital health, according to Hinge. Computer vision is artificial intelligence that allows computers to gain information from digital images.
Burns says these kinds of deals will continue beyond the pandemic for a couple of reasons. First is the expectation that brokers and health providers will offer this kind of technology. Second is the large market they address. And finally, with such immense growth, there will eventually be a glut in the market. When companies compete for market share, there will be winners, who sometimes end up purchasing their less successful competitors.
Winning Combinations
Vikram Sidhu, a managing partner in Clyde & Co.'s New York office, says a range of deals are taking place in the industry—not just larger companies buying smaller ones. There are deals between insurtechs, and there are insurtechs buying companies and then being purchased. And though rarer, even newer, successful insurtechs are buying insurance companies to become "full stack" providers.
"There are large, established companies saying, 'If we need to keep growing, we will have to be innovative,'" Sidhu says. "Even Carvana bought an insurtech…. Everyone needs to innovate."
In August, Carvana agreed to invest $126 million in Root, a major technology-focused auto insurance provider. The purchase secured a partnership that will combine car sales and auto insurance offerings for Carvana customers.
Joe Torella, president of the employee benefits division at Hub International Northeast, says these days M&A meetings are punctuated with talk of brokers looking to provide what is best for consumers, and that is often by delving into the insurtech space.
"Companies are acquiring an organization and getting one plus one equals three: 'We are strong and you are, but we are stronger together,'" Torella says.
He says Hub seeks acquisitions that place the organization in a new market or offer different technology. It also looks to find technology that will help the brokerage delve deeper into specialty areas of interest to the company.
"One way to think about it is, who looks like us already and adds great strength," Torella says.
This similar-but-different kind of acquisition recently propelled HR solution provider TriNet to purchase Zenefits, which has an HR, payroll and benefits platform. In essence, the deal provided an opportunity for the buyer to serve its market for longer than it could on its own, says Samantha Wellington, TriNet senior vice president and chief legal officer.
The growth of a small business tends to engender more complexity within the organization, Wellington says. A company may start with two employees. When it grows, so does its workforce, which might expand to different offices or even different states. As it grows from a small to a medium to a large business, it will cycle through different insurance needs.
As a professional employer organization (PEO), TriNet offers benefits solutions for small and midsize businesses. But there are circumstances when a PEO does not make sense, like for very small or very complex companies. Acquiring Zenefits will enable TriNet to reach those markets that a PEO does not—and sometimes shift on and off a PEO during a company's life cycle.
"Where we are hoping to move to is a world where small to medium-size business clients can move seamlessly through our HR solutions," Wellington says. "We have competitors who offer HRISs [human resource information systems] on their own or a PEO, but no one does both on a single technology."
You can't turn insurance into banking, where it is only transaction based. You have to apply the right level of service so, if people stumble, we will catch them.
Joe Torella, President, Employee Benefits, Hub Northeast
The pandemic saw vast numbers of people being laid off or voluntarily leaving large companies. Some ended up hanging out their own shingle or moving to smaller businesses that might be better suited to improving their work/life balance.
"It seems to be what people are doing with their lives—they are looking to small and medium businesses," Wellington says. "Those are absolutely growing as clients for us in a way that, in our book, is unprecedented."
Particularly in the financial services sector, where, Wellington says, she has seen more growth and hiring than ever in just a couple years' time. And these businesses no longer seek companies to partner with that have good technology. Instead, they expect it from all vendors. "High technology capability has become almost table stakes," she says.
Wellington says the acquisition of Zenefits makes TriNet's technology even stronger. Zenefits had a strong development team and placed a lot of focus on research and development. The tech company had an "engineering bent" centered on innovation and bringing new products to the market, which enhanced what TriNet offered.
And while TriNet hopes to continue to bring new technologies in, she says, the company's service side will continue to be a necessity.
"Human resources has a 'human' that is necessary to deal with more complex issues," Wellington says. "We'll scale technology to do as much as we can but will continue to deploy the service side toward more complex issues."
These include issues such as harassment claims or discrimination claims or a beneficiary with a sick child who needs special treatment that's being denied by the insurer. There is an inherent human nature component to managing those kinds of issues, Wellington says.
Medicare: Tech Forerunner
The pandemic resulted in a vast change in consumer habits, causing most people to buy just about anything online. Schools learned how to provide education virtually. Many people worked from home, and many relied solely on Amazon or local grocery stores' online shops to deliver their food and so much more. It makes sense, then, that these new habits have translated into similar changes in the behavior of companies.
"As consumers inside of a business," Wellington says, "we expect of our suppliers the same sort of consumer-oriented behavior as we engage in in our daily lives."
Ironically, observes Hub's Torella, technology has made things like healthcare more human and adaptable. "The pandemic made us understand that mail-order drugs aren't a bad idea and the best way to see a physician may be through telemedicine," he says. "Mental health and wellness came to the fore, requiring a virtual solution, and a lot of those have come into their own over the last two years because of necessity."
Some markets, even those that wouldn't necessarily be expected to go digital, were part of acquisitions in 2021 and were fueled by the pandemic. Over the summer, Hub purchased EnterMedicare, a digital platform meant to make Medicare more easily understandable for seniors.
Torella says many seniors who might not have been comfortable using technology were pushed into it during COVID-19, creating a perfect time for this kind of technology move.
"Most people think the last place to go digital would be the Medicare space," Torella says. "That's a population that isn't necessarily comfortable with digital anything…. Fifteen years ago, I don't try this. Ten years ago, I would have questions about it. And five years ago, people were just beginning to use things like the iPad and Facetime to stay connected to their grandkids."
But his organization saw seniors getting increasingly comfortable with technology. Hub had also worked with EnterMedicare as a stand-alone service for years. Hub decided to pull the trigger because of the recognition that many of its clients were now looking to use technology for answers in most areas of their businesses.
"We decided to take it under our wings and make sure it was built into our model so everyone could understand the value of it," Torella says.
Hub has already learned a number of things about how technology can best be suited to the Medicare population. First, the images it uses are big and visible, and the website is easily navigable. Clients answer questions like who their doctors are and what medications they take so the technology can more intuitively walk them through the process.
Over time, Hub plans to build out the platform to see where people are "jumping off," what videos are and aren't being watched, and when people quit viewing the videos. It also has staff ready to talk on the phone if clients prefer.
"You can't turn insurance into banking, where it is only transaction based," he says. "You have to apply the right level of service so, if people stumble, we will catch them."
Hub's acquisition of EnterMedicare helped the brokerage provide a service to clients in a space in which most businesses aren't well positioned—serving the senior workforce. The Centers for Medicare & Medicaid Services (CMS) doesn't allow businesses to push their eligible employees onto Medicare. But CMS does permit employers to provide a solution that helps employees compare whether the company plan or Medicare is better suited for those individuals. Most companies don't even delve into this space, Torella says, so it took some time getting clients to understand the value of this kind of platform.
"But we have done some deep, rich analysis of census data and…that lets us look at what that census data should communicate to an employer," he says. "We can tell them how to communicate with their employees, what the best benefits are for different populations, how many 26-year-olds aren't on their plans but should be, and how many are coming into Medicare age that should be thinking about that."
Torella says technology enables businesses to better reach their multigenerational workforces. Some employers might have five different generations to serve through a benefit plan. Working virtually has allowed some people to stay in the workforce longer, and technology is allowing companies to communicate benefits to a wide range of populations. One group they can reach with technology that was previously more elusive is the still-working population of people in their early 60s who are beginning to think about Medicare but are not quite ready for the program. They, too, can use this digital platform to explore their future options.
The solutions an employer offers to 30-somethings should be different from what they bring to the table for a 62-year-old, but most brokers don't look at benefits that way, Torella says. A company health plan might not offer coverage for things like false teeth or vision insurance, which older employees need. It's likely that specialized Medicare plans will have more of these types of benefits.
"One-size-fits-all fits none," Torella says. "When companies are doing things to keep their older workforce on the plan, it is a disservice to the plan and doesn't really work for them anyway. The company isn't better off when it can't meet the needs of that population. But someone might be able to find a Medicare plan where the beneficiary pays zero premiums, and the employer then doesn't have to worry about providing the right benefit to that individual."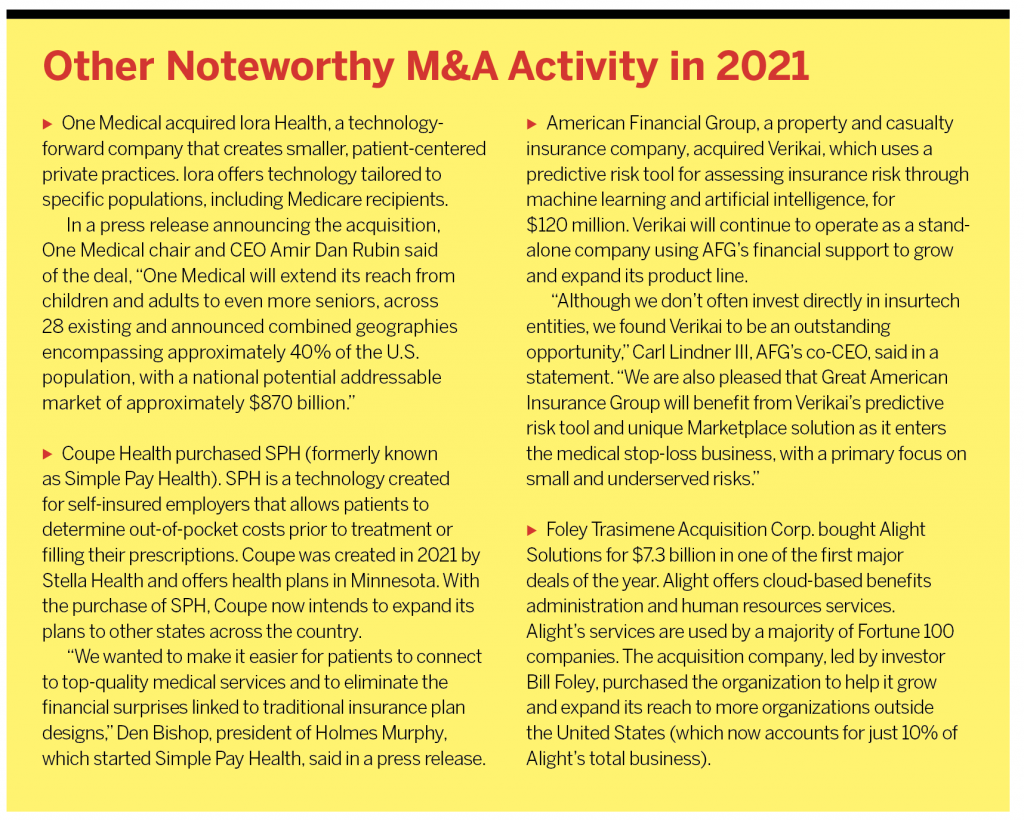 Social Support Tech
Another space with traditionally slow movement into technology is social support. But the dramatic jump in need sparked Unite Us last year to purchase Carrot Health, a health analytics company, and NowPow, a technology organization that supports whole-person care in a community.
Unite Us, a digital platform that helps healthcare providers connect patients to local social services, saw a 287% increase in electronic referrals beginning in March 2020. The need for typical services like food assistance, income support, and individual and family services was already present but spiked nationwide early in the pandemic.
"The silver lining of the pandemic is that it exposed the gaps and inequities that have always existed but were often overlooked or ignored," says Esther Farkas, chief strategy officer at Unite Us. "Now is the time to change the script and narrative, build a more equitable future, and push for transformational change at the system level, which is what Unite Us is doing across the country."
Technology is essential for connecting individuals with health and social services, Farkas says. Having a range of partners linked in one space streamlines referrals and supports care coordination in a community.
"Many communities and organizations lack adequate technological infrastructure, which makes connecting patients to services and tracking outcomes nearly impossible," Farkas says. "Our technology allows providers to identify at-risk populations in need of services and track the results of those services within the same platform."
The acquisitions helped Unite Us eliminate fragmentation between health and social service providers, Farkas says. Carrot was able to offer social determinants of health analytics, which provided existing Unite Us networks data to engage with patients, get them to the right services, and then show the results. NowPow allowed the company to scale up its health and social networks. The acquisitions allowed Unite Us to expand both technology and geographical reach.
Farkas says the social health space has increased a focus on things like predictive analytics in recent years so providers can better understand risk and need in their communities. Metrics on how people use healthcare are also increasingly important and can be impacted by the better use of technology.
"We're looking at much deeper metrics on utilization," she says. "In New York, there has been a 16% reduction in emergency department visits, because social service providers are closer to clients and are often the first people called."
Great Tech-Spectations
From a brokerage perspective, says CRB Consulting's Burns, the race is on for firms to adopt technologies that will improve internal processes and efficiencies. Organizations will need to bring pertinent technologies to clients in property/casualty and benefits to increase engagement and improve return on investment. "We'll see who will do that at the quickest pace and at the highest quality level," Burns says. "There is definitely a burgeoning trend for brokers to do this."
Burns says he was impressed with the 2021 merger of Newfront Insurance and ABD Insurance and Financial Services, calling it a good example of a technology sea change for brokers. Other, smart brokers will do the same thing in different ways, he says. Whether bringing technology expertise into a firm or buying technology firms, brokers need to improve the experiences of their clients and their clients' employees.
A definitive COVID trend has been the move to digital health in chronic disease care, mental health treatment and telemedicine. If a business is paying for its employees' healthcare, it wants to see a lot of employees use it, have improved ROI, and create better outcomes. Burns says technology may help do all of this. Technology presents the opportunity not only to improve engagement but also to provide a better experience and quicker response time than employees might get in an office visit.
Those brokerage firms that have not quite jumped on the digital bandwagon might soon be remiss. "On the brokerage side, some are doing nothing, most are doing something, and a few are doing a lot," Burns says. "Anyone who isn't doing a lot will have to catch up quickly, and it will make a big difference to their clients over the long term."