Healthcare Hold'em
The game is changing and so are the players. Who will end up with the cards?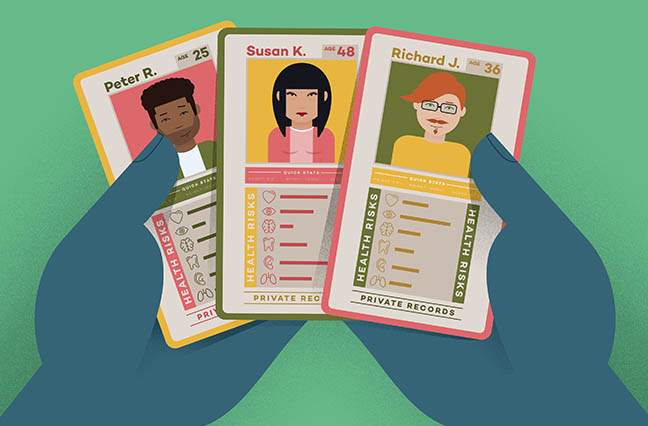 In the summer of 2017, Seema Verma, administrator for the Centers for Medicare & Medicaid Services (CMS), spent several terrifying hours trying to access her husband's medical records after he suffered a heart attack in an airport.
She recalled her horror last March at an annual conference sponsored by the Health Information and Management Systems Society.
"If it weren't for the bystanders and the first responders at the airport, my kids would've watched their father die," Verma said. "In the hours it took to get to my family, I tried to answer questions for the doctors over the phone about his medical history, but unfortunately I had few answers. So I desperately made calls to his doctors back home in Indiana asking if there was any information they had that could help save his life. When I arrived at the hospital, the doctors and nurses still didn't know what was wrong with him or how to treat him. He had a multitude of tests…MRIs, CAT scans, blood tests, ultrasounds."
While experts ultimately diagnosed and successfully treated his condition, Verma believes no one should have to endure what she did. And she is now spearheading efforts at CMS to increase consumers' access to their health data. These efforts are part of a Trump administration policy initiative, MyHealthEData, that seeks to improve patient access to clinical data by improving the systemic architecture in place for consumers' right to access data.
"Imagine a world in which your health data follows you wherever you go and you can share it with your doctor, all at the push of a button," Verma said. "Imagine if, in turn, your doctor didn't have to spend so much time faxing records and staring at a computer during an appointment. Imagine if you could track your medical history from your birth throughout your life, aggregating information from each health visit, your claims data, and the health information created every second through wearable technology."
The fact is, individuals' lack of access to their medical records in emergency situations is just one component of a larger healthcare data challenge. Limits to clinical and claims data sharing, based on proprietary and technical impediments, reduce patients' ability to be effective healthcare consumers.
Such information barriers also impede efforts to address spiraling healthcare costs, often by limiting competition on quality and price.
Imagine a world in which your health data follows you wherever you go and you can share it with your doctor, all at the push of a button.
Seema Verma, administrator, Centers for Medicare & Medicaid Services
Clearer and more comprehensive records will allow consumers to track their healthcare issues, treatments and outcomes more easily. While consumers may not be able to fully interpret their data on their own, data sharing enables third-party applications to aggregate and thus better track the quality and price of care. Data sharing could also inform patients on optimal care choices.
"Software application access to the data will allow consumers to proactively determine which providers provide the best outcomes at the lowest cost through apps that could help aggregate that data on behalf of millions of consumers," says Ryan Howells, a principal at healthcare intelligence consulting firm Leavitt Partners. Leavitt manages an alliance known as CARIN (Creating Access to Real-Time Information Now through Consumer-Directed Exchange), whose stakeholders represent hospitals, physicians, large payers, consumers and caregivers promoting health data sharing with third-party applications.
"Improving consumers' ability to make more informed healthcare choices…will enable them to choose high-quality, low-cost providers, thus helping generate large improvements in healthcare experience and associated costs," Howells says.
Close at Hand
While this may seem like a distant vision, some say it's closer than we think. Aneesh Chopra, a co-founder of CARIN and president of CareJourney, an open-data intelligence service provider, says that 2019 could be a transformative year for the impact of health data upon the healthcare system—and one that calls for agent and broker actions.
"By this time next year, a new paradigm for delivering employer-based healthcare insurance will take hold in leading markets," says Chopra, a former chief technology officer under President Barack Obama. "I recognize that such pronouncements might be construed as hype. But there are now three trends that are converging to empower employers in new and amazing ways, and I hope that employees will start to benefit in the next enrollment cycle."
The trends are as follows:
For the first time, there is a movement to standardize the way consumers invoke their right of access to their health information via an application or service they trust.
A move to value-based care is driving the creation of clinically integrated networks willing to take on responsibility for total cost of care to help employers and employees manage healthcare costs and help consumers make the best use of their health information.
Digital standards for consumer-directed health exchange are on the rise. These standards enable the rapid exchange of digital information between different software programs via the use of a common language and internet architecture. They facilitate the functionality of software applications, such as Apple's Health app, that can help consumers understand their health needs and evaluate healthcare options at no marginal connectivity cost.
These three trends, Chopra says, make it possible for consumers to use software applications to access and understand their health records, manage their care, and access value-based medical networks that can help them optimize care and contain costs.
Data Types
There are two key data types of high interest to healthcare stakeholders, notes David Smith, founder of Chicago-based Third Horizon Strategies, an organization that assists healthcare companies in their strategic planning operations.
Claims data are submitted by providers and include documents with information on the cost and dates of procedures and billing codes. Payers such as employers, insurance carriers, the government and individuals maintain that information.
Clinical data are generated at the point of encounter with a healthcare provider and are captured in an electronic health record (EHR). In most of the country, clinical records are the intellectual property of the healthcare provider that captured and authored the information, such as a doctor or hospital. The technology infrastructure of the resident EHR and the contractual provisions between the provider and the EHR company determine access to these data.
Both types of data are important factors in good and efficient healthcare. Clinical data can facilitate population health management because it is specific to an individual and contains the detail necessary to optimize care for that person. (For example, clinical data can help providers avoid duplication by sharing patient conditions, treatments and outcomes.)
Claims data can be useful for generating statistical profiles of a population, Smith notes. That can assist underwriters, actuaries and insurers in pricing risk and learning things about populations or geographies.
Any party that stands to benefit economically from eliminating inefficiency or improving healthcare at the same or lower cost should be mining data, says Jon Prince, president of DataSmart Solutions, a data warehousing and analytics company in Helena, Montana.
Privacy Protections
As we look toward the future of data-driven healthcare, it's useful to understand the current legislative and regulatory boundaries that govern healthcare data. Traditionally, the limited data sharing that has occurred has been under HIPAA (Health Insurance Portability and Accountability Act of 1996). Within HIPAA, payers can access patient-protected health information to evaluate and pay a claim, says Dawn Paulson, director of HIM Practice Excellence at AHIMA, the American Health Information Management Association. Payers also can access and use data for healthcare operations, including population health management and care coordination, says Jodi Daniel, a partner at Washington, D.C., law firm Crowell & Moring and a former policy director at the U.S. Department of Health and Human Services.
A December 2018 article in Leader's Edge noted that HIPAA's Privacy Rule includes provisions that authorize permissible data sharing—and mandate it under certain specified conditions.
By this time next year, a new paradigm for delivering employer-based healthcare insurance will take hold in leading markets.
Aneesh Chopra, president, CareJourney
Scott Sinder, a co-author of the article and The Council's chief legal officer, says the Privacy Rule allows a carrier to share plan data with the employer sponsor without employees' consent or authorization but there are limitations. For example, carriers can share summary health data (such as anonymous information on claims history and claims expenses) with employers for premium bid purposes or for modifying, amending or terminating the group health plan.
The Privacy Rule permits carriers to share more granular personal health information with employer sponsors for underwriting purposes and with other healthcare operations, Sinder says, as long as certain anti-discrimination safeguards are satisfied. The Privacy Rule also gives individuals the right to see copies of the information in their medical and other health records maintained by their providers and health plans. As Leader's Edge reported: "Employees may extend their 'right of access' to their own personal health information to their employer and/or the employer's broker—as designee(s)—and plans must then provide the information as requested by the employee."
As data sharing expands to include the exchange of information via consumer authorizations to third parties, the duty to comply with HIPAA requirements will be supplemented by the challenges of addressing data exchange ethical and legal issues outside of a HIPAA environment.
In late November, CARIN released a code of conduct that third parties can follow to ensure their applications are gaining consumer consent whenever they handle healthcare information on behalf of the consumer. The code, Howells says, is designed to help third parties follow industry best practices for securing information outside of HIPAA.
Some software company-specific efforts are also under way. "We have done work to include patient education when patient-authorized applications would share information," says Sasha TerMaat, a director at Epic, a Wisconsin-based software company targeting healthcare providers. "We work with app developers to identify aspects of information sharing significant to them and make that more accessible to patients than if it was hidden in a 20-page terms-of-use document."
Howells says he anticipates a new "data-sharing ecosystem" that will enable employees and patients to access their health information under HIPAA. Such access, he says, will empower consumers to share their information with any third party of their choice.
Information Blocking
Privacy isn't the only issue to consider in increased data sharing. There's also the matter of overcoming proprietary interests by parties who currently hold and own electronic health records. Many say healthcare providers and payers can limit access to such data to protect themselves from competition and to facilitate relationships with other parties.
In fact, this may be among the hardest challenges to overcome, though a variety of federal efforts seek to prevent this trend, often called information blocking.
The federal Office of the National Coordinator for Health Information Technology (ONC) is required to establish regulations that improve access to clinical information by parties requesting the underlying clinical data. The statute requires electronic health record vendors and hospitals to confirm they are not engaged in information blocking. The Department of Health and Human Services is expected to provide guidance on information that should not be blocked as well as fines to be imposed for information blocking.
The Centers for Medicare & Medicaid Services is moving to require similar data transparency regarding claims from insurers. In her March speech, Verma called upon all insurers to give patients their claims data electronically. She said over the course of the year CMS would reexamine its partnerships and relationships with health insurers to find ways to persuade them to give patients control of their records.
An executive at a data analytics firm says information-blocking concerns are real and addressing them is critical. "When we get information from large payers for our clients, they require in their nondisclosure agreements that we not do anything with the data that would allow someone to determine provider price or quality decisions, which we think they include because the hospitals make them put those clauses in their contracts," the executive says. "Yet that is the most important reason to be using the data, because a handful of claims drive all the costs. If you can ensure that that 10% of the population makes the right decisions, that makes all the difference."
Jodi Daniel, of Crowell & Moring, says information-blocking provisions will likely require data holders to release data "for purposes that are good for patients but may not be in the data holders' best interests."
Technical Challenges
There are also legitimate technical challenges to data sharing—in particular, setting the standards and frameworks to enable it. There are disparities in the types of data recorded. Not all data with value are recorded, and much that is recorded is captured in different formats.
In the past, common electronic standards that would allow the sharing of different types of information from different types of applications did not exist. However, both public and private sector initiatives are said to be achieving remarkable progress in this area. (For details of public sector initiatives, see the sidebar "Setting the Standards.")
In the private space, Fast Healthcare Interoperability Resources (FHIR), a non-proprietary application programming interface (API) standard for sharing and exchanging health information, is rapidly being adopted as a common industry standard. Several factors are increasing its adoption. The Argonaut Project, launched several years ago, is a private-sector initiative to advance industry adoption of modern, open interoperability standards. Participants in the Argonaut Project are working to rapidly develop an FHIR-based API to help expand health data sharing.
A complete analytics-care coordination ecosystem consists of more than colorful reports that accumulate in someone's inbox. Brokers need to ask, 'Who will act upon the findings at the level of my client?'
Jon Prince, president, DataSmart Solutions
As part of these efforts, Apple has integrated the clinical API standard into its iPhone iOS, including a health record feature within its Health app that was introduced in January 2018. A variety of other tech vendors and providers also support the Argonaut Project, including Cerner, Epic, AthenaHealth, Meditech, Accenture, and McKesson.
A second effort, the Da Vinci Project, is more focused on payers. The project includes Allscripts, Cerner, Optum and Epic on the technology side and many of the country's biggest commercial payers, including Anthem, the Blue Cross Blue Shield Association, Humana, and United Healthcare. Last August Amazon, Google, Microsoft, Salesforce, IBM and Oracle signed a joint pledge to accelerate interoperability across healthcare by leveraging cloud-based technologies and data standards in pursuit of the common good.
In October, ONC released a study that found 10 certified health IT developers with the largest market share across hospitals and clinicians use FHIR. About 82% of hospitals and 64% of clinicians use these developers' certified products, which Howells characterizes as unprecedented in terms of the speed in which an open standard was voluntarily adopted by industry.
The Use of Big Data Is Under Way
As the ability to share data improves, it is important to think about what can be done with those resources. For that, we can look to the health data analysis already under way.
"Scientists, clinicians and others have long recognized that large quantities of health-related data…can be analyzed to detect forthcoming health problems as well as to validate superior interventions," DataSmart Solutions' Jon Prince says, noting that such information is already used by employers, insurance carriers, hospitals, and other care providers.
Healthcare analytics companies are leading this research, Prince says, together with some university hospital systems, such as the Johns Hopkins Bloomberg School of Public Health. Some large insurance carriers and consulting firms contract with or acquire analytics units to produce useful information from raw data.
"In short, there is great value to be found within data for the field of public health," Prince says. "In addition to traditional medical and prescription claims history, supplemental data, such as biometrics, vision scans, routine blood panels and even questionnaires, can have predictive value. A striking correlation, for example, has recently been found between consumer data, such as the FICO score, and health-related behaviors such as adherence in taking prescribed medications."
The study of health data patterns enables many disease states to be foreseen, permitting early intervention and better outcomes. Data are also used to evaluate quality of care, efficiency of care facilities and providers. The performance of individual plans can be carefully analyzed to reveal cost trends upon which corrective action can be taken.
In broad terms, Prince says, the findings from healthcare data research fall into categories of predictive risk scoring (e.g., identifying individuals in greatest need of immediate intervention), improving traditional diagnosis (e.g., providing doctors with a more complete story on a patient) and recommending improvements in plan design and networks.
In all cases, however, to extract value from research, findings must be interpreted and acted upon by experts, Prince says, and that requires action by brokers. "Brokers must ensure that this interpretive, action-taking component is included," Prince says. "A complete analytics-care coordination ecosystem consists of more than colorful reports that accumulate in someone's inbox. Brokers need to ask, 'Who will act upon the findings at the level of my client?'"
The adequacy of data analysis can produce tension between employers and insurance carriers, Prince notes. "Some large insurance carriers assert that they have all of the above—analytics as well as onboard care coordination," Prince says. "But experienced brokers know that, in spite of these reassurances, in some cases renewal rates can climb significantly, if not suspiciously. Hence, the trend for plans to migrate from fully insured to self-insured continues, along with the search for transparent, end-to-end solutions that begin with data and culminate in better plan performance, lower renewals, higher reserves and healthier members."
Insurance brokers today are connecting valuable research to employer plans in a variety of ways, Prince says. "Many of the large consulting firms conduct RFPs on behalf of clients to identify the best total solution that includes analytics and care coordination team action," he says. "These firms constantly vet analytics vendors, care coordination companies, and others from which an effective ecosystem can be built. Other mid-market brokers may hire and organize internal clinical, care coordination and reporting teams of their own and contract with analytics vendors for the underlying research. Smaller brokers outsource all these functions and are still able to deliver effective, economical products to their clients."
Today, Prince adds, analytics and care coordination services are quite affordable. "The field is highly competitive," he says. "The addition of this service to a broker's product line is vital in a market where differentiation is crucial to a successful sales campaign."
Driving Value-Based Payments
As data sharing increases, so does the potential for creating a value-based healthcare payment system.
"We cannot effectively transition to a value-based system," Verma said last year, "unless we provide to both the doctor and the patient all of the clinical and payment data required at the point of care to help them mutually make a different and better decision than they could have today."
President Trump last year reinforced efforts to move toward a value-based compensation system through an executive order aimed at improving access to reliable information that consumers need to make informed healthcare decisions, including data about prices and outcomes.
In the private space, Fast Healthcare Interoperability Resources (FHIR), a non-proprietary application programming interface (API) standard for sharing and exchanging health information, is rapidly being adopted as a common industry standard.
In addition, Sen. Bill Cassidy, R-La., in early 2018 launched a proceeding to learn why consumers cannot compare the cost of care effectively. In September, Cassidy—who is a gastroenterologist—and several Senate colleagues, members of a bipartisan Senate healthcare price transparency working group, introduced draft legislation to protect consumers from surprise medical bills, often termed "balance billing."
There are also data-sharing efforts included in existing value-based care initiatives. In the Qualified Entity Program, established by the Affordable Care Act, organizations approved as qualified entities (QEs) receive access to Medicare claims and prescription drug data for use in evaluating provider performance. QEs are required to use the Medicare data to produce and publicly disseminate reports on provider performance approved by the Centers for Medicare & Medicaid Services. QEs are also permitted to create non-public analyses and provide or sell such analyses to authorized users, such as employers. CMS also publicly releases information about providers through the Medicare Compare website.
Brokers Tie It Together
"If I were an insurance broker focused on the mid-market, I'd like to play the role of general contractor to tie these three key general trends together," says Chopra, referring to the increased standardization of patient right of access and data transfer and the rise of value-based care.
For example, says Chopra, brokers could include a standardized digital form for employees' right of access to their data in the open enrollment process, perhaps connected to an app. "The employer's job might be to curate a set of apps under which, under certain terms and conditions, the consumer designates access to health information, starting with claims," Chopra says. "Apps might be tied to clinical networks, should employers design ACOs, or to a retailer like Walmart, or to tech-focused online service providers like Apple or Google."
Regarding the value of aggregated data, Howells says brokers can serve as aggregators and educators of consumers and employers. "They can also act as enablers by encouraging consumers to aggregate their healthcare data using their own platform and third-party applications to make more informed decisions regarding their coverage and treatment," Howells says.
As we look to see what 2019 will bring to this field, experts warn of potential and patience. "This is still the first inning of efforts to unleash the power of data in healthcare," Smith, of Third Horizon Strategies, says. "Billions of dollars have been invested in capturing clinical data well, but that doesn't mean that all doctors and hospitals involved in care have access to it, and it doesn't necessarily translate into the intelligence that may be possible with greater data quality, interoperability and availability, including intelligence that may benefit agents and brokers. Value-based care and fully integrated delivery systems are still the exception to the rule. Still, with as much as has already happened, the potential is very exciting."