Employee Bargainers
A shift in power dynamics calls for a new approach to talent.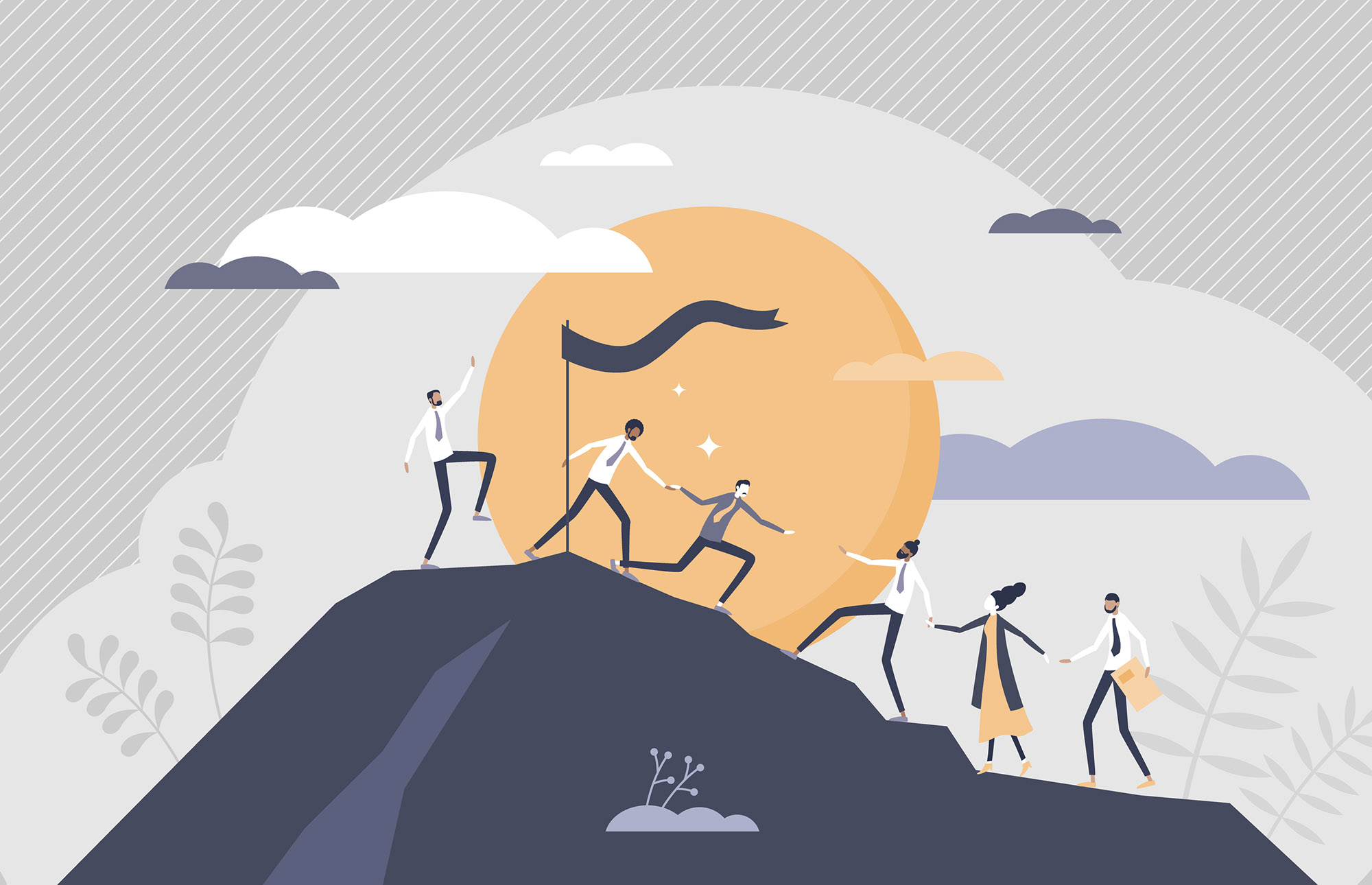 The churn in the American job market is unprecedented.
A record 69 million American workers quit their jobs last year. Many of the workers who chose to leave their jobs never sought a new gig. Others upgraded to new roles that better met their expectations for work, wages and work/life balance.
The power dynamic between the employer and the employee has shifted. It has reminded every business entity that its people are its greatest asset. Companies are being charged to consciously reinvent their environments and encourage both the business entity and teammates to align their own paths in the pursuit of impact and fulfillment. This presents a new era of challenges and opportunities for brokers, employers, and the role of employee benefits. In January, Leader's Edge surveyed and interviewed nine of the country's top benefits brokerages to understand which factors are contributing to a redefinition of benefits in the new era of work, as well as how brokers are partnering with employers to improve workplace culture and advance new recruitment and retention strategies.
How did benefits brokerages first identify and take action to change employer and employee expectations?
The brokers we spoke with reflected on the arc of employer conversations over the last two years. While benefits were part of the conversation in 2020, the big shift came in 2021 as strategic consulting conversations started to heat up between employers and brokers. Issues that had been percolating under the surface at workplaces for years were amplified as people reevaluated every aspect of their lives.
One broker commented that his organization hosted listening meetings with employer clients and two camps emerged: companies that had strong cultures and those that did not. The ones without strong cultures had a default mentality of "this is the way we have always done things" and struggled to get ahead of employees' switching jobs or opting out of the workforce entirely.
Brokers are also uniquely positioned to advise their clients on these issues. Their own organizations were experiencing the same cultural challenges, turnover and alternative staffing challenges that their clients were navigating. They said those internal experiences fed into their consulting conversations with clients as they were able to draw from techniques they had applied and offer insight into what other clients were doing to address shifting employee experience expectations. Brokers were quick to point out that their role goes beyond education. One broker commented, "Education is not enough. We are bringing actionable items to the table and coaching clients through strategy, not the benefit du jour."
Flexibility (e.g., unlimited PTO plans, paid paternal leave)
Protection (e.g., disability benefits, life and AD&D benefits, cancer and critical illness insurance)
Professional development (e.g., leadership coaching, tech-enabled mentorship programs, educational assistance)
Lifestyle (e.g., wellness benefits, pet insurance)
Retirement (e.g., defined contribution plans, planning services)
The scale of attrition and hiring challenges last summer was jarring to employers. It not only heightened their awareness of costs related to attrition but also increased their sensitivity to employee feedback and their demand for people who are a good fit and can attach to the organization's mission.
Many enabled HR teams to respond quickly to feedback that normally would have been pecked to death with questions regarding resignation rates and the number of complaints they heard. As one broker noted, "Now, the C-suite believes that if one person is thinking it 100 people are thinking it."
Brokers also said they are observing a permanent shift where employers are transitioning from "managing the employment experience" to "managing the life experience." With this shift, the benefits space is being redefined (again). Employee expectations now extend far beyond traditional benefits such as medical, dental, vision, STD/LTD, and 401(k). They want benefits that encapsulate work/life balance, recognition, autonomy and purpose.
In turn, this has raised employer expectations of brokerage firms that want to build defensible solutions in response to this new era of work. Historically, for example, a broker simply hired a brilliant underwriting mind who could dissect a self-funded plan. Now, brokers are expected to help design-build a high-performance health plan as well as find new value propositions and go-to-market strategies that support a company's growth, solve for inefficiencies, and position the client as an employer of choice.
Education is not enough. We are bringing actionable items to the table and coaching clients through strategy, not the benefit du jour.
Across the board, all of the brokers surveyed said they are at the beginning of a new journey in raising the business acumen of their team outside of traditional insurance consulting and insurance products. For example, one broker we interviewed described moving beyond cross-licensing his EB and P&C teams and instead retraining staff to design employee productivity solutions that don't necessarily fall within one product line. Another broker explained that the majority of client conversations now focus on employee well-being and evolving their company cultures. All interviewees said that their number one challenge is building this new muscle internally and operationalizing it through a mixture of hiring, reskilling, training and new partnerships.
One president of employee benefits at a brokerage firm gave insight into the challenge: "Our clients are now saying, 'Benefits are helpful, but how are we looking at this in the broader sense? How are we going to compete for employees?' You can only go to the 'well of benefits' so often. We have done a good job of ensuring our clients' plans perform optimally and that we benchmark against employers whom they are competing with. Our next issue is to respond to growing employer needs around a greater degree of transparency, while playing a coordinating role among partners and holding them accountable with performance guarantees and realistic scopes of work. We have to change the way incentives are set up inside benefits plans to make them perform better."
Further, the workforce itself is evolving and becoming increasingly diverse in age, identities and even geography. Employers need benefit packages that reflect diversity in order for them to appeal to top talent.
What benefits have employees been demanding over the last two years?
"Maximum flexibility" is the most in-demand type of benefit. Forty percent of those surveyed ranked flexibility as the number one benefit demanded by employees, and all respondents ranked it in the top three. Eighty percent of survey respondents said that most of their clients are now ditching the one-size-fits-all strategy and opting for a modular approach to benefits that suits the individual life situations of employees and their families.
The flexibilities that employees are seeking include benefits such as unlimited PTO plans, paid parental leave, and work-from-anywhere options. One broker commented, "True middle market and high-end middle market employers, for the first time ever, seriously want to know how their benefits package can be an influencer in people's staying or going. Never before, in 30 years of doing this, have people wanted to tear apart their leave policies. Not because it's an item on the to-do list but because it's critical to their ability to retain their workers that they modernize their leave policy."
How are clients gauging employee expectations and addressing employee demands in their 2022 employee benefits priorities?
Employee demands can look completely different from organization to organization based on population demographics, so it is essential for companies to engage their employees when building out a strategy tailored to their workforce.
Brokers observed one of the biggest challenges with employers right now is not having internal alignment with what they are trying to accomplish with their people. A straightforward way that employers can fine-tune their personnel strategy is to survey their employees to gauge what is valuable to them and prioritize actions and trade-offs from there. However, 40% of brokers reported that their employer clients have not been surveying or regularly engaging with employees to understand how their life stages are driving their preferences and needs. By not approaching employee engagement in an actionable way, employers are creating a disconnect with their employees regarding benefits expectations.
For example, many employers have put an emphasis on lifestyle perks. However, according to a new benefits study by Cake & Arrow, employees do not want more perks; they want changes to the way they work. When the study asked employees what benefits would be of most interest to them, almost all of the top choices related to restructuring work to make more room for their lives outside of their jobs (e.g., remote-friendly and/or flexible hours, a four-day work week, recreational allowances or time off, a sabbatical policy, and over-and-above family leave policies).
According to one broker, prospects and clients are anxious to survey employees to align benefits to their needs, but many need more guidance before implementation. Another broker said that surveying has been a longtime strategic differentiator for his firm. The firm surveys every employer group at the employee level asking questions such as what matters to you and your family, where do you think your employer falls in that, have you been recruited and offered another position lately outside the company, and, if so, what made you stay?
Surprisingly, one of the least commonly used methods was internal hiring. In other words, hiring from within a company may not necessarily solve the need for particular skill sets and continued growth.
The process of gathering employee feedback is an area where brokers can help clients navigate technology-enabled surveying resources and strategies that provide valuable data and insights. Some of the brokers surveyed have HR advisory practices that offer HR technology services. Others were addressing it more organically employer by employer based on specific situations.
One broker identified worksite benefits as his firm's fastest-growing segment. Because HR departments are so overwhelmed, several clients have asked for help designing a new tech-enabled worksite solution that includes features like payroll and benefits administration to solve employee engagement issues and fill gaps in their HR departments. Clients have said, "Let's make sure our people know what they are buying and buying what they need."
What methods are clients using for talent recruitment?
Brokers said that the two most commonly used recruitment methods by clients are employee referral programs and proactive recruitment. Sixty percent of respondents found these methods to be at least somewhat effective, and 30% indicated they were very effective strategies for recruitment. Surprisingly, one of the least commonly used methods was internal hiring. In other words, hiring from within a company may not necessarily solve the need for particular skill sets and continued growth. Half of respondents were unsure about this method, suggesting it is not very common among clients, and the other half of respondents indicated internal hiring was only somewhat effective.
'Maximum flexibility' is the most in-demand type of benefit. Forty percent of those surveyed ranked flexibility as the number one benefit demanded by employees, and all respondents ranked it in the top three.
However, employers should not overlook their current employees in their pursuit of new talent. The brokers surveyed said that employers will have to get used to addressing needs not related to compensation and traditional benefits, like partnering with employees to provide a path for ongoing development. If opportunities for growth are provided, employees may demonstrate that they possess the skill sets their employers are looking for.
Brokers identified several primary opportunities to address employee needs not directly related to compensation.
Integrate benefits into existing communication and technology infrastructures (e.g., physical workspace, email, employee intranet or smartphone) to support employees in and outside the workplace. For employers and brokers, this comes down to modernizing and personalizing communications with individual employees using data analytics and technology tools that can anticipate and respond to employee needs in real time.
Alleviate burnout and help employees reinforce boundaries between work and life. Benefits and policies that can shift the burden of boundary-making from employees to employers will help employees feel supported and cared for in and outside the workplace.
Meet the needs of the group as a whole, not just the needs of individuals. This represents an important mental shift for employers. Group dynamics in the workplace make or break a job for employees. Benefits today almost exclusively target the individual needs of employees and mostly needs outside of the workplace. Finding ways to deliver benefits that not only meet the needs of individuals but that meet the needs of teams and groups of people has the ability to transform the culture of work and meet higher-order needs of employees.
How are brokers and clients tackling diversity, equity and inclusion (DEI)?
Fairness and equity will be a defining issue for organizations. Several brokers said, "DEI is the undertone for everything." DEI efforts have been pushed to the forefront for employees and employers alike as culture becomes the primary focus; however, many companies are still experimenting with the myriad initiatives out there. This is where it becomes challenging for employers.
HR teams have been hesitant to plant a flag in the ground on DEI pledges and mission statements, fearing that their policies are more aspirational than actionable. Companies also have to be mindful of jumping on the bandwagon and mirroring the initiatives that seem effective for competitors, which employees view as inauthentic. Employers need scalable, sustainable frameworks to help shift mindset, behaviors and practices toward more equitable and inclusive workplaces, which starts within company leadership. One broker commented, "I look to see if companies have a dedicated person on the leadership team heading up their DEI initiatives, starting with a conscious decision around hiring practices. If they are serious about it, they have put somebody at that level in charge of it."
Forty percent of brokers indicated that more than half of their clients have implemented a dedicated DEI committee in 2021, and the remaining 60% indicated that at least some of their clients have. DEI committees can help companies gain awareness of the types of diversity within their company, create alignment, and identify specific actions to drive desired progress.
Another 60% of respondents reported that most of their clients implemented bias or cultural awareness and competency training in 2021. One broker said his clients are tapping into vendor solutions like Mineral (formerly ThinkHR), which has a module to help educate managers.
Other common efforts include pay equity analyses and team-building exercises. The majority of respondents indicated that some of their clients (less than half) conducted pay analyses in 2021. Several brokers indicated that they are using pay equity solutions that are being pushed by the payroll companies. According to the payroll company used by one of the brokerages surveyed, most at-risk employees can be identified through pay and performance metrics. Overall, there was a sentiment from all of the brokers interviewed that there is a wide range of momentum regarding DEI efforts, depending upon employer complexion and geography.