Consolidation Continues at Record Pace
Specialty distributors are rising in the M&A deal counts.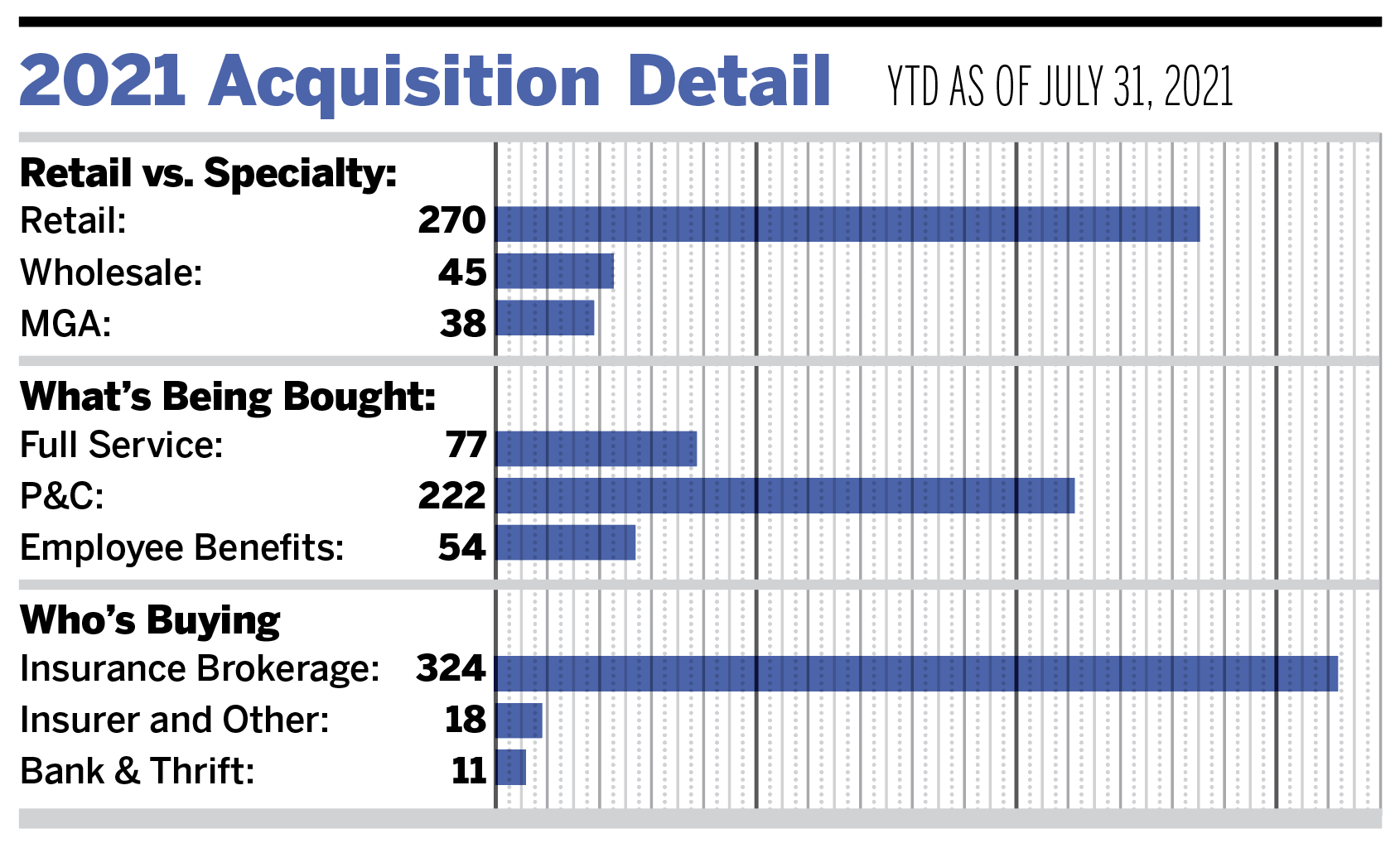 Seven months into the year and we continue to be poised to have the most active year of consolidation—by a significant margin. There were 353 announced merger and acquisition transactions in the United States through July. 
Total announced transactions in the United States have increased by 10% compared to this time last year. The absence of the second-quarter 2020 freeze in activity from the pandemic, coupled with anticipated federal capital gain tax increases, has driven deal activity. We expect retroactive deal announcements to further contribute to the record-breaking pace of deals being completed.
Private-capital backed buyers have accounted for 254 of the 353 transactions (71.9%) through June, while independent agencies have held steady at 15% of the total deal count. Deal activity in each of our buyer categories has remained proportional to what we have observed over the last three years.
Specialty distributors continued to play a larger role in M&A transactions. Deals involving managing general agents, wholesalers and specialty brokers have seen an increase of 48.2% year over year. This year-over-year increase is the largest we have observed since 2014.
Integrity Marketing Group, Hub International, and BroadStreet Partners are the top three most active buyers in the United States in 2021, totaling a combined 20.1% of the 353 total transactions. The top 10 most active buyers completed 174 of the 353 announced transactions (49.3% of total).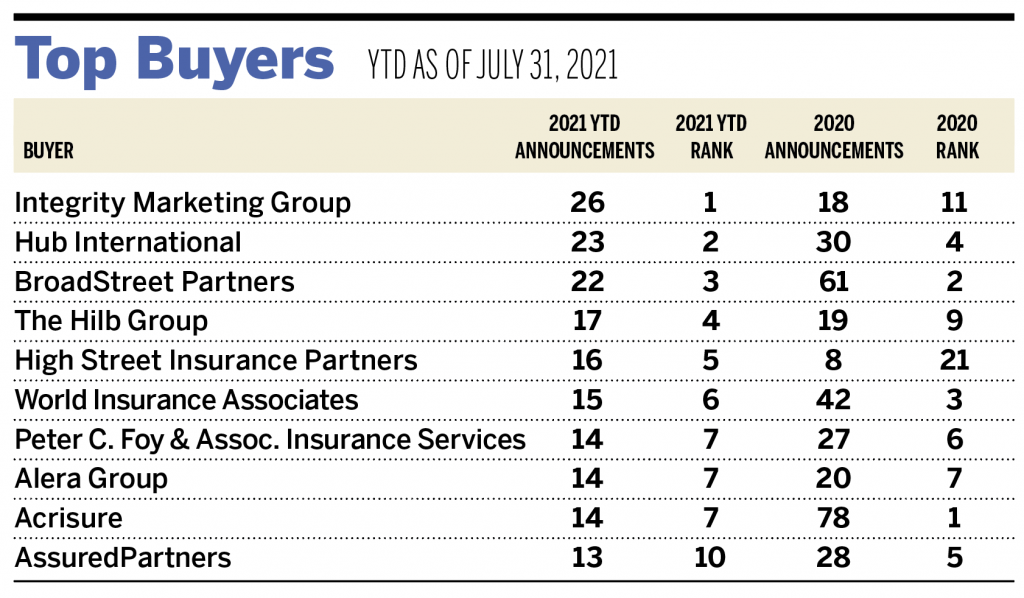 It remains unknown whether capital gains taxes will increase, but most sellers are still driving toward a year-end close to hedge against potentially higher taxes in 2022. While there is still discussion floating around about making tax increases retroactive, we have heard that this premise is mostly political conjecture and unlikely to occur. The bottom line is that no one really knows what is going to happen.
We believe that 2022 could be as active as 2021 based on competitive pressures for brokerages to continue executing on their acquisition strategies and the need for independent brokerages to leverage resources to be more competitive in the marketplace.
A few notable transactions were announced in July.
On July 1, BRP Group completed its previously announced acquisition of RogersGray, a Massachusetts-based multi-line agency with annual revenue of approximately $38.8 million. The acquisition marks BRP's fourth "Top 100" acquisition since the fourth quarter of 2020.
On July 15, Newfront Insurance and ABD Insurance and Financial Services announced their agreement to merge. The combined entity is valued at $1.35 billion. The transaction will total a combined 600 employees and more than $2 billion in annual placed premium.
Investment banking services offered through MarshBerry Capital, Inc., Member FINRA and SIPC, and an affiliate of Marsh, Berry & Co., Inc.