Water Wheels
Harvey may have destroyed a million vehicles. Now what?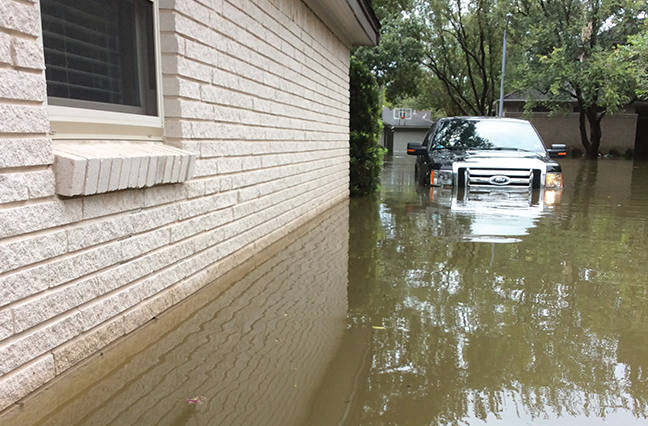 Besides inflicting immense losses on Houston-area homes and businesses, Hurricane Harvey may wind up destroying more automobiles than any storm in history.
Initial estimates say Harvey destroyed between 500,000 and one million vehicles as it stalled for days over the area this summer, dumping an unprecedented 51 inches of rain before moving farther inland and dying off. The 640,000 vehicles flooded in Hurricane Katrina more than a decade ago could seem a pittance by comparison when the destruction is all finally tolled.
Several area automobile dealers took a direct hit from the flooding spawned by Harvey.
"If I had to guess, I'd say it was $52 million in new car inventory in the greater Houston area alone," says Steven Wolf, chairman of the Houston Automobile Dealers Association and principal of Helfman Dodge Chrysler Jeep Ram and Helfman Fiat Alfa Romeo Maserati in Houston. The association comprises about 175 franchised new car and truck dealers and more than 100 associate members that work directly with auto dealers.
"I know one store lost 400 cars, another store lost 300 cars. Let's say 2,000 new and used. I know there are some Ford stores down south that lost their inventory," says Wolf.
McRee Ford in the Houston suburb of Dickinson apparently was hit the worst, losing its entire inventory of new and used cars, rental cars and customer cars in the shop for repairs. Mitchell Dale, grandson of founder Frank McRee, currently runs the dealership and says he expects insured losses of $33 million and another $1.2 to $1.5 million in uninsured losses. Ironically, the dealership had just built a new facility 28 inches higher off the ground to protect against flooding. The extra 28 inches was no match for floodwater that reached four feet and submerged vehicles stored outside.
"We had eight inches of water in the new facility and we had four feet in some of our other areas like our body shop," says Dale. "All the vehicles on our lot were flooded. The rising water is what got them, so they were flooded inside."
Dale says he knew the storm was going to dump a lot of water on his dealership but had no idea it would be 22 inches in an eight-hour period and as many as 51 inches total during the five-day rain.
"If you look at the forecast for this storm, we knew it wasn't going to be a major wind event," says Dale. "The problem was going to be a water event. They anticipated the water issue to be pretty substantial, but what do you do with 1,100 vehicles? Where do you go? How do you take them? Maybe we could set some of the computers on top of desks. We could have probably done a little to try to save some of it. We just built this brand-new facility…about 28 inches higher than our old building, so we took into consideration our experience in the past with some flooding and we felt like we were going to be OK."
Insurers' Response
Carroll Smith, chairman of the Texas Automobile Dealers Association, the statewide trade association representing more than 1,300 franchised automobile dealerships in nearly 300 communities throughout Texas, says he's heard nothing but positive feedback from dealers working with their insurance carriers.
McRee works with insurer American Road, which was on-site as fast as Dale was. "Insurance companies were on the scene immediately," says Smith. "The first day that [Dale] could even get in, his property insurer had 50 people there to remediate. I'm hearing nothing but good news about the way everybody handled it."
In Harvey, there was more than $400 million in vehicles moved that we insure. The $400 million represents how many vehicles were moved that were in that storm's way. Maybe they were moved inside, maybe they moved to higher ground on the dealership lot, but that helps gives the magnitude of just how much work was done to prep for the upcoming storm.
Doug Timmerman, president, Ally Insurance
Harvey made landfall near Houston on Friday, Aug. 25, but it wasn't until the hours between Saturday night and Sunday morning that its full wrath was realized. It was then that Dickinson received 22 inches of rain in an eight-hour window. Yet less than 48 hours later, insurance adjusters had arrived to inventory McRee's damages. By Thursday, American Road had already moved two thirds of the totaled vehicles off the lot to make room for new cars. One week later, McRee was back in business and selling new cars again.
A similar story played out across the street at the Gay Buick GMC Dealership, which estimates it lost 900 new, used and customer cars.
Doug Timmerman, president of Ally Insurance, which handles the majority of insurance for General Motors dealers, wouldn't provide an estimate of Ally's losses but says Ally was able to work with area dealers to get a substantial amount of inventory moved out of harm's way before the storm hit.
"This is going to sound like a crazy high number, but it's going to put things in perspective," Timmerman says. "In Harvey, there was more than $400 million in vehicles moved that we insure. The $400 million represents how many vehicles were moved that were in that storm's way. Maybe they were moved inside, maybe they moved to higher ground on the dealership lot, but that helps gives the magnitude of just how much work was done to prep for the upcoming storm. Obviously, it was substantial storm, but we feel very good with what we did in combination with our dealers to reduce our exposure."
Wolf says other insurers also have reason to feel good about their response. "I gotta tell you, the insurance companies are unbelievable," he says. "The good ones—the Chubbs, the Pures, Farmers, State Farm, USAA, Allstate—many of them are totaling the cars just with pictures. You send them a picture of a car underwater, they're totaling it. My understanding is even if it's close, even if it's just in the carpet, they're totaling it. It expedites, and it protects against future risk down the road if there's an electronics problem."
Insurers have also offered special discounted pricing for their claimants who need to replace flooded vehicles.
"I'm really happy with what these insurance companies do," says Wolf. "The flood damage victims get special pricing on the new cars from the manufacturer. The manufacturer requires a letter from the insurance company saying the vehicle had a claim as a direct result of the hurricane, and we're not having any issue getting that paperwork from the insurance companies. They get employee pricing which is significant. This is the real deal. The customer presents a letter saying they had a claim from the hurricane, they get employee pricing, which is 6% behind cost."
Wild West of Cars
What will become of the totaled vehicles? Royal Purple Raceway, site of the annual NHRA Spring Nationals, suspended all drag racing activities through the end of the year to help store as many as 100,000 of the damaged vehicles. Using its 400-acre footprint in the Houston suburb of Baytown, Royal Purple Raceway has become a temporary storage facility for cars, trucks, boats and construction equipment destroyed by the storm. The track will resume its regular racing schedule in the new year.
"Some things transcend racing, and when you see half of our city underwater, you obviously have to prioritize your energies and resources," says vice president and general manager Seth Angel. "The destruction created by this storm can only be described as biblical. It will take quite a bit of time for things to return to normal, and considering this city has done so much for the Angel family over the last three decades, we very much want to be part of the recovery."
Meanwhile, a steady stream of tow trucks brings more destroyed vehicles to the Royal Purple lot daily.
"It's like the wild west of cars down there," says Smith. "It's incredible. In Houston when you drive around, you might say, 'Well, what happened? I don't see any signs.' There's not flooded cars by the side of the road, there's not buildings blown down. The only indication when you ride around is there might be sheetrock and carpet that's stacked out by curb. But other than that, it looks like absolutely nothing has happened here."
Sales Up
Meanwhile, the flooding's effect on such a large number of vehicles has created a mini-boom for car dealers as people rush to replace lost vehicles.
"People have to get to their jobs," says Smith. "They have to get around. They have to get supplies. They have to take kids to school. The sales that we are seeing thus far typically are people who can afford a new car without the benefit of a settlement from an insurance claim yet."
Some things transcend racing, and when you see half of our city underwater, you obviously have to prioritize your energies and resources…It will take quite a bit of time for things to return to normal, and considering this city has done so much for the Angel family over the last three decades, we very much want to be part of the recovery.
Seth Angel, vice president and general manager, Royal Purple Raceway
Wolf cautions that, while sales may be up, profit margins are not.
"We're selling a lot of cars, but our margins aren't what they usually are because of this employee pricing," says Wolf. "There's a lot people who had 2015, 2016 vehicles who are buying cars, and they normally wouldn't be buying cars. We've got customers who bought just about a month ago, and they are buying another car because that car flooded."
"Business is very brisk now," Dale says. "People out of necessity replaced the vehicles that they lost. The majority of the vehicles that we're selling now are people replacing vehicles that were totaled. We had a family in here yesterday that lost three vehicles, and they were in here buying three vehicles."
10 Things to Look For
Today's modern vehicles have electronics throughout; in the doors, under the seats, behind the dashboard, in the engine and even in the trunk. With so much electronics susceptible to flood-related failure, most cars that took on water cannot be repaired.
"It depends on how deep it is," says Smith. "Certainly if it's gotten up into the dash, for sure, the car should not be repaired. If it's something like water in the floorboard and they haven't driven it, it's just rising water, the chances are you can fix it if you fix it right.
"But I'm going to give you a caveat: when water gets into a car, the carpet that you normally see in a car can be cleaned. It's nylon. It doesn't hold the moisture. You can put it outside in the sun and let it dry. But it's what underneath—the padding, the jute if you will—that is like a sponge that holds the moisture. In short order, a couple of days, the odor will be horrific. So, your first clue on a flooded car after a few days is the smell."
What happens to individual car owners' vehicles? Once owners who have comprehensive insurance report that their cars have been flood damaged, the insurance companies will send adjusters out to inspect the cars on a first-come, first-served basis. If the adjuster declares the vehicle a total loss, it will be transferred to an auction facility managed by one of the two major salvage auctions, either Copart or Insurance Auto Auctions.
It's the cars that did not have comprehensive coverage that consumers need to be on the lookout for. Because insurance companies and auction houses never see these vehicles, there won't be any record of the vehicles' having been flooded. Unscrupulous car owners will dry them out and repair them without reporting they were flooded. These are usually going to be older, paid-off cars since most banks require a comprehensive policy when writing a loan.
"One of the things that worries me an awful lot about cars, is under the seat on these GM cars there is a wire that runs from the tensioners on the seat belts," says Smith. "Anytime you have an accident when a seatbelt is detonated, there is a signal to the tensioner in your seatbelt that tightens and locks that seatbelt so that when you go forward you don't go that far forward. We replace those tensioners anytime airbags have been deployed. There is a connector under the seats that you plug in, and if a car has been underwater and someone doesn't take the proper steps to protect and clean that connector, the chances are not whether it's going to fail, it's when."
Flood-damaged vehicles typically are sold for scrap or recycling but can in some cases find their way into the market for sale to unsuspecting buyers. Buyers should demand to see the vehicle's title. If an insurance company has been involved in paying for any repairs, it will have the title marked to indicate that is has been in a flood or even totaled. But there is a 40-day window for such a notification to take place.
While there is no sure way to know if a vehicle has been damaged by a flood, the National Automobile Dealers Association offers these tips to prospective buyers to spot flood-damaged vehicles:
Check a vehicle's title history using the National Insurance Crime Bureau's VinCheck, the National Motor Vehicle Title Information System or a commercially available vehicle history report service, such as Experian or Carfax, etc. Reports may state whether a vehicle has been flood damaged.
Examine the interior and the engine compartment for evidence of water and grit from suspected submersion.
Check for recently shampooed carpeting.
Look under the carpeting for water residue or stain marks from evaporated water not related to air-conditioning pan leaks.
Inspect for interior rust and under the carpeting, and inspect upholstery and door panels for evidence of fading.
Check under the dash for dried mud and residue, and note any mold or a musty odor in the upholstery, carpet or trunk.
Check for rust on screws in the console and in other areas water would normally not reach unless the vehicle was submerged.
Look for mud or grit in alternator crevices, behind wiring harnesses and around the small recesses of starter motors, power steering pumps and relays.
Inspect electrical wiring for rusted components, water residue or suspicious corrosion.
Inspect other components for rust or flaking metal not normally found in late-model vehicles.