The Cowboy Culture
The cowboy culture defines the ability to sell as the ability to lead. Whose crazy idea was that? Is business really that good?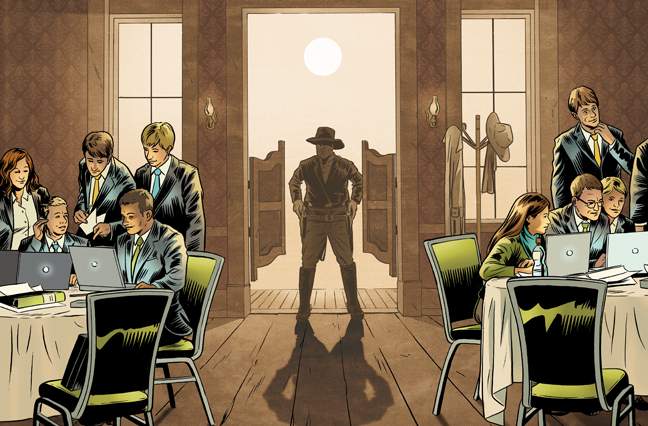 When the market is in flux and the pressure is on, the decision to pursue change and innovation should be easy.
For insurance agents and brokers, some of whom are famously resistant to change, the imperative to adapt is pressing on all sides: from new competitors, from more demanding customers and even from the upcoming generation of producers and support staff, who bring a different way of working and different expectations of work itself. The line between success and failure eventually may reveal which producers understand the new realities and which ones don't.
Digging in against change at many agencies are the holdouts of a still thriving "cowboy culture," in which sales depend on self-reliant loners to round up new customers and commissions. But aspiring cowboys are getting harder to find, and the bootstrap individualism of the business model doesn't connect with the younger people agencies will need to replenish their aging work force. Nor does it meet the expectations of growing numbers of customers.
The traditional approach has at least one feature that's worth preserving: the personal touch. This is especially so for any agency hoping to stay relevant as large swathes of insurance become price-driven commodities that favor the players with the best grasp of data. For any other business that remains in play, the human connection will be more important than ever, and that's where traditional agents and brokers excel.
But a personal touch can present a raft of problems if the only touch point is the lone producer, says Michael Iverson, vice chairman and a partner in Atlanta-based Snellings Walters Insurance Agency. One seller's success may come on the backs of support staff who have no say in the transactions but are left to make good on the promises made at the point of sale.
"We're asking them to build a house with a ruler, a measuring tape and a hacksaw," Iverson says. "There's no hammer, there's no nails." And the struggle to meet those obligations, he says, could turn an impressive top-line result into a bottom-line loss, while the seller moves on to the next potential conquest.
Iverson says the most successful sellers at many agencies, working in the traditional paradigm, often rise to positions of management and thought leadership on the basis of their top-line numbers. From there, they perpetuate the culture that got them where they are, one that substitutes hard knocks for formal training and holds those with the best numbers to a looser standard.
"Leaders set their priorities off their own success, not the whole team's success," he says.
We're asking them to build a house with a ruler, a measuring tape and a hacksaw.
Michael Iverson, Vice Chairman and Partner, Snellings Walters Insurance Agency
This kind of lone-wolf producer gets to decide not only what to do, but what not to do. That is almost certain to grate on members of the support staff and novice producers but perhaps none more than the millennials who will be needed to staff firms for the next generation. Their traits have been well studied and widely discussed, but a report by consulting firm LifeCourse Associates underscores some relevant characteristics of millennials:
They value teamwork, mentoring and openness to their ideas.
They like structure in the workplace.
They are achievement-oriented, and they want it to come early and often.
They want and expect to have the technology available to help them reach their goals.
It's not hard to see now an organization mired in a 20th-century sales culture might drive tomorrow's producers, and likely innovators, to the exits.
Warren Wright, executive vice president of LifeCourse, says top sellers in non-insurance fields routinely bring "a whole village of helpers" to the process and increasingly prefer such a consultative approach over the traditional, transactional relationship. "Buyers aren't going to buy because you take them out for a martini," he says.
The New Reality
LifeCourse has studied the generational differences now confronting agents and brokers. The interpersonal dynamics among the baby boomers, generation X and millennial cohorts are only one aspect of the challenge and opportunity facing the industry. If buyers are looking for consultative teams, millennials might be a natural fit. After all, they've been learning to work this way since they were preschoolers.
Unfortunately, in many insurance agencies, millennials make up the most disaffected members of the organization. Generations of agents, Iverson says, have learned to "go out and slay the dragon themselves and bring it back to the organization."
It's this culture that can breed selfish behavior in the marketplace. Left unchecked, such conduct can undermine not only an organization's success but its very values if the stars of the sales team give themselves a pass on expectations that are binding on the rest of the staff. Whatever a producer does can be an asset or a liability to the individual and the firm. "If you're a turd, it's going to hurt you, both in the marketplace and internally," says Michael Victorson, president and CEO of M3 Insurance Solutions in Madison, Wis.
Wright says the cowboy culture is "not a new problem," but the implications may be deepening as the market changes and the industry tries to attract and retain the next generation of innovators. LifeCourse's study suggests there's much work to do.
Buyers aren't going to buy because you take them out for a martini.
Warren Wright, EVP, LifeCourse
Millennials had the least favorable perception of the insurance industry among the three groups studied, with just 24% giving the industry the highest marks in all categories surveyed—compared to 31% for Generation X and 43% for baby boomers. Some millennials look up to the boomers in the industry, with 20% having a "very favorable" view of the eldest group—the best cross-generational showing in the survey. But the boomers took the dimmest view of the millennials, with just 5% having a very favorable view. Gen Xers fared little better in boomers' eyes. Maybe it's no surprise that producers in the two younger generations were about equally pessimistic about their chances of eventual agency ownership. Only about 25% said they felt mechanisms were in place for them to reach that goal.
The upcoming generations at Victorson's M3 may have more cause for optimism. A little more than 10 years ago, the benefits and property-casualty brokerage then known as Mortenson, Matzelle & Meldrum was operating in the traditional mode. Even though times were good, and despite a history of healthy, organic growth, its leadership made the difficult call for a radical shift in the culture. For producers, Victorson says, this meant they'd be "running a business within a business," operating essentially as franchisees.
It was more than rhetoric. The brokerage restructured and rebranded itself as M3, replaced its outside board of directors and began opening new offices across Wisconsin to better serve its clients and attract talent. A berth at M3 brings accountability on multiple levels: a compensation structure that rewards both new business and retention, the personal brand established by each producer's behavior and, for the most successful, the opportunity and responsibility of an ownership stake in the firm. Of M3's 30 current owners, 23 are producers.
In addition to measures of top-line production, M3 producers get annual statements on the profitability of their individual business, comparing direct production and direct expenses against the firm's gross margin expectations, which are clearly communicated.
"One of the most important considerations in managing a multigenerational, team-based work force is establishing clear communications throughout the organization," says Ann Myhr, senior director of knowledge resources at The Institutes. "Providing a clear message to employees at all levels on organizational goals and expectations for success helps to build a sense of collaboration and inclusion."
M3 faced its own culture war spanning three or four years of its transition, Victorson says. But the influx of new talent, he says, eventually quieted the conflict with relatively little drama. To attract new producers, the company runs an internship program with colleges across Wisconsin and looks for prospective employees outside the industry. The M3 recruiting philosophy: "Hire talent and teach insurance."
The company's approach seems to have placed it squarely where millennials want their workplace to be. Its producers, Victorson says, "go to market in teams." Accounts and commissions are shared, and clients are transferred among producers as needed.
He notes that, despite common perceptions of millennials, they have the same range of personality types as any other generation. What's often taken as self-absorption is simply the result of millennials' exposure to "how powerful personal brand is," Victorson says. They "get that on a real kind of visceral level."
Millennials also get something else that buyers increasingly expect: As a group, Victorson says, they can leverage technology "to do things quicker, faster, more accurately the first time."
If you're a turd, it's going to hurt you.
Michael Victorson, President and CEO, M3
Technology is a powerful collaborative tool, and leaders who are more team-oriented might be better than their peers at unlocking its power to harness data for myriad purposes, from monitoring customers' responses to online marketing to measuring producers' success by the bottom-line profitability of the business they sell. But technological innovation can hit a roadblock with old-school salespeople who, Iverson says, "don't use it because they're not required to and it's not an offensive weapon."
The sophistication and technological savvy of today's buyers will only increase as the younger generations move up into decision-making roles. Data analytics can help producers keep up with these "digital natives" even before the consultation begins, Wright says. Tools may include contact management systems such as Constant Contact and MailChimp, monitoring social media and tracking individuals' website activity through services such as Google Analytics. Internally, Wright says, methods such as the Balanced Scorecard can tell a firm how it's doing in terms of top- and bottom-line revenue, customer engagement and employee engagement.
M3 has implemented business intelligence software to mine its transactional data for use in relationship management as well as managing books of business and franchises, but Victorson admits the firm's technological development is a "work in process." For the digital laggards of insurance, what seems old hat in other industries can be a step forward. M3 determined a few years back to build a more mobile and connected work force, and today 130 of the company's 225 employees use iPads.
For any organization stuck in an outmoded business model, Wright says, change calls for leadership to recognize the need to adjust and "point your compass north towards the client." That means not only meeting with clients but anticipating their needs.
"Ongoing training for all employees will reinforce the importance of teamwork and valuing multiple viewpoints in developing customer-focused solutions," Myhr says. "None of this is easy, of course, and the consistent support of senior management is required for successful implementation."
"Change management is hard. Change management is big," Wright says. "Change management moves from the current state to the future state, and that starts with leadership."