Slow but Set for Takeoff
Insurance brokerage has proven resilient through previous crises and may well again.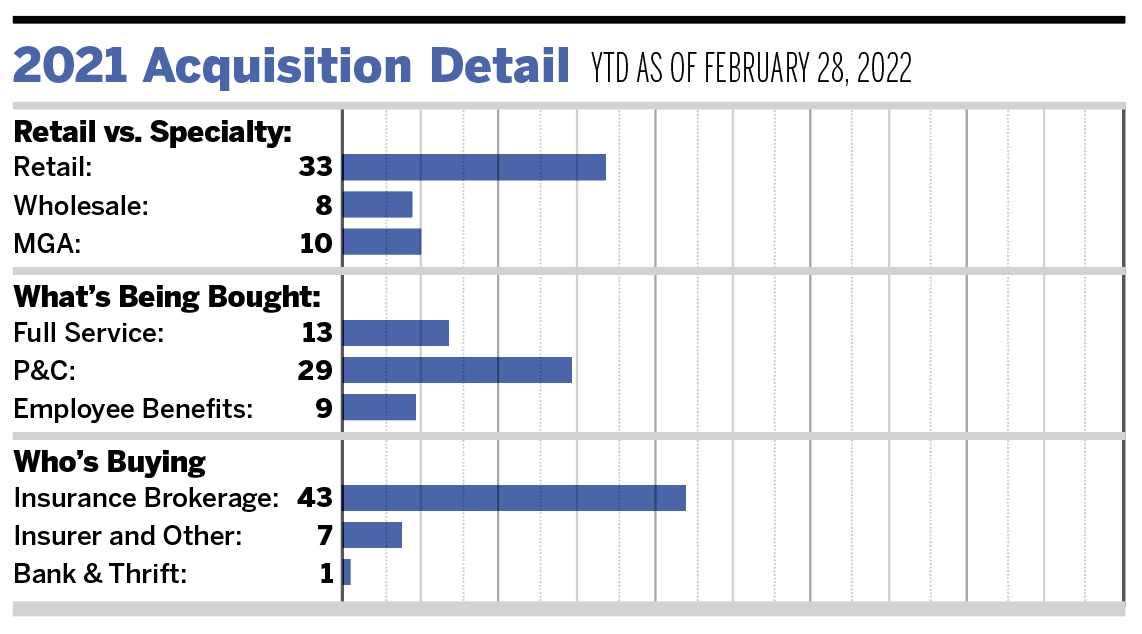 As of Feb. 28, 2022, there have been 51 announced merger and acquisition transactions in the United States.
Following 2021's record market activity, 2022 has gotten off to a relatively slow start. It's likely that the sense of urgency to complete and announce transactions has quelled somewhat, but the pace at which deals are announced will ramp back up as the second quarter of 2022 progresses.
Demand is still incredibly strong, with buyers adding talent and volume and sellers hoping to find a partnership that can help propel their business while providing additional tools and resources to their existing client base.
In general, the external environment has not had an impact on the marketplace. The threat of increased taxes, the unrest happening in Europe, and the likely increase in interest rates by the Federal Reserve are all being watched closely but are not impacting the behavior of the main buyers. Activity remains steady, and sellers continue to balance their desire for autonomy with the need to improve and the hope of capitalizing on what is likely their largest asset.
We will continue to keep a close eye on public brokerage valuations and the high-yield spread to see if either of those could slow down buyer appetite. While anything is possible, there is still a significant amount of capital pushing its way into the insurance distribution system, and that's likely to thwart any pause or downturn in market activity. It is important to remember that part of what makes this industry so attractive is the resiliency it shows when times get tough. Investors have learned through the Great Recession and the recent pandemic that the insurance distribution industry can still have strong financial results when the economy gets challenged.
Ten buyers have accounted for 49% of all announced transactions observed, while the top three account for 21.6% of the 51 total transactions.
From a year-to-date activity perspective, private-capital backed buyers have accounted for 34 of the 51 transactions (66.7%) through February, maintaining their dominant presence in the marketplace that has been observed over the last five years. Total deals by these buyers has increased at a compound annual growth rate of 26.9% since 2018. Independent agencies have accounted for 15.7% of the total deal count. As discussed in previous updates, transaction activity from this buyer segment has gradually declined as a percent of the overall deal activity since 2015.
Strong deal activity from the marketplace's most active acquirers has remained constant to begin 2022. Ten buyers have accounted for 49% of all announced transactions observed, while the top three account for 21.6% of the 51 total transactions.
One notable transaction that was recently announced:
March 1: Hub International and Bold Penguin announced an agreement to acquire Insureon. Insureon is digital insurance agency that delivers small-business insurance through its online marketplace. As a part of the transaction, Hub will acquire Insureon's digital insurance agency and brand, while Bold Penguin will acquire its technology platform.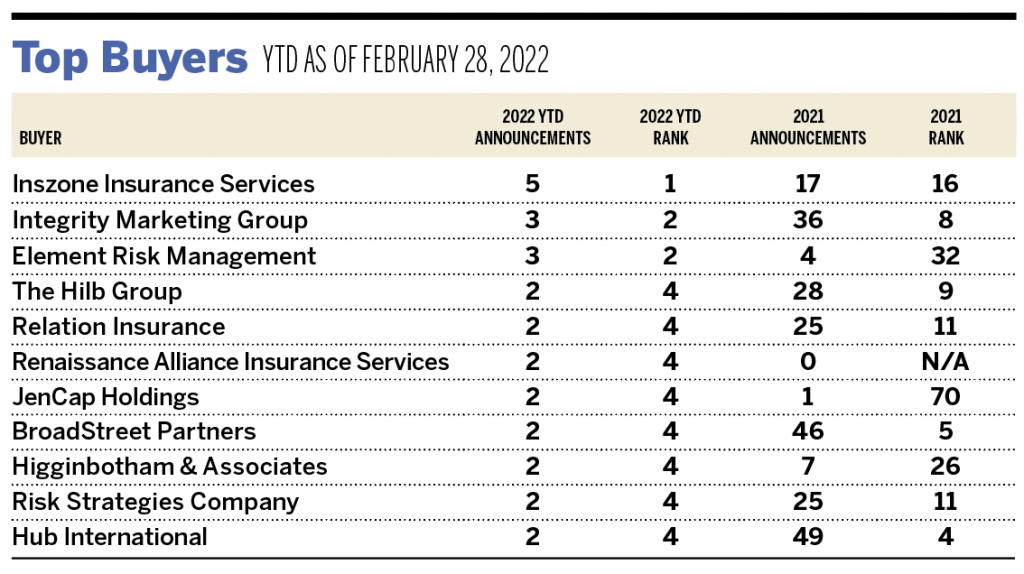 Disclosure: All deal count metrics are inclusive of completed deals with U.S. targets only. Scorecard year-to-date totals may change from month to month should an acquirer notify MarshBerry or the public of a prior acquisition. Send any announcements to M&A@MarshBerry.com.