Significant Momentum into the New Year
But don't look for a repeat of 2021.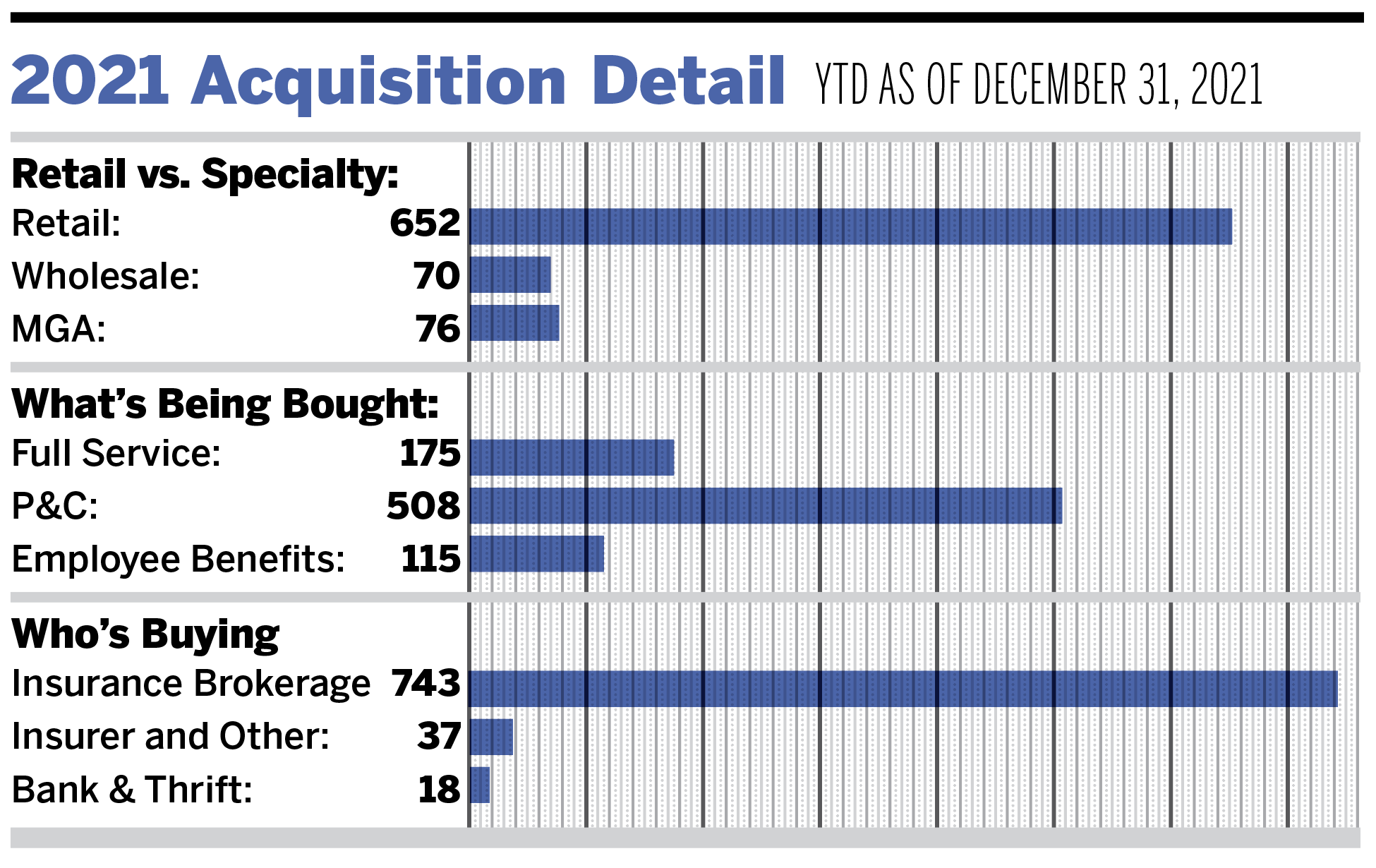 A new high watermark in merger and acquisition activity has been set, with 798 transactions reported as of Jan. 3, 2022.
While there will inevitably be more announcements in the coming weeks for December transactions, activity in 2021 has already dwarfed prior years. The blistering pace of transactions in 2021 represents a 12.2% increase compared to the 2020 announced deal tally of 711.
The heightened activity can be traced back to a number of factors. Firms that sold were impacted by a concern over a potential federal capital gains tax increase and a shift in expectation by the insured community. While tax legislation was not enacted in 2021, there are still looming concerns that it could happen at some point in 2022. Will it be retroactive? Anything is possible, but at this point concern about a significant tax increase has waned.
The major driver of sellers who are coming to the table is the evolving expectation of their clients, the buyers of insurance. Since the beginning of the pandemic, insureds have created an expectation that their broker act as a consultant, not just someone who helps purchase their insurance coverages. The end client is looking for someone who can help provide strategic guidance, risk management and/or mitigation services. This creates a conundrum for insurance brokerages, which have to keep investing in tools, resources and talent in order to compete. They have to decide whether they want to use their cash flow to make these investments or partner with a firm that has already done it. The build-versus-join decision is bringing a lot of firms to the deal table. This dynamic is not going away, and the market will likely continue to be very robust.
The major driver of sellers who are coming to the table is the evolving expectation of their clients, the buyers of insurance.
Buyers and investors are continuing to push their way into the marketplace. If anything, the pandemic reminded the financial community what a great investment the insurance distribution space is, and demand has been greater than ever before. It is a very favorable seller's market because there is still more demand than there is quality supply.
While 2022 will not necessarily eclipse the 2021 total, activity will likely remain at the 2019/2020 levels with somewhere between 650 and 750 announced transactions. Activity in the first quarter is not likely to fade as seen in 2013, when there was a similar year-end sprint in 2012 due to pending tax increases.
For 2021, private-capital backed buyers accounted for 591 of the 798 transactions (74.1%), continuing to expand their presence in the marketplace. Total deals by these buyers have increased at a compound annual growth rate (CAGR) of 14.8% since 2018. Independent agencies accounted for 100 deals (12.5%) of the total transaction count. This portion of the total announced transactions is consistent with 2020 but has experienced an overall decline since years prior. On average, from 2015 to 2020, 23.2% of all deals were completed by independent agencies.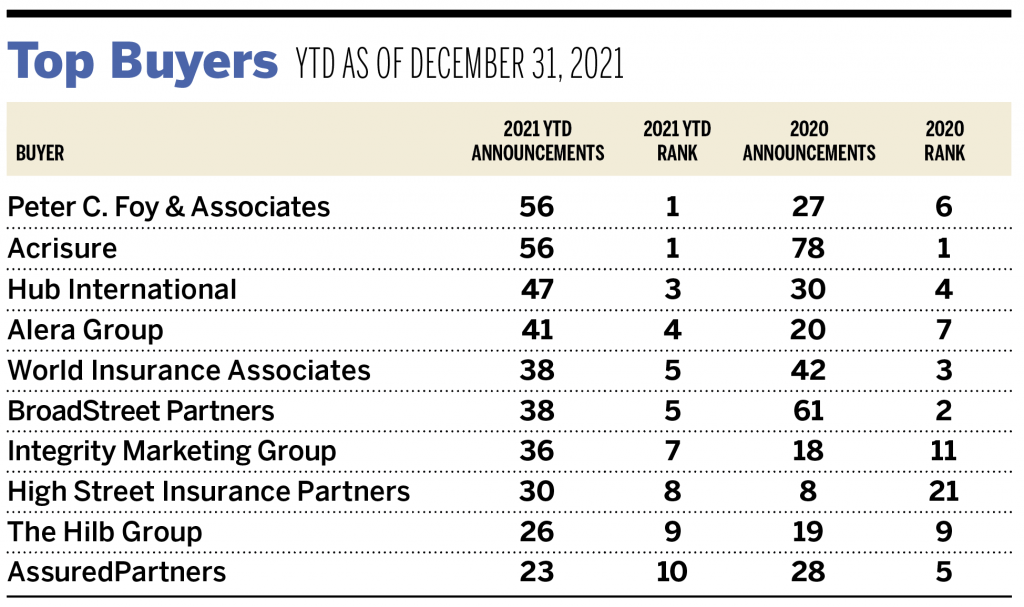 As of this writing, Peter C. Foy & Associates Insurance Services, Acrisure and Hub International were the top three most active buyers in the United States in 2021, totaling a combined 19.9% of the 798 total transactions. The top 10 most active buyers completed 391 of the 798 announced transactions (49% of the total).
A few notable transactions recently announced:
Dec. 1: High Street Insurance Partners completed its acquisition of GTA Insurance Group. GTA is located in Grand Island, Nebraska, and provides agribusiness, employee benefits, personal and commercial insurance solutions throughout the state of Nebraska.
Dec. 1: The Hilb Group announced its acquisition of PSA Insurance & Financial Services. PSA is a top-100 agency with a range of employee benefits and commercial and personal insurance products and services. The team of over 150 individuals is expected to bolster Hilb's presence in the mid-Atlantic region of the United States.
Dec. 15: Inszone Insurance Services acquired Lamb, Little & Co. The firm is a multi-line agency based in Schaumberg, Illinois, with unique services for clients in the contracting and trucking industries.
Dec. 31: Alera Group acquired Foa & Son Corporation (Foa). Based in New York City, Foa is a full-service brokerage with expertise that includes multinational business, retail and apparel, as well as precious metals, fine art, and jewelry.