M&A Meteor Shower
As we approach the end of 2021, the M&A skies are alight with a record number of deals.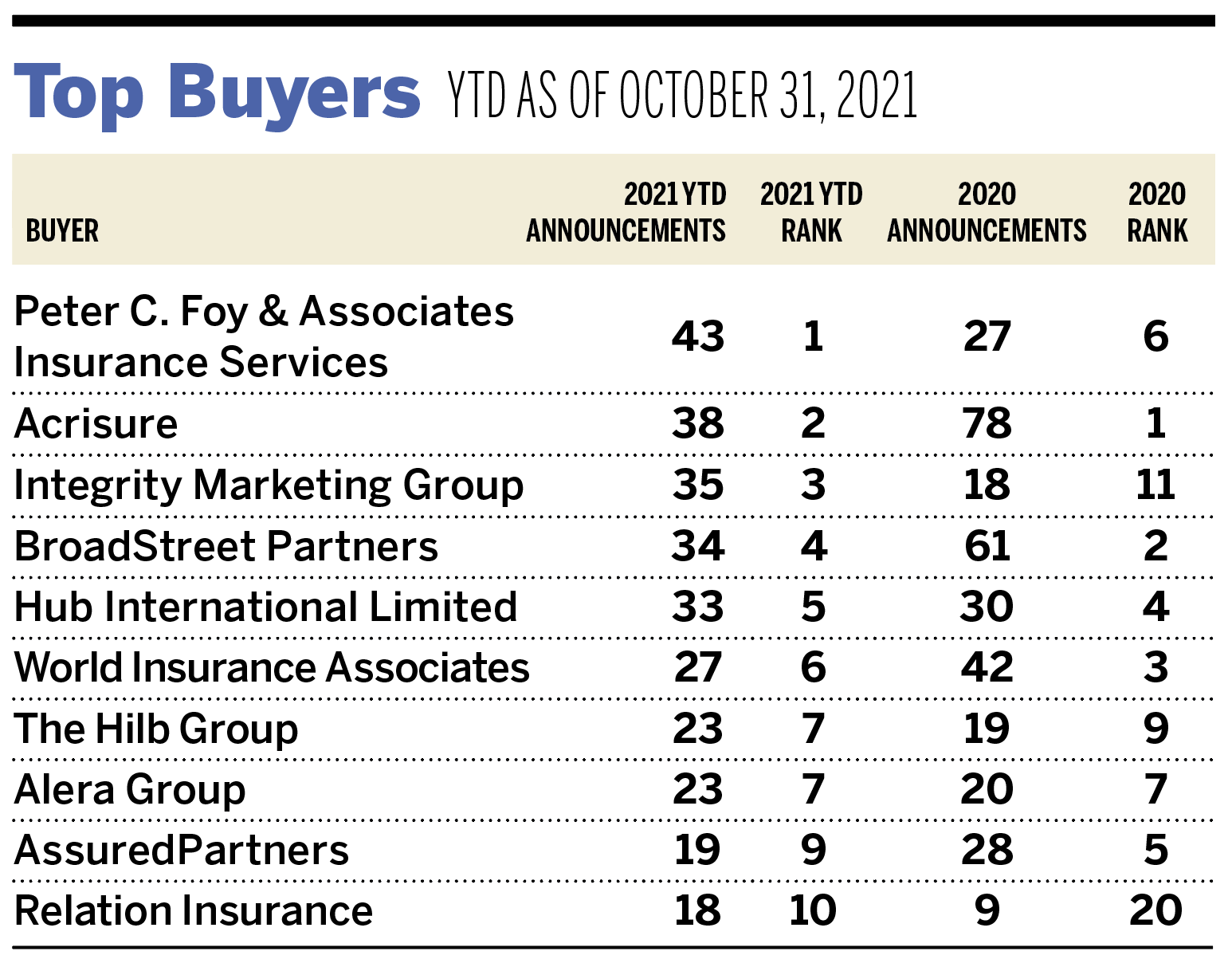 The market continues to move along as expected. More buyers, more sellers, more deals and higher values.
What may not be much of a surprise to anyone, we still don't have clarity on potential tax changes. The clear-as-mud visibility has some racing to get deals done this year, while others are OK taking their time to complete a transaction next year.
Through October, MarshBerry has observed deal activity unlike any other year in history. There have been 585 announced merger or acquisition transactions in the United States, a 12.9% increase compared to this time last year. As the push to close deals prior to year-end continues to rage on, even more deals are anticipated to be announced retroactively, which will only compound the historic deal pace in 2021.
Private-capital backed buyers have accounted for 434 of the 585 transactions (74.2%) through October, while independent agencies have held steady at 14.4% of the total deal count. The market is continuing to see a decline in deals completed by independent agencies since the pandemic began. From 2015 to 2020, approximately 23.2% of deals were completed by independent agencies. Spending limitations due to uncertainty about the pandemic, as well as all-time levels of private-capital dry powder, may be the primary contributors to this decline.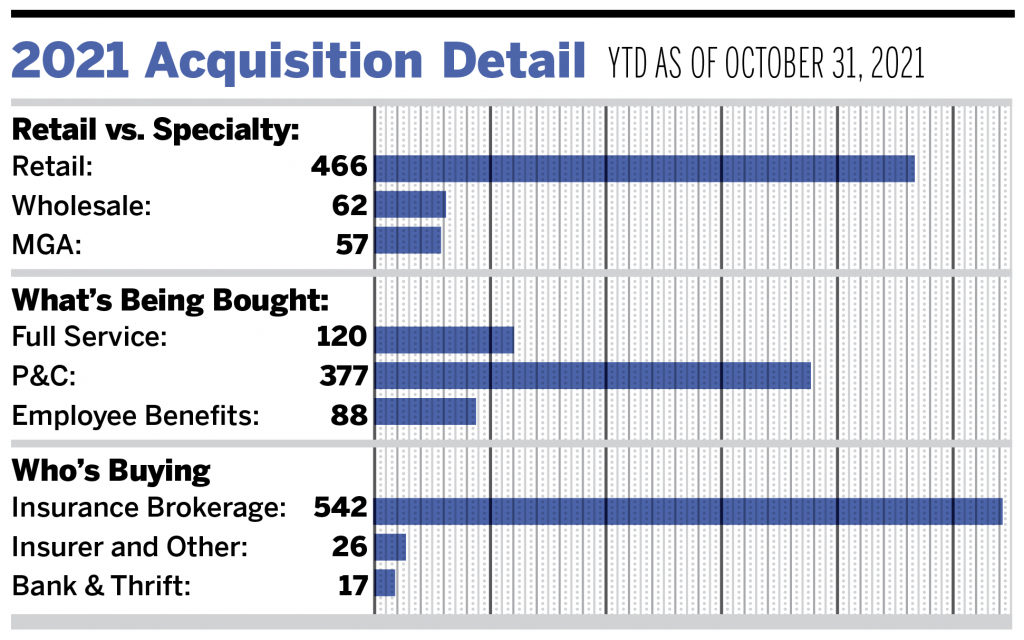 Peter C. Foy & Associates Insurance Services, Acrisure, and Integrity Marketing Group are the top three most active buyers in the United States in 2021, totaling a combined 19.8% of the 585 total transactions. The top 10 most active buyers completed 293 of the 585 announced transactions (50.1% of total).
With the typical flurry of year-end deal activity exacerbated by speculation about changes to federal tax laws, 2021 will probably finish as the most active year for announced deal count we have observed to date.
A few notable transactions announced in October.
Oct. 1: BRP Group completed its acquisition of Jacobson, Goldfarb & Scott. Based in Holmdel, New Jersey, JGS is a specialty brokerage and MGA primarily focused on commercial insurance services in the middle-market nationwide. With annual revenue of about $43.3 million, JGS has a keen focus on the construction and habitational real estate industries.
Oct. 7: Specialty Program Group acquired the assets of CM&F Group, a digital provider of healthcare liability insurance coverages for individuals and groups. The firm developed the first nursing professional liability policy, which has served as a foundation of the business for over 70 years.
Disclosure: All deal count metrics are inclusive of completed deals with U.S. targets only. Scorecard year-to-date totals may change from month to month should an acquirer notify MarshBerry or the public of a prior acquisition. 2021 statistics are preliminary and may change in future publications.