Keeping Up with 2019
Despite political derailments, 2020 brokerage M&A deals are on track to mirror last year's totals.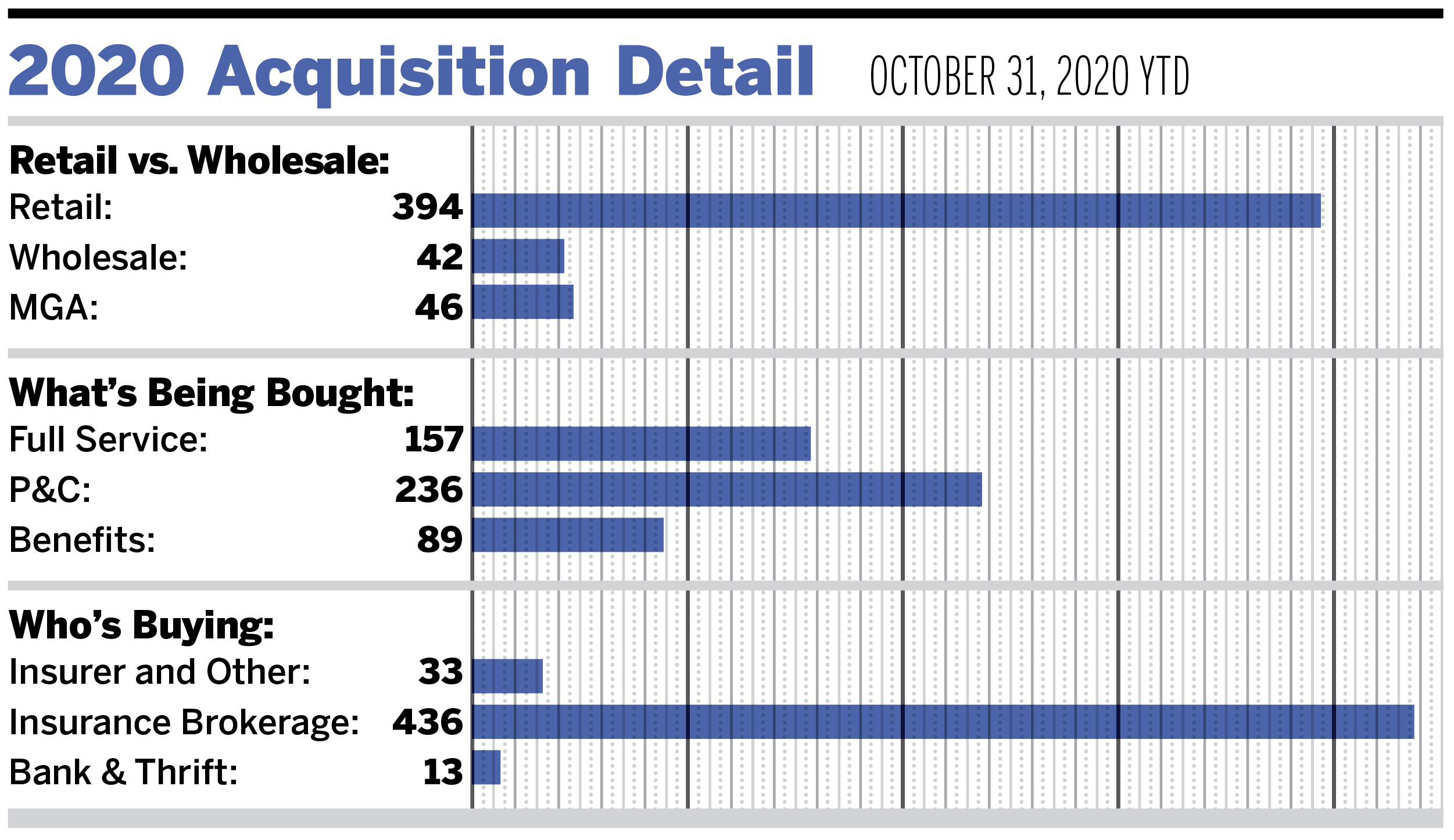 At this writing, Joe Biden is preparing his transition team, and we still await the results of the highly contested Georgia Senate seats that will determine the balance of power in the Senate.
Clarity on potential tax increases will have to wait until at least January. In the meantime, the market continues to be very aggressive. Total deal count is up, and valuations continue to set high-water marks.
The appetites of buyers being as strong as ever is working in conjunction with the end-of-the-year crunch, and we are anticipating an extremely active closeout of 2020. We remain confident that this year will end up in line with 2019 once all the dust settles.
As of Oct. 31, there have been 482 merger and acquisition transactions announced in the United States. The current figure is far more than what we had anticipated in the beginning stages of the pandemic, when deal activity all but came to a halt for a brief period of time. The deal count in 2020 represents only a 6.5% decrease compared to 2019, and we expect retroactive announcements and a busy remainder of the fourth quarter to tighten this gap.
Private-capital backed buyers remain at the top of the market in terms of the number of announced transactions, completing 63.3% of all announced transactions. Independent firms accounted for 87 (18%) of the 482 announced deals. It should be noted that 2020 has been a very productive year in terms of specialty transactions. The 89 deals involving specialty brokerages are outpacing the 72 specialty transactions announced through this time last year.
Acrisure, BroadStreet Partners, and World Insurance Associates remain the top three most active buyers in 2020, contributing a combined 23.8% of the 482 deals announced so far this year. The top 10 most active buyers completed 240 of the 482 total announced transactions (50.2% of the total). We anticipate heavy activity from these top buyers as the push to close deals ahead of the new year continues.
Two notable large transactions took place recently:
On Oct. 8, OneDigital announced that it had signed a definitive agreement to partner with Onex. Onex acquired a majority ownership position in OneDigital from its previous private equity partner, New Mountain Capital. The transaction values OneDigital at $2.65 billion and is set to close by the end of 2020. OneDigital is the 18th-largest insurance brokerage in the United States and generates more than $400 million in annual revenue.
On Nov. 5, BRP Group announced it had agreed to acquire all of the outstanding equity interests of Insgroup. Based in Houston, Texas, Insgroup is the 87th-largest insurance brokerage in the United States and represents BRP Group's largest partnership in the firm's history. Insgroup generates approximately $38.5 million in annual revenue.
Investment banking services offered through MarshBerry Capital, Inc., Member FINRA and SIPC, and an affiliate of Marsh, Berry & Co. Send M&A announcements to M&A@marshberry.com.