Deals Resurging
The total number of transactions, through July, however, still lags 2018 and 2019.
As of July 31, there have been 321 merger/acquisition transactions announced in the United States this year.
We have seen a material uptick in deal activity in the last three months, with the number of announced deals rising by 54% on average per month since April. In terms of the year-to-date total, 2020 is down 19.1% and 5% when compared to 2019 and 2018, respectively.
Private-capital backed buyers continue to make the majority (63.5%) of deals. That is an increase in these buyers' deal activity when compared to the last two years through July (57% in both 2018 and 2019). Additionally, independent firms accounted for 56 of the 321 (17.4%) announced deals.
BroadStreet Partners, Acrisure, and AssuredPartners remain the top three most active buyers in 2020, contributing a combined 26.5% of all deals announced so far this year. The top 10 most active buyers completed 170 of the 321 total announced transactions (53% of the total).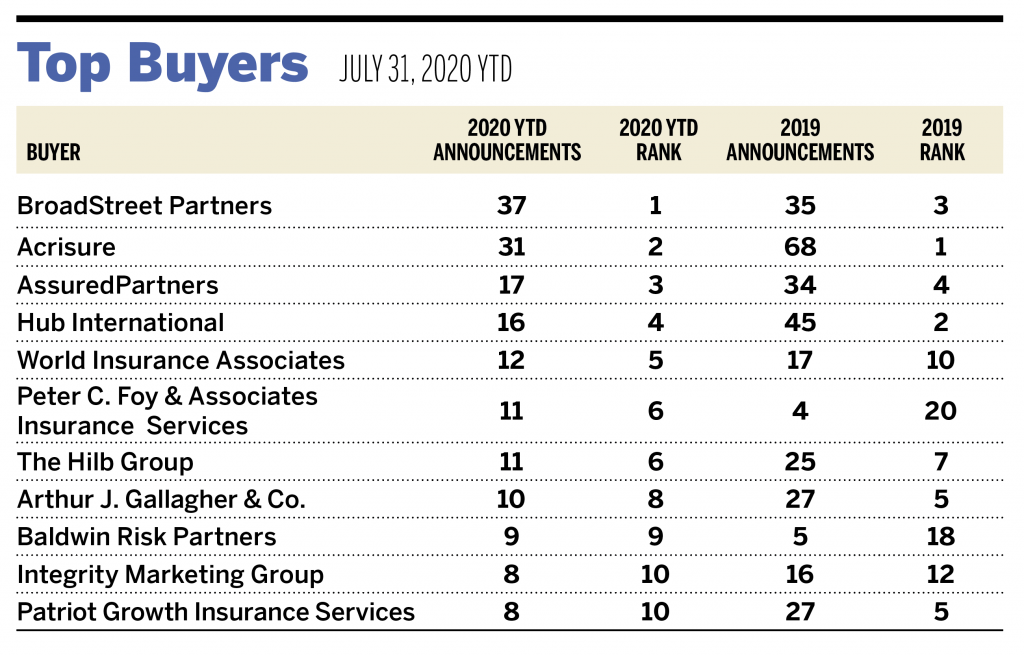 Today there is significant momentum in the industry. Firms are exploring their options, and overall activity is nearing the levels we saw before the pandemic. The outlook continues to be optimistic, with most buyers resuming deal activity after a temporary pause in April and May. The number of total announced transactions in 2020 could very well approach or exceed 600. The big variable is the capacity/bandwidth of firms to complete the number of deals they have under letter of intent. Those that do not get finalized will roll into 2021. Through July, we have seen an average of 46 transactions per month. If we extrapolate that activity through the rest of the year, we will land around 550 total announcements. However, we do anticipate much more consistency in the remaining five months and very well could catch up close to our high-water mark set in 2019.
Securities offered through MarshBerry Capital, member FINRA and SIPC. Send M&A announcements to M&A@marshberry.com.