Chugging Along
Deal activity should increase through the end of the year, making up for second-quarter obstacles.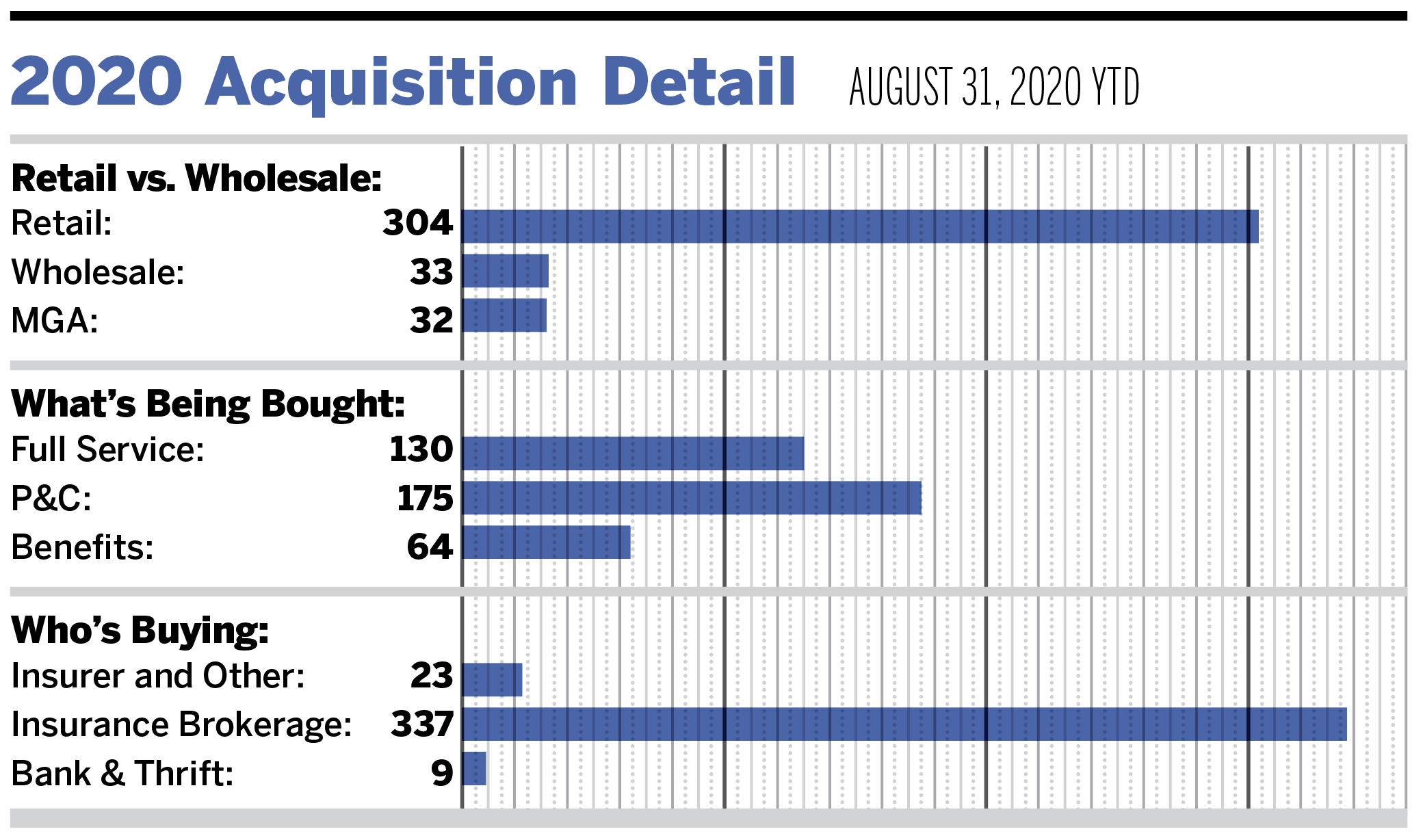 As of Aug. 31, there have been 369 merger and acquisition transactions announced in the United States.
The marketplace is continuing to gain traction following the slowdown in the second quarter. The total deal count this year through August has decreased only 5% from the number of deals announced at this point last year.
Buyers backed by private capital continue to dominate the marketplace, completing 64.7% of all announced transactions. We believe that this will be the case into the foreseeable future, especially as these buyers continue deploying capital following the initial brunt of the pandemic. The debt capital markets froze for a few months but are essentially fully functional at this point.
Independent firms accounted for 63 of the 369 (17.1%) announced deals. BroadStreet Partners, Acrisure, and AssuredPartners remain the top three most active buyers in 2020, contributing a combined 24.6% of the 369 deals announced so far this year. The top 10 most active buyers completed 191 of the 369 total announced transactions (59.5% of the total).
We anticipate M&A activity to steadily increase through the end of the year. Most buyers have resumed their typical deal activity, and seller interest is on the rise as concerns of increased taxes seem to be pushing owners to accelerate their plans for a transaction.
As of Aug. 31, the average number of announced transactions per month has remained at 46 deals. If we apply this figure to the remaining months of the year, the 2020 deal count would come in lower than where we think it is poised to land, between the total deal count for 2018 and 2019 (580 and 651, respectively).
A few notable large transactions:
On Aug. 3, NFP announced the acquisition of Rose & Kiernan. The Albany, New York, based brokerage has 150 years of experience in the New York and New England area, with sophisticated capabilities in P&C, surety and employee benefits. Financial terms of the deal were not disclosed.
Randall & Quilter Investments Holdings Ltd. announced on Aug. 10 its agreement to merge its wholly owned subsidiary, Sandell Re Ltd., with Tradesman Program Managers in return for a 35% interest in the combined entity. Tradesman is a New York based MGA that underwrites liability insurance in the construction industry. The initial book value of Randall & Quilter's stake is $43.4 million, and 2020 pro forma pretax earnings for the entity are estimated to be $17.2 million. The transaction is subject to regulatory approval from the Bermuda Monetary Authority.