A Rebound No One Expected
Insurance shops are consistently a good bet.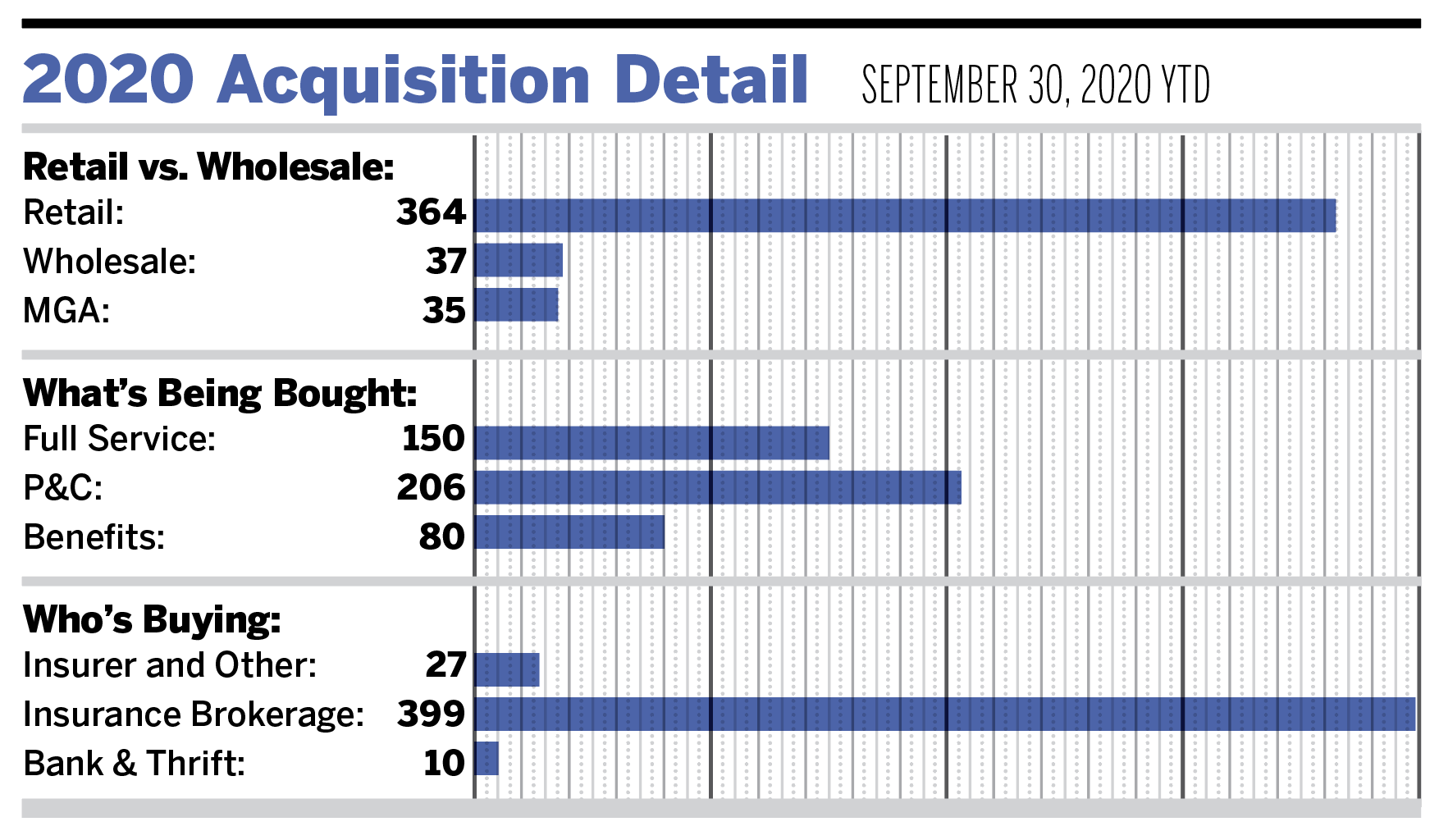 A global pandemic. A presidential election. Potential tax changes. The world has changed around us, but the resiliency of the insurance industry continues to remain a constant.
Brokers across the country are currently expecting better results than could have been predicted back in April or May as the pandemic took a hold of the economy. As we push toward another year-end, investors have been reminded that the insurance distribution space can be a great investment in a strong economy and a really good investment in a bad economy. Buyer demand is up as is the number of sellers considering exit strategy. The election won't slow down this year's momentum, but it could put an accelerant on activity in 2021.
As of Sept. 30, there have been 436 merger and acquisition transactions announced in the United States. The market is continuing to keep pace with the red-hot deal activity we have seen in years past, with the total deal count through September being only a 2.9% decrease compared to the number of deals that were announced at this point last year.
Private-capital backed buyers remain at the forefront of this deal activity, completing 65.4% of all announced transactions. Independent firms accounted for 74 of the 436 (17%) announced deals, which is consistent with the activity we have observed in this buyer segment so far in 2020. Additionally, public brokerages and insurance companies have been responsible for 9.2% and 3.4% of the total deal count, respectively.
Acrisure, BroadStreet Partners, and World Insurance Associates are the top three most active buyers in 2020, contributing a combined 25.6% of the 436 deals announced so far this year. The top 10 most active buyers completed 226 of the 436 total announced transactions (51.8% of the total). This percentage of total deals announced has decreased somewhat throughout 2020, which is indicative of a more diversified set of buyers becoming active in the market after the initial economic freeze related to the pandemic.
All signs are pointing to a frenzy of deal announcements in the fourth quarter, especially those related to private-capital backed buyers. Fully functioning debt markets and a willingness to deploy dry powder are being compounded by a more concerted effort to close deals ahead of the presidential election and year-end. Seller interest is on the rise as concerns of increased taxes seem to be pushing owners to accelerate their plans for a transaction. We anticipate a material uptick in closed transactions to wind down 2020.
A few notable large transactions:
On Sept. 17, State Farm Mutual Automobile Insurance Co. agreed to acquire 100% of Gainsco's stock for $400 million in cash. Gainsco is the holding company of MGA Insurance Co. and specializes in minimum-limits personal auto insurance. The transaction is slated to close in early 2021, pending regulatory and shareholder approval, and marks State Farm's first acquisition of an insurance company in its 98-year history.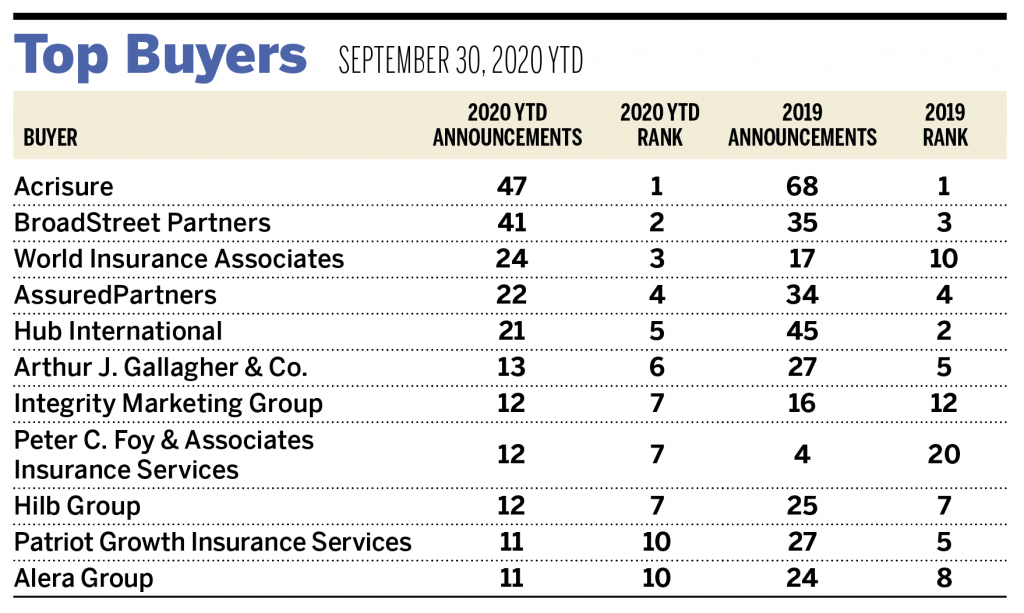 Investment banking services offered through MarshBerry Capital, Inc., Member FINRA and SIPC, and an affiliate of Marsh, Berry & Co. Send M&A announcements to M&A@marshberry.com.
All deal count metrics are inclusive of completed deals with U.S. targets only. Scorecard year-to-date totals may change from month to month should an acquirer notify MarshBerry or the public of a prior acquisition. 2020 statistics are preliminary and may change in future publications.