2022 M&A by the Numbers
The following data reflect analysis published by MarshBerry based on announced mergers and acquisitions in the insurance distribution channel in 2022.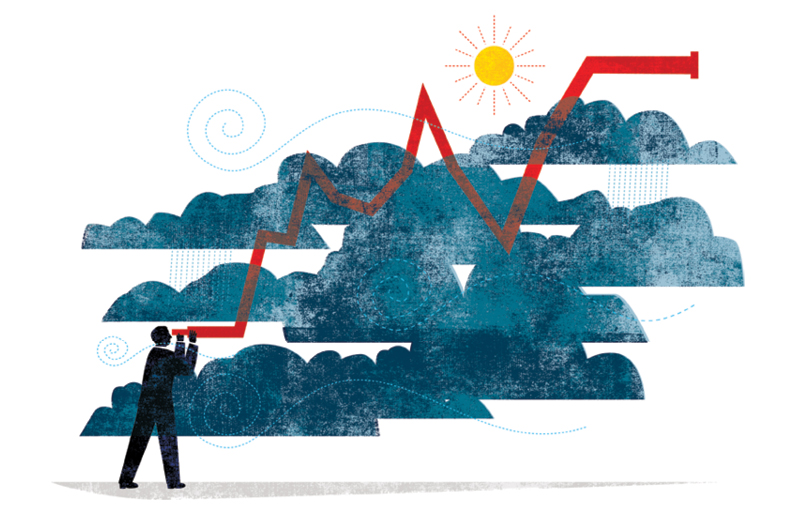 Insurance distribution firms continued to be an attractive investment in 2022, with private capital maintaining its role as the most active source of M&A.
Banks, publicly traded brokerages, and independent firms all decreased their acquisition activity last year. In terms of targets of acquisition, employee benefits firms, specialty shops, and overseas intermediaries were all more popular in the eyes of U.S.-based buyers than in 2021. Here are some snapshots of the 2022 M&A landscape.
Most Active Buyers
The top three most active U.S. buyers in 2022, based on publicly announced transactions, were Acrisure, Hub International, and Peter C. Foy & Associates Insurance Services. The sum of their transactions (144) represented 19.2% of the yearly total. The top 10 most active buyers completed 365 transactions (48.7% of total).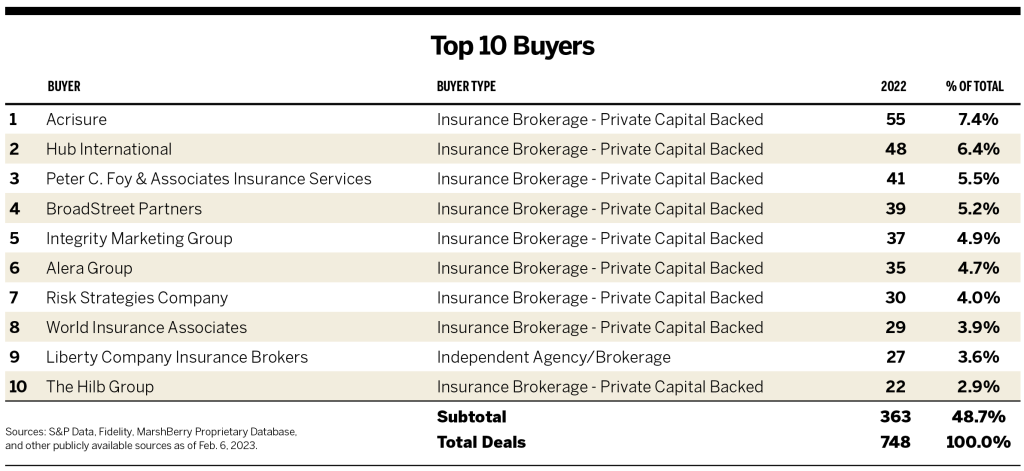 Private Capital as Buyers
Private-capital backed buyers continued to be the most active acquirers. In 2022, they accounted for 552 of the 748 transactions (73.7%), continuing a multiyear trend of dominating the insurance distribution M&A market. The total number of deals by these buyers has increased at a CAGR of 12.5% since 2018.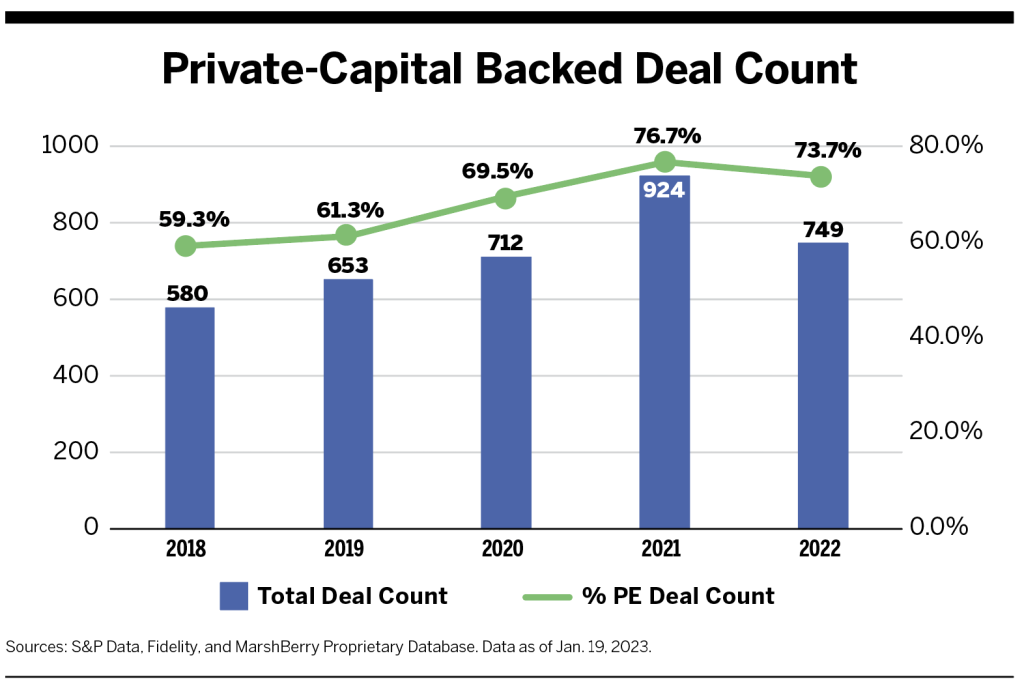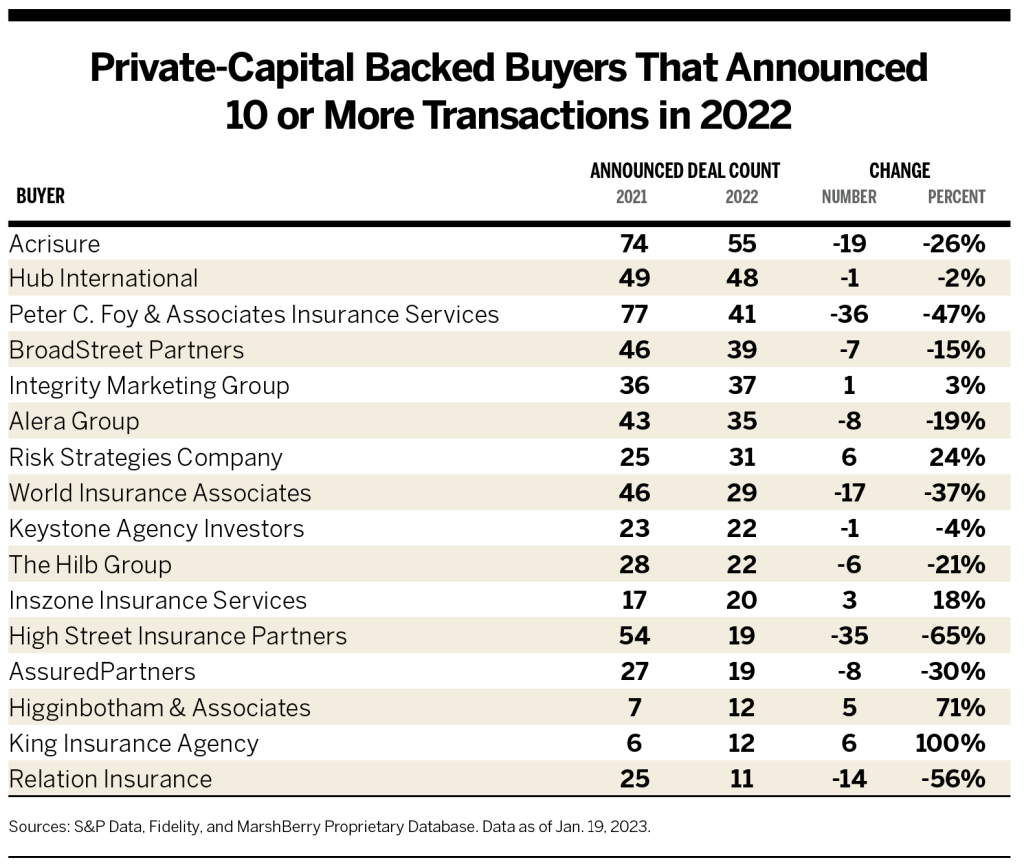 Indies as Buyers
Fifty different independent firms, without known private-capital backing, announced transactions during 2022, a decrease from 2021, when about 64 firms in this group announced transactions. While this group's total number of transactions is down, as a percentage of total deals independent buyers represented 13% in 2022, up from 12% in 2021, though they remain the least active buyer group.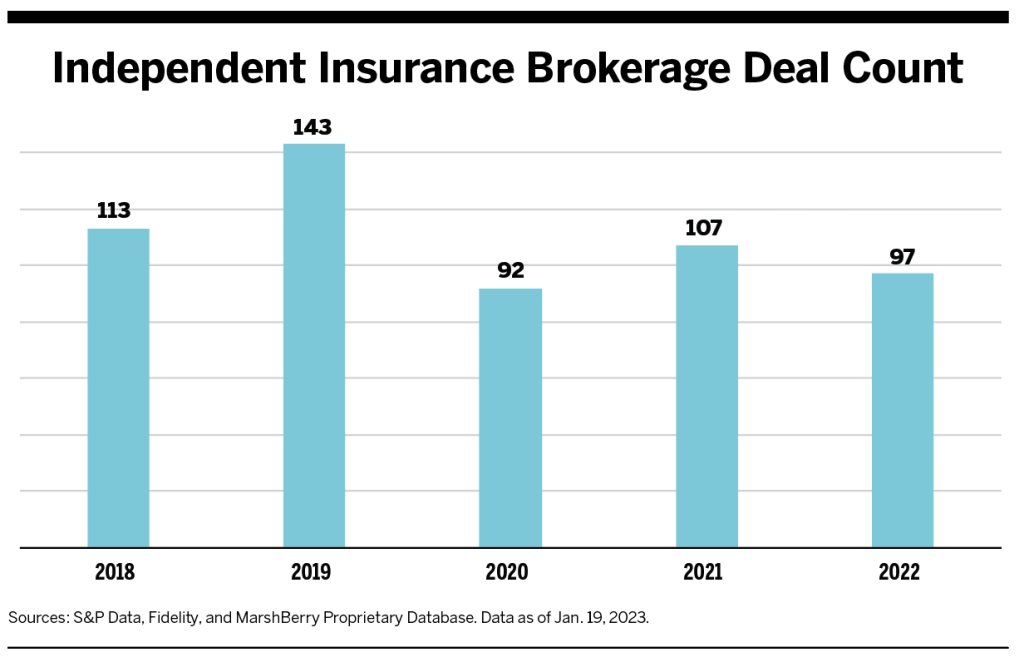 Banks & Other Buyers
Banks and other buyers recorded 41 transactions in 2022, seven fewer than the year before. This segment represented only 5.5% of the transactions during 2022. Six firms in this category completed more than one transaction in 2022, three fewer than the year before.
In 2022, no acquirer within this segment had more than two announced transactions.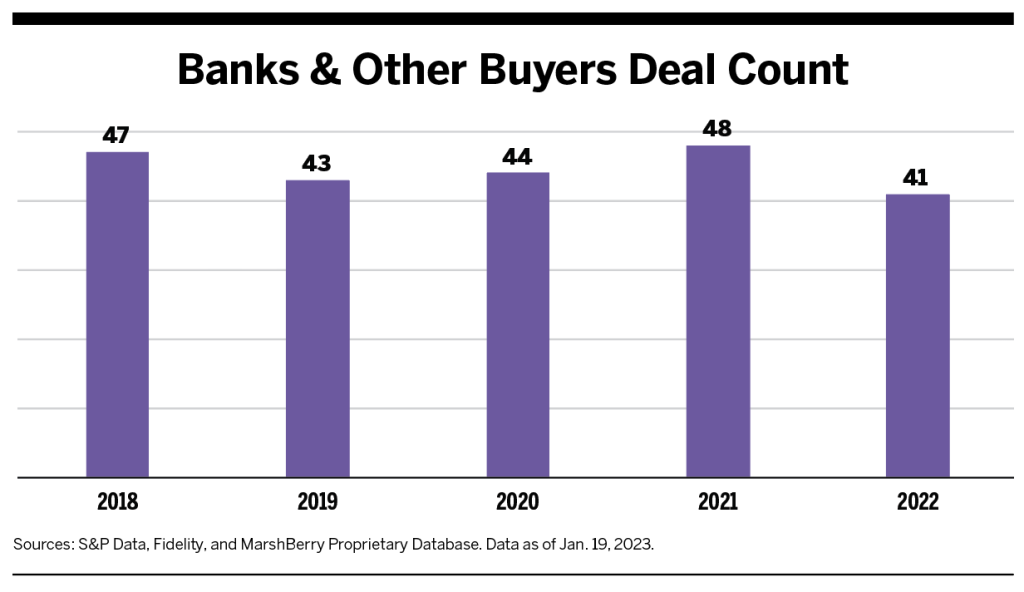 Public Brokerages as Buyers
Public brokerages announced 41 deals during 2022, or roughly 5.5% of the total transaction count (a 21% decrease from the 52 transactions, representing 5.6% of total transactions, in 2021).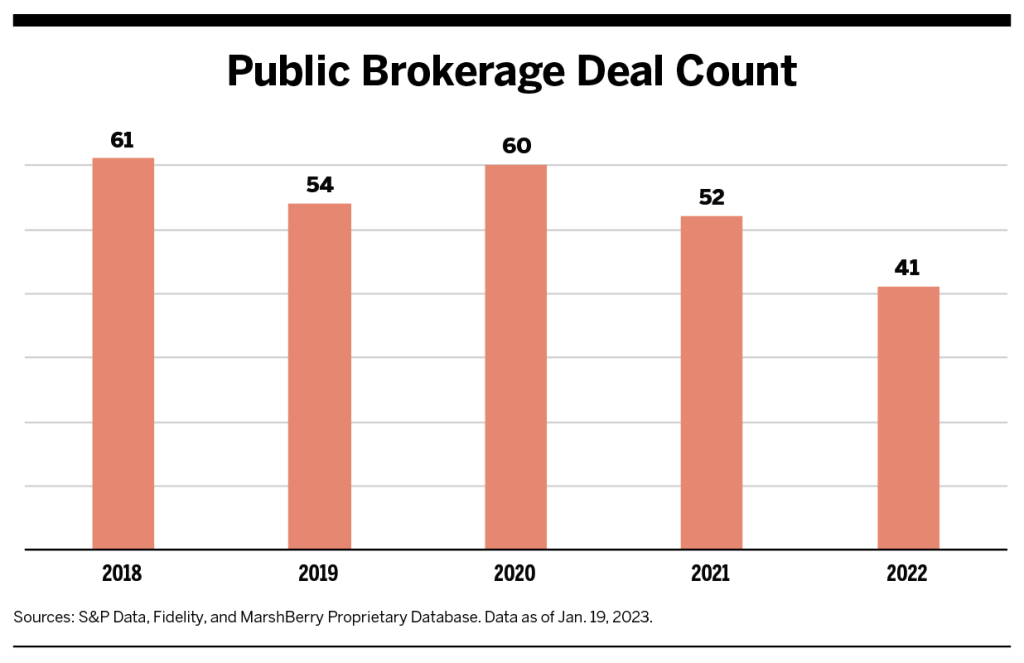 Employee Benefits as Acquisition Targets
With 22% of all deal activity at 165 deals, transactions involving traditional employee benefits and consulting continued to be a priority for many buyers. The number of transactions was up 14.6% since 2020 (165 in 2022, compared to 144 in 2020). This trend is not expected to slow down in the coming years.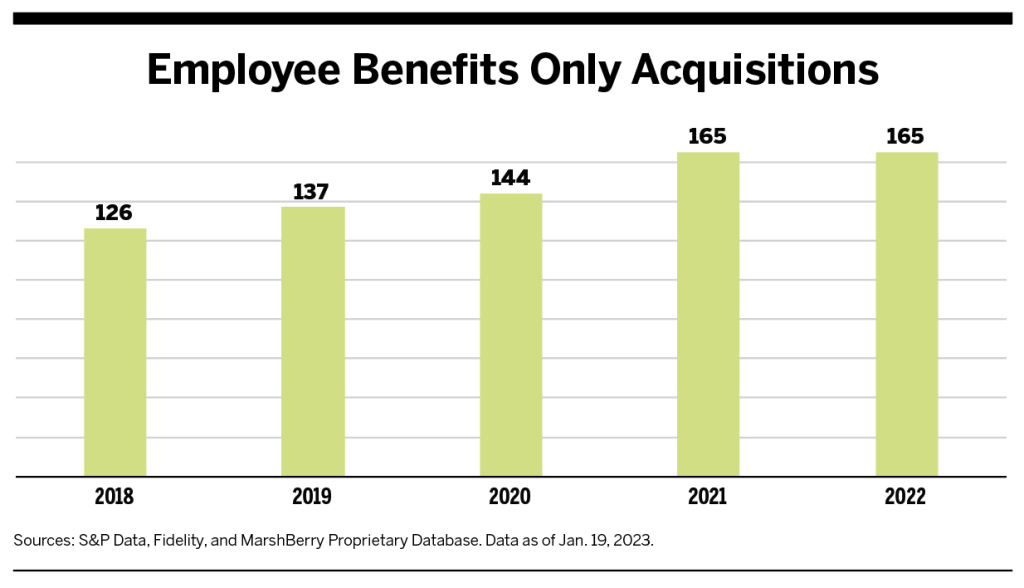 U.S. Buyers Expanded Internationally
In addition to rapid consolidation in the United States, similar deal activity is continuing overseas from U.S.-based buyers. In fact, international deal activity for U.S.-based buyers grew at a CAGR of 12% from 2017 to 2022. The strong U.S. dollar helped drive U.S. buyer demand for European insurance brokerages.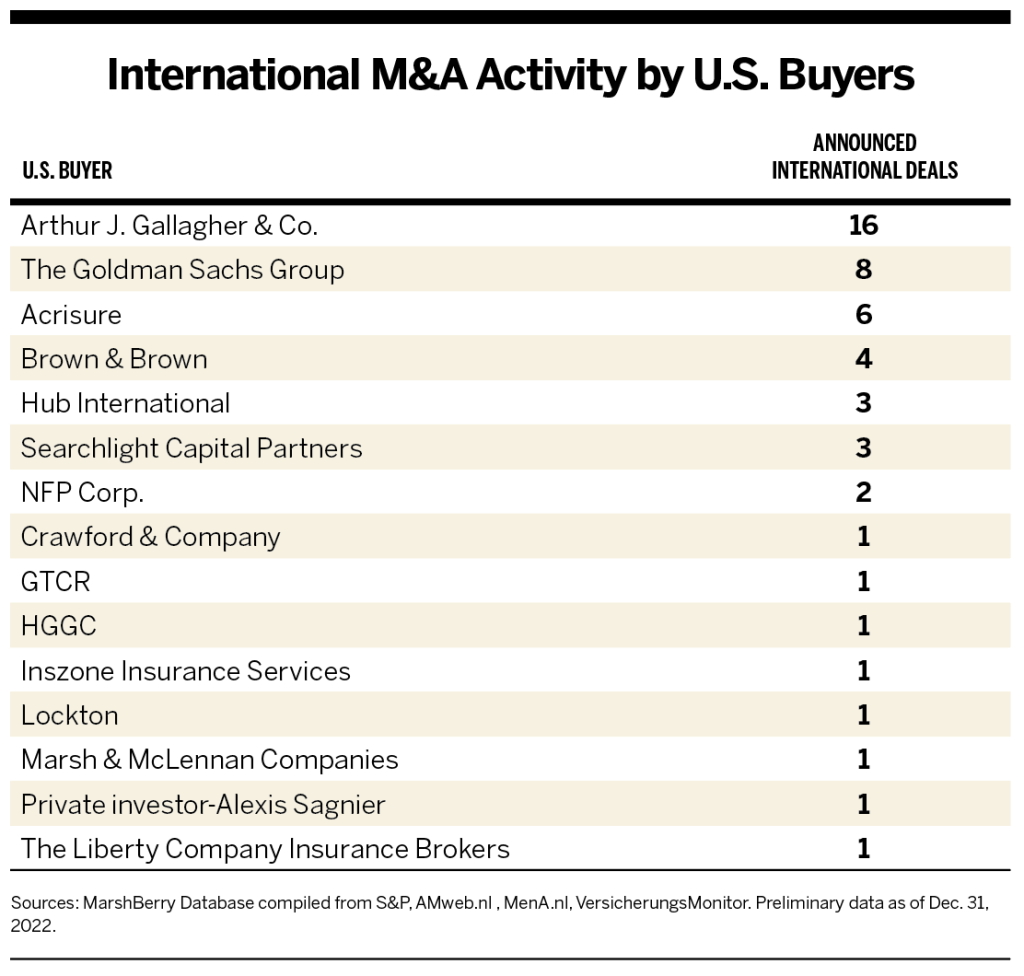 Specialty Firms Drew Buyers
Acquisition of specialty distributors last year continued to be driven by private-capital backed organizations, which executed 104 deals in this sector in 2022, up from 95 deals in 2021 and 63 deals in 2020. In 2018, there were only 27 private-capital backed specialty deals, so there's been a 285% increase in four years. It's notable that there was a 38% decrease in deals for specialty shops done by independent brokerages compared to 2021.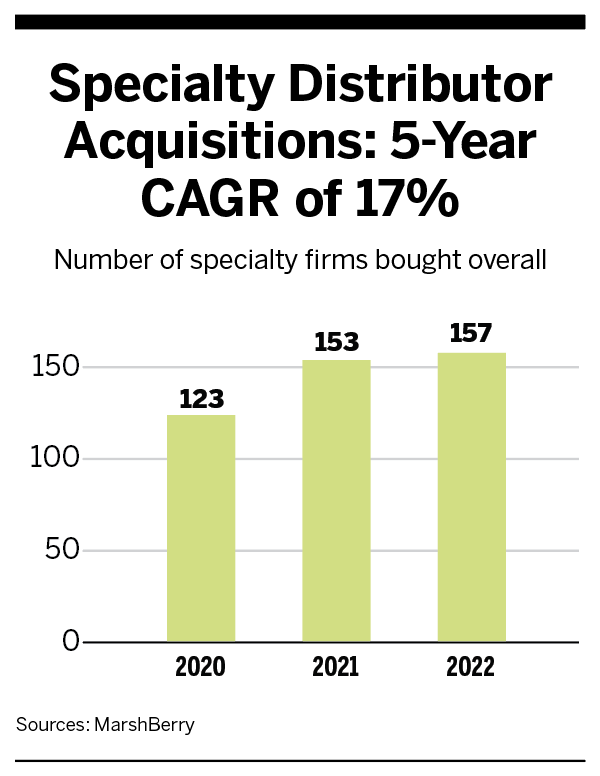 Buyers Made a Play for Wealth Advisory
Historically, insurance brokerage acquisition strategies were focused on retirement planning businesses. Now there appears to be an expansion into wealth advisory and financial planning, with 41 wealth advisory businesses being acquired by insurance brokerages in 2022.

2023 and Beyond
There are plenty of reasons for the insurance distribution industry to be optimistic in 2023. The industry is resilient and robust. There is still a glut of equity looking to invest in the distribution space. And valuations continue to remain high, despite a leveling playing field and rising cost of debt.
Many brokerage firms are still working to join the 21st century in the delivery of their services, with their clients demanding they act as consultants rather than simply as firms that help clients purchase insurance products. Brokerage firms must be true advisors and provide strategic guidance and risk management and mitigation services. This requires investments in tools, resources and talent to compete. It becomes a "build-versus-partner" decision, and brokerages must decide whether they want to use their own cash flow to make these investments or partner with a firm that has already done it.
The investor community still believes this industry is a great place to park money. And the industry remains highly fragmented, with more than 25,000 agencies and brokerages across the United States.
M&A activity in the insurance distribution channel will remain strong in 2023 though it may decline from 2022 numbers. Look for many buyers to continue a strong push for leadership and organic growth as key characteristics of their new partners. A few buyers might be on the sidelines for the year, but many remain active and they're excited to take advantage of their competitors' slowing down.