The Crisis Inside
Mental health issues may be hard to see, but now more than ever they need employers' attention and support.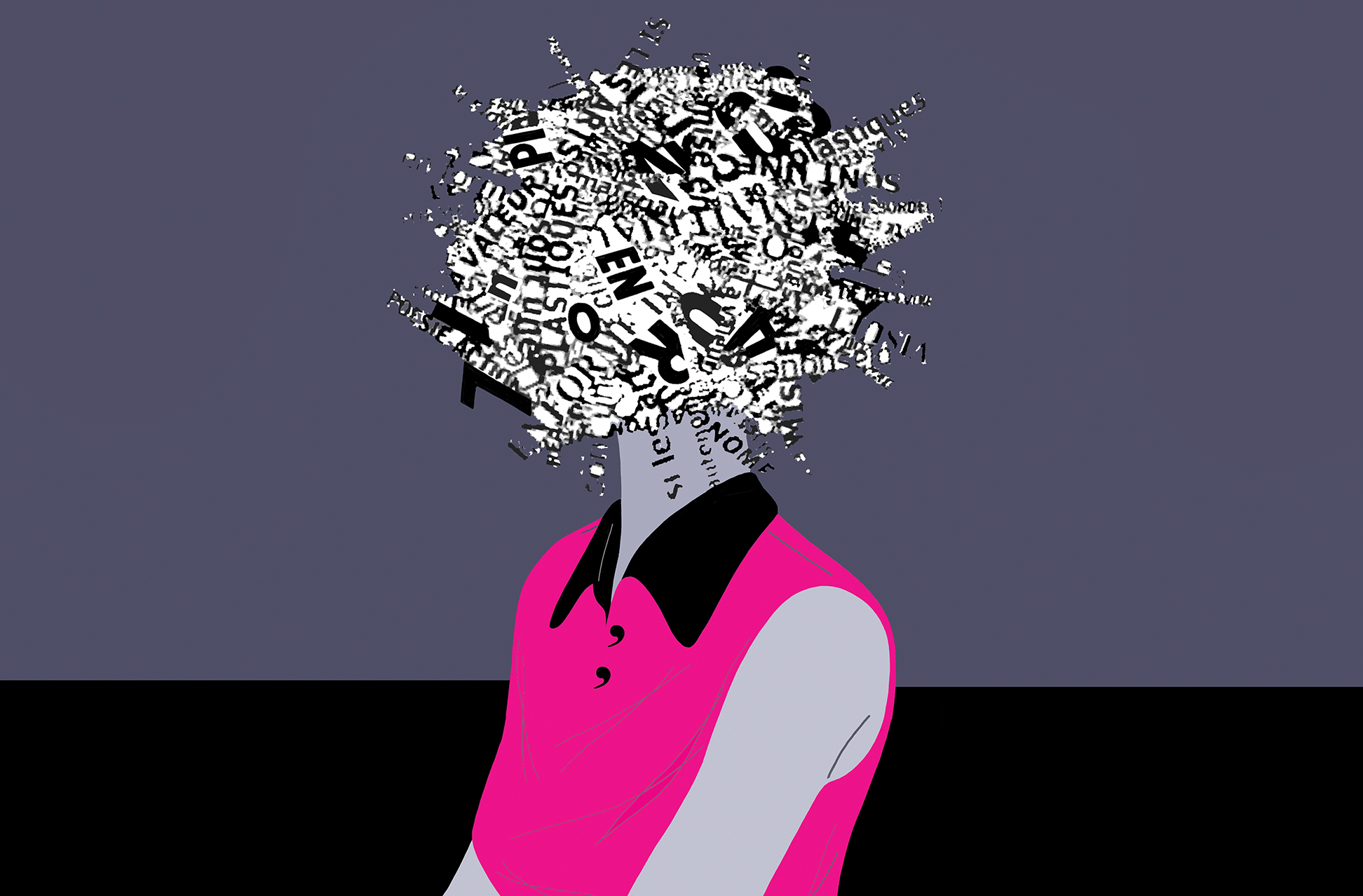 Mary-Lyn Kieffer was working at a law firm when she began experiencing recurrent thoughts she describes as taboo.
She became fixated on the compulsions and why she was having them. She went to work but spent most of her time in her head. She didn't mention the thoughts to her employer because she didn't know what was causing them and, as she recalls, "there wasn't much talk in the company about mental health."
Kieffer ended up seeking help from the company's employee assistance program, but the benefit didn't cover all of the therapy she needed. Eventually she decided she had to take a break to deal with her symptoms, which she later found out were signs of obsessive compulsive disorder, or OCD. Kieffer was lucky that her company had short-term disability so she wouldn't be without pay.
On average, nearly two in three people dealing with a mental health condition do not tell their employer.
Now, in the midst of a global pandemic, is the time to shore up health benefits.
Behavioral health issues contribute to lost productivity, increased time off, higher turnover, and higher medical and disability costs.
By not divulging her struggles in the workplace, Kieffer followed a familiar pattern. According to research from the American Heart Association, 64% of people dealing with a mental health condition don't tell their employer. Yet letting mental health conditions go untreated can ultimately hit an organization's bottom line.
But some companies are starting to step up. Ali Payne, practice leader for organizational well-being at Holmes Murphy, says business leaders are beginning to realize that many of their employees face challenging mental health issues for which employers need to take a more proactive approach.
"You need to take a step back and ask who are we as an organization and do we have resources that can impact the stability around each employee who works for us," Payne says. Either a conversation is started about improving mental health, she says, or employers "have their head in the sand, thinking it's not impacting all industries and all employees."
Now, in the midst of a global pandemic, is the time to shore up health benefits and assist people in getting the support they need. Helping people manage conditions like depression, anxiety and OCD can positively impact the company and its bottom line.
The Cost of Doing Nothing
Part of the problem in managing mental health conditions in the workplace is that they are so often unseen. Depression isn't nearly as obvious as, say, a broken arm. Nor is the damage it can wreak on our sleep, eating habits and productivity.
"Behavioral health signs are different from physical ones," says Sarah Chilton, a partner at London's CM Murray. "It's invisible to some employers. An employee could be unproductive because they aren't well. They can look like they are sitting doing their job, but they aren't functioning at their full potential."
The problem is more widespread than most employers understand. One in five Americans struggles with mental illness. Forty percent of millennials have anxiety, according to Emily Noll, national director of CBIZ Engagement & Wellbeing Consulting.
There is plenty of research on the impact of mental illness, its costs and how it affects people at work. Most of the data show that behavioral health issues can contribute to lost productivity, increased time off, higher turnover, and higher medical and disability costs.
The related costs of not managing mental illness in the workplace can be abstract to tally. For instance, 62% of absenteeism can be contributed to a mental health condition, and 81% of productivity loss stems from a condition known as presenteeism, in which a person is at work but not fully functioning. It's difficult to put a dollar sign on factors such as absenteeism and presenteeism, but they do impact an employer's bottom line.
Employers are acting more in a social service capacity than ever before. I am taking the wellness program that I had been working on to make it inclusive of all kinds of health.
Julie Evarts, Clinical Director of Health, Safety and Wellness, EHD
There are concrete costs of ignoring employees' behavioral health. According to the World Health Organization, one of the main causes of disability worldwide is depression. When people are on disability because of a mental health disorder, they are absent longer: 67 days versus 33 for physical health conditions.
Darcy Gruttadaro, director of the Center for Workplace Mental Health, says mental health issues even increase costs of treating conditions like diabetes, cancer and obesity. The price ends up being three times higher than for someone who didn't have a comorbid mental health condition.
A report prepared by the National Alliance on Mental Illness (NAMI) of Massachusetts found that more than half the healthcare costs of people with anxiety are for non-psychiatric care. In essence, people with untreated anxiety are going to doctors and emergency rooms to treat physical conditions that can manifest from their anxiety, such as chest pain, muscle aches and headaches. The bright side: offering treatment and good insurance can create a better work environment and lower costs for employers.
By some estimates, every $1 spent on mental health promotion yields a return of at least $3. The NAMI report found evidence-based treatments can reduce symptoms in disorders like depression and anxiety in as much as three quarters of patients. According to the report, effective treatment can improve productivity and reduce absenteeism, and early intervention with antidepressants can shorten disability by as much as three weeks.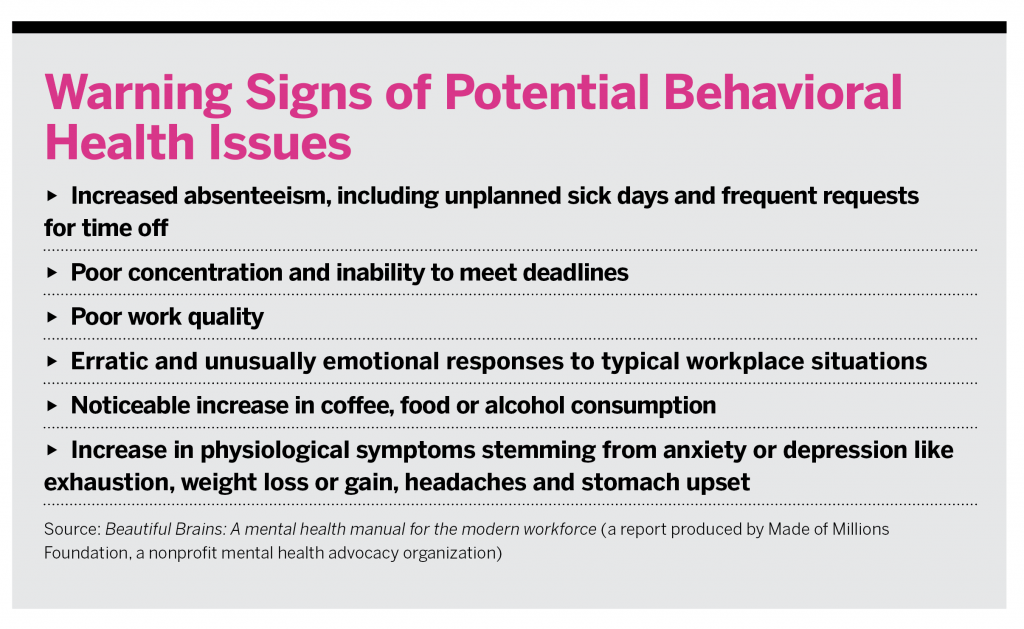 Where to Start: EAPs
The business case for better managing employees' mental health is clear. How to do it may be slightly less obvious.
Noll recommends starting with the bare minimum: evaluate the organization's current approach and inventory existing resources and policies. These steps will at least offer an idea of what effort, if any, has been put toward helping employees cope with mental health conditions.
The lowest-hanging fruit for most employers is the employee assistance program, or EAP. This benefit has a high uptake—about 90% of businesses have one. Yet few employees—about 3%—use them.
"Sometimes it's a matter of enhancing this benefit," Noll says of EAPs, "but a lot of it is about better communication and reducing stigma around using them. We see a spike in usage in services when managers are properly trained to make referrals and remind people they are available."
Increasing communication about EAPs and adding services directly at the workplace are two things Noll has seen employers do in increasing numbers over the past few years. Some EAPs are offering on-site training and programs in areas like mindfulness, resiliency and improving sleep.
Another option for EAPs is to use them as a sort of triage. While employers can't require people to call them first, they can recommend it. The EAP representative can then act as a front line to get people referred to the right resources. Other adjustments can be made to encourage the use of EAPs, like providing six sessions of treatment per episode if insurance benefits offer only three.
Employee assistance programs can also help people struggling with severe mental health conditions. If someone goes on disability due to a mental health condition, the EAP can reach out during the first two weeks.
"They can reach out quickly before the person has a chance to languish and change their identity from worker to disabled person," says Nancy Spangler, president of Spangler Associates, a business consultancy with a healthcare focus, based in Leawood, Kansas. "If they reach out and say, 'We are here for you and know it is a difficult time,' there can be an increase in utilization of the EAP and a marked difference in their improvement. It makes so much sense."
Employers can request this type of service through their disability management vendor.
Health Insurance
The second most common benefit to manage workforce mental health is insurance (about 86% of employers provide coverage). But a lot of employers don't understand exactly what constitutes good mental health coverage or how to work with their insurer to confirm they are complying with federal regulations.
One thing to do is aim for equality. The Mental Health Parity Act was passed in 1996 requiring employer-based plans to have the same annual and lifetime dollar limits, treatment limitations and financial requirements for mental and physical health benefits. Gruttadaro said she knows many plans are not in compliance with the Parity Act. Companies that are uncertain, she says, can perform internal audits.
The mental health coverage in a plan should have the same parameters as the physical benefits: deductibles, co-insurance and co-pays; limitations on visits; benefit classifications like inpatient, out-of-network and prescription drugs; authorization requirements; and experimental treatments.
"Plans put limits on mental healthcare because they fear treatment could go on forever," Spangler says. "It's no different than something like heart disease, but we don't have a model that's the same for both."
Plans put limits on mental healthcare because they fear treatment could go on forever. It's no different than something like heart disease, but we don't have a model that's the same for both.
Nancy Spangler, President, Spangler Associates
Another consideration that doesn't fall under the parity law but is crucial in behavioral health coverage is adequate access. Many plans suffer from a lack of adequate providers or listings that aren't up to date.
Gruttadaro recommends doing a test run with human resources to try to access care. Someone can call the EAP and in-network providers to see if they can make appointments. Most likely, the caller will find many providers aren't accepting new patients, don't take insurance any longer, or have a months-long waiting list. None of these scenarios is good for someone needing help.
Many mental health providers have stopped taking insurance because of paperwork burdens and inadequate reimbursement. Spangler says companies can look at their insurer's reimbursement rates to see whether payers are incenting providers to take part in the network. "They shouldn't be paying a primary care doctor more than a psychologist," she says, though that kind of scrutiny would likely need the help of an HR department and/or benefits consultant.
The Population's Health
Beyond insurance and employee assistance programs, employers can provide solutions in the realm of behavioral health. What companies offer will depend, in part, on their willingness to dive into their employees' needs.
Before recommending any new resources for clients, Holmes Murphy's Payne finds out as much as she can about an employer and its demographics. One frequent issue she finds when she does this is that the business has duplicative options, like an EAP that was purchased, another in the medical plan and a third through disability. If this is the case, getting rid of all but one and focusing on that EAP is a good idea.
Her main goal for understanding a client's situation, though, is to gauge what care the workforce is and is not already getting. "Data can drive a lot of decisions employers make," Payne says, "and they can get that data if they are asking the right questions."
For instance, ICD-10 codes from claims data can show, in aggregate, how many people are being treated for conditions like depression and anxiety. An EAP can also tell companies how many workers are getting treated for mental health conditions. An employer can compare statistics on prevalence and treatment in the general population with their own internal numbers.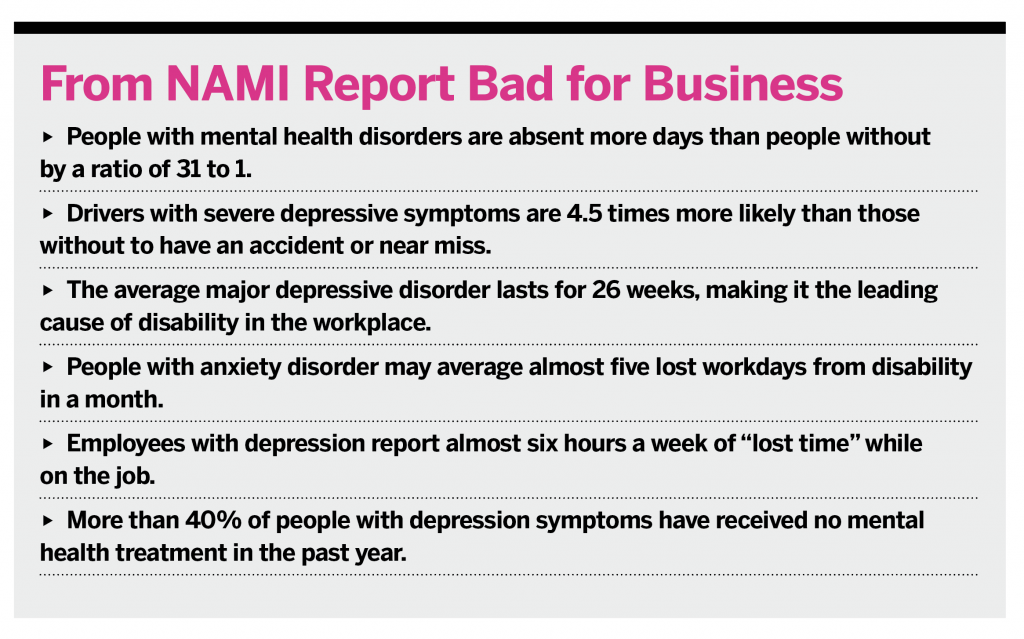 Payne also uses other data to see who might need behavioral health services and what kind of programs might be beneficial. She looks for people taking out 401(k) loans, which can point to financial stress, or overspending, a symptom of some mental health conditions. Other things to watch for might be an employee's new baby or a spouse added to a health plan.
"There is lots of data that can help determine if people need more help than what they have," she says. "And employers don't have to shoot in a barrel and hope something works."
The kind of assistance employers offer and how it should be structured can differ according to industry. In a low-stress occupation, Chilton says, putting together a benefit package with good behavioral health insurance coverage may suffice.
But when it comes to high-pressure jobs, "employers have more obligations morally" to go above and beyond. Chilton sees a lot of people in professions with highly stressful work—lawyers and law enforcement officers, for example, who are routinely exposed to trauma such as car crashes, child abuse or sexual offenses. Other occupations—the medical field, firefighting, even the financial sector—also put extraordinary pressure on workers.
In some industries, specific issues can be more of a focus, like substance abuse in transportation. Chilton says this comes up a lot in the cases she works on because it's not uncommon for people with mental health conditions to self-medicate with drugs or alcohol. Employers need to have a clear policy for testing and privacy. Though it can be a real safety concern, businesses must balance an employee's rights with the risk to the wider workforce. This is usually pretty clear based on the person's job duties, the potential for accidents, and how many people may be affected should they have an accident.
A Plethora of Options
Employers in high-pressure fields, or those just seeking to improve behavioral health options for employees, can enhance benefits packages in many ways. Chilton recommends having packages built specifically for individual people, if possible. One person may need structured counseling, while another inpatient care. Some may need adjustments so they can work from home, a change in hours or a temporarily reduced workload. "I would advise employers to get medical advice to create these packages," she says. "Other people aren't qualified to know what is better or worse for different people."
Some mental health campaigns can provide employers with expert speakers or offer information on mental health issues through newsletters or websites. "What's important is that employers match their unique organizational culture with what they want to deliver in the way of mental health and well-being," Gruttadaro says.
Internal training is also being used to increase awareness, help identify employees in need and then direct them to the best resources. For many organizations, Spangler says, it's enough to have short meetings with solid information on recognizing mental health issues and how to accommodate people who are struggling.
If there's a budget for it, managers can be trained more intensively in mental health first aid—learning how to identify, understand and respond to signs of mental illness or substance use disorder.
An increasing number of businesses are creating positions for mental health ambassadors, says Kieffer, who became a board member of Made of Millions Foundation, a nonprofit working to change the way people perceive mental health issues. The ambassadors can be responsible for leading the efforts of a company or can act as a go-to resource for people needing someone to talk to.
Also increasing is the number of employers looking to technology for mental healthcare, particularly when more people are working remotely. Kieffer says some companies are setting up groups on Slack.com where employees can go to talk about mental health issues.
A wide range of telemedicine, online and app options also help workers manage their mental health. Spangler says there's even an artificial intelligence program that can check in on someone who needs support and assess the person's status between therapy appointments. Employers can encourage the use of this technology, Spangler says, by vetting the options for the best available and offering payment assistance for employees who want to try them.
These are all great resources for improving well-being, but the gold standard, says Julie Evarts, clinical director of health, safety and wellness at EHD, a brokerage in Lancaster, Pennsylvania, is bringing a therapist in-house to work directly with employees.
Because there is still a lot of stigma surrounding mental health, Evarts says, therapists can work with leadership and employees on things like resiliency, active listening and stress management. Voluntary workshops are a good way to start. Making these classes the norm, rather than the exception, can help reduce stigma.
Organizations can also hire a therapist for a certain number of hours on set days to counsel employees, Chilton says. This arrangement allows employees to see the same person on a regular basis, but it may feel less strict or uncomfortable than going somewhere else for therapy.
Regardless of the path an employer takes, there needs to be buy-in at all levels. Once someone hears from a manager that an employee has a problem with depression or anxiety, Spangler says, it changes the dynamic for the employee. "People will feel OK talking about it and OK reaching out for help," she says. "There used to be stigma talking about cancer—it was the C word. I think we are about 10 years from being stigma-free in talking about mental health as well."
The Holmes-Rahe Life Stress Inventory was created in the late 1960s based on the idea that stress someone is experiencing may be a predictor for future "health breakdowns." There are 43 life events on the list, ranked from most stressful—the death of a spouse merits 100 points—to the least anxiety-inducing, such as a traffic ticket (11 points).
Just three months ago, Julie Evarts couldn't imagine talking with some of her clients about giving this to their employees. But times have changed. Evarts, clinical director of health, safety and wellness at EHD, a brokerage in Lancaster, Pennsylvania, now encourages employers to use it as part of their overall health plan.
When typical life challenges were measured and then topped with the pandemic's additional stressors—including major illness (53 points), major business readjustment (39 points) and major change in financial status (39 points)—Evarts tallied a potential score of 508 points. According to this prediction model, a score of 300 or more means someone has an 80% chance of a health breakdown in the next two years.
"If this is only 50% predictive of your population, a lot of people are going to have health problems," Evarts says. "Now is not the time to stop providing benefits. Employers can think about increasing the mental health package, using telemedicine for the mental health component, or pairing up with an app like Calm."
The good news: instead of employers' cutting back on benefits because of profit losses, Evarts says, her clients, like many businesses across the country, appear to be doubling down to ease employees' minds—from afar.
A Business Case
Only a few months ago, employers knew mental health conditions impacted the workforce, but the discussions Evarts had with them were "soft." The COVID-19 pandemic, however, has brought the issue to the fore. "Now a huge flag has been raised that mental health is important, and it will be a game changer," she says. "I think in the midst of things that go bad, there are always things that become improved."
Wendi Lazar, a partner at the employment law firm Outten & Golden, says they made policy decisions early to reduce stress as employees transitioned to remote work. They ensured people would not need to use their paid time off during the pandemic. They sought to understand what people's lives would be like: who was taking care of kids or homeschooling; if attorneys would have places where they could work confidentially; or if others would be isolated alone in small New York City apartments for months. Most of their offices are in states that were still under stay-at-home orders in late April.
"If we ignore what is going on in the world and their lives, they won't feel very productive and supportive of the business," Lazar says. "It's good for the company and good for employees."
Lazar stresses that businesses should remain cautious as they dive more deeply into the personal lives of their employees. Whether an employee can't work because of a family situation, has anxiety needing treatment, or is diagnosed with COVID-19, these issues should be part of a confidential discussion between human resources and the employee.
"Even during a pandemic, it would be against the law to tell others that someone is sick or send an email saying they have COVID-19," Lazar says. "HR has a private file, and it shouldn't go outside of that. It's a fine line to create a safe space for an employee while not revealing medical information."
Where to Focus
One of the most common questions clients have been posing to Evarts is which health conditions are most impacted by stress. In other words, how might people's health worsen because of the pandemic?
Unfortunately, stress can be degenerative to a host of other health issues, including heart disease, obesity, gastrointestinal problems, asthma, depression and anxiety.
Emily Noll, national director of CBIZ Engagement & Wellbeing Consulting, says employers are feeling increased pressure to help people manage the challenges of working from home.
"We are seeing an increase in requests from employers for information on emotional health, staying active, getting adequate sleep and financial well-being," Noll says.
What to Do
For their employer groups, Noll has been helping to coordinate with employee assistance program vendors, encouraging the use of technology for behavioral healthcare, and helping train managers to be more compassionate with employees.
During the COVID-19 outbreak, Evarts has seen businesses enhance or waive co-pays for behavioral health services and offer Doctor On Demand or Amwell for virtual visits. She also says her group has done more social service referrals during the pandemic than ever before. They are helping clients get employees to community organizations that provide assistance with rent, food and utilities and offer domestic violence aid. CNN has reported some cities saw a nearly 25% increase in domestic violence reports and arrests in March versus the same period one year ago.
"Employers are acting more in a social service capacity than ever before," she says. "I am taking the wellness program that I had been working on to make it inclusive of all kinds of health."
Noll says her company is working internally to minimize anxiety by taking advantage of new communication tools. They've been hosting virtual coffees, encouraging "new co-workers" like kids and pets to appear in Zoom meetings, and issuing weekly self-care challenges.
"The silver lining in all this may be twofold: increased employee engagement and loyalty, and improved healthcare consumerism, including utilization of mental health services and prioritization of all aspects of well-being," Noll says.