Through a Glass Darkly
How your clients view you isn't necessarily how you view yourself. Which begs the question: is your customer contact working? Or do you just think it is?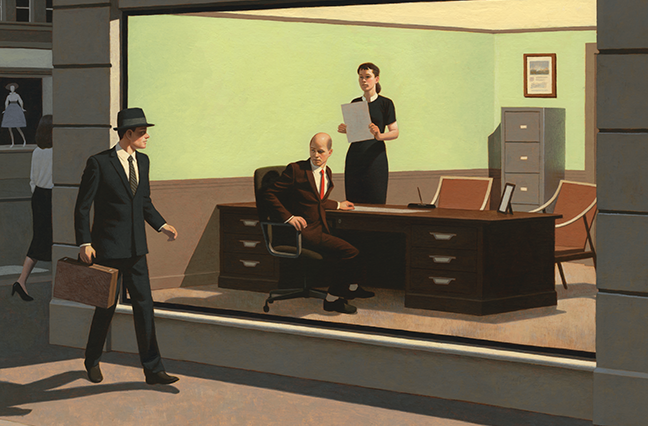 You would think it's common sense. You take care of your customers, they take care of you. What's not always so simple is figuring out how to take care of your customer.
Acclaimed author and business strategist Martha Rogers says many CEOs suffer from a disconnect between how they believe their companies treat their customers and what their customers say about the same experience.
"We all think more highly of ourselves than we probably should," she says. As evidence, she cites a study of corporate CEOs who were asked how they think their customers rate doing business with them. Some 80% said their customers receive superior customer service. But just 8% of their customers described the service as superior.
Keeping the customer satisfied has never been more important, Rogers warns.
"We are moving into an age of transparency where it doesn't matter what we as a company say about ourselves," she says. "It only matters what customers say about us. A bee is going to stop by and take a look if you are a pretty flower and have a good smell. But he is only going to go back to the beehive and tell everybody else how great you were if your nectar is good."
Rogers, the co-founder of Peppers & Rogers Group, now part of TeleTech, has been recognized for more than 20 years as one of the leading authorities on customer-focused relationship-management strategies. Business 2.0 named her one of the 19 "most important business gurus" of the past century.
Two years ago Rogers and her business partner, Don Peppers, were inducted into the Direct Marketing Association Hall of Fame. They have co-authored a series of international best-sellers that have collectively sold more than a million copies in 18 languages. Their most recent book, Extreme Trust: Honesty as a Competitive Advantage (Portfolio, 2012), suggests that social networks and rapidly increasing transparency have combined to raise customer expectations regarding the trustworthiness of the companies they deal with.
Rogers says most business leaders believe their firms treat customers well because they know how hard they're trying.
"They know how much money they have to spend on all that marketing and what their intentions are," she says. They have no reason to think what they are doing is not meeting the level of service their customers expect.
"They don't realize what it's really like to be their customer," Rogers says. "And even if they do, they know they are spending a great deal of time and energy and resources on making it better. And after they spend all this time and money on it, it must be better. It's partly self-delusion, and it's partly wish fulfillment."
Rogers and Peppers are not the only ones to warn about the digital transformation. Scott Klososky, a partner in Future Point of View, a tech consultancy based in Oklahoma, suggests businesses need to change their selling habits to have a better chance of reaching today's consumer.
It doesn't matter what we as a company say about ourselves. It only matters what customers say about us.
Martha Rogers, co-founder, Peppers & Rogers Group
He says the emergence of digital technologies enables companies to connect with clients as never before. For example, he says, digital marketing enables a business to create detailed profiles of clients, yet because of today's client access to online technology, 60% of a sale is already closed before a client ever engages the business. In other words, in many industries, buyers don't need people to get sales information.
At the same time, the Internet and social networking have given consumers a megaphone to spread the word about their encounters with today's sellers. More than ever, Rogers says, businesses must ensure their customers are satisfied.
"What this emerging technology requires of us is that we build and maintain perfect customer experiences and the kind of things that they want to talk about, because they will talk about it, good and bad," she says. "If you screw up today as a company, the news is going to be everywhere immediately and permanently."
John Griffin, co-leader of Aon Risk Solutions' U.S. account executive practice, agrees. "A bad experience," Griffin contends, "can overshadow 10 good ones."
Griffin, however, suggests the brokerage business isn't subject to as much fickleness as other industries. "I don't really think that in our business clients make instant decisions," Griffin says. "First and foremost our clients who are transferring a risk are looking for the contract to respond in the event of a loss. They're looking for a trusted advisor, someone who understands their business and can help them make those decisions beyond the transaction around risk."
Griffin says Aon works hard to ensure it understands its customers' wants and needs.
"I can see that there could be a disconnect between what companies think they are doing well and how their customers are actually experiencing that satisfaction," he says. "What can we do to close the gap? You always have to get feedback. A lot of firms do this in a survey, and I think that's effective, but you have to constantly get feedback from your clients on transactions, service, the team, system, excellence, just to name some.
"I think every client is different by industry size and strategy and you have to understand their goals, objectives, strategies, KPIs [key performance indicators] and what's important to them. When they provide you that feedback and you're not performing, you've got to do something about it."
Rogers and Peppers have a name for what customers want: a "frictionless" experience. That is an interaction that has no speed bumps along the way to distract the customer.
A bad experience can overshadow 10 good ones.
John Griffin, strategic account manager, Aon Risk Solutions
"We've got to be good at making it easy and meeting their needs, and what that means is eliminating the friction," Rogers says. "If we delight customers, they will think good things about the experience. But if you don't get the basics right, then they will say things that are negative."
Just what constitutes a "frictionless" experience? Rogers says it includes the following four elements:
RELIABILITY: The product performs exactly as customers expect. "Everything works and you don't screw it up," Rogers says.
RELEVANCE: You should remember your customers from transaction to transaction and never require them to re-enter information or to look things up that the company ought to already know about them.
VALUE: "That means good service delivered at a fair price, of course, but it also means we're going to be doing things that make the cost fair," Rogers says, "so I'm getting what I need and I'm getting it at the cost where I need it at."
TRUST: Doing what you say you're going to do and not violating the law is no longer sufficient to render a frictionless customer experience. Increasingly, customers expect you to be proactively trustworthy.
"Once a relationship is trustable, that means we do the right thing," Rogers says. "It means that you not only have to comply with the law, you have to actually follow not just the rule of law, but the Golden Rule, and you have to figure out how to align your interests and those of your customers. If I'm a trustable company, I don't just do what I have to do; I do what I should do, and I do that in such a way that it actually makes it easy for customers."
Shawn Pynes, the principal who heads Barney & Barney's employee benefits division, says customer satisfaction isn't just lip service.
"Customer experience is at the top of our list," Pynes says. "It's more than just words on a wall to us. We spend a lot of time educating our staff and teams on what core values really mean to us as an organization and what we want to represent to our clients in the community.
Pynes says educating his staff is a "huge component" in the company's approach to customer service. "Not just teaching our staff about our core values and what's really important to the organization in every level," he says, "but also educating our staff on becoming experts in their business. We have more than 90% of our employees at any given time going through what we refer to as a Personal Excellence Plan. Each individual associate here has their own plan so they are developing their own expertise in their area."
Pynes says Barney & Barney takes a proactive approach to customer service, meeting with clients on a regular basis in order to prevent surprises, for example. "If we're doing a good job of listening to our clients," he says, "we think we will be able to look around the corner and see what's coming next."
But how can you tell how the customer really feels? For Barney & Barney, Pynes says, the measure is the company's client-retention rate, which is now at 92%. "When retention is above 90%, we know that we are hitting on those core values and we are delivering more than is expected to our clients. That's what we really are trying to do: always deliver more than what the client expects."
Pynes says making investments in the business and in the community also helps Barney & Barney's efforts to retain clients. "We want our associates participating in their community," he says. "We also support our communities through our foundation, providing money back to the community and worthy organizations."
Rogers says employees are an overlooked source of information on customer feedback.
"We did another project where we went to employees and said, 'We all know what trust is. What specifically could we at XYZ Corporation do that would help us be even more trustable to customers?'" she says. "We got more than 500 completely different suggestions from employees. That's how hungry they were to be asked something along this line."
Staff opinion is a metric in the measure of the customer experience.
"We're surveying not just our clients but our associates," Pynes says. "We're gathering a lot of data from our own associates to find out what's really important to them. If we have happy, well balanced people who work here, that's going to translate into the way they treat our clients."
If we're doing a good job of listening to our clients, we think we will be able to look around the corner and see what's coming next.
Shawn Pynes, principal, Barney & Barney
Rogers argues that businesses need to ensure that their culture allows for employees to make decisions on their own that can remove friction from the buying process.
"What kind of decisions do my employees make when nobody is looking?" Rogers says. "That's really what culture is. How do they handle a question that's not in the training manual?"
She says company bureaucracy often thwarts employees' best intentions. Establishing a healthy, transparent company culture, she says, is frequently a key to successful customer service. "Culture is what employees do when they think that no one is looking," she says. "How do I set up an environment that helps my employees want to make more money for the company while still doing things right for the customer?"
That might mean rethinking the way you do business.
"A lot of this is a mindset problem," Rogers says. "We grew up in an era in which mass marketing prevailed, and that was on the back of mass production and mass distribution and, for that matter, mass media. It's slow for us to learn that the best way to make more money is to do things individually for customers."