When Loss Hits Home
Four insurance executives share personal stories of loss and tribulation, which they now use in their business lives.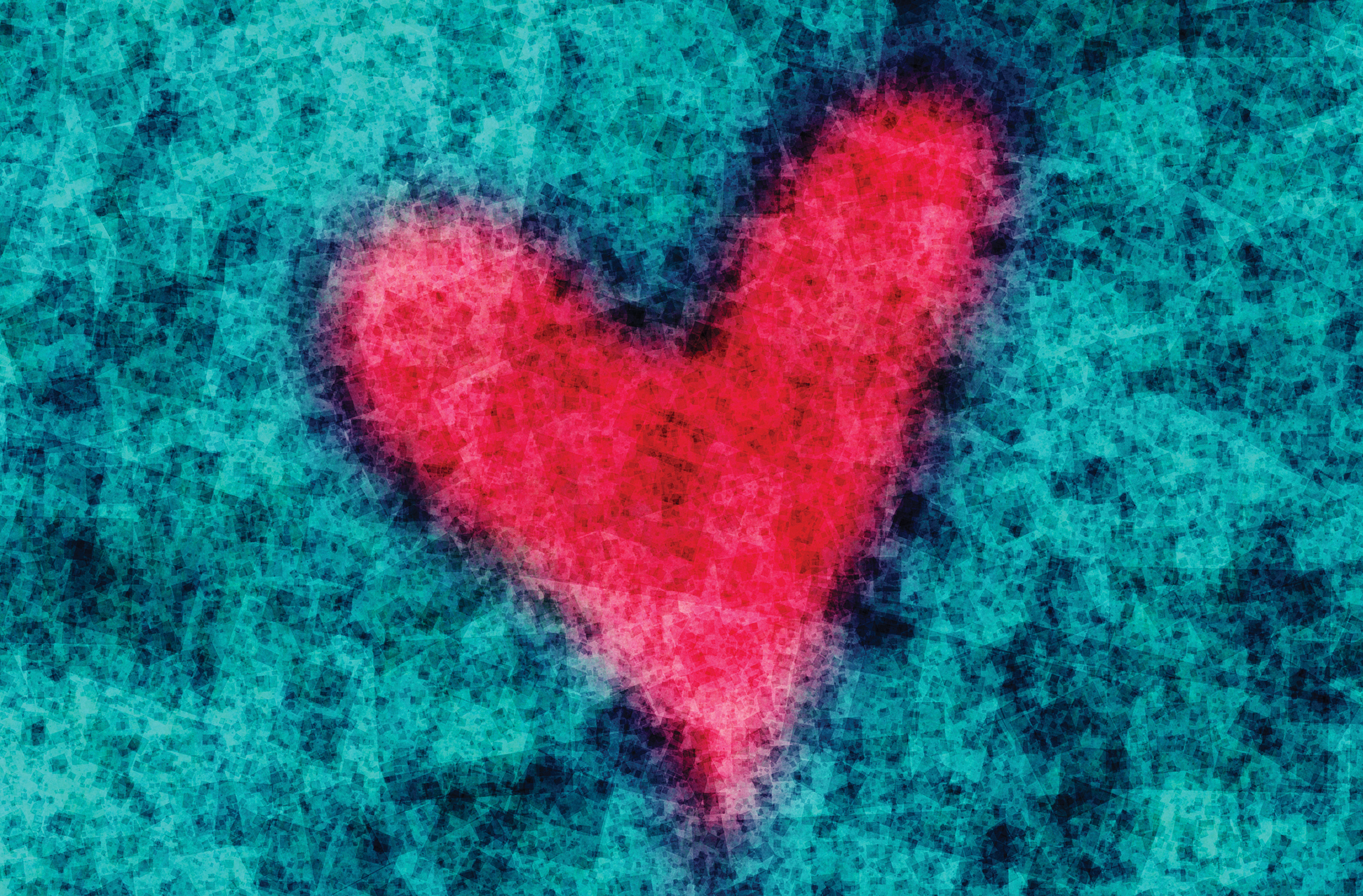 A tornado levels a town, a fire destroys a neighborhood. Floods rise and disease spreads.
It's life, some say, but it's also the nature of the insurance business. Most brokers often have the unsung duty of helping clients piece their lives and their livelihoods back together after suffering large business or personal losses.
But perspective changes when it's your own home or health on the line. Brokers who have experienced loss or close calls of their own often approach their jobs differently afterward.
Brokers who have experienced loss or close calls of their own often approach their jobs differently afterward.
For John Tallarida, a bout with COVID-19 brought on intense headaches, two days of being blinded by light, and chest pressure so tight he could barely talk.
California's Paradise wildfire directly affected more than 400 InterWest clients and 16 employees, including 13 who lost their homes.
Whether it's truly understanding a client's emotional needs during a crisis, seeing firsthand the crucial importance of policy language, or addressing the need for new insurance products from the front lines of climate change, these brokers say their own experience has taught them valuable lessons that they now keep top of mind when coaching their teams or serving their clients.
Here are their stories.
Fighting COVID-19
John Tallarida, executive vice president of Heffernan Insurance Brokers, was one of the nation's earliest known COVID-19 patients. Tallarida was diagnosed on March 13, the same day President Donald Trump declared the coronavirus a national emergency. While unsure how he contracted it, Tallarida believes a business trip to London the first week in March is the likely source.
"It was a very different feeling in London than it was in the U.S.," Tallarida says. "Every building I went into you had to use sanitizers, there was no shaking hands, everyone was washing their hands all the time. This was the first time I ever flew over there with wipes and Purell.
"I thought I was being really careful. In hindsight, nobody who I was in contact with on that trip was sick. So I don't know how I picked it up. Thursday morning [March 5], I went to the gym and there was a guy coughing, and I remember noticing him and thinking that was very rude. That's the only thing I can think of."
Tallarida says he visited his mother upon his return on that Friday but was mindful to maintain social distancing. His wife was in New York City visiting one of their children in college, and Tallarida spent an uneventful weekend at home in California.
"Monday I woke up feeling pretty good, but by 11 a.m. I was in bed with a 100-degree temperature," Tallarida says. "It just came on. I'm really in good shape for my age. And this thing absolutely kicked my ass."
Two days later it almost killed him.
"Wednesday morning, I suddenly had a feeling like something was coming on," Tallarida says. "I never made it out of my (home) office. I woke up on the floor; I had cracked my head on the desk. There was blood on the floor. In hindsight, I am really lucky. If I had hit my head any harder, I could have just bled out. I bet I was out for 10 minutes. I blacked out. I woke up, and it was full-on hallucination, like a dream. It was not good."
For Tallarida, the disease meant intense headaches, two days of being blinded by light, chest pressure so tight it made speech difficult, and complete loss of energy. "It just came at me like a Mack truck," he says.
After a couple of weeks, the symptoms disappeared, he was cleared to resume activity, and he began to hear about the possibility that plasma from recovered patients could help others with the disease. Donating was a no-brainer.
It reinforced something my dad told me, and that is sometimes it's important to just show up. I've been writing letters and calling people I know who are having a bad time or troubles letting them know I care about them.
John Tallarida, EVP, Heffernan Insurance Brokers
"When I was in fourth grade, my dad was hit by a tractor-trailer in San Francisco and almost died," Tallarida says. "He got a lot of blood from donors, just an enormous amount of blood to survive that. He always donated blood after that, so I've always donated as well. When they started talking about these plasma studies, I got intrigued. I was in there like the third day and gave plasma."
And not just once. By July he had donated four times and was scheduled to give two more times.
"Everything I've been reading is that it really does make a difference in keeping people off the ventilator," he says of the plasma treatments.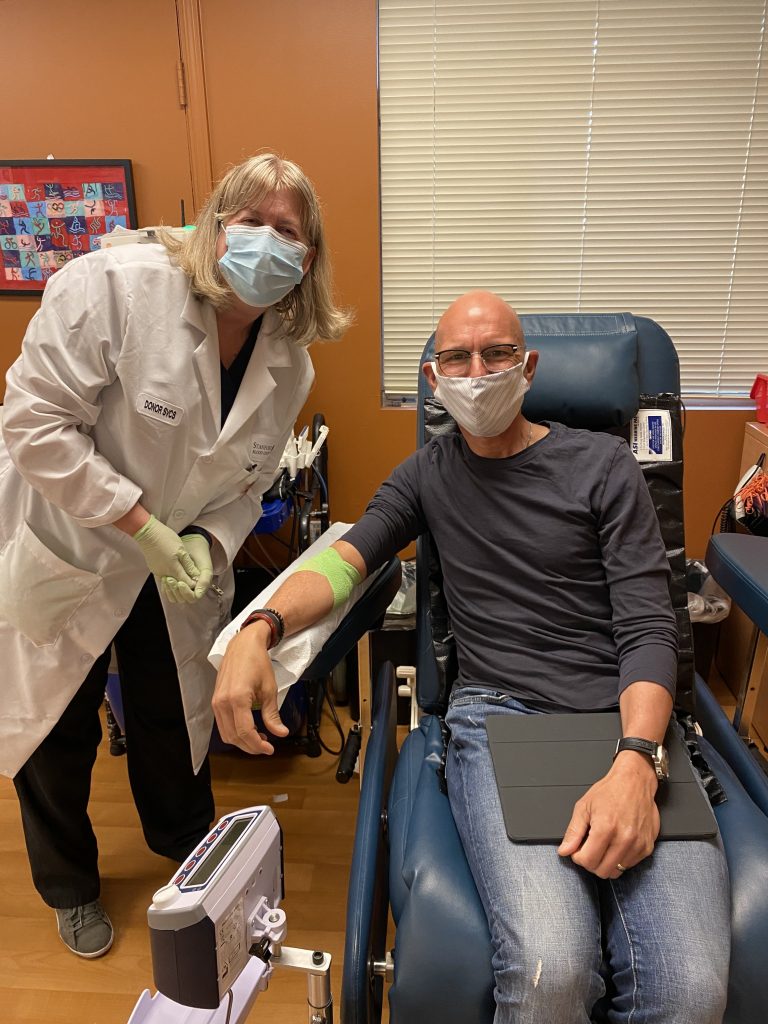 One of the things his struggle taught him was how much a kind word can help.
"I had a couple of CEOs reach out to me from insurance companies we deal with," he says. "It was meaningful, and it gave me hope. Just to know that people were out there thinking about me. It meant a ton.
"One lesson I got out of this is there are a lot of people taking time to be good human beings, despite how busy we all are."
It's a lesson he has taken to heart, and now just as often he is the person doing the reaching out.
"It reinforced something my dad told me, and that is sometimes it's important to just show up," Tallarida says. "I've been writing letters and calling people I know who are having a bad time or troubles letting them know I care about them. We've got people in the office who are struggling, and when I hear about that, I'm reaching out. I'm more acutely aware of how reaching out can help."
Wildfire Wake-Up
On the morning of Nov. 8, 2018, Keith Schuler, president and CEO of InterWest Insurance Services, was driving from his home in Chico, California, to the company's Sacramento office. In his rear view he could see the sky turning red from smoke and assumed it was a brush fire. But it wasn't a typical brush fire. It was the beginning of the deadliest wildfire in California history, responsible for 85 deaths, according to the Insurance Information Institute.
In a matter of hours, the fire destroyed 95% of the neighboring town of Paradise, which had a population of 27,000. Today, about 3,000 people live in the area.
"It started early in the morning, maybe around 5 or 6, and by 8 there was a full evacuation of the entire town," Schuler says. "By midday, two thirds of the community was gone. That's why there was such a staggering loss of life for a fire that affected such a small geographic place. It displaced 27,000 residents, and more than 70 people who just could not get out perished."
InterWest had more than 400 clients on the personal and commercial side as well as 16 employees who were directly affected. Thirteen experienced total loss of their homes and all their personal belongings.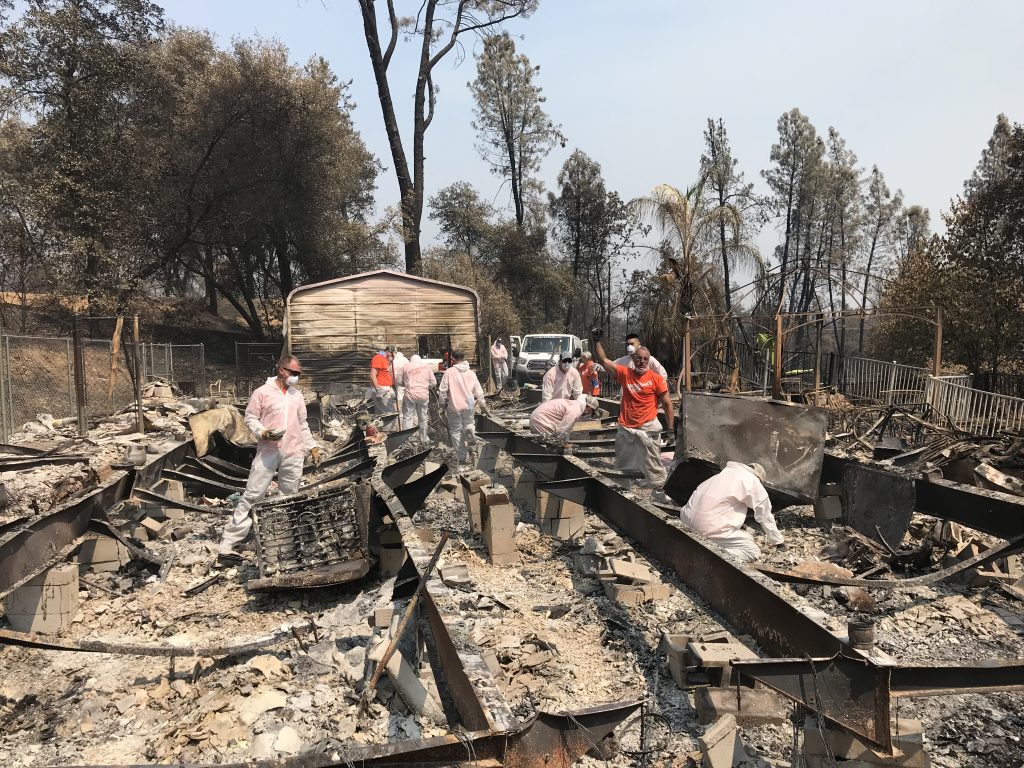 "The afternoon the fire began we had already begun to see clients coming to us wanting to discuss the possibility of a loss without even knowing what had occurred," Schuler says. "What we told our staff was, 'We can't answer questions, but we are going to be incredibly compassionate.'
"You had every kind of reaction on the spectrum. You had people who were kind and understanding, and you had people who were aggressive and wanted to get answers, and then others who just wanted to talk to somebody. We learned how to listen without being able to give answers, which is a difficult thing to do as an insurance brokerage firm. You want to help, but all we could tell people was, 'You're going to be OK. Your carrier contract is going to take care of you.' Most of them were not concerned as much with the dollar loss as the intrinsic loss of pets, memorabilia—things insurance can't replace. It almost became part counseling."
InterWest Response
Within days, InterWest had established a relief fund for employees with money donated by the company, employees and some vendor carrier partners. Some of the money went to employees to help with bills and things that they needed at that time. Schuler told everyone affected by the fire to take care of whatever needed to be taken care of and not to worry about their paychecks.
"We immediately tried to get money into the hands of our staff to try to help them," he says. "They needed it just to go out to dinner, for food, a toothbrush, sundries, even clean clothes for tomorrow. There was no way to go back and gather anything."
We learned how to listen without being able to give answers, which is a difficult thing to do as an insurance brokerage firm.
Keith Schuler, President and CEO, InterWest Insurance Services
Schuler says the response to the disaster was impressive.
"It always amazes me the sense of pride in any community when things like this happen, how people and businesses just immediately step up without having to be asked," he says. "I've read about it, and I've watched it throughout the country, and it happened here. People willing and wanting to help. It's the silver lining of a tragedy. It's humbling to know what people are willing to do for one another without having to be asked."
Schuler says wildfires are becoming a seasonal expectation in California and are impacting the availability of fire insurance.
"The losses incurred over the past two years from wildfires that have affected urban sprawl in California have been staggering," Schuler says. "The pressure on the insurance property market in what are deemed wooded, brush, and medium- to high-hazard areas is nearly beyond comprehension. As reinsurance capacity dries up, coverage availability will become more difficult along with increasing premiums."
He cites the amount of coverage that is moving to the state-backed FAIR Plan (Fair Access to Insurance Requirements) for properties with no other options. All state-backed insurers in California are required to pay into the fund with the proceeds used to provide property insurance for consumers who through no fault of their own cannot find insurance in the private market. The fund provides fire coverage only.
"I do believe the insurance industry has responded extremely well to recent large-scale cat-type fire losses in California," Schuler says. "Insurance is not the sole solution to our now 'fire season.' There is a lot to be considered regarding preventive measures and mitigation that needs to be discussed."
Tornado Survival
There are no statistics available for how many people have lived through multiple tornadoes, but Den Bishop, president of Holmes Murphy, is one of them. In 1979, as a 15-year-old growing up in Wichita Falls, Texas, Bishop lived through one of the nation's deadliest outbreaks of tornadoes, known as Terrible Tuesday. On April 10 of that year, an F-4 tornado roared through the Wichita Falls area, killing 42 people, among them a neighbor of Bishop. It remains the deadliest tornado in Texas in the past 50 years.
Forty years later, on Oct. 20, 2019, Bishop would live through one of the most expensive tornadoes in Texas history, this time huddled in a bathroom with his wife, their son and the family's two dogs.
"This one, unfortunately for us, was a direct hit," Bishop says. "This one was at night, but when the lightning flashed you could see that almost bottle green color in the sky, and I immediately told my son, 'That's not good. Let's get inside.'
"If you've ever been in a pretty good car wreck, you know the deep nature of that thud at the moment of impact—a deep resounding boom. It sounded like that thud, all around us for probably 20 to 30 seconds. You're just surrounded hearing this. It's almost like there is a series of massive car crashes happening all around you."
Bishop's family and dogs survived the tornado, but their house did not. The entire roof structure of the house was torn off and blown away. Water and gas spewed out of the second floor from hot water heaters that had been ripped apart, leaving the gas and water lines wide open. The home was declared a total loss, and within days Bishop began organizing the process of moving on.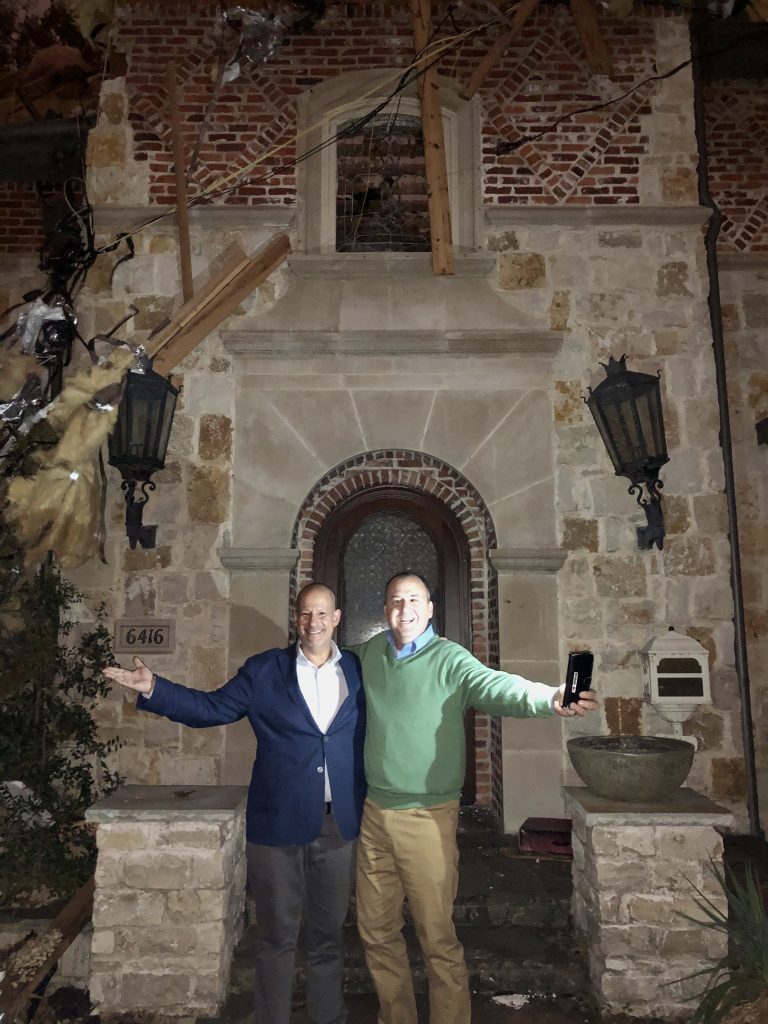 "My mom is a three-time cancer survivor," he says. "It's kind of the same skills that we used with her cancer. Ultimately, you as a patient, or you as the loved one or caretaker, you have to be the project manager. Somebody has to be the quarterback so that the patient can focus on getting well."
So Bishop became project manager for his family's quest to buy a new house while dealing with insurers, lenders, contractors and everyone associated with tearing down one house while buying another.
In that way, he offers real tactical advice for organizing the client experience. "What ends up happening is all these people are trying to help you and you don't even know who they are," Bishop says. "I ended up making a spreadsheet that listed the name of the company, the contact person, phone number, email address, what they were supposed to be doing and whether it was accomplished. For probably a week or 10 days, I sent that out every night to everyone…from the bank and the insurance company to the moving company to the real estate agent—everybody got the same spreadsheet with the same information every night so that people could have a chance of understanding the status of things. If I could coach anybody up after a disaster, that's the one thing that I would coach them to do. I think that saved us weeks of frustration because everybody knew who else was involved and what the status was."
My mom is a three-time cancer survivor. It's kind of the same skills that we used with her cancer. Ultimately, you as a patient, or you as the loved one or caretaker, you have to be the project manager. Somebody has to be the quarterback so that the patient can focus on getting well.
Den Bishop, President, Holmes Murphy
His other tactical advice? Texting.
"Computers are often destroyed or missing. You don't know the phone numbers who are calling. Information via text with direct links are far and away the easiest way to receive and organize very valuable information. If you think from the claimant's perspective, you realize their phone is likely their only communication tool."
Piper Alpha Disaster
Scott Harris was insurance manager for Union Texas Petroleum in July 1988 when the world's deadliest offshore oil disaster occurred on the Piper Alpha platform in the North Sea, about 120 miles off the coast of Scotland. Union Texas Petroleum was a partner in the joint venture.
It took nearly three weeks for rescuers to put out the fire and the series of explosions on the platform. Among the 226 crew members, 167 perished.
An official inquiry by the United Kingdom focused on the lack of a proper safety culture, noting the disaster was preventable if existing guidelines and practices had been followed. The investigation led to 106 recommendations for preventing a similar accident in the future. Those recommendations remain in place.
"Piper Alpha is used as an example for why you have to have a good work permit system," says Harris, now insurance and claims manager at Chevron Phillips Chemical Company. "Unfortunately, there was a breakdown in the work permit system, which allowed an offline pump to be put into service when it shouldn't have been," he says.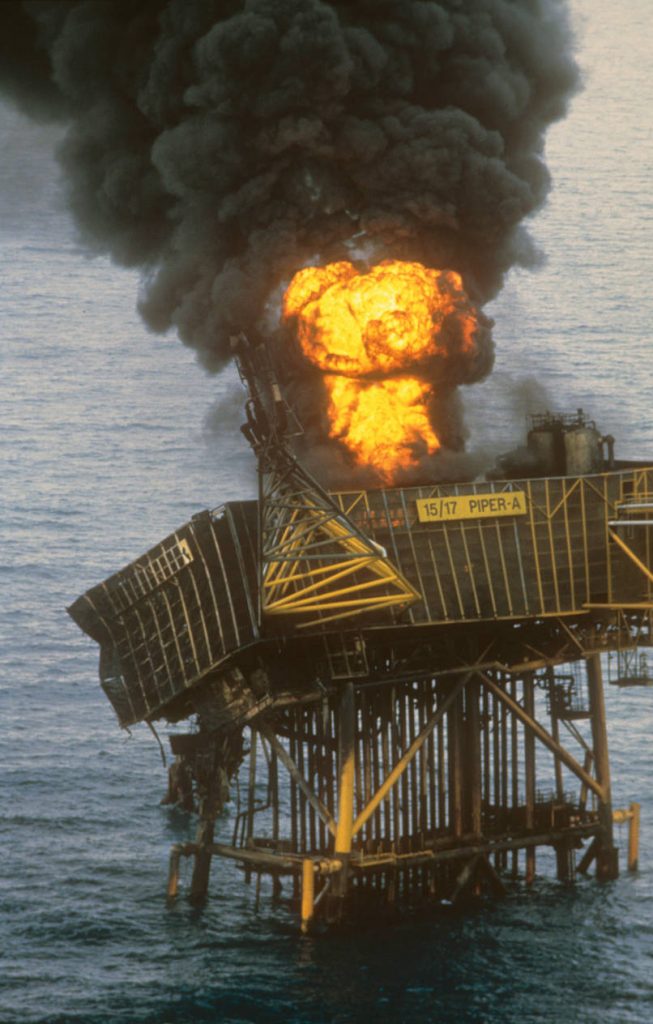 Harris, while forever mindful of all those who died in the disaster, says the event is a reminder to make sure you are properly insured.
"There were two things I learned, and I've always kept them throughout my entire career," Harris says. "The first one is contract certainty. Even before Piper, I had always insisted that we had full policy word agreement before we crossed renewal, which not a lot of people did back then.
"The policy that we had renewed on April 1, 1988, I absolutely insisted that we have full policy wording, all the I's and T's dotted and crossed so that full policy wording was agreed and there was nothing in there where they could say, 'Well, we hadn't quite come to agreement on that clause.' Contract certainty now is a big deal, and you find that all policy wordings are agreed before you cross renewal, but at the time that was not the case."
It does lend credence when you can say, 'Yeah, I had a real-life experience, and this is why it's important to do this.'
Scott Harris, Insurance and Claims Manager, Chevron Phillips Chemical Company
Harris says that, while Union Texas Petroleum was fully insured, not all the stakeholders in the venture were. He says one had projected a 60-day shutdown as the worst thing that could happen to the platform.
"The second thing I learned was to do as best as possible an estimated maximum loss at all our major facilities to ensure that our insurance coverage could handle that type of an event," Harris says. "Early in the year, we had our estimated EML, assuming the total loss of the Piper platform on July 1, 1988. The platform was a total loss on July 6, 1988, so our insurance coverage was spot on."
Four different experiences, many different lessons learned, all of them translatable to a broker's everyday work. "What it did help in terms of my career, which is unfortunate because 167 died, is it gave credence to the fact that I knew how to handle large claims," Harris says. "The company was fully insured. The only loss the company incurred was basically its deductibles. If I did any change, it was to ensure the accuracy of the information that you put together as to what your exposures are because, in the end, if that information is not accurate, it doesn't do you any good.
"It does lend credence when you can say, 'Yeah, I had a real-life experience, and this is why it's important to do this.'"