Buck Shot
The economic risks of guns: insurers and government shoulder the burden.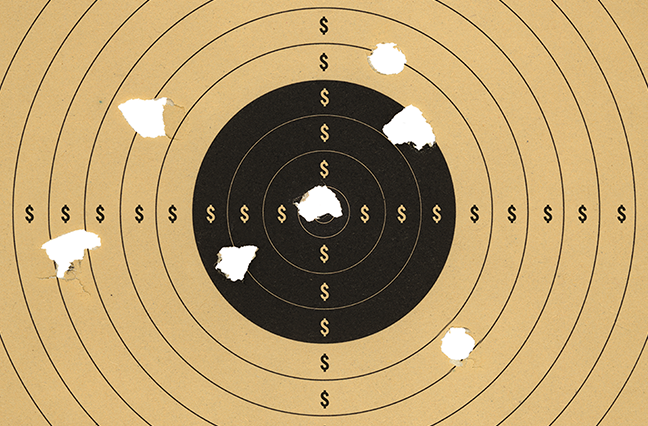 A shopping mall in Columbia, Md., where a disturbed young man enters a skate shop armed with a 12-gauge shotgun and kills two employees, then himself. In Centennial, Colo., where a student shows up at Arapahoe High School armed with a shotgun, shoots a classmate who later dies, and takes his own life minutes later. In the nation's capital, where a government contractor uses his federal ID to enter the Washington Navy Yard, mows down 12 with a shotgun and dies in a shoot-out with the law. Or in a movie theater in Wesley Chapel, Fla., when a 71-year-old man argues with another patron who is tweeting during the previews, then pulls out a handgun and kills him.
Odds are, between the day this issue is printed and the day it arrives in your hands, another public shooting with multiple victims will have taken place in the United States. Recent highly publicized mass shootings represent only a smattering of the gun violence that occurs with frightening regularity in the United States, and the sheer senselessness of the attacks understandably makes one wonder: Is anyone safe anywhere? The answer is probably no—and a qualified yes.
No, because gun violence has become an everyday reality that Americans simply live with. A qualified yes, because the acts, especially mass shootings, remain relatively infrequent despite the massive publicity they attract.
According to GunPolicy.org, an international organization that gathers statistics on armed violence and firearms regulation, gun violence accounted for 32,163 deaths in the United States in 2011, the most recent year for which the group provided statistics. That number rose 8.7% from the 29,573 gun deaths reported in 2001. Suicides accounted for about six of every 10 gun deaths in 2011, and guns are used in seven of every 10 fatal assaults.
In their new book, The Gun Debate: What Everyone Needs to Know (Oxford University Press), authors Philip J. Cook and Kristin A. Goss report hospitals across the country treated 73,505 people for nonfatal gunshot injuries in 2010, including 53,738 nonfatal injuries resulting from criminal assaults. "There are very few drive-by knifings or people killed accidentally by stray fists," Cook and Goss write. "When well-protected people are murdered, it is almost always with a gun; over 90% of lethal attacks on law enforcement officers are with firearms, and all assassinations of U.S. presidents have been by firearm."
More Frequent Shootings
Mass shootings, characterized by authorities as involving an individual engaged in killing or attempting to kill people in a confined and populated area, are on the rise. A recent study by J. Pete Blair, an associate professor of criminal justice at Texas State University in San Marcos, and two associates, shows mass shootings have been slowly increasing since 2000. Between 2000 and 2008, the Blair study shows, there were about five mass shootings a year. Since 2009, that figure has increased to about 16 a year.
In an interview, Blair says he was unable to identify any specific event or reason for the increase, although he could not rule out increased media attention.
"It does appear there is a bump up," Blair says. "It doesn't take much of a change to make it look like a big jump. But why, we're not sure. There is always a concern that there has been some glorification of murder, so it could lead to what is called a 'contagion effect.' There has been some research in suicide literature that says if an event is well publicized, there can be an increase in the number of suicides afterwards."
Blair's study shows that, since 2000, the most common location for mass shootings has been places of business (40%), followed by schools and colleges (29%). In 60% of cases, the most powerful weapon used by the shooter was a pistol. In 25% of the cases, it was a rifle. In 8% the perpetrator used a shotgun. In about one third of the attacks, shooters brought multiple weapons.
Although law enforcement response was swift, with police often arriving within minutes of the shooting, almost half the attacks ended before authorities arrived, the Blair study says. Of those events, about two thirds ended because the attackers stopped themselves by committing suicide or leaving the scene. In their book, Cook and Goss report that roughly half the perpetrators in mass shootings take their own lives at the scene.
At What Cost?
Cook and Goss, professors of public policy at Duke University, also found some common elements in mass shootings. The shooters are almost exclusively male. And based on their review of available reports, literature and other materials, the authors suggest that mass shootings may not be as random as they seem. At least two thirds of the shooters had an immediate connection to the location, they say, and at least one third of the shootings occurred at a shooter's former or current workplace. Also, between 2009 and 2012, 57% of the shooters killed a current or former intimate partner along with others.
So how much does all this cost society? Ted Miller of the Pacific Institute for Research and Evaluation, who has led dozens of surveys focusing on health economics, injury prevention and societal ills, puts the annual cost to American society at $214 billion, or $693 per person.
Miller's societal cost figure includes medical costs incurred from firearms violence and the lost earnings of the victims—either the survivors of a firearms injury or costs to loved ones left behind in case of a fatal shooting. And it includes an estimated $11.9 billion in costs to government for such things as Medicare and Medicaid payments to victims. It also includes $1.5 billion in medical and mental health treatment, public services, adjudication, sanctioning and productivity losses for the perpetrator.
Another aspect of costs relates to the impact gun violence can have on a neighborhood, such as lower real estate values, the fear factor for those who can't afford to move out, or the refusal of potential employers to locate in the area because of the propensity of violence.
Cook, who has spent nearly 40 years studying gun violence, co-authored a study with Jens Ludwig in 2000 to try to get a handle on the cost factor. Their study looked at how much individuals would be willing to pay to reduce gun violence in their community. Among the questions they asked was: "If there was a ballot initiative to take steps to reduce gun violence in your community by 30%, would you vote 'yes' if it would raise your taxes by $100?"
Even in the more than a year since Sandy Hook, there has not been a change in how homeowners insurers approach these issues.
Robert Hartwig, president, Insurance Information Institute
"We randomly varied what we told them about the tax," Cook says. "For some, we said $50, others $200. On that basis, we were able to see how the answer changed depending on how much it was going to cost. So we were able to see what is like a demand curve in economics: We can see a demand for safer communities and how much people were willing to pay."
The figure Cook and Ludwig came up with for the impact of gun violence on communities was $80 billion. When the cost of reducing suicides was added, the figure rose to $100 billion.
Yet those who oppose efforts at gun control contend the research done by Miller and Cook reflect only one side of the gun story.
"Companies in the United States that manufacture, distribute and sell firearms, ammunition and hunting equipment employ as many as 99,280 people in the country and generate an additional 120,310 jobs in supplier and ancillary industries," according to a 2012 Economic Impact Report by the National Shooting Sports Foundation, a firearms industry trade association that represents manufacturers, retailers and distributors of firearms and ammunition, shooting ranges and sportsmen's organizations.
The foundation's study estimated that the manufacture and sale of firearms, ammunition and hunting supplies contributed as much as $33.3 billion to the economy in 2012. That total included $10.4 billion in wages, $4.6 billion in federal and state business taxes, and about $460 million in excise taxes. Federal and state taxes paid by the industry and its employees exceeded $2.1 billion in 2012, the report says.
"The economic growth America's firearms and ammunition industry has experienced over the years has been nothing short of remarkable," the report says. "Over the past couple of years, the industry's growth has been driven by an unprecedented number of Americans choosing to exercise their fundamental rights to keep and bear arms and purchase a firearm and ammunition."
Limited Support for Change
Gun control advocates point out that almost as many people are killed by guns every year (32,000) as die in traffic accidents (33,561), yet vehicles are more heavily regulated.
"We look at cars and regulate the vehicle, the driver, we regulate where they can be used," Miller says. "We don't do any of that with guns. They are both dangerous if misused and easy to misuse."
"Firearms and the sale of firearms are, in fact, highly regulated by the ATF (Bureau of Alcohol, Tobacco and Firearms) and at the state level," responds Mike Bazinet, director of public affairs for the National Shooting Sports Foundation. Bazinet says ATF's most recent annual report "showed, once again, that firearms retailers are in overwhelming compliance with federal requirements."
After a young man entered the Sandy Hook Elementary School in Newtown, Conn., in December 2012 and killed 26 people, including 20 children, with a Bushmaster semi-automatic rifle, there was an immediate outcry for stricter firearms control legislation. On December 19, 2012, five days after Sandy Hook, 58% of those responding to a Gallup poll said they favored stricter laws covering the sale of firearms, creating the most favorable atmosphere in years for changes in federal gun laws.
President Obama made a strong pitch for anti-gun violence legislation in his 2013 State of the Union address, but by then, the National Rifle Association and other pro-gun groups had stepped up their lobbying efforts to fight any change in gun laws. In April 2013, the Senate failed to muster the 60 votes necessary to advance legislation that would have expanded background checks on firearm purchases and closed several loopholes relating to existing background check requirements, effectively ending any chance of meaningful change in federal gun laws.
The economic growth America's firearms and ammunition industry has experienced over the years has been nothing short of remarkable.
2012 Economic Impact Report, National Shooting Sports Foundation
"Based on what we have seen coming out of Washington, the proponents of legislation voted on last April have said the votes are not present to move that legislation," says Lawrence Keane, general counsel of the National Shooting Sports Foundation. "We would agree with that assessment and would not expect a vote on gun control legislation between now and the midterm elections in November. Why? Because it is unpopular and not supported by the American public. Public support for controls is back to where it was before Sandy Hook."
Indeed, by September 2013, a Gallup poll showed that those calling for stricter laws covering the sale of firearms had dropped to 49% and was heading toward the mid-40s where it has been, with the exception of the immediate post-Sandy Hook timeframe, since 2009.
"We've had 40 years of gun control legislation, and it doesn't reduce crime," Keane says. "There are more firearms owners than ever before—more than 100 million—and more guns than ever, more than 300 million. Yet fatal firearms accidents are less than 1% of fatal accidents."
A recent study by Mark Gius, a professor of economics at Quinnipiac University, in Connecticut, provides support for that argument. Gius studied the effects of state-level assault weapons bans and concealed weapons laws on state-level murder rates between 1980 and 2009 and found the assault weapons bans did not significantly affect murder rates.
In addition, his study suggested that restrictive concealed weapons laws might have caused an increase in gun-related murders at the state level. And he found that during the period that a federal assault weapons ban was in effect (1994 to 2004) murder rates were about 20% higher.
Gius says his study covers one of the longest time periods looked at in any research on assault weapons bans or concealed carry laws. Also, he says, most other studies looked at violent crime rates or homicide rates but did not focus only on gun-related murders, as his did. Still, he shies away from a definitive conclusion.
"I'm saying in my paper we need more research in this area," Gius told Guns & Ammo magazine. "Mine isn't the first study on this topic. There are three or four that found that really restrictive laws either reduced the murder rate or had no effect on the rate. And then there are…three or four that found the opposite."
Smart Solution?
So if efforts to strengthen background checks are dead in the water on Capitol Hill and there is mixed evidence at best on whether stronger gun laws work to reduce gun murders, how else is there to keep guns out of the hands of the dangerous or the innocent?
"We have supported research for more than 20 years to better understand the problems of gun violence, the risk factors of gun violence and the policies that can prevent it," says Nina Vinik, the gun violence prevention program director for the Joyce Foundation in Chicago. "One thing consistent in the research over the decades is the finding that where guns are more available, more readily accessible, there is a corresponding increase in levels of gun violence and injuries, in homicides, in suicides and in accidents."
One possible solution to the access issue could be so-called "smart gun" technology aimed at finding ways to keep a weapon from being used by someone other than the owner. Such technology could restrict the ability of criminals to use stolen weapons and the ability of troubled teens to use a weapon from home to stage mass attacks. It would also reduce the number of accidental shootings by children who kill or injure themselves or others while playing with loaded guns.
"What strikes me as more promising is the idea of a smart gun, which would not fire for anyone except the rightful owner," Cook says. "Technology is available and is getting better. These guns are not being sold in the United States right now, and there has been a lot of opposition. Why the NRA or others would not want somebody to have the option of buying a gun that would not fire unless the right person has it in their hands just passes belief. It is a way you could have a gun in your home for self-defense but insure against a 5-year-old finding it or your 14-year-old taking it to school."
Among the smart gun technologies under consideration, Cook says, are systems that could recognize a gun owner's voice or fingerprints, or even transponders such as the ones now widely used to unlock cars.
"That same technology could be used for a locking device on a gun," Cook says. "There is not anything very tricky about it. If a kid finds a gun but does not find a key, it is useless and will not fire. That would prevent a lot of incidents within the family—suicides or taking it to school, and little kids couldn't get their hands on working guns."
One company also is advertising a "smart" gun storage box that will only open in response to an individual chip embedded in a special wristband. "A simple wave of your hand is all that stands between you and your gun," the company says in its advertisement.
The Washington Post said in February that the inability of consumers to purchase smart technology weapons in the United States might be changing. The Post reported on a large firearms store in California that recently added to its shelves a gun that comes with a black waterproof watch. The watch and the gun are equipped with electric chips that "communicate" with each other. If the watch is close to the gun, a light on the grip turns green and the gun can be used.
According to the Post, a variety of technologies are under development in both the United States and overseas.
Bazinet remains skeptical. "Smart gun technology sounds like a good idea only to people who know little about how guns work or how those who carry them, such as law enforcement, feel about the concept," he says.
According to a National Shooting Sports Foundation fact sheet: "A 2013 National Institute of Justice review of the technology reaffirmed that the concept has not been fully developed to the point where a safe and reliable product incorporating such a capability is available in the marketplace today."
Where guns are more available, more readily accessible, there is a corresponding increase in levels of gun violence and injuries, in homicides, in suicides and in accidents.
Nina Vinik, gun violence prevention program director, Joyce Foundation
"All concepts we are aware of involve the use of batteries," the fact sheet says. "What is the default mode for the product when the battery fails? Does it default to a mode where the firearm cannot function at a time when the owner needs to use the firearm to save his or her life? Does it default to a mode where it can fire, creating the potential for an irresponsible owner leaving a loaded firearm accessible to an unauthorized user, such as a child, because the owner relied upon the technology that has failed? In both of those scenarios, the manufacturer may well find itself a defendant in a product liability lawsuit."
Federal legislation passed in 2005 shields firearms manufacturers and dealers from product liability lawsuits if the weapons they make or sell are used in crimes. The law was the top legislative priority of the NRA, which called its passage "historic."
"That law essentially says if the manufacturer built the product correctly and sells it legally and an end user ends up with a firearm and commits a crime, the manufacturer can't be held liable for what the user did with the firearm," says Brent Skiles, assistant vice president, underwriting, for Philadelphia Insurance Companies, a major insurer in the firearms recreational market. "With regard to the firearm industry, I see claims, not a lot but with some frequency, of what people would call misfire. People injure themselves with a firearm, but what I see most of the time is vetted out in court as user error. Rarely is it a design defect."
Insurance Questions
Dr. Robert Hartwig, president and economist of the Insurance Information Institute, does not see smart gun technology posing major problems for the insurance industry.
"I think that technology is just off the drawing board and has not been widely adopted," says Hartwig. "For individuals who own firearms—and a very large proportion of American households have one or more firearms—insurers do not ask about the presence of firearms or ask if they are stored in a gun locker or have a trigger lock. Even in the more than a year since Sandy Hook, there has not been a change in how homeowners insurers approach these issues."
Homeowners policies typically cover liability incidents but do not cover criminal acts. So in a Dick Cheney-like event—the former vice president accidentally shot a companion on a hunting trip—a homeowners policy would respond if the victim sued. But if Cheney had been charged with a crime, the homeowners policy would not have covered him.
"A liability incident would be physical damage or bodily injury to a third party, and the homeowner is deemed liable," says Jeff Simpson of the brokerage Barney & Barney in San Diego, Calif. "Every claim scenario is different, and it is very difficult to illustrate how a final determination would come out regarding the discharge of a firearm. However, keep in mind the homeowner's insurance does not respond to criminal acts. But if you are involved in a civil suit as a result and you are sued for monetary damages, there is a very good chance your insurance is going to respond to the limits of your policy."
What that means is that, if a person kills himself cleaning a gun or a child finds a loaded weapon and shoots himself, there would be no coverage under a homeowner's policy. Or if a teenager takes a family-owned shotgun to school and opens fire, there similarly would be no coverage. But if the child is playing with a loaded weapon and shoots, injures or kills a friend, the homeowner's policy would come into play.
"The sorts of thing you are seeing around the country are illegal acts, murderous acts," Hartwig says. "These are not covered by a policy you could buy and not covered under a standard homeowners insurance policy. When it comes to deaths and injuries by firearms, the overwhelming majority of those are associated with homicides, intentional acts or suicides. None of these is insurable. Only a very small number of incidents that result in someone's death and injury are accidental in nature."
In addition to general homeowners insurance, individuals can buy a valuable articles policy—sometimes called a floater—if they have a number of valuable weapons or a collection of high-priced guns. That market also has been unchanged despite recent attention to gun violence, insurers say.
"That has been available in the industry for a long period of time," says Christie Alderman, a vice president in Chubb's personal insurance division. "We see customers who choose to have valuable articles policies if they are collecting valuable weapons or have a single weapon passed down from a grandfather. That class of business would cover a fire or damage to guns, as well as theft."
Commercial Consequences
Given the increase in mass shootings in schools and workplaces, one might expect some impact on the commercial insurance market, but insurers and brokers say they have not seen any significant trends such as lowering of capacity or higher rates. Some insurers do not write gun insurance due to philosophical objections, the brokers say, but that has always been the case.
"As high profile as these events are, they are exceedingly rare in terms of the number of people who are killed or injured in a mall or school shooting," Hartwig says. "Every owner of retail property will carry commercial liability coverage. Those policies would typically cover accidents and injuries that occur to individuals who are on your premises and something happens. It is probable if not likely that the mall owners or property owners where events like this occur would be the subject of litigation. This is the United States, so it is likely that there would be allegations that the security on premises was inadequate or lacking. Whether a court would agree with that is another thing."
James Gaughan, the director of Claims & Risk Consulting for RCM&D of Baltimore, says coverage of armed or unarmed security guards has been getting more attention from underwriters. Frequently, according to Gaughan and Karen Randazzo, Education Practice leader for RCM&D, those coverages are separate from regular general liability coverage. This is true for a business or institution that hires its own security guards as employees or one that hires an outside firm to provide security services.
"If the insured makes a decision that they are going to go with an armed guard, then there are security policies that we're recommending to make them look more favorable to the market," Gaughan says. "This could involve an emergency response plan or a policy or program to screen and hire armed services and individual armed guards."
Sometimes, Randazzo says, a general liability carrier will refuse to pick up that exposure, or the insured wants broader terms of coverage. In those cases, the security policies typically are placed with specialty carriers in a niche market or through a wholesaler as surplus lines coverage.
"From my perspective, Columbine really started changing a lot of things within schools," says Gaughan, referring to the 1999 attack at Columbine High School in Colorado where two students killed 12 classmates and a teacher, injured 24 others, and then committed suicide. "It started the whole notion of mass shooting and the need to have a plan in place. To me, it was a game-changer on the risk-evolving side, how everybody responded, and what it meant to have control of a situation. There have been no game-changers since then—we just continue to refine."
Sean Reddy, in Barney & Barney's Property and Casualty Division, in Aliso Viejo, Calif., says he has seen some hardening of the workers comp market, with some carriers leaving the market and rates increasing. Reddy says placing workers comp coverage has become challenging recently in California, New York, Florida and Texas.
"I have a client that manufactures guns and a TV station that does gun shows, and they have had some problems getting workers comp coverage," he says. "The TV company, for example, has employees who will go out and shoot with various personalities, and carriers are very wary about controls around those shoots. For my manufacturer, it was easier to find product liability than it was to find workers comp coverage."
One of the areas of commercial insurance that is growing is coverage for shooting ranges, gun clubs and high-end hunting lodges, which have become increasingly popular in recent years.
"There has been a relatively significant uptick in the last decade and an even larger spike in the last 24 months in the use of firearms for a variety of reasons," Skiles says. "Both purchases of firearms and hunting are up pretty significantly since 2005, and recreational shooting has also increased in the last decade."
Skiles attributes the increase to concerns by gun owners that access to guns will be restricted. "So they want to take advantage now," he says.
Skiles writes policies for pistol ranges and shooting clubs as well as high-end hunting lodges and retreats that he calls "the $10 million log cabin kind of place." He says most of the claims his company handles are premises-related, such as slip-and-fall and people injured during gun training.
"Occasionally on a shooting range someone will be injured by gunfire, and occasionally someone is injured off premises because a backstop failed to stop a bullet," he says. "We insure a majority of shooting lodges and a majority of high-end facilities. Outside of hunting accidents, someone may fall out of a deer stand and discharge a firearm or be involved in an accidental shooting. Those kind of claims do happen, but, fortunately, it is not real frequent."