Dan Gowen, Senior Vice President, National Practice Leader, Wells Fargo Insurance Services
Anybody who thinks they've got this figured out, they're kidding themselves.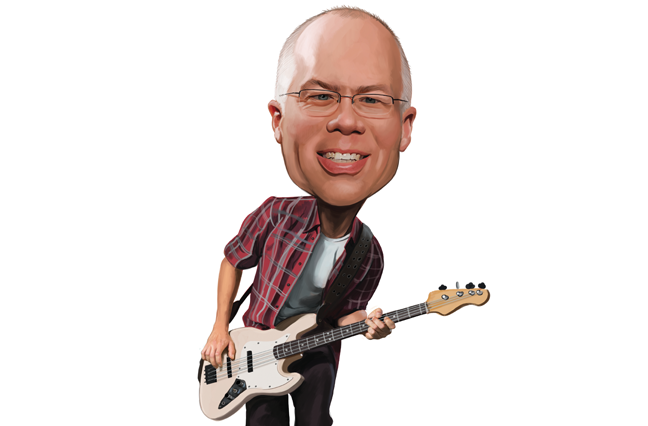 A
In Olympia Fields, a suburb of Chicago about 25 miles south of the city. It was a great place to grow up. At the time I lived there, we walked to elementary school, walked to high school. My parents still live there in the same house.
Childhood heroes?
I know this is going to sound like a cliché, but it was my dad. He provided well enough for my family to allow my mom to stay home and raise us. He was also the dad who coached my brother and me in every sport we played. He didn't miss a practice, didn't miss a game. He seemed to be there for every event. As a father, I try to mold myself the same way.
You studied mathematics and statistics at Miami University (Ohio). Why?
I wanted more of a liberal arts major—something that was practical enough that would allow me to find a job, even though I wasn't sure what I wanted to do. Being good with numbers helped.
What's kept you in the industry for 22 years?
It's been such an ever-changing industry. The change of pace we have in the industry today is faster than at any time in my career. Anybody who thinks they've got this figured out, they're kidding themselves.
What's your favorite thing about Chicago? It has all the advantages that a big city has to offer—tons of sports teams, great museums and restaurants. By the same token, it's got that Midwestern feel. When I go to New York, I feel overwhelmed.
What do you like to do when you're not working? I love golf, although I don't play as much as I'd like to. I like to read. I like coaching youth sports—soccer and baseball and basketball—and spending time with the family on weekends.
What's the last book you read? Angel Dance by M.D. Grayson.
Favorite authors? John Grisham and Harlan Coben.
What do you drive? A 2003 Nissan Ultima.
Do you have a favorite vacation spot? Anywhere with a beach. One is Ocean City, New Jersey. My parents grew up in South Jersey, in a town called Haddonfield. My mom spent time there every summer. When my parents got married, we took family vacations to the Jersey Shore every year. Now I take my kids there and love that we have three generations that have gone to the same shore town.
What's something your co-workers would be surprised to learn about you?
Probably that I've been taking guitar lessons for the last seven years.
How's it going?
I'm not very good, but it's fun. I always imagine I'll be good enough to play in a bar with some band for one night. But I'm a long way from that.
What business leader, in any industry, do you most admire?
The CEO and chairman of Wells Fargo, John Stumpf. He's able to oversee a large financial institution with so many businesses underneath it. Anytime you hear him talk, he seems to know everything that's going on in every one of these businesses. Very down to earth.
What's the best advice you ever got?
My parents always told me, "When you work, work hard, and when you play, play hard."
What's the single most interesting thing in your office?
I'll give you two. I've got a framed golf flag from the 2003 U.S. Open, when it was at Olympia Fields Country Club. The week after that, I got married. If you remember the board game Monopoly, I also have a title deed to Boardwalk framed in my office. I found it on the boardwalk in Ocean City.
Tell me about your involvement with the Yomechas Federation.
It's a father-son kind of bonding experience. So when you join, you're part of a tribe. It's really meant to continue to foster the bond between fathers and sons and mothers and daughters. We have campouts and other activities such as a pumpkin-haunted Halloween, kite flying in the spring, a fishing derby. My little guys, Andy and Zach, are still in it.
Your management style?
I try not to micromanage. I trust that I have good co-workers all around me and that they're all very intelligent and very good at what they do.
If you could change one thing about the insurance industry, what would it be?
I'd like to scale back some of the government intervention. Not to say that government doesn't have a role. I'm just concerned that the past few years the pendulum has swung farther than I think it needed to, and I'm fearful what some of the ramifications might be in the long term.
What gives you your leader's edge?
We continue to assemble a very strong team with a lot of really smart, hard-working people who continue to help us add value to our clients day in and day out and help our clients succeed financially, which is our goal.
The Gowen File
Last book read: Angel Dance
Fav authors: John Grisham & Harlan Coben
Ride: 2003 Nissan Altima
Secret Ambition: Play guitar in a bar band