Undergrads Launch Bermuda Captive
Butler University's program may just be the answer industry talent scouts have coveted.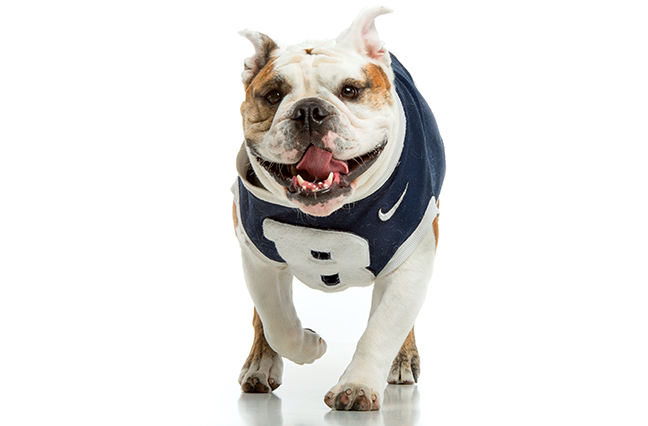 On the first day of Michaela Neal's Special Topics in Risk Management course at Butler University, Professor Zach Finn welcomed the class with the news they'd be creating a student-run insurance captive.
Neal was definitely curious—curious enough to Google what a captive was. "I had no idea what I was walking into," says Neal, 22, who took the class her senior year and graduated in May.
The truth is, nobody really knew what to expect, including Finn. Sure, the former risk manager for the J.M. Smucker Company knew the nuts and bolts of setting up a captive, having done so in his professional career.
But this was a little different. This would be larger than the class, larger than the school—and, if all went well, large enough to help make a dent in the vast talent crisis facing the insurance industry.
Finn, clinical professor and director of Butler's Davey Risk Management & Insurance Program, speaks of the looming crisis with passion, zeal and purpose. He's quick to note that the nation's fewer than 100 risk management and insurance degree programs turn out about 4,000 graduates each year but that some 500,000 workers will be needed in the industry to fill the jobs being left open by retiring baby boomers. He's also quick to note that, once students learn of the vast opportunities the industry presents, it's not such a tough sell.
The hard reality, however, is that even students like Neal, who entered Butler as a business exploratory major, often have no idea. And if she hadn't walked into that class and been part of the captive, she might not be where she is today: a risk transfer specialist at MJ Insurance, the first person to join the organization at the entry level in that role.
"I wasn't a big leader in high school," says Neal, who grew up in a Chicago suburb and now lives in Indianapolis. "It took something I was absolutely interested in and passionate about to step up and be that leader. And that came about naturally in the captive."
Soup to Nuts
Butler University's student-run captive, the first ever of its kind, began as a 2015 conversation between Finn; Butler College of Business dean Steve Standifird; Jon Loftin, the president and COO of MJ Insurance; and Michael Bill, MJ Insurance chairman and founder. The idea was to offer Butler students real-life experience, all the while garnering the attention of the industry and the millennials who could potentially join it. The captive, an alternative to self-insurance that involves the creation of a licensed insurance company to provide unique coverage for its parent, could be a dynamic laboratory, covering things of interest to the students while investing profits back into the university for loss-control programs. It wouldn't be just for the risk management and insurance students, either. From the start, the plan was to expand the experience to other majors. Marketing students are needed to help market the captive, for example. Finance students, for financial analysis. Actuarial science students, for underwriting and pricing. Even management information systems students could help with creating a database of items being insured.
The team set forth a five-year timeline, initially believing the captive could be fully operational by the 2019-20 school year. Bill and MJ Insurance offered a $250,000 gift to start things off, and things progressed swiftly from there—so swiftly, in fact, that, by April 2017, the students had performed a full feasibility study, secured Aon as captive manager, defined lines of coverage, chosen Bermuda as the domicile, and had their licensure application approved by the Bermuda Monetary Authority on the first try.
I wasn't a big leader in high school. It took something I was absolutely interested in and passionate about to step up and be that leader.
Michaela Neal, risk transfer specialist, MJ Insurance
MJ Student-Run Insurance Company Ltd. didn't go live until October but only because it turned out to be harder for a group of 21- and 22-year-olds to open a bank account in Bermuda—a popular domicile for captives due to reinsurance accessibility and tax advantages—than it was to do everything else.
"That was a real surprise," says Josh Toly, 21, a Butler senior from Cleveland, Ohio, who interned with Aon in the summer. Equally as surprising to Toly were the breadth of opportunities he discovered in the risk management field and the depth of professional and personal growth opportunities the captive has provided. Toly serves as president of risk management, insurance and actuarial science fraternity Gamma Iota
Sigma and is one of the captive's current student leaders.
The captive was launched with three lines of coverage: an animal mortality policy for both Trip, the school's bulldog mascot, and Marcus, Butler's bomb-sniffing dog; fine arts, which covers relics, rare books, the state's oldest and largest telescope and other items housed on campus; and a commercial general liability policy for the companies Butler business students start during their sophomore year.
So far, every step has impressed Finn, Aon, MJ Insurance and other industry representatives with its level of excellence, professionalism and attention to detail.
"I will tell you, I can't think of single thing that these students have done poorly," Loftin says. "It has massively exceeded our expectations." Loftin, who earned an MBA at Butler and is a longtime colleague—and fan—of Finn, says his company has been invested in the school for some time and jumped at the new initiative.
"In my mind, Butler is developing a best-in-class program and putting a stake in the ground to be the number-one risk management and insurance school in the country," he says. "Their trajectory suggests that's going to happen." MJ Insurance, he says, desires to be more than just a financial contributor to the school. "We wanted to take an active role. We have quite a bit of experience in this area and have had agency-owned captives in the past, so this really rang true to us…. What better experience could you have, soup to nuts, A to Z, in creating a business plan, forming a captive, understanding how to domicile it and the intricacies with that, how to select risk, raise capital, rate risk, handle a claim? In our view, these students now have the experience of a three- or four-year, or possibly even five-year employee, in the industry, coming out of the Butler program."
Loftin says he's been so impressed with students like Neal that it will change the level of opportunities available within his company for such new grads going forward. That's something he and others believe must happen. Industry veterans easily tell stories of firms that would prefer to let a new grad receive a few years of training somewhere else before being considered.
"But hearing these students talk about the captive and seeing their results has blown us away and opened our eyes to what they're capable of doing," Loftin says. It has challenged the university, too, though the school already prides itself on experiential learning. In light of the captive's success, the school also has started a student-run marketing firm.
I will tell you, I can't think of single thing that these students have done poorly. It has massively exceeded our expectations.
Jon Loftin, president and COO, MJ Insurance
With the school's Davey Risk Management & Insurance Program, Finn says, "we set up what we thought was a great program from an academic perspective. But the thing about insurance is that you've really got to work with it. I remember having this conversation with the CFO of my last company, who wanted to rotate our analysts every two years. There are certain functions I can train people to do. But there are elements that we prepare for that never happen or may happen only once in recorded history and may never happen again. It takes a certain amount of experience, judgment and seeing in order to understand it."
It's a lot like the complexities of making a career decision in the industry, he says—and that's one of the reasons he believes there isn't enough young talent entering the field. A high school guidance counselor can explain the universe of a finance and accounting job in a two-minute elevator speech. But much more time is needed, he says, to help students grasp careers in personal and commercial insurance, life and health, property and casualty, being a product expert or generalist, working with a brokerage or carrier, and so on.
"The captive insurance company solves all of that," Finn says. "It solves a lot of things for us. Things that would normally be esoteric or hard to get your arms around are now things that we're actually doing. So we're working with the risk manager of Butler University to understand which insurance coverages make sense to retain in our captive versus insuring in the traditional insurance market."
Consider, for example, the school's library and its rare-book collection. That element of the captive provided lessons for students as well as for Finn. As it turned out, he says, the librarians had previously never seen a loss control report and were "freaked out" by the list of official-looking recommendations.
"The students saw me take my medicine as I had to go down there and say we didn't realize they hadn't been copied on this before and didn't have a proper understanding of what they were seeing," he says. A humbling conversation took place in which he explained what the captive was all about and that it would cover the library's rare books—especially since leaky drains had damaged some of the items in the past. With the help of the captive, not only are the items being inventoried and covered; there also has been talk of a loss-control effort to fix the drains so it won't be an issue in the future.
"The students were able to see how you may need to be humble and apologize if you haven't necessarily taken the best approach—and how you get past it and win that trust," Finn says. "By the end of that conversation, what could have been an antagonistic relationship is now a strong partnership, because the librarians know we're there to support them and protect what they do. I tell students this is what risk management does. I don't want my librarians to have to make a business case to replace a leaky drain. I'd rather they save those brain cells to know about the William F. Charters South Sea Islands collection of rare books."
Another moment of making things real for the students involved manuscripting policies—in this case, specifically related to Marcus, the bomb-sniffing dog. The Manchester Line of Duty Endorsement—named in honor of the town where the May 2017 U.K. bombing occurred—is a manuscript endorsement for Marcus that would allow for two dogs to take his place should he be lost in the line of duty. It was a way for the students to personalize what they were doing and push back against terrorists, he says, defying the idea of being helpless. Industry contacts are working toward making the endorsement standard.
There are numerous ways the captive effort can—and likely will—extend beyond Butler's walls. Don Ortegel, the resident managing director at Aon Risk Solutions, says at first he saw being involved as a chance to do something special at Butler. Ortegel, after all, is a member of the Davey Risk Management & Insurance Program advisory board. "But it's much bigger than that," he says. "Now, it's about how we can have an impact relative to the industry, whether it's working with the first student-run captive or helping other schools set up a similar curriculum or situation."
A similar project might not be possible at all risk management schools, he says, "But the opportunity is here, from the perspective of helping make sure other schools are reaching and thinking about ways they can advance and provide opportunities to the next generation of insurance professionals."
It's about inspiring other companies to be involved, too. In addition to having roughly 16 Aon employees working alongside the captive students in various capacities, Aon is entering the second year of an apprenticeship program. It also offers a launch program that puts new grads through a 12- to 24-month training process, all with the goal of giving back.
"Zach and others have been known to talk about the significant numbers of people who will be retiring within a few years," he says. "That's pretty well publicized. But what are you going to do about it, to bring young talent to the industry?"
I'm going through this recession where all of these millennials are living in their parents' basements and the industry is starved for talent, and with constant national tragedies it can seem like we're living in a post-apocalyptic hellscape where we might be able to use a few more risk management people. It's like, why aren't all of these folks talking to each other.
Zach Finn, business professor, Butler University
As part of the captive, Aon will have two interns each summer in Chicago. The first thought was they'd be housed in Bermuda, but that idea became unexpectedly complicated. Everyone is learning together, Ortegel says, and as much as working on the project has been fun for students, it also has been fun for his colleagues—albeit "a lot of work."
"It isn't just plug and play," he says. "But for anyone that's going to be a steward of our industry, you have an obligation to give back to our industry and to the communities we live in, whether from an educational perspective or whether it's related to people who will be retiring in coming years or with pure succession planning. We all have a responsibility. I'm proud to say that Aon is committed to the education process, internally by helping colleagues with career development opportunities and externally when we think about how can we bring more talent to the industry and help them grow. Are all companies equally committed? I am not sure, as it takes investment in time as well as dollars and funds to invest. But I feel fortunate that I work for a company that absolutely does that."
New Challenges
To be sure, a college campus is an ever-changing environment. For every semester that passes, for every class that graduates, another follows right behind it. The initial students involved in the creation of the captive—especially the excitement of performing the feasibility study—speak of how lucky they were to take part.
Derek DeKoning joined in the second semester of the project, at the start of implementation. Of the 14 Butler students involved last spring, he was the only one not imminently graduating; he soon became the student CEO, tasked in part with bringing the opportunity to the next generation of students. In that role, he also had the opportunity to attend—and speak at—a captive conference in Bermuda.
"It really put things in perspective for me," says DeKoning, 22, who grew up in Atlanta and will graduate in May. "I had to write out what I was going to say and to talk about my experiences. I had done that on a much smaller scale but not with a ton of people from the industry. And looking back, reflecting on the whole thing, I was surprised by the magnitude of what we were able to accomplish and the time frame we did it in."
Moving forward, the captive will have different challenges. As it transitions from the startup phase to the day-to-day operations phase and then on to the growth phase, there will be questions about what new experiences to add. There is the potential of starting a second captive, for example, so another set of students can learn about the work of the early stages. There is more work to be done in promoting the captive through social media sites like LinkedIn and exploring the use of technology as a great draw for the age group. There are endorsements to be compiled, reinsurance options to be explored and cataloging to be done.
Then, there's talk of those at Butler helping other schools develop similar programs.
It would seem the captive would be a major differentiator for Butler and its students, but Finn, once again, is thinking larger.
As much as he values the school, he says, "My legacy is not here at Butler. It's in helping solve this talent crisis, because I've seen it from the perspective of a student, as faculty and as a risk manager. The amazing thing is there's not a student I get in front of who doesn't love these careers. Concussion underwriting. Event safety. Global warming. Domestic partner benefits. With all of this stuff, you can have an impact. And you can make money. I'm going through this recession whleqadere all of these millennials are living in their parents' basements and the industry is starved for talent, and with constant national tragedies it can seem like we're living in a post-apocalyptic hellscape where we might be able to use a few more risk management people. And it's like, why aren't all of these folks talking to each other? I feel like there's a win-win-win-win here, all across the board. Butler is the laboratory, the platform, for me to show how it can be done."
Soltes is a contributing writer. fionasoltes@aol.com