Rebel with a Cause
When Tom Leonardi aired the NAIC's dirty laundry, he drew attention to a rift among regulators.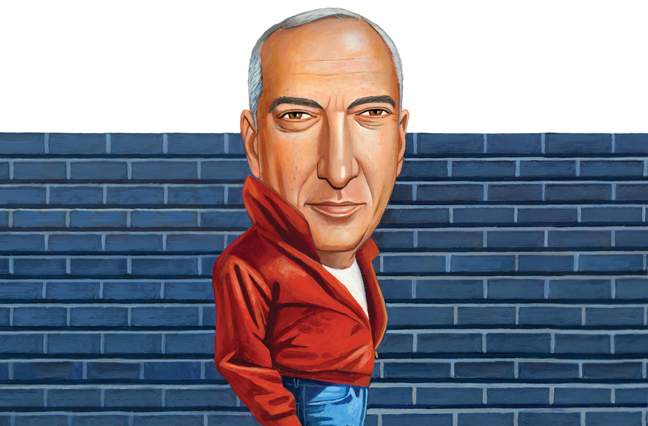 Thanks to the colorful invective he let loose in a now-famous letter to his fellow state insurance regulators, Connecticut insurance commissioner Tom Leonardi has emerged as the rebel within the National Association of Insurance Commissioners.
Leonardi's letter began: "We have met the enemy and he is us!" In the letter, dated Dec. 11, Leonardi expressed his frustration over a range of NAIC governance issues, beginning with an attack on the leadership, which he described as the "cult of an Imperial Presidency." He concluded by urging the association's executive committee to retain an outside consulting firm to review the NAIC's corporate governance. The committee rejected the idea outright, although many state insurance commissioners reportedly agree with Leonardi that a review is needed.
The revolutionary tone of the letter ("If the companies we regulate had the same governance issues we have here at the NAIC, we would be outraged and 'heads would roll.'") and its timing earned much trade press attention, given the debatable efficacy of state insurance regulation in this era of globalization.
On the home front, state regulation is challenged by the emergence of the Federal Insurance Office and the increasing authority of the Federal Reserve, while abroad the International Association of Insurance Supervisors (IAIS) and the Financial Stability Board present other significant threats.
This year, the letter continued to stir the ranks of the NAIC, as skeptical eyebrows arched within the insurance industry. Leonardi squarely focused the spotlight on some puzzling decisions made by the association in the last few months, including the extraordinary decision to turn down an invitation to meet with President Obama. As Leonardi wrote, "the biggest challenge we face is the dysfunction in our own organization."
The presidential snub of all snubs was widely denounced. "You don't have to like the president, but you should still go meet with him," says J. Robert Hunter, a former Texas insurance commissioner and now the director of insurance at the Consumer Federation of America.
The biggest challenge we face is the dysfunction in our own organization.
Tom Leonardi, insurance commissioner, Connecticut
While Leonardi staunchly defends state insurance regulation, his actions demonstrate that all is not well within the NAIC, an agency that state insurance regulators created in 1871 to coordinate the regulation of multistate insurers. Since the articulation of this clear purpose, the NAIC has morphed into a powerful, nonprofit bureaucracy with a $100 million budget, up from about $13 million in 1998. It is routinely criticized for its opacity, lack of accountability and diminishing relevance in a global insurance environment.
"I call them the Unincorporated Association of Nitwits," Hunter says, "since they have no real authority to do anything."
Harsh words, indeed. Yet Leonardi's criticism is similarly caustic. He charges the NAIC's leadership with "cronyism," censures its elections for resembling "those we experienced in junior high," and disparages as "egregious" the "unilateral" decision by NAIC's former president to give the Federal Insurance Office one of the association's three seats on the IAIS Executive Committee. As chair of the NAIC's International Committee, Leonardi's remarks carry weight within the industry.
These and other governance issues compelled his call for a review of the association's leadership structure, election process and overall strategic management. "We need something more focused and rigorous," Leonardi tells Leader's Edge. He says the association should govern itself as critically as it regulates insurance companies. "We've got a lot at stake now."
Nose Under the Tent
Within the NAIC, the Connecticut commissioner with the maverick streak has his fans and his detractors. This is not surprising, given the breadth of the group's membership. Some commissioners are elected and others appointed. Some, like Leonardi, have experience in the industry, while others are lifelong regulators. And because each state has widely divergent insurance market penetration rates, they also have disparate regulatory issues.
Several commissioners declined requests for interviews, although NAIC president Adam Hamm, the North Dakota insurance commissioner, did reply to written questions. Former NAIC executive vice president and CEO Catherine Weatherford, who also served as Oklahoma's insurance commissioner, chalks up the recent discord to nothing more than "family squabbles."
"The curtains were open, and the outside world got to see in," Weatherford says. "But these tensions are natural when you have 56 independent regulators from 50 states, U.S. territories and Washington, D.C. Differences are inevitable, which is what gives the NAIC its position of strength—we never get groupthink."
Weatherford, who left the NAIC in 2008 and is now the president and CEO of Insured Retirement Institute, says the clash of opinions is a good thing for insurance consumers. "Debate fosters improved products, better regulations and model laws," she says.
I call them the Unincorporated Association of Nitwits, since they have no real authority to do anything.
J. Robert Hunter, director of insurance, Consumer Federation of America
Asked if she thinks the NAIC's curtains were opened too widely, exposing the association's divisiveness at an inopportune time, Weatherford responds carefully.
"Every entity could be a bit more transparent—that is where the world is headed," she says. "The fact that all the work gets turned into minutes that can be scrutinized and we go through multiple layers of working groups, task forces and committees all the way to the executive committee for voting is a sign of transparency. But I would agree that more transparency is better, and we can improve in that area."
Hamm's written remarks touch on a similar theme, noting that all action on model laws, regulations and other NAIC work occurs in open meetings after public notice and comment. "Of course, some discussions must be held in closed session, such as ones that focus on company-specific information," Hamm says. "It is ironic that we are criticized for a lack of transparency, when at the same time disagreements between members are covered by the press."
He adds, "Our members don't always agree, and that's a good thing."
Machiavellian Mayhem
Is it? Kevin Hennosy, former public affairs manager (1989-1992) at the NAIC, says when he served the association, it enjoyed a "cooperative culture." This changed into more of a "corporate culture," Hennosy says, when the association incorporated in 1999 and became a 501(c)(3) nonprofit the following year. "When I was there, the EVP said if any commissioner asked for a piece of paper on her desk, 'give it to them because they owned it,'" Hennosy says. "Evidently, that's not the culture today, given Leonardi's remarks about insiders and outsiders."
In his letter, Leonardi cited the "undue influence" of two unnamed former commissioners on the NAIC's leadership, accusing these individuals of undermining the association's independence. "Our previous CEO was a victim of this cabal," Leonardi wrote, adding that the same group is now attempting to "undermine" the association's current CEO, former Nebraska senator Ben Nelson. Nelson replaced acting CEO Andrew Beal, who stepped into the role after former CEO Terry Vaughan left the association in November 2012.
Hunter has his own views on the alleged cronyism. "There are a lot of commissioners under a lot of pressure from the industry, making it very hard to pass something positive and pro-consumer," he says. "These guys have big egos and wield all the power."
Hunter adds, "All the things Leonardi complains about in his letter, we've complained about for decades. Nothing ever really gets done that is truly needed. There was no accountability back then, and there is none today."
Small wonder many industry observers joke that NAIC stands for "No Action Is Contemplated."
Self-Inflicted Wounds
The unforgiving language in Leonardi's letter —"cronyism," "cabal," "dysfunction," "insular decision making" and "Imperial Presidency"—could lead one to conclude that a governance review is merited. Several commissioners, including North Carolina's Wayne Goodwin, reportedly agreed a "critical evaluation" of the NAIC was necessary.
Without it, people would wonder what the heck was going on at the association. As Leonardi wrote, "If we cannot fix these governance issues, then others, including industry and the Federal Government, would be right to question whether we are up to the task of regulating the largest insurance market in the world."
With the governance review squashed, Leonardi's points resonate. And they are likely to return the spotlight to the efficacy of state insurance regulation. "After the financial crisis and the magnitude of the AIG bailout, the insurance industry essentially escaped significant federal scrutiny," says a longtime industry observer on Capitol Hill. "The NAIC effectively won on the issue of state or federal regulation, despite Dodd-Frank's modest provisions. So why is the NAIC acting as though they're under complete siege? Why are they fighting so hard? What are they so paranoid about? And why can't they agree with one another?"
Good questions that a review of the NAIC's governance policies just might provide some answers to. Asked in an email why a corporate governance review of the association was not determined to be needed, Hamm responded, "Who said it wasn't needed? The NAIC regularly reviews its processes to make sure they continue to meet the needs of NAIC members and interested parties."
The curtains were open and the outside world got to see in.
Catherine J. Weatherford, former CEO, National Association of Insurance Commissioners
Hamm said an NAIC executive committee task force would be charged during the year with reviewing "what have been characterized as governance issues."
This is not exactly the governance review Leonardi had in mind. He had motioned for the executive committee to hire an external party—not its own people—to conduct the review. "We have nothing to lose in hiring a nationally recognized, outside firm with expertise in governance management to review us," Leonardi says. "It would show the whole world that we're willing to take a clean look at this. Strategically, I think this was a terrible mistake."
He makes a good point. Now that the public more widely knows the scope of the NAIC's $100 million budget, questions are sure to surface on where all that money is going and why. "It's not so much the size of the budget that's the issue," Leonardi says. "It could be $1 billion or $20 million—so long as you're doing everything right from a governance standpoint."
He appears to reserve his harshest criticism for the decision by former NAIC president Kevin McCarty to gift the Federal Insurance Office one of the association's three seats on the IAIS Executive Committee, saying it illustrates too much decision-making power in the hands of one person. "It shows how one person's personal wishes can trump his fiduciary duty to the organization, since not one staff member agreed with this decision," Leonardi says. "Nevertheless, the seat was given to the FIO anyway, with no vote or any debate. That's troubling."
Tempest in a Teapot?
L'Affaire Leonardi will not go away gently. "He went right at the leadership, right for their jugular," Hennosy says. "It was a real smack in the face at the existing leadership, senior staff, the officers and the executive committee. The letter paints a picture of discontent, divisions and rank-and-file commissioners who are anything but happy. I've watched the NAIC closely for decades now, and this is a very unique event." After leaving the association's employ, Hennosy wrote a newsletter about the NAIC for 13 years.
Weatherford does not share this view. "It doesn't strike me as much of anything, really," she says. "Frankly, I believe the organization, at least when I left it, was far more transparent than it had been previously, thanks in good part to the data collection initiatives we undertook during my tenure. We built out very sophisticated database programs with open records that are accessible to consumers."
She adds, "These kinds of eruptions happen now and then and are perfectly normal for an organization of this size and complexity."
Is the recent outburst just another family squabble that will heal in time, or is it an enduring wound that will fester, subjecting the NAIC and even state regulation to continual scrutiny?
Leonardi is perturbed by the possibility his outburst could weaken the regulatory status quo. "I understand that there is a lot at stake, given the public nature of our organization," he says. "But what am I supposed to do—bury my head in the sand like an ostrich? We have real issues."
He adds, "Some commissioners may say off the record that they wished I hadn't written what I wrote, but that's human nature. I come from a business background. When I see a problem, I can't help but try to fix it."