Polo Anyone? It's Palm Beach
Palm Beach, Florida, is a tiny town with big names.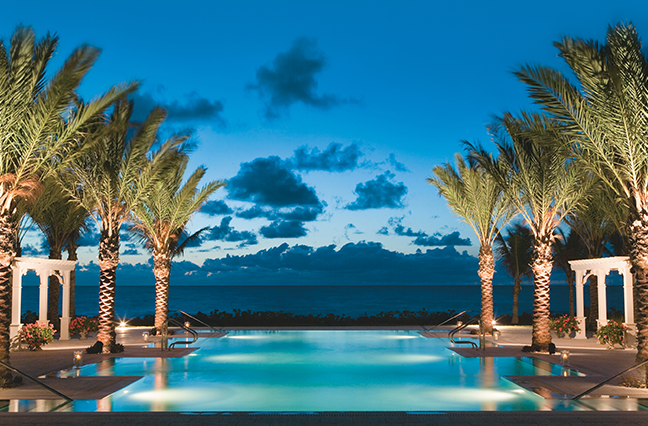 Industry titans, socialites, glitterati.
Rockefellers, Vanderbilts, Astors. U.S. presidents, European royalty. The tony town of Palm Beach, Florida, has been attracting a wealthy, powerful and connected crowd ever since Standard Oil Company executive Henry M. Flagler leveraged his millions to buy and build railroads in Florida and develop the coast. He opened his first resort for the monied class in 1894. The Royal Poinciana in Palm Beach was a six-story, Georgian-style hotel, which eventually became the world's largest. As the story goes, the hallways were so extensive that the bellhops delivered messages and packages from the front desk to guest rooms by bicycle.
Flagler opened The Breakers, one of the grandest of grand hotels, just after Christmas 1926, which then and now is the start of the Palm Beach season. The Florentine Fountain near the entrance to the hotel is reminiscent of one at Boboli Gardens in Florence. The twin Belvedere towers on either side of the Italian Renaissance building are a nod to the Villa Medici in Rome. The Great Hall of the Palazzo Carrega in Genoa inspired the intricate paintings on the ceiling of the expansive lobby, to which 75 artisans from Italy applied their talents.
For more than a century, Palm Beach has never gone out of style for society folks and the well heeled, but this island enclave has certainly received a lot more attention over the last couple of years. In case you have just awakened from a Rip Van Winkle nap, President Donald Trump spends about half of his weekends at his Palm Beach club, Mar-a-Lago, aka the "Winter White House." So, if you haven't attended a meeting at The Breakers or vacationed at this charming seaside village, there's no time like the present to check it out.
While you can enjoy fresh ocean breezes, shop on the beautifully landscaped Worth Avenue, play golf and tennis, and lounge by the beach year round, plan to escape the cold by arranging your Palm Beach escape during the winter season (the end of December through April), when you can take in a Sunday polo match at the International Polo Club Palm Beach. The caliber of polo (it hosts the largest field of high-goal teams and the most prestigious polo tournaments in the United States) and people watching (it is truly a jet set gathering) is outstanding. With the champagne pouring freely, it is also an awful lot of fun.