Glass Ceilings, Glass Doors
Transparency, frankness and courage are needed to repair interoffice, intergender interaction.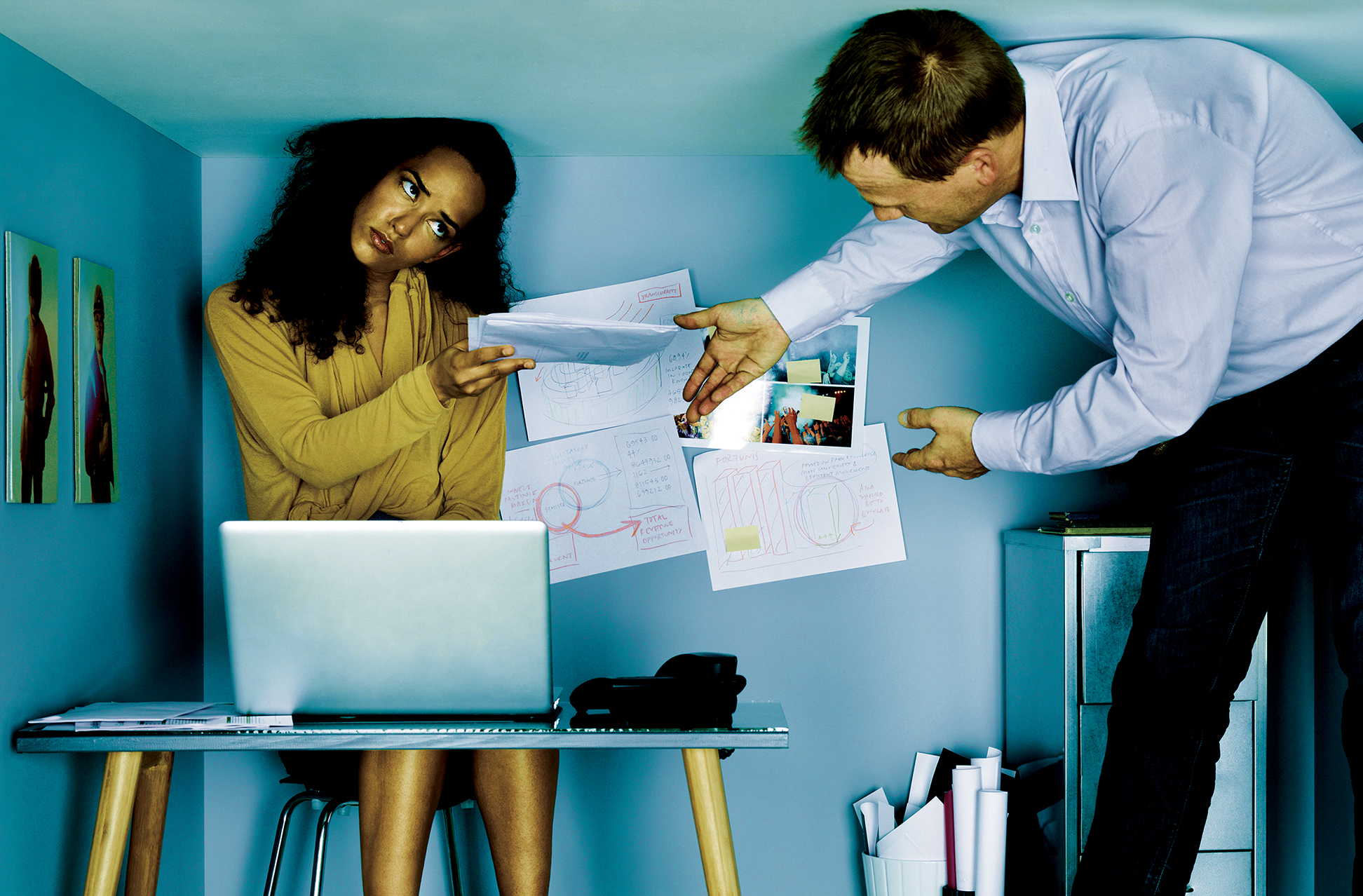 At a recent industry conference, amid a lot of conviviality, there was also an unspoken tension, an unnatural caution and cordiality toward women.
While men greeted each other with handshakes, hugs and brotherly double-pats on the back, they received their female colleagues with bows and arm's-length handshakes—though only after the women offered their hands first.
"The man hug allows a relationship to be created," says Nancy Mellard, executive vice president and general counsel at CBIZ Benefits & Insurance Services Division. "Those person-to-person relationships are critically important to success—success might be closing the deal or getting your next promotion. I don't know if the trust between men and women has eroded, but I believe there is clearly a heightened level of concern about what is appropriate and acceptable."
Mellard is referring to the backlash that has come from the #MeToo movement.
Though the movement shone a bright—some might say harsh—spotlight on licentious and despicable behaviors, it hasn't brought the sunshine many had hoped for. Instead, a mottled shroud of distrust has enveloped some workplaces, the weight of which is stifling women who aspire to move ahead in their careers. And men feel the stranglehold as well. Fearful of being accused, especially falsely, many men are curtailing one-on-one interactions with women.
How did we get here? Likely from a combination of factors, including a general business culture of secrecy, enabling and poor oversight. But each of these factors can be mitigated or even eliminated through a handful of best practices that have at their core transparency and respect. The insurance industry has the data and the built-in principle of trust to exercise leadership in this area. But, as with all filthy wounds, debriding is going to sting.
The Accused
In a Survey Monkey/LeanIn.org poll of 5,182 men, published in May, 60% said they "hesitate to commit to 1:1 time with women," including mentoring, socializing and having one-on-one meetings—up 14 percentage points from last year. This is especially true for men in senior positions, with 48% of male managers saying they are uncomfortable socializing even in public with a woman outside of work, up from 34% in 2018. And 34% of male managers said they have taken measures to avoid interacting with a female colleague outside the workplace.
Data from the U.S. Equal Employment Opportunity Commission may provide some insights. In fiscal year 2018, the EEOC received 7,609 charges of sexual harassment. The same year, the commission found 4,501 charges were without reasonable cause based on the commission's investigation. In just 430, the commission determined there was reasonable cause to believe harassment had occurred. Another 1,666 claims were administratively closed, meaning the complainant could not be located, didn't respond to EEOC communications, withdrew the charges, refused relief or otherwise settled. The numbers have been pretty similar since FY2011 (see the EEOC graph).
Numbers like those—nearly three-fifths of EEOC harassment allegations concluding without blame found—underscore a trend in corporate America characterized as the #MeToo backlash.
"This is the heart of the issue: Any time allegations of this nature are made, we have a tendency to pull back and start examining at the minutest detail everything we say, everything we do, the political correctness of it," says SueAnn Schultz, chief administrative officer, litigation counsel and secretary at IMA Financial Group. "It puts a fear in people, so they start questioning even their own natural, innate actions and responses…even if you are not a part of the problem or have not been accused."
Are men fearful of being unjustly accused? "I believe they are," Schultz says. "That is absolutely out there."
"I think men have become very intentional," Mellard says. "There is a level of caution. Relationships are not being created as they need to be."
There is also confusion. "Men aren't clear on what constitutes a violation," says Angela Berg, partner and North America diversity and inclusion consulting leader at Mercer. She consults with many male clients on this topic.
"They can identify the most egregious behavior," Berg says. "But what is a microaggression? 'You look nice today.' Is that sexual harassment? They actually don't know where the threshold is. They are afraid anything they say could be misconstrued."
We are being challenged to rethink everything. But most people react with a sense of respect for the other person. If women react with what is acceptable to them, they may solve some problems.
SueAnn Schultz, chief administrative officer, litigation counsel and secretary, IMA Financial Group
Earlier this year, Shelley Zalis, CEO of The Female Quotient, talked to The New York Times about "microsensitivity," citing its deleterious effects on workplace relationships.
"Microsensitivity is a pressing topic," Berg says. "We get contacted about it a lot. Employees might experience something they think is sexual harassment in this charged environment, but it's not harassment." The heightened sensitivity, she says, sometimes creates conflict and distrust where none needs to exist.
The flipside of microsensitivity is microaggression. Microaggression may be one person's small but purposeful efforts to assert power over another, or it may consist of offensive learned behavior that seems unthreatening and totally normal to the aggressor. Speaking with too much animation or volume, leaning in on people when addressing them, and using vulgar language are some examples.
"There are a lot of different levels of sexual harassment," Berg says. "The ones in the headlines are the worst. It's the lower-level kinds, microaggressions, that are more prevalent."
All the women interviewed for this article acknowledged that men today appear to act with heightened caution when dealing with women. The men, however, uniformly said they personally didn't have that apprehension.
"Those Survey Monkey statistics surprise me, because they're not consistent with the overt experience I have or I see," says Andy Barrengos, CEO of Woodruff-Sawyer. "And I personally don't have that fear."
Bob Harrison, chairman and president of The Daniel and Henry Co., echoed that sentiment. "It seems to me it's almost a cop-out to say I don't want to mentor a woman because of potential ramifications," he says. "It's not a concern for me at all."
In fact, men may actually fear one-on-one interaction with women for reasons that don't concern false accusations of sexual misconduct, Barrengos says.
"Men or their organizations sometimes feel uncomfortable mentoring 'others' in general—others being those who are not white males," Barrengos says. "If you are to mentor someone who isn't in your tribe, especially in a sensitized environment, you're going to find there is discomfort, a not knowing how. Maybe in some cases there is an unwillingness simply because they are women. It could also be the men are afraid that, if the opportunity is offered but doesn't work out, there could be a problem down the road."
Uncomfortable Conversations
No doubt there's plenty of confusion these days over interpersonal modes of behavior. But that confusion gives the insurance industry an unprecedented opportunity to step forward as a leader in defining policies that create transparency, ensure respect and promote inclusion.
"When you ask me to characterize the #MeToo backlash, my inclination is to go positive," Mellard says. "How has the backlash created positive responses? Data gathering, more intentional response from senior leadership, more companies looking at their policies, and training getting better—getting much more specific, going much deeper into the organization than just checking the box."
Harrison agrees with the perspective on positivity. "Hopefully this can lead to constructive conversations about engaging in the workplace with people who are different," he says. "That's where we are seeing much more positive energy. When you say '#MeToo,' that is polarizing. But if you talk about creating an environment that embraces equality, inclusion and the ability to be different, you are going to improve your organization."
Ongoing collaboration will be key, says Barrengos. "Men and women are going to have to work together to have a variety of uncomfortable conversations," he says. "We are going to have to work through the long haul—over a generation at least."
In general, men seem to want to do the right thing, though it's clear that this is a challenging topic. Notably, some men contacted for this article refused to speak on the topic. However, all of the men who did speak had two critical goals pertaining to the issue: eradicate sexual harassment and discrimination and ensure a pathway to promotion and senior leadership for women.
Women Write the Rules
The value of women at the table for this cultural sea change cannot be overstated. Many women in the industry have expressed concerns about the consequences of the #MeToo movement. Revenue-generating positions, executive posts and even lateral movements are highly dependent on trust, mentoring and inclusion.
"When there are few women in leadership positions and now you have uncomfortable relationships, that is another barrier," says Dove Burns, an equity partner at law firm Obermayer Rebmann and a defense counsel for management liability insurance claims.
The women who spoke to Leader's Edge say even established relationships have been upended in some cases. Men with an eye on their reputations and careers are suddenly behaving quite formally.
"The woman might think, 'Wow, why has our relationship changed?'" IMA's Schultz says. Indeed, it might not have changed; men are simply unsure of the new ground rules.
"We are now rewriting the decisions about who goes with whom to meetings, conferences, clients—wherever," Mellard says. "But who is rewriting the rules? I think there are three crucial aspects: (1) it's incumbent upon every company and senior leadership to rewrite policy standards; (2) we are already informally rewriting them in behavioral changes; and (3) women, particularly in senior leadership, have a responsibility to truly step up and lead and show the vision of what we want our company culture to be."
She offers this example: "If the boss needs to talk to Nancy after hours, is it appropriate for him to bring along Joe for safety? No," Mellard says. "This is between Nancy and the boss. If I don't have a clear understanding of why Joe is invited, I need to say that I don't understand and that, unless there's another reason, can I respectfully request Joe not be there. I'm not giving up my power to the boss or to Joe. I respect the boss's feelings, but instead of giving him the power to make that decision, I should take it and exercise that strength. On the legal side, the boss can say, 'I offered to have Joe come, but Nancy said no.' Nancy created the environment."
Schultz says the change in rules has thrown people for a loop. "What are the societal norms that we've grown up with that were embedded in our psyche? Those have been turned upside down," she says. "We are being challenged to rethink everything. But most people react with a sense of respect for the other person. If women react with what is acceptable to them, they may solve some problems.
"In the professional environment, we have to instill confidence for the recipient of an action to say, 'I don't appreciate that behavior; here's where the guardrails are.' Men wonder, 'If I hug that woman, if I compliment that woman, is that harassment?' I may have to be the one to open my arms to give a hug or otherwise acknowledge what is acceptable to me. If women are made aware of this duty, it can work."
It has been nearly two years since The New York Times published its initial bombshell investigation into revelations of sexual abuse by Hollywood producer Harvey Weinstein. The repercussions are still being felt.
It's "undeniable," says Kelly Thoerig, senior vice president and EPL coverage leader at Marsh, "that the #MeToo movement and all the publicity surrounding it has dramatically increased the incidence of sexual harassment claims. We are seeing claimants skip the EEOC process and go to counsel for a demand letter, then head right to mediation. Both in terms of EPL claims filing numbers and the cost of individual claims, there's now a #MeToo premium."
The movement is also running hand in hand with rate increases.
"Rates have been creeping up over the last handful of quarters," Thoerig says. "For those with an impaired loss history, there is a more significant rate increase. Many clients are seeing increases in retentions with insurers across the board. Some of that is case-specific—class-action claims potential or claims in California, for example."
"Most carriers are seeing an increase in frequency or severity in claims in EPL," says Dove Burns, an equity partner at law firm Obermayer Rebmann who serves as defense counsel for management liability insurance claims. "Due to the senior level of those accused, these cases are being settled without going to court. This means there is a lack of information as to how exposure has changed—there is no data on which to base an exposure analysis." These cases often settle with some sort of gag rule, she notes.
"The carriers want to settle," Burns says. "The insureds oftentimes don't want to settle because they say they are not guilty. They don't believe they will actually be found guilty."
But when it gets down to brass tacks, she says, "there is often a vanity check on the courthouse steps."
Interestingly, she adds, the so-called #MeToo backlash could entail EPL claims of its own—not sexual harassment but sexual discrimination complaints based on new barriers to promotion because men refuse to engage in one-on-one interactions.
D&I Strategy
Diversity and inclusion are inevitably part of the #MeToo conversation, and many of those interviewed agreed that intentional D&I strategies are necessary to building a better corporate culture.
"To start telling people who they can and cannot meet with goes somewhere we don't want to go," Mellard says. "We do, however, continue to push for intentional decision-making regarding diversity."
Kelly Thoerig, senior vice president and EPL coverage leader at Marsh, says, "Each company is going to have its own issues—cultural, international, sectoral, geographical—that feed its training policies." She notes that, while some states are putting together mandates for specific training, it makes good legal sense to offer training and diversity programs even if it's not required by law. "The days of check-the-box training are done," she says. "We are moving toward in-person interactive training segregated by role (management, line worker, etc.)."
She also says loud and clear management-level sponsorship is absolutely necessary—particularly when it comes to defending against D&O claims that focus on hostile work culture.
Any list of Top Ten Best Practices, Barrengos says, must address the underlying issues that are leading to truncated opportunities for women. "The best practices are not do X, Y and Z so men will be less afraid of being accused. The first thing is to get real with themselves if they are committed to a more diverse organization. If you're committed, understand your own ecosystem. What is your male-female mix: broadly, in management, in senior management, on your board. P.S.—Do you need help understanding these numbers? Maybe you need an outside partner."
Part of the solution, Barrengos says, is having a formal diversity and inclusion strategy—crafted by a group of people best suited to lead such an initiative—and a commitment from leadership. "Then you need to figure out what your version of the tough conversation is," he says. "Do you need to set targets? If your board is all men and your senior leadership is one woman with the rest men but your management ranks are more evenly distributed, you can say, 'OK, what do you want to do here?'" Maybe you want to start looking at how to position those women in the management ranks for promotion, he says. After the conversation, companies need to follow up with action, he adds.
Train, Train, Train
Some good news came out of that May 2019 Survey Monkey/LeanIn.org poll. In 2019, 70% of employees said their company has taken action to reduce sexual harassment, up from 46% last year. 
"Companies can no longer use training webinars that people can run in the background while doing other work," Mellard says. "I think that message has gotten through."
Mercer's Berg offers a three-point plan. "Number one: start with an explicit sexual harassment policy—not to the exclusion of other forms of harassment—preferably with legal counsel, that's current, clear and encompassing. Number two: communicate the policy. Managers may be reluctant to take action because they haven't been trained. They may notice something amiss but think it's a one-time thing or not that serious or be afraid to report it up the chain. They need to be trained on the process. Employees need to be trained so they understand what constitutes true harassment. And three: there needs to be an open dialogue. Get male and female managers together and talk about this."
Training should include some kind of role-playing, some executives say. That allows people to practice actually saying things out loud that may be uncomfortable. And while role-playing often feels scripted and goofy, it does force people to step outside their comfort zone and craft clear messages they may later be able to articulate should a dicey situation arise.
Gaming and virtual reality aids can create lifelike scenarios and can help people understand the importance of critical defense tactics, such as knowing where escape routes are and identifying props that could be used to fend off an assault in the worst situations.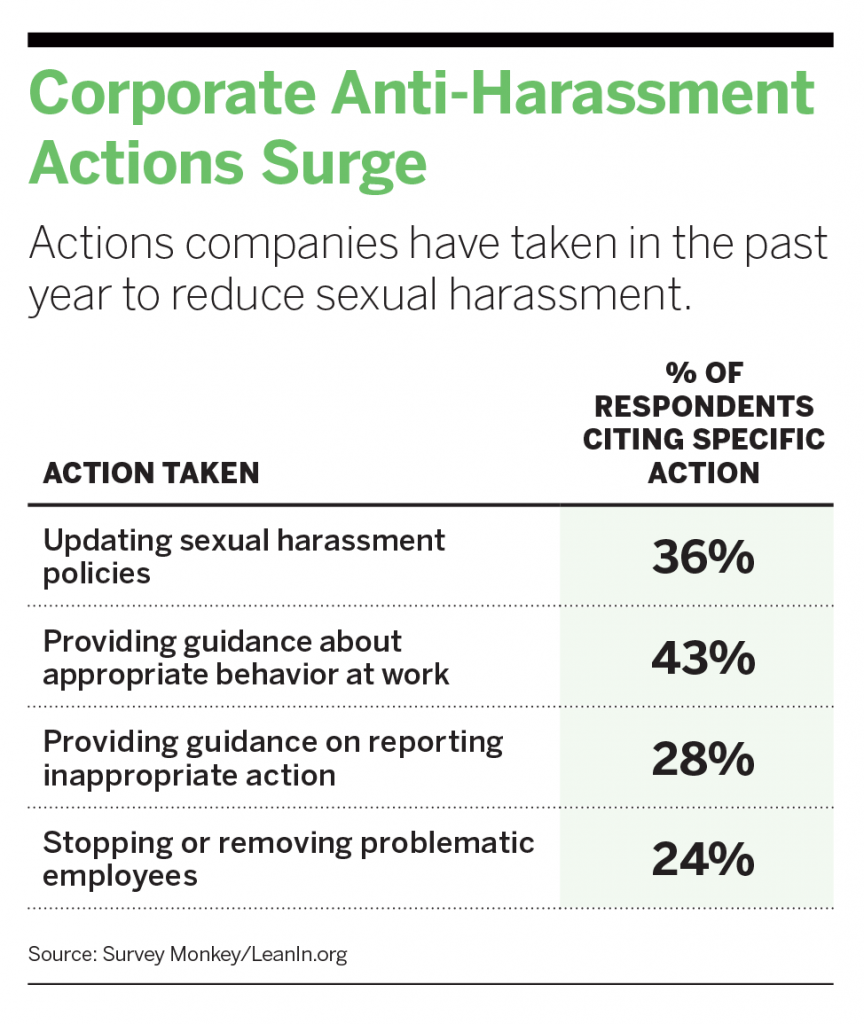 Collecting Data
Companies are also realizing that the data behind harassment may help them get ahead of it.
"We don't want to be in a position where we don't know there's a problem until the woman walks into NBC and tells them her story," Burns, the lawyer, says.
"Are there any numbers?" Mellard says. "Anecdotes may be valid, but it's not enough to put forward to validate changes. We are asking for quarterly retention and departure numbers at CBIZ. We are trying to get down to what the departures mean. We are trying to get reports our leadership can look at."
Berg agrees there is a need for evidence-based data but hasn't seen it used much for harassment analysis. "What I have seen most so far [in D&I technology] is kicking bias out of job descriptions and applications. Clients are feeling the success of that in recruitment. We are also seeing D&I tech used to root out bias in pay and promotion decisions.
"Boards are realizing the reputational risk, personal liability, financial risk. Boards are asking about calls to the hotline, settlements, how many actions are out there. They want the metrics. Predictive analytics are coming into this space as well. Dysfunctional cultures have data markers. Predictive analytics can predict where these problems might come up and allow organizations to be proactive. That is the next frontier."
(
A Question of Leadership
The best products in the world will not solve the problem without a cultural change. And the key, it seems, is to bring the parties together and create policies that work.
"Many men don't have the level of comfort that allows them to speak up about their fears," Mellard says. "We need to get there. Men need to be allowed to express their concerns so together we can solve them. We would welcome men in senior leadership expressing what their concerns or fears are. It takes a very strong person to be willing and able to express those."
That said, there is clearly a leadership role for women.
"On a positive note," Mellard says, "women are now emboldened to speak out more, and we have a strength in numbers. If we take on this challenge as leaders to create the new company culture, women can be authors of the new policies and training. I am not cutting women any slack right now. If women are not doing the things this movement has given the opportunity to do, shame on them; we fail ourselves. We don't want to miss this incredible opportunity. Because the industry is top-heavy with male senior leadership, it might require them reaching out a little further than to who is already at the table."
And everyone is going to have to admit a little vulnerability, Mellard adds. "Is it OK for me to be vulnerable? The answer is yes," she says. "That goes for men and women."
"You cannot lead if you are not a vulnerable human being, if you don't prioritize learning over knowing," Barrengos says. "You can never stand in place if you are leading. You have to admit there are things you don't know and things you think you know but you're wrong. Men have to get over their fear and have a sit-down that includes women and be able to stay in the tough conversation even when they feel like, 'Hoo boy, I doooon't want to be here.'"
The deck has been historically stacked against women, Barrengos adds. "We need to meet them more than halfway," he says.
"If you talk to a female, they will tell you sexual harassment—not abuse per se, but harassment—has happened. It's almost universal to some degree," Schultz says. "I hope the #MeToo movement will raise us up. We can't bury our heads in the sand. There are inherent biases. There are fears. We need to have the courage to address those as individuals so we can change the behavior."
Harrison adds that diversity and inclusivity are now a key ingredient in the recipe for a successful business. "Organizations like ours that are open to this conversation are going to thrive," he says. And as for those who won't move forward on women's parity and mentoring? "We will go out and seek their clients. And we will get them."
"On the D&O claims side, it's not just securities claims; we're seeing shareholders saying the board held a blind eye, the board knew or should have known about harassment," says Tricia Melly, head of D&O and financial institution E&O claims, North America at AXA XL. "We are seeing a lot of settlements because defendants don't want the negative press. Some of these settle long before a complaint is even filed."
Kelly Thoerig, senior vice president and EPL coverage leader at Marsh, who also is a claims advocate for Marsh's FinPro group, says there are really two different types of D&O #MeToo claims out there. "The first is an EPL claim brought by aggrieved employees that is covered under a D&O policy. Many private companies will blend D&O and E&O. For public companies, we are seeing excess-coverage private-entity claims. In the second type, there are D&O claims from shareholders alleging the company, board or whoever mismanaged the issue or was complicit in covering up serial sexual harassment. The theory of law is still developing on that. There are softer claims around the margins: reputation, tarnishing your brand. New and innovative claims we're seeing are particularly for securities claims."
"We are seeing cases where there are both EPL and D&O complaints," says Dove Burns, an equity partner at law firm Obermayer Rebmann who serves as defense counsel for management liability insurance claims. "Theories consist of breach of duty of care and loyalty because the violator used company resources to further misconduct or because a board or executives failed to monitor or control the harassment. Wynn shareholders set forth the theory of 'futility'—that it would have been useless to go to the board."
Privacy has become a bigger issue. "There's a lot more sensitivity on how claims get reported to us, how many eyes can see the file," AXA XL's Melly says. "Often the policyholder's first inclination is to deal with it and then tell us if it's too big."
Brokers have been known to craft policy language to reduce possible revelations about clients.
"There is concern by insurers about when a claim should be reported," Melly says. "There is some language brokers frequently seek either in the policy's prejudice section or the notice section that suggests the client wouldn't have to tell us in D&O if it's just an EPL claim and not yet a D&O claim."