Decent Fighting Form
P-C and health insurers were tested in 2017 but remain strong.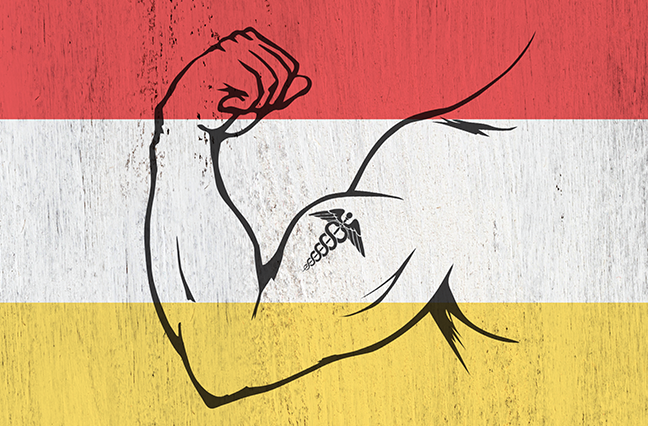 There was no shortage of excitement in the U.S. property-casualty and health insurance markets in 2017.
Like seasoned boxers, the p-c markets were tested by several roundhouse punches in the form of large catastrophes in the third and fourth quarters, while health insurance markets continue to weave and bob with every new jab at the Affordable Care Act. Both markets, however, benefitted from underlying improvement in the U.S. economy and relatively strong capital markets. In short, both are in decent fighting form entering 2018.
P-C Disciplined
The U.S. p-c industry has been in an above-average financial position for most of the past 20 years, with the exception of the late 1990s to early 2000s. During this time, rates dropped considerably, and the U.S. entered a recession, causing financial distress at a number of large p-c organizations. The hard market pricing that ensued from 2000 to 2004 resulted in strong earnings and larger net capital gains, both of which helped repair balance sheets.
ALIRT has developed an industry composite score derived from 45 financial metrics that measure individual insurers on a holistic basis. These composite scores mark the financial pulse of the entire industry over time. Since the global financial crisis of 2008-2009, the industry has bumped along the long-term industry average score of 50, except for the period of 2013-2014, which benefitted from both low catastrophe losses and a "mini" price firming cycle. Gradual improvement in the U.S. economy has also helped boost exposure units.
As of nine-month 2017 financials, despite the large catastrophe losses, personal lines saw a higher ALIRT score than commercial, reflecting stronger net capital gains and improved parent company growth and earnings. The commercial lines score, however, saw a seven-point decrease due to weaker underwriting and operating profitability.
In 2018, aggregate industry rates should trend up slightly for commercial lines and somewhat higher for personal lines (largely in auto) while prior-year reserve releases remain positive but ease for both sectors.
In a "normal" catastrophe environment, look for near break-even underwriting results for commercial lines, with the personal lines industry perhaps a bit worse than break-even. While the relationship of rate versus loss-cost trend is important, much will also hinge on expense control and the quality of selected risks.
The contribution from investment income may continue to wane as current money yields catch up to portfolio yields. However, higher interest rates should ultimately boost operating profitability. Equity markets remain a wildcard.
Financial performance differs across the board in the commercial lines arena, with subsidiaries of Chubb, The Hartford and Travelers tending to outperform, while those owned by Liberty Mutual and AIG currently exhibit weaker financial profiles. Absent any extreme loss event, capacity remains ample for commercial and personal p-c sectors, dampening upward pressure on pricing; however, overall, the U.S. p-c market seems disciplined.
Larger Health Insurers Stable
The health insurers tracked by ALIRT have shown more stable scores than their p-c counterparts, reflecting relatively narrow swings in underwriting and operating profitability and a stable surplus/capital base. These scores have also trended above the long-term average health insurer score in each of the past 12 years, indicating that the 100 companies comprising the composite tend to be larger and more stable than the many small health insurers tracked by ALIRT.
Membership and premium growth have trailed off for the composite since 2012, with the exception of 2015, when both metrics rose due to higher enrollment in public exchanges. Premium growth, however, has consistently exceeded membership growth, given the impact of steady rate increases. The industry's risk-adjusted capitalization has deteriorated somewhat over time, and insurers report more aggressive net premium leverage and large dividends paid out to parent companies.
The uptick in the composite's score in the third quarter of 2017 largely reflects a sharp improvement in underwriting and operating profitability, as both medical loss and expense ratios improved (the latter helped by a one-year suspension of the Affordable Care Act's health insurance tax).
In 2018, aggregate industry premium growth remains in the mid-single digit range while plan membership lags. The industry will continue to report a larger mix of government-sourced business while traditional commercial and individual health enrollment flatlines or declines.
Outsized underwriting profitability may fall back to longer-term averages, in part due to the return of the ACA fee, which will put upward pressure on expense ratios. That said, incremental improvement in the medical loss ratio over the past several years could well persist.
The industry will remain adequately capitalized despite the likely continuation of sizable shareholder dividends paid to large publicly traded parents.
Scale remains important, benefitting the large national health organizations. Almost all of the large national carriers tracked by ALIRT exhibit financial profiles substantially stronger than that of the industry average. Smaller health insurers, which lack the necessary scale, often exhibit much weaker financial profiles, resulting in scores well below composite average. Large groups should continue to make investments in technology/data mining as well as pursue additional strategic acquisitions, including provider groups.
David Paul is principal at ALIRT Insurance Research. david.paul@alirtresearch.com