WAHVE of the Future
Older, semi-retired brokers are supplying institutional knowledge to their firms.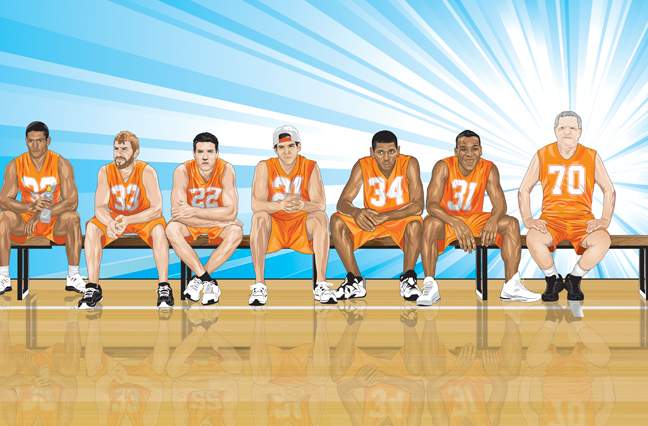 As the largest generation in history reaches retirement age, experts warn that the nation could soon face its greatest labor shortage ever.
Baby boomers—some 76 million Americans born in the post-war years of 1946 to 1964—constitute nearly one quarter of the U.S. population, and they're starting to retire at a record pace. The first boomers turned 62 in 2008, and by 2029, when the last of them turns 65, more than one in five Americans will be of retirement age.
Put another way, businesses can expect to lose 20% of their senior staff to retirement over the next 14 years.
"As the baby boomers retire, many companies are going to struggle with all that experience walking out the door," says Jill Wadlund, president of Berkley Life Sciences.
It's no secret the industry struggles to attract young workers. A 2010 study placed the average age of an insurance professional at 56 and indicated that most of them planned to retire within 10 years.
"The workers are getting older," says Sharon Emek, president and CEO of Work At Home Vintage Employees, which specializes in insurance industry contract employment using retirees who want to get back in the game but on their own terms. "Every industry is having a similar problem. And the industries that are getting these younger people, they're going to sexy industries that have more flexibility. The insurance industry is very tightly structured. I think the insurance industry needs to look at it with a whole other mindset."
Work At Home Vintage Employees (WAHVE) is a virtual employment agency for retired insurance professionals who want to return to work on a limited basis.
"People retire for lots of reasons," Emek says. "People reach a certain age, they want to be near their children and grandchildren or they want to be in a warmer climate or they want more flexibility. They put 30 years in the workplace, and now they want to enjoy different things in their lives, but they still want to work. This keeps their knowledge in the industry."
Emek, previously a partner at CBS Coverage Group, founded WAHVE in 2010 to capitalize on the growing number of industry retirees. The company has more than 275 retired employees who telecommute from home for brokerages, carriers and wholesalers.
WAHVE is the industry's first foray into the so-called on-demand economy. Retired professionals looking for part-time work submit to a battery of tests, background checks and interviews by WAHVE to determine their relevant skills. At the same time, industry firms looking for part-time or temporary help contact the company with their needs.
"We give them the best matches we have, and we send them the résumés. They review them, and they tell us who they'd like to interview," Emek says. "You decide who you want to work with. You decide who you want to hire."
In most cases, the work is done remotely, giving the retirees the flexibility of setting their own hours. In exchange, the insurance firm gets help at a discount. Because the WAHVE worker is a contract employee, companies who use a WAHVE worker can expect to pay 30% to 50% less in salary for that worker.
"The world is changing, and brokers need to consider that they will have a number of virtual employees because you have to keep the talent," Emek says. "Today it's about outcomes."
Brokerages contract with WAHVE for varying reasons.
"I was finding that we had well compensated employees inputting data into presentations and quotes," says Donald Privett, executive vice president of Worldwide Facilities. "I felt that delegating the information would free them up to use that time for more productive use. The team likes the fact that time-consuming jobs do not take away from more important work. Newer employees like the fact they can use the time for more meetings and feel it is helpful in their career."
Angelyn Treutel Zeringue, president of SouthGroup Insurance–Gulf Coast, says her firm is moving back-office transactions to WAHVE employees to free more time for agents to concentrate on sales.
"Our agents are primarily producers, so they need to be available to visit and meet with clients," she says. "We are using WAHVE to provide back-office transaction processing and updating of our systems to allow our agents more flexibility to pursue sales, and we are growing our business and have not had to add staff."
Scott Naugle, executive vice president and chief administrative officer at BancorpSouth, says his firm uses WAHVE employees to keep work from piling up.
"There are times, even though we are a large organization, where we may have critical people out on temporary leave," Naugle says. "WAHVE provides an opportunity to keep that desk, and the work on that desk, moving without necessitating us to burden other employees with the workload or hire a permanent employee. The other option is we're going to have to ask our employed colleagues to take on this temporary workload or this project. I don't recall any pushback or concern, only relief that help was coming."
Wadlund is using WAHVE employees to bridge the gap as older workers retire and younger workers get training.
"I wanted to see if that helps me make more transitions from people retiring and bringing in our new trainees," Wadlund says. "I think it does that quite nicely. We're getting experienced people, and they know that giving us flexibility in the staffing arrangements makes for less chance of any layoffs in the permanent staff. When the market is going through its various ups and downs, it's a good way to manage through that."
Despite the accolades for WAHVE, the company has been slow to break into the industry. Emek says she has another 2,000 screened and qualified retirees ready to work. So far, brokers have been her best customers.
"The brokers are so much more entrepreneurial, and they got the concept quickly and opted in quickly," she says. "We have more than 200 broker clients. The carriers have been much slower to adopt the model. They are much more difficult to get through their corporate environment. It's interesting how brokers have really embraced it as a great option for them."
Wadlund says carriers may just need more time to adjust.
"It's a new way of going about the business, and you don't have a lot of companies that are set up for teleworking," she says. "If their training and everything else is not set up for teleworking, they might be concerned that they can't bring someone in.
"There are some jobs that are more difficult to fill, like an underwriter who has to go out in the field. It could be that most people just think they need to have face time."
Emek says carriers have a more elaborate hierarchy than do brokerages.
"You have to go through so many steps," she says. "When we talk to brokers, you can go right to the CEO of the brokerage. There are some carriers where we're at right now, but they are more nimble. With the larger insurance companies, it's much more complex to get to the decision maker."
On-Demand Economy
The evolution of the smartphone has created what economists call the on-demand economy, essentially the use of digital technology to satisfy consumer demand for immediate access to goods and services. Think Uber or AirBnB. Often the on-demand economy relies on non-traditional workforces or non-traditional settings to speed transactions. In the case of WAHVE, that means using retired workers who telecommute.
"Many times brokers say, 'No, I have to see people to manage them.' I say, 'Really?' It's about the outcome," Emek says. "Today you can measure everything, and it's about getting the work done, no matter where you are. This keeps their knowledge in the industry."
Wadlund says her firm was built around the telecommuting concept.
"We are comfortable with the telework environment," she says. "We built this company starting in 2007. We started with the teleworking philosophy, so it's obviously a lot easier for us than a big company that's trying to convert to that.
"It requires managers to be more organized because they can't just walk into someone's office and disrupt. We probably have a little younger average staff than many carriers. It really is easy for us, and I think in a more limited fashion it could be useful for many companies."
Naugle, too, scoffs at those opposed to hiring employees who work from home.
"The fact that someone may be working remotely and you can't see them, so therefore you're not sure they are doing their work, is absolutely absurd," he says. "In 2015, with technology and the absolute requirement from our customers that we be available to respond anytime, anywhere, it means we are often working remotely."
Can't Quit Now
Ralph Gellula, 72, has been in the insurance industry for 50 years, including 25 years as owner of his own agency. For the past three years, he's been a WAHVE employee for USI Colorado, working from his home in Delaware.
"Working from home and not being in Colorado had some difficulties when clients wanted to reach me at the office, which is kind of hard when I'm sitting in Delaware," Gellula says. "We finally decided that I'll just do policy checking. All the commercial policies that come in I review, check against the binder, make sure the policy is issued correctly, compare it to last year's policy, input the data into the computer and send the policies by email to clients."
Gellula estimates he works 20 to 26 hours a week and says he is grateful for the extra income.
"My retirement fund wasn't quite as much as I wanted it to be, so this kind of supplements it," he says. "All these years I had this license and all this experience and what do I do, let it go to waste? It just seems like I want to keep my hands in it. I'm making a lot less than I previously was, but I am working from home and I can work whenever I want. I can't just do nothing and retire."