Succession in Action
A conversation with The Council's new leadership executives, Joel Wood, president, and Catherine Richardson, chief operating officer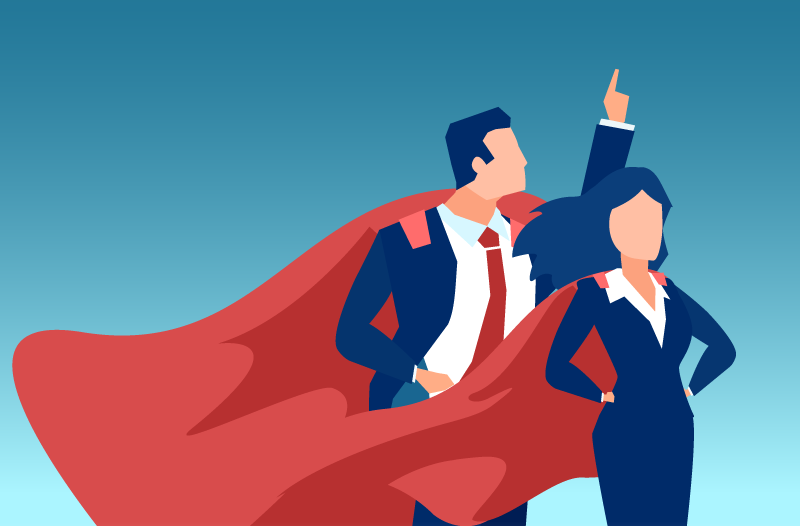 Q
How has your past role at The Council prepared you for this new position?
A
Joel Wood: When you hang around a group for 30 years, some things begin to stick, even for somebody like me who barely graduated from the University of Mississippi with a liberal arts degree! It's been such a privilege to lobby for this industry sector and to work for some of the most amazing entrepreneurs and leaders in the country. Over the years we've helped navigate regulations and laws that are at the core of brokerage business practices, so I think I have a good feel for what our executives want and expect from their trade association. That said, I wouldn't have a clue on how to actually place a BOP for a bodega.
Catherine Richardson: I don't have Joel's political gifts, but there was a time when I could place a BOP for a bodega. Before coming to The Council, I was a broker. Ironically, The Council hired me to maintain and build a community of carriers, reinsurers, health insurers, voluntary benefits carriers, and solution providers. My past experiences and roles have given me a broad view of the insurance ecosystem—how it functions, what motivates the different stakeholders, and how these relationships impact the future for brokerage.
Q
What do you want to learn most from CEO Ken Crerar during these transitional years?
A
Wood: How to edit priorities, and how to sometimes say no. As a lobbyist, I'm a pleaser. I like saying yes. Ken is a serial entrepreneur (coined years ago by one of our executives). He's taught us that sometimes it's not just enough to respond to your members, we have to try our best to divine what will be most valuable to them down the road.
Richardson: Ken IS an entrepreneur, but he has also built a culture of entrepreneurship. He's made The Council a safe space to grow and create. I want to dig deeper into what he thinks has contributed most to creating this environment. And as it pertains to leadership, when to intervene and when the opportunity for growth outweighs the possibility of failure.
Q
What are your top 2 or 3 goals for this transitional time period?
A
Wood: Big picture, it's ensuring that the world's most prestigious gathering of insurance company officials and brokers—The Council's Insurance Leadership Forum—stays just that, while continuing to build on the 20+year growth of our benefits programs. More granular would be to deepen our reputation as the best source for market intelligence. More than 90% of commercial p&c premiums flow through our members, and we serve two thirds of all Americans who receive employer-based health insurance. We should be the go-to source of information on the marketplace. I also want to up our game on state issues that significantly impact our members. We've got the federal side down well.
Richardson: Even though I have been at The Council for close to 10 years, I want to take the time to re-learn and re-assess where we are as an organization. I don't want to skip this step and fall prey to my assumptions.
My other goal is to ensure the leadership team is aligned. The Council has been led by one person for over 30 years. Our executive team is now three people, enhanced by an experienced and talented senior team. It is incumbent on us to align on one set of common goals and objectives. That being said, alignment may not be too difficult as Joel and I agree that our community is unmatched and the possibility of generating benchmarks and indices to inform how our members serve their clients is a major opportunity in the near term.
Sometimes it's not just enough to respond to your members, we have to try our best to divine what will be most valuable to them down the road.
Joel wood, President, the council
Q
Joel, how will you balance your new role as president with your government affairs work? Will you still be involved in The Council's political relationships?
A
Wood: Perhaps to the irritation of my colleagues Joel Kopperud and Blaire Bartlett, yes. I've had 40 years working the Hill, and a lot of solid relationships on both sides of the aisle. (I'd love to think it's because of my charisma and rugged good looks, but I think having—by far—the largest political action committee in the insurance industry may be the difference.) That said, I'm kinda done with lobbying 25-year-old staffers for junior members of Congress, and I feel like an uncaged bird now that I'm no longer a slave to the congressional calendar. The moment I felt really comfortable in relinquishing much of the government affairs responsibilities was when I saw a chart of the new Republican majority in the House—only 17% of them have been here longer than 12 years. Hell, I've been here for 40!
Q
Catherine: From an operational perspective, where do you currently see the most room for opportunity to serve members even more effectively?
A
Richardson: We have an Amazon Alexa in our kitchen. Every three weeks, Alexa prompts me to buy coffee before I realize that we desperately need Nespresso pods. We have two young kids, coffee is critical. In moments like these I feel so…. understood! Amazon, Meta, and Google have trained us to EXPECT organizations to anticipate our needs. While we may not subscribe to their tactics, we want to learn from how they craft an unparalleled customer experience. The Council team is investing heavily in our data infrastructure so we can deliver more customized communications that connect individuals with training, programs, intelligence and benchmarks at the moments that matter to them.