Pub, Pool Table and Starbucks Next to the Water Cooler
Brokers attract prospective clients as well as talent with a new office profile. Could working in insurance suddenly be cool?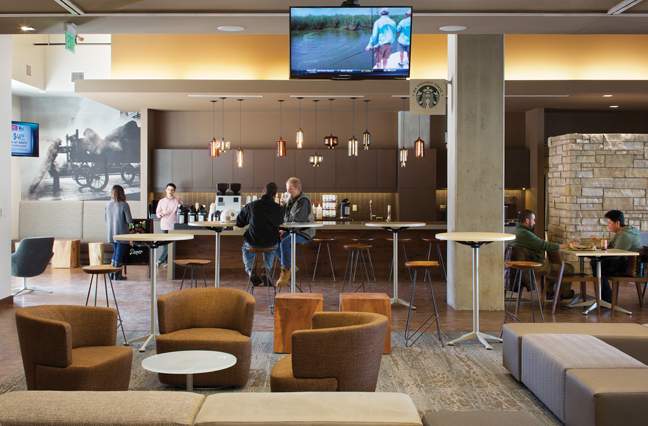 Fifteen years ago, when the e-commerce behemoth Amazon was still getting its legs, employees boasted about their cool environs in a former hospital built in 1932 on top of Beacon Hill in Seattle. Desks were old, paint-chipped doors placed on sawhorses. Working there was like hanging out in a clubhouse.
Then along came Google to redefine the next phase of a modern, productive office environment. Gone for the most part were the cubicles that had described the American workplace since the 1970s. Employees brainstormed in living room-like areas and worksite cafés. To look at the company's facilities across the country today is to imagine the office as redesigned by a group of highly creative kids. Depending on the location, there's a bowling alley, a pub-style lounge, pool tables and foosball tables, and even a giant egg-shaped pod with pillows.
The Google-ization of the workspace is spreading far and wide, with a few insurance brokerage firms creating their own distinct environments. Even The Council recently renovated its Washington, D.C., headquarters. Mobile technology is one factor driving many of these worksite changes. People tugging tablets along with them no longer need to sit at a desk, ears glued to "Mad Men"-era telephones. Another factor is the value of a space that encourages unexpected interactions that foster familiarity and the sharing of ideas.
Employees' desire for workplace flexibility is also driving the changing office environment. For many employees these days, work is conducted on the fly, anywhere and anytime. The notion of doing one's work solely at the office has become as antiquated as writing a memo on a piece of paper.
As people work at the office, at home and in their cars thanks to voice-activated emails and communications, the lines are blurring between what constitutes a productive work environment. Workplace flexibility is so important to younger workers that almost half would choose workplace flexibility over pay when it comes to working for a company, according to a 2014 study by Millennial Branding, a research firm.
The New Norm
Many organizations have embraced an employee-first culture, a natural extension of the older customer-first philosophy. As they begin to focus more on their employees, these companies undertake ethnographic studies to learn how their workforce currently works. An employee's various tasks throughout the day are mapped and analyzed. This insight then informs the design of the physical environment to enable the most efficient work processes.
Obviously, today's burgeoning offices are a far cry from the interconnecting rabbit burrows of the 1980s and 1990s, where employees toiled away silently in cubicles, occasionally popping up their heads to greet a co-worker. Not that cubicles will soon be the architectural equivalent of ancient Rome. Many companies continue to incorporate them into their well-considered interior design schemes, but these days they are just one part of the overall workspace.
The same can be said of traditional executive offices and boardrooms. They're not going away any time soon, although they increasingly resemble high-tech media hubs, adorned with giant TV screens for presentations and videoconferences and plug-ins for myriad forms of computer hardware.
Perhaps most interesting about the evolution of the work environment is that it actually reflects more closely the derivation of the word "office." Its Latin root, officium, loosely translates as "sense of duty" and "ceremony." Thus, an office is a place where we engage with our co-workers in dutiful activities toward a shared purpose.
Given today's so-called war for talent, employee engagement has become one of management's top concerns. Nearly 79% of businesses in a 2013 survey by consulting firm Deloitte said they are seriously concerned about employee engagement (their number two concern after leadership). But only 8% of the companies surveyed said they had created programs to address this problem.
Not surprisingly, a 2014 survey of 150,000 employees by the polling firm Gallup indicated that seven in 10 employees disliked their jobs. And when employees don't like where and for whom they work, their dissatisfaction trickles down to affect their productivity. Even worse, as they express their discontent to colleagues, it can affect the productivity of the wider workforce, often with devastating bottom-line consequences for the employer.
I see the space as very Colorado-casual. …Some tables even have bark on them.
Robert Cohen, chairman and CEO, IMA Financial Group
Engaged employees, on the other hand, positively affect nine corporate performance outcomes, including 10% higher customer acquisition, 21% higher productivity and 22% higher profitability, according to the Gallup survey.
"Companies with more engaged employees have better odds of achieving the outcomes their organizations desire, such as revenue, profit, customer engagement, safety, quality work, and employee retention," the study authors reported.
While an organization's culture has a lot to do with the work experiences of employees, so does the physical space in which this work occurs. It certainly does at The IMA Financial Group. Among the brokerage firm's many novel features at its new headquarters building in Denver is the first privately owned and operated Starbucks in America, where an IMA Financial employee works as a Starbucks-trained barista. People used to joke that a Starbucks just opened up in their basement. At IMA Financial, the joke is real.
"I believe that physical space matters," says the brokerage firm's chairman and CEO, Robert Cohen. "This isn't an original thought, of course. Steve Jobs deserves credit for creating spaces where people could collide, as he put it. A lot of energy and creativity comes out of that collision."
When IMA Financial was in talks with its architects to design a new five-story corporate headquarters at Union Station in the city's trendy Lower Downtown neighborhood, Cohen was most interested in a space that conveyed to clients the culture of a professional services firm. "Obviously, we're not a startup, which might look just fine with young people running around in skateboarding clothes," he says with a laugh. "At the same time, we are not a staid and stodgy firm, which is what a lot of people think about when they think insurance."
Cohen wanted the workspace to evoke professionalism, but he also wanted employees to thrive through more casual encounters. The new headquarters achieves both. On the second floor, traditional cubicles are evident, albeit they are made of glass, which provides an open and airy feel. Even Cohen's office is a cubicle, right smack in the middle of the floor. "I've got three 'walls' and an open part where people can come in and see me whenever they need to," he says. "This is my head-down space."
Downstairs, on the first floor, employees interact with their colleagues and clients at tables arranged outside the Starbucks. The surrounding space was intentionally designed to encourage out-of-the-box collaboration.
"When insurance carrier reps come to meet with our people, they first sit down at the Starbucks to break the ice, as opposed to gathering in a four-person conference room," Cohen says. The firm also has "quiet rooms," where doors can pull shut for more private business conversations.
Other innovative features include the stairwells, which are adorned with floor-to-ceiling photographs of the Rocky Mountains and a motion-activated soundscape that produces the chirping of birds and the whoosh of a waterfall. An outdoor patio is well attended in warmer months, as is an indoor fitness center throughout the year.
Today, the finished space reflects who we are and how we think.
Dan Keough, chairman and CEO, Holmes Murphy
"I see the space as very Colorado-casual, with the blown-up photos of nature and the wide use of exposed wood," Cohen says. "Some tables even have bark on them."
The new workspace is more than two times larger than the fast-growing firm's former cramped headquarters. For now, it occupies about 70,000 square feet of the 110,000-square-foot building, although Cohen is confident it will soon occupy the rest. Has the investment in real estate been worth it?
"I am absolutely convinced my workmates are happier and more engaged in their work and are therefore more productive," he says. "And the many clients who have visited us always tell me they can't wait to come back."
While such comments are qualitative measures of success, they nonetheless are positive. Many companies are just beginning to apply more quantitative metrics like earnings-per-square-foot to their office space redesigns.
More Than Just a Refresh
In renovating its headquarters building in Des Moines, Iowa, insurance brokerage Holmes Murphy also wanted a space that jibed with its culture. "Our 80th anniversary was coming up in a couple years, which gave us a wonderful opportunity to reimagine our workspace," says Dan Keough, the firm's chairman and CEO.
At the time, its headquarters was "old, tired and staid," Keough notes. "The walls were painted an institutional gray color, and the workstations were so high you couldn't see the people working in them. It was a very corporate feel. I wanted an environment that was more open and inviting, which I felt would generate greater collaboration and engagement."
The design called for open workstations and brighter colors throughout the building. Along several walls are what Keough calls "footprints," one-foot wide banners stretching from corner to corner with positive comments about the firm's success metrics and the accomplishments of individual employees.
When the project was finished, the workforce agreed the office was a more conducive place to work individually and in teams. The experience persuaded Keough to go the extra mile when relocating a large subsidiary in Dallas from a traditional corporate high-rise to an office building from the early years of the last century that it acquired from a client in the technology business.
The building houses Holmes Murphy's accountable healthcare business, ACAP Health Consulting, which is led by Holmes Murphy's president, Dennis Bishop.
"Den is an extremely creative guy, and when he saw the new space, he called me and said it could be unbelievable," Keough recalls. "Today, the finished space reflects who we are and how we think."
Much of the facility is as it was when the high-tech firm occupied it. Walls and ceilings have been removed to showcase brick and construction lumber. Pressboards are used to delineate workstations, and curved walls conjure Google's workspaces. Each conference room is designed with a theme in mind. In one room, where the flooring is Astroturf and Adirondack chairs gather by a giant glass window, inside and outside become one and the same. Another conference room is bedecked with beads draped from ceiling to floor, with a fully stocked bar and pool table.
"This is where we have what we call our 'after 5' events," Keough says.
All of the above is for a purpose, he contends. "We think of ourselves as one of the most innovative firms in the industry," he says, "and want our clients and employees to feel that excitement when they walk through the door—that great ideas are percolating."
Holmes Murphy may not have a Starbucks, but as its chief executive observes, the place is buzzing.