Enough Capital for Another 6 Months
M&A valuations are still strong, but there are cracks in the foundation.
The fourth quarter began amid a turbulent year for the overall U.S. and global economies, where inflation, rising interest rates, and stock market volatility are dominating the financial news.
However, merger and acquisition activity in the insurance brokerage space continues to be very active, with average valuation multiples seeing another increase through the third quarter.
Even though "recession" is on everyone's mind and the rising cost of debt is leading to a higher cost of capital, the market is still seeing strong multiples and aggressive offers for high-performing, and in some cases average, sellers. There also continues to be a rising interest in specialty firms.
Private-equity backed brokers remain the dominant buyers and main driver of increasing multiples, displaying a capacity to continue buying at a steady pace and eager to deploy available dry powder—even in this volatile market. Private capital remains abundant, and the insurance distribution industry continues to be a highly sought-after investment, as it appears the market is heading toward a prolonged period of economic stagnation.
However, as average transaction prices continue to climb, there are some warning signs that perhaps the incredible run we've been on for M&A valuations might be showing some cracks. While debt remains somewhat available, there are rumors that some buyers are staying out of the market because the cost of debt is too high. They are choosing to sit on the sidelines instead of borrowing at the new interest rates. Many buyers remain well capitalized with reserves raised prior to the Fed's march to suppress inflation. Most have capital to get into the late spring/early summer 2023 if they continue at their current pace of buying. However, if the markets don't loosen up by then, we could see a significant slowdown.
As valuations continue to rise, owners and shareholders who are contemplating the future of their firms or their perpetuation plans may want to explore the market sooner rather than later.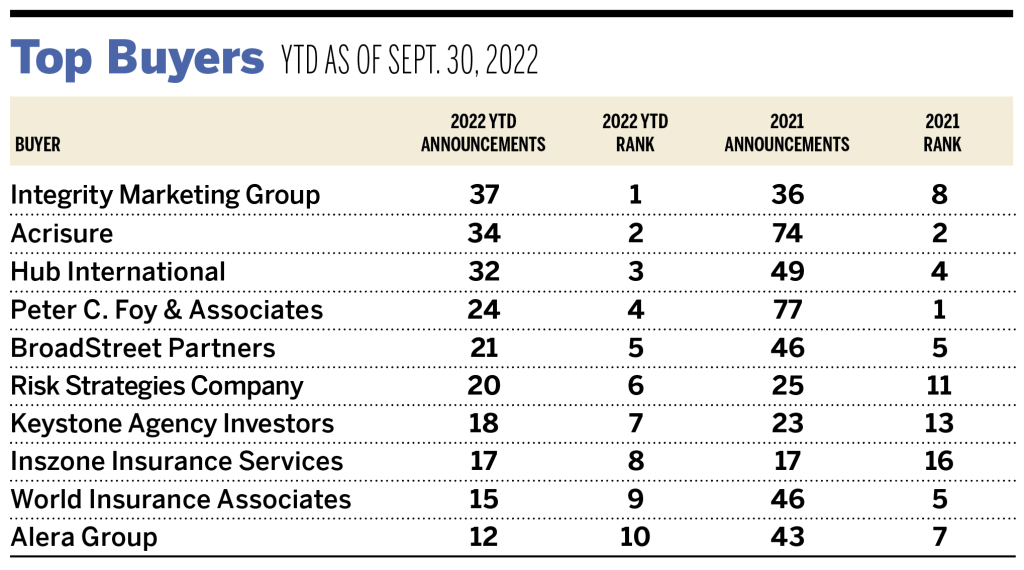 Market Update
As of Sept. 30, there have been 405 announced U.S. M&A transactions year to date. The current volume of deal announcements represents a 23% decrease compared to this time last year. As we get closer to year-end, it's anticipated that the rate at which deals are announced will increase—ultimately shortening the gap between 2021 and 2022.
Private-capital backed buyers accounted for 310 of the 405 transactions (76.5%) through September, remaining atop the various buyer classes. Public brokerages have remained consistent with last year in terms of total deal count, making up 6.2% of total announced transactions.
Deals involving specialty distributors as targets currently account for 26% of the total 405 deals year to date. This portion of the target population is up 16.6% since as recently as 2021. This trend is anticipated to continue as traditional retail brokers expand into the wholesale and delegated authority space.
Strong deal activity from the marketplace's most active acquirers remains constant through September. Ten buyers accounted for 54.1% of all announced transactions observed, while the top three (Integrity Marketing Group, Acrisure, and Hub International) account for 25.4% of the 405 total transactions.
Notable recent transactions:
Partners Group acquired a controlling stake in Foundation Risk Partners. FRP's management team maintained a stake in the firm, while
its previous PE sponsor, Warburg Pincus, will also retain a minority position. MarshBerry served as a financial advisor to FRP throughout
the transaction.
One80 Intermediaries announced its acquisition of C&M First Services. C&M is a New York-based wholesale brokerage that provides commercial and personal lines to Asian-American retail brokers throughout the United States.
Scottish American has acquired Hawkeye Wholesale Insurance Services. Hawkeye is a managing general agent and wholesale brokerage based in Washington. The firm has a niche focus in underwriting policies for habitational, contractors liability, and lessors risk.
Disclosure: All deal count metrics are inclusive of completed deals with U.S. targets only. Scorecard year-to-date totals may change from month to month should an acquirer notify MarshBerry or the public of a prior acquisition. Send any announcements to M&A@MarshBerry.com.