Top-of-Mind Risks 2019
Cyber inches nearer the top on the Allianz Risk Barometer and represents the most worrisome business-interruption trigger.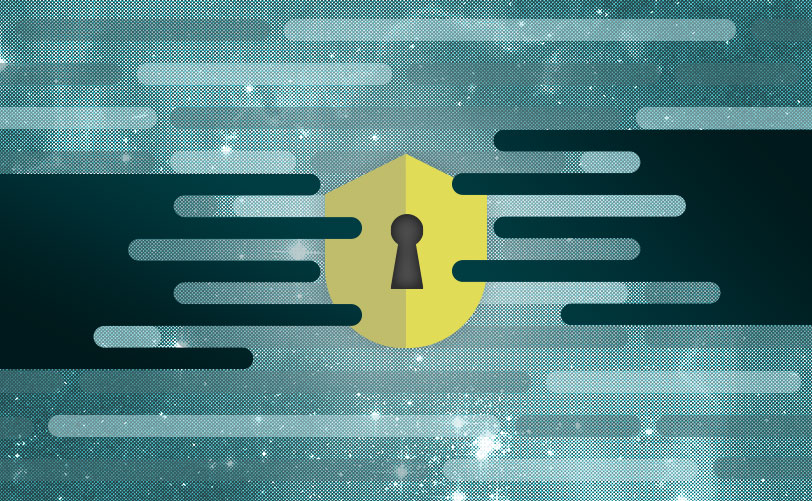 While business interruption remains the biggest concern for companies worldwide, it is primarily a concern in Western economies as well as China and Russia.
Australia is an outlier, with business interruption ranking second to cyber, according to Allianz's 2019 Risk Barometer report.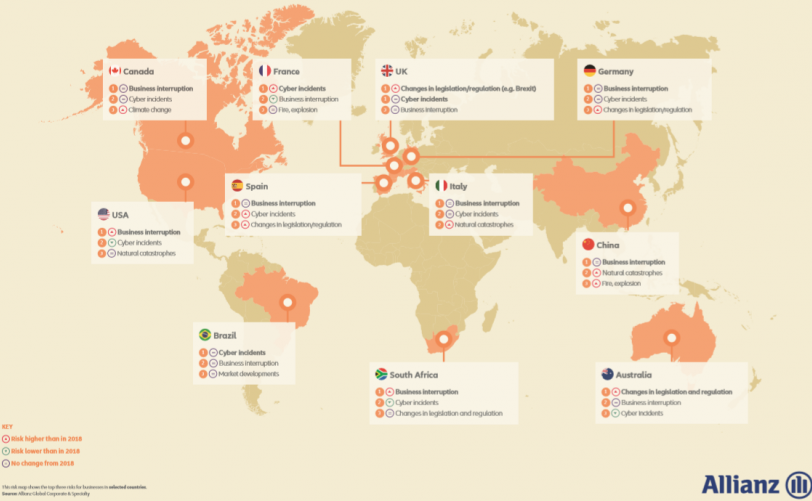 The typical business-interruption (BI) property insurance claim now totals over $3.4 million, Allianz data indicate. "Businesses face an increasing number of BI scenarios," the report states. "Many can occur without physical damage but with high losses. Events such as breakdown of core IT systems, product recall or quality incidents, terrorism, political violence or rioting, and environmental pollution can bring businesses to a standstill, meaning firms may be unable to provide products and services."
The number-two worldwide concern again this year—by just a hair—is cyber risk, which includes cyber crime, IT failure/outage, data breaches and fines. "Insurers have seen a growing number of BI losses trigged by cyber incidents with industry claims exceeding $100 million," the Allianz report states. "Many incidents are the result of technical glitches or human error rather than malicious acts."
Natural catastrophes, changes in legislation, and market developments round out the top five greatest risks globally.
In Africa and the Middle East, measured as a region, market developments rose from fourth place in 2018 to the top spot this year, followed in descending order by political risk and violence (up from No. 3 last year), cyber (up from No. 5), changes in legislation and regulation (up from No. 7), and business interruption (down from No. 1), though South Africa ranked business interruption as the greatest concern.
Rankings by Business Size
While large and midsize enterprises rank business interruption as the greatest risk they face, cyber incidents are for the first time the greatest hazard for small companies (those with less than $283 million in annual revenue), rising from number two last year. Business interruption fell from the top spot to number five for small enterprises. New to the top-10 risk list for small enterprises were shortage of skilled workforce (tied for No. 8) and loss of reputation or brand value (at number 10). Climate change popped up for the first time as a top-10 concern for large companies, coming in at number eight.
The breakdown by industry sector is fairly intuitive, with those in technology, communications, aeronautics and professional services—including healthcare and financial among others—being most concerned about cyber and most others citing business interruption as their biggest risk. Natural catastrophes and climate change were tops for agriculture, while theft, fraud and corruption just edged out business interruption for number-one spot in the transportation industry.
The main new risk of note—popping up in many sectors for the first time and worthy of a watchful eye at least through this year—is legislative and regulatory change. Ranking fourth overall, it appeared for the first time in Austria and Canada and was the top concern in Australia and Nigeria. It also appeared for the first time in five industrial sectors: chemical, pharmaceutical and biopharma industry (No. 2 ranking in that sector); consumer goods (No. 2); engineering, construction and real estate (No. 2); entertainment and media (No. 5); and marine and shipping (No. 5).
For a full breakdown of the top concerns by region, country and industry, consult the Allianz Risk Barometer 2019.