The Wild West
Self-driving car accidents are making headlines. What does it mean for the industry's future?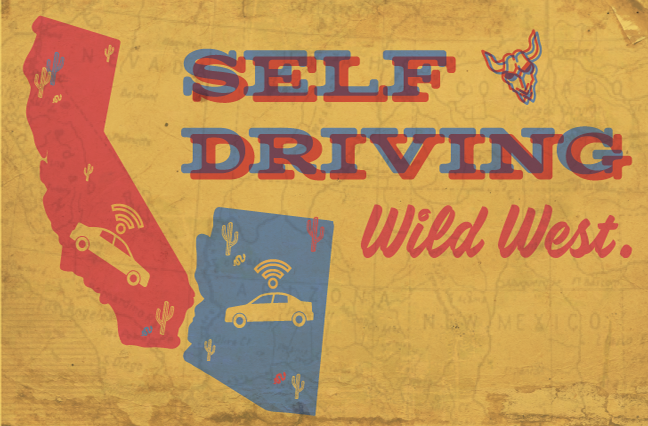 About 100 years ago, the last of the 48 contiguous American states were admitted to the Union, reaching from the Atlantic to the Pacific Ocean, and Henry Ford's Motor Company soon began to pump out automobiles that drastically cut down travel through the country.
Today, a similar industrial revolution is taking place, with more than 18 auto manufacturers and tech companies racing to push their self-driving vehicles out onto the road.
Early this year, however, two incidents involving automated cars raised questions about the self-driving revolution and whether it's time to pump the brakes…or at least lighten up on the accelerator. In March, automated cars caused two deaths: one pedestrian hit in Arizona by an Uber automated Volvo and another car accident involving a person sitting in the driver's seat of a self-driving Tesla in California. Both accidents involved cars that, while having automated features, still require a passenger in the driver's seat to take control of the vehicle if something goes wrong.
According to Thom Rickert, vice president for Trident Public Risk Solutions, a large misconception people have about self-driving cars is they don't need a fully present driver. He explains the difference between automated vehicles with self-driving features and fully autonomous cars that don't rely on a passenger for assistance. "They have these automated features, whether it's braking, lane controls, et cetera, and there always has to be a driver ready to take over," Rickert says. "With the Tesla accident, it was reported that the indication was that the extreme sunlight in front of the vehicle kept it from recognizing the tractor trailer rig…. An autonomous vehicle would allow a vehicle to drive without a driver and to do that in all conditions—i.e., all weather conditions, types of roads, rural roads, freeways, downtown surface streets."
A minor investigation into the Uber accident found there weren't enough sensors on the company's Volvo SUV, which recently replaced Ford Fusion automobiles in Uber's self-driving fleet. While transferring sensors, Uber failed to take into account the SUV's higher off-the-ground elevation, which led to more blind spots and the need for more sensors. That said, footage from inside the car shows the driver not paying attention and looking downward as opposed to in front of her.
Martial Hebert, director of the Robotics Institute at Carnegie Mellon University in Pittsburgh, believes these accidents are inevitable but could provide valuable information for the industry's future. "There are certain things that can happen that cannot be prevented, no matter how precise the system is," Hebert says. "What we need to have, and what I believe is happening, is complete analyses of those accidents and full transparency. A little like the airplane industry. When there's an accident, you know there is an investigation and a full disclosure of all the data and the circumstances and the amenities."

Although both self-driving car accidents have set back the industry temporarily—Arizona took away Uber's license to test self-driving cars in that state, for example—Ryan Harding of the Arizona Department of Transportation believes this new technology could save lives. "With public safety ADOT's top priority, we are advancing efforts that can reduce crashes and deaths on our roads," Harding said. "In 2016, there were more than 37,000 fatalities on U.S. roads, with nearly all being the result of human error…. Arizona recognizes that, and our approach to self-driving technology is one of cooperation, common sense and embracing innovation."
Insurance Evolution
The mass integration of self-driving cars could ultimately lead to market disruption for the insurance industry. "If you reduce the frequency of accidents and pay fewer claims for bodily injury and property damage, the rates over time will begin to decline," Rickert says. "Automated vehicles will begin to reduce the frequency of accidents by notifying the driver, 'You're approaching this car, I'm going to hit the brakes; you're weaving out of your lane, get back in your lane.' That type of thing will begin to reduce auto accidents over time. If you do reduce accidents by 20%, you should see a commensurate over-time reduction of rates."
"There are also the insurance considerations for the manufacturers, because there is an expectation that these systems are safer—when there's an accident, it's the software's fault; it's the hardware's fault," Rickert says. "So those types of product liability suits could increase…. [There's] the potential for cyber hacking, blocking a vehicle's connection to the stop light. That liability and how the insurance industry reacts to it will drive the availability and development of that equipment."
Ian Sweeney, general manager of mobility for the insurtech startup Trov, agrees that insurance liability will switch from current drivers to auto manufacturers or self-driving fleet operators. Trov currently works with Waymo to insure its self-driving car passengers in case of harm. Waymo, which began in 2009 as Google's self-driving car project, became an independent self-driving technology company in 2016. "Our ability to offer comprehensive protections comes from innovative partnerships, technologies and the points at which they converge," Sweeney says. "Trov's platform uses signals of 'state change' that come from any source (smart phone, vehicle state, beacon, etc.) to trigger the best-fit coverage for that context in real time. Next to this technology are Trov's insurance wizards and partners, whose collaboration gives birth to new services, policies and value for both consumers and companies alike."
Rickert believes that we are still three decades away from having a driverless car show up to our house to take us to our destination; however, it is important for the insurance industry to prepare for the mass integration of automated vehicles as this wild and promising market matures in years to come.