Did You Drill for a COVID-19 Cat 5 into Louisiana? NFS Did
Insurers and brokers can respond efficiently to Hurricane Laura claims and other disasters by using remote adjusting. And National Flood Services proved it this spring.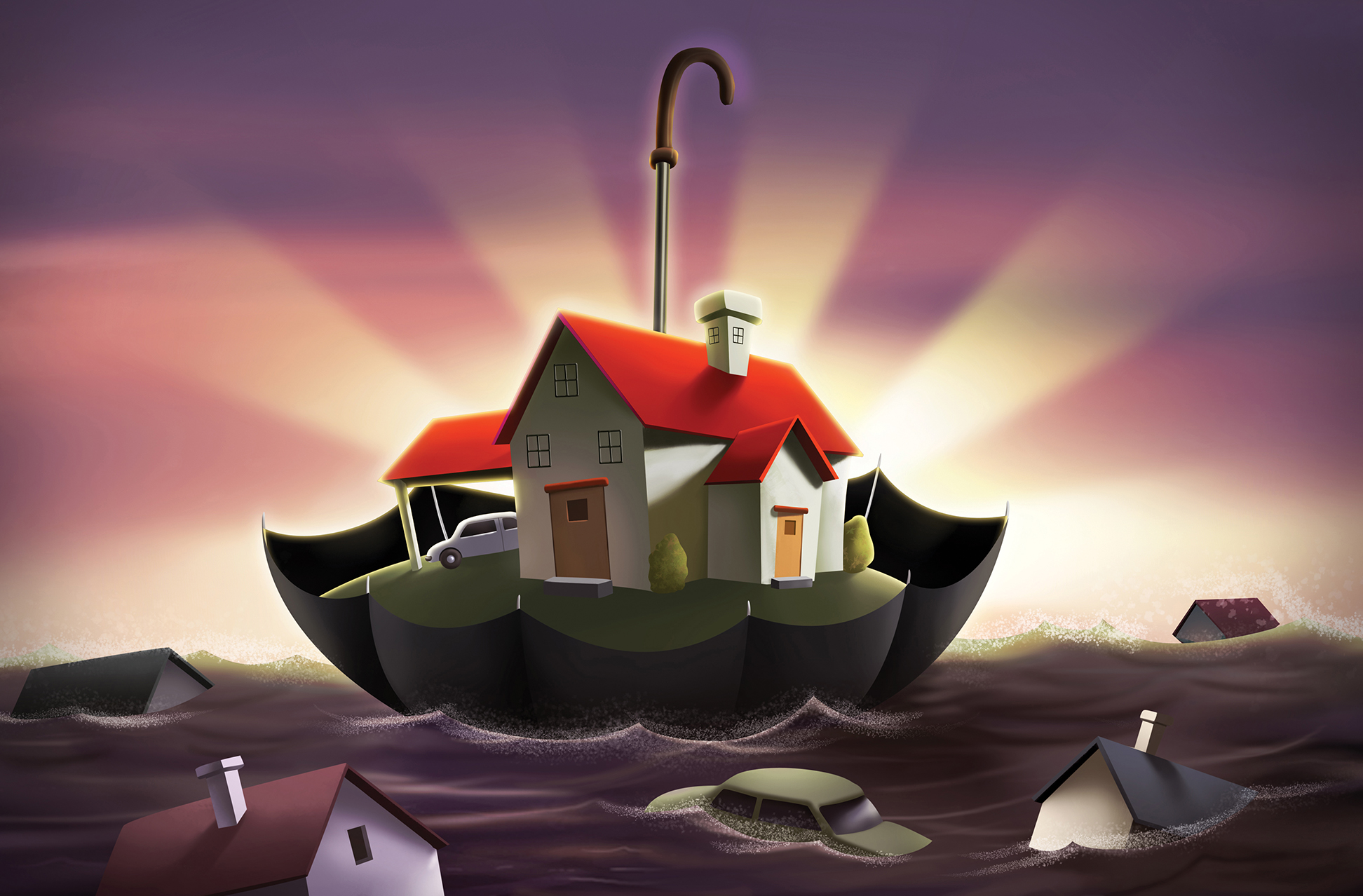 As Hurricane Laura bears down upon the Gulf Coast, the Category 4 storm will test severe-storm response and claims adjusting in the COVID-19 era
Remote inspections, virtual consultations, and health hygiene for all involved will be run through a live trial very shortly.
National Flood Services (NFS), a business processing operation (BPO) working on behalf of Write Your Own flood insurers and FEMA, was a step ahead in terms of live trials. This spring, the BPO added COVID-19 considerations to its standard hurricane response simulation.
"With COVID-19, when a hurricane hits, adjustment of claims will be problematic," says Ralph Blust, CEO of NFS, the largest BPO in the National Flood Insurance Program. "The sheer volume in one specific period—how do you react to 1,000 or 30,000 claims under COVID-19? Our company has prepared for this with mock disaster scenarios. Every year for last 20 years, we have done a three-day simulation before June 1 that simulates actual historical events that occurred over a 15-day time period.
"This year, we did our first drill traditionally, but I called the head of claims and asked that the scenario for our second drill would incorporate a Cat 5 into Louisiana along with COVID-19 constraints. We reduced our available personnel numbers drastically for our team and vendors to replicate constraints," says Blust.
This simulation allowed NFS to set up a mock response including phones, offices, and deployment of staff to simulate exactly how remote adjusting would look under COVID-19 constraints if it were necessary, not just optional. As part of the exercise, the NFS simulation team followed historical National Oceanic and Atmospheric Administration (NOAA) reports as if they were in real time. The whole trial may have aptly anticipated Hurricane Laura. The next few weeks will tell.
Remote Adjusting Increasingly Common
FEMA included remote adjusting in its guidelines for the 2020 hurricane season and endorsed remote claims adjusting as a best practice early in the COVID-19 shutdowns. That said, the sensitivity to COVID-19 in the United States has made the practice a necessity, not just a best practice.
NFS is not the only group working to bolster remote adjusting operations. Back in August of 2019, Munich Re released a collection of tools to automatically detect damage so as to improve hurricane response and claims experience for clients and brokerages. The tools include an algorithm to calculate damage assessments, extremely detailed damage predictions, and aerial views of the damage. And Travelers, State Farm and others have been doing drone surveys for damage claims for a couple of years.
What NFS brought to the scenario was accounting for the loss of available personnel both in the company's claims department and at vendors who are needed for full and best response.
It really takes a lot of pressure off the broker to facilitate the claims process. The policyholders who choose to participate are generally a little more tech savvy and want to be more interactive with their claim.
Andrew Flanagan, Director of Claims Operational Excellence, National Flood Services
"Though our Trident platform has reduced claims processing from 49 days to 22 days, we wanted something that would help us when we are short on inspectors, adjusters, etc.," Blust says. That answer came in the form of more robust remote adjusting.
What exactly does remote adjusting look like?
It's mostly—especially for homeowners and small businesses—a policyholder-access experience. For example, says Andrew Flanagan, director of claims operational excellence at NFS, the policyholder can take photos and upload them to the claims department via an online portal. "They can be guided by prompts from a smartphone application or during a call with a claims adjuster," he says. "Claims adjusters can then virtually assess the damage, saving time and travel and making things easier for brokers and their vendor partners."
In such remote inspections, an adjuster can work directly with policyholders who are on location, directing them where to point their phone and flashlight so the professional can get a better look. In some cases still photos work; in others, video better reveals the damage. All this can be done in a fraction of the time it would take to arrange for an adjuster to travel to the property, and it may also reduce the cost to the insurer. It may also be necessary if an insurer's adjusters are under no-travel rules, which many are.
A further benefit is that claims reserves can be done more accurately and more immediately. That helps the insurer know what extra expenses for temporary housing will look like and even what kind of access to the site will be available to repair contractors. If restoration specialists are needed—say for art or Persian rugs—those can be lined up quickly, with rescue actions potentially being taken before irreparable damage to those items occurs.
According to Flanagan, NFS is also maximizing online communication platforms to make claims processing more accessible for brokers and carriers across the country.
"It really takes a lot of pressure off the broker to facilitate the claims process," says Flanagan. "The policyholders who choose to participate are generally a little more tech savvy and want to be more interactive with their claim."
A Broker's Take
While remote adjusting isn't applicable in every instance, it does seem to help for smaller claims, brokers say.
"In some cases, particularly smaller claims, it can be easier than in-person adjusters," says Cindy Chitwood, vice president and national claims practice leader for McGriff's Risk Solutions Group. "Travelers has been doing this for over a year for smaller claims. Take the pictures, get those into the system, then they pay the damages."
"While drones are becoming increasingly popular and we'll see them more and more, a drone can find only so much damage," she says. "For larger properties, they still typically need more detail than a drone can give."
As far as reducing claims processing times, it depends on the carrier, Chitwood says. "For example, on flood coverage on the coast, I haven't noticed the Lloyd's syndicates or their TPAs going faster. We often have to put pressure on the wholesaler to get action. The domestic carriers are improving, though. They've realized [remote adjusting] can be the best way to go. They mostly have been very accommodating."
But even with remote adjusting, the broker still has a role to play, especially for larger accounts that have service plans.
"We get data feeds as far as claims and reserves," says Chitwood, "and we can set up alerts if a client goes over a certain reserve amount. We also have consultants who work for us to take on after-hours claims or other events that require specialty attention. Our client center knows the triggers during the day, but after hours, contacts are automatically transferred to our consultants."
There may be problems with being too proactive, though, Chitwood notes. "Some people want to file claims in advance for storms they know will be destructive. They think they will get their policyholder some level of priority by being in the system first. But that's not how it works. Adjusting priority is based on severity.
"We even see claims filed early that end up falling below the policyholder's deductible. That just puts undue work on the carrier, and it can overwhelm the carrier quickly and unnecessarily."
Ways Others Have Prepped Remotely
While NFS prepared for its hurricane response by changing simulation parameters, Allianz Global Corporate & Specialty (AGCS) used its built-in remote capabilities to control losses at its policyholder properties.
"While the health and safety of occupants and employees at our insureds is most important, as a property insurer we have to look at the ability of the policyholder to get back up and running," says Andrew Higgins, senior regional technical and expertise manager at Allianz Risk Consulting, part of AGCS Americas. "With COVID, it's going to be hard to do that smoothly. But we took steps this week to help our policyholders shut down operations and get them in place to go back on line smoothly."
AGCS had a small trial a few days ago when Tropical Storm Marco traipsed through, dumping heavy rains on the Gulf Coast region, and things went smoothly. But a Cat 4 is a completely different animal, and its destruction may be exacerbated by Marco's soggy soils. Putting adequate loss controls in place before Laura's strike is crucial, and that's where the AGCS team has used its oxymoronic "remote presence."
"For our part in my group," Higgins says, "we always have worked remotely. I've been working for about 30 years, and it's all remote. So from that standpoint, we're already set up to help our insureds. For Hurricane Laura, I've received and responded to emails on how to prepare facilities to minimize damage. I've sent out checklists. I've sent out notifications to our engineers on our upcoming response.
"We work more upfront in our office—do this, this and this to prepare and prevent loss. So it's natural for us to handle things remotely. Now, everybody's kind of used to working from home. But I think, if a disaster of this scale had happened in March, the industry wouldn't have been prepared."
Such virtual interaction and preparations are in line with Florida's Office of Insurance Regulation (OIR). In its June 25 informational memorandum, OIR advised insurers "to review all aspects of their claims reporting, adjustment, and payment processes to determine what in-person services can be provided virtually."
In an email response to questions, Florida Insurance Commissioner David Altmaier says, "My office actively prepared for the 2020 Hurricane Season with COVID-19 in mind, and we continue to monitor each developing storm. As we consider social distancing and other important safety measures in response to COVID-19, we have encouraged insurers to identify new ways of doing business, such as deploying virtual claims handling, to protect consumers and increase efficiencies. It will always be my expectation that insurers clearly communicate to policyholders and provide prompt, efficient, and fair claims adjustment service."
FEMA says it will reduce personnel deployments to disaster zones but has aligned resources to rapidly provide and replenish commodities. This is an excerpt from the agency's May 2020 "COVID-19 Pandemic Operational Guidance for the 2020 Hurricane Season."
While COVID-19 morbidity and mortality persist, FEMA will generally minimize the number of personnel deploying to disaster-impacted areas and minimize the number of new field deployments by using personnel already deployed to the impacted region, including FEMA Integration Team (FIT) members or other FEMA personnel already working at EOCs, deploying locally-available personnel, and leveraging remote disaster support. FEMA Regional Administrators, in partnership with FEMA Headquarters (HQ), will evaluate risk in their regions and determine the most appropriate approach to deployments while considering the guidance and direction of public health officials and the factors established in the White House Guidelines.
To support virtual deployments and remote disaster operations, FEMA is planning to:
Increase communications to the public through social media platforms, virtual townhalls, and coordinated messaging to survivors from FEMA officials and [state, local, community or jurisdiction, tribal, or territorial] SLTT leadership, and ensure that all communications are provided in ways that are accessible to individuals with disabilities and limited English proficiency
Ensure remote disaster personnel have the most up-to-date policies and procedures, training needs are met, and supervisors have the tools needed to appropriately manage employees
Increase availability and deployment options for FEMA personnel to make informed decisions on how to support disaster operations while protecting the health and safety of the workforce
Continue use of virtual personnel mobilization center process to facilitate rapid deployment of personnel and ensure that deployed personnel receive information technology services as needed to prepare them to directly support impacted areas
Increase information technology support for remote disaster operations, including, but not limited to, remote inspection processes, remote preliminary damage assessments, and working with partners to pre-identify accessible technology platforms that can support virtual meetings with interagency, private sector, NGOs, and SLTT partners.