Countdown to Catastrophe
If Congress kills TRIA, it may also cause an economic implosion.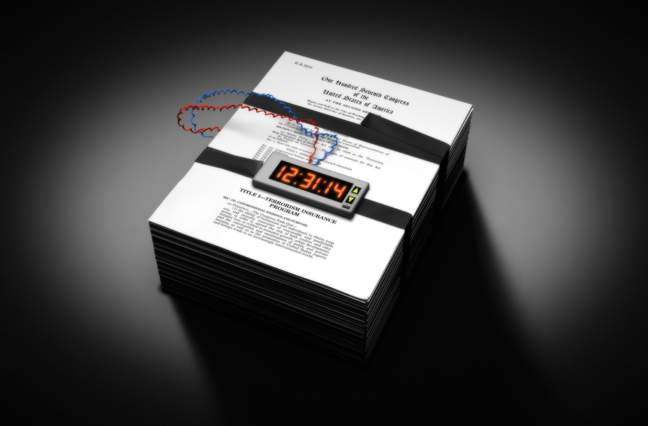 Another extension of the Terrorism Risk Insurance Act may come at a price for the insurance industry.
With the law scheduled to sunset on December 31, insurers and brokers have been asking Congress for an extension, and to date three bills to modify or extend TRIA have been introduced in the House of Representatives. Yet all of them remain in committee, with no votes scheduled. That leaves insurance brokers the unenviable task of telling clients they don't know what's going to happen.
"Certain carriers are already issuing sunset clauses, allowing them the ability to cancel terrorism insurance in the event of a non-renewal of TRIA," says Wendy Peters, the senior vice president for Willis's Terrorism Practice Group. "Obviously this is starting to affect our clients now because we are getting into the 2014 renewal season. We've seen them already implemented in builders risk contracts—construction contracts, which were going two or three years. That's an issue."
TRIA critics say the program amounts to corporate welfare, providing taxpayer support for an industry that doesn't need any. They say the industry has recovered from 9/11 and specifically that the reinsurance industry has attracted sufficient private capital to provide cover. A study by Aon, however, indicates 85% of carriers now selling terrorism insurance in the United States would stop providing coverage if TRIA is not extended.
"It's Aon's position that risk hasn't really diminished," says Aaron Davis, a managing director with Aon Risk Solutions, Aon's global risk management business. "But if TRIA disappears the market for terrorism risk in the U.S. will disappear as well."
Three bills were submitted in 2013.
H.R. 508, the Terrorism Risk Insurance Act of 2002 Reauthorization Act of 2013, introduced by Representatives Michael Grimm, R-N.Y., and Carolyn Maloney, D-N.Y., would extend TRIA five years.
H.R. 2146, introduced by Rep. Michael Capuano, D-Mass., would extend TRIA 10 years and require the President's Working Group on Financial Markets to report in 2017, 2020, and 2023 on the long-term availability and affordability of terrorism risk insurance.
H.R. 1945, the Fostering Resilience to Terrorism Act of 2013, introduced by Rep. Bennie Thompson, D-Miss., extends TRIA for 10 years and would require the secretary of homeland security and the secretary of the treasury to certify which events meet the legal definition of an act of terrorism.
The current legislation contains several triggers that affect how much taxpayer money is at risk:
An event must be certified as an act of terrorism by the secretary of the treasury, the secretary of state and the attorney general.
An event must cause at least $100 million in aggregated insured losses on the affected lines.
Insurers must pay a deductible equal to 20% of their gross earned premium from the prior year from lines that are subject to TRIA. This has increased from 7% percent in 2003. For large carriers, this means they must spend billions before being eligible for TRIA assistance.
Once the deductibles have been met, the federal government will pay 85% of each insurer's losses that remain, up to $100 billion.
The Look of Compromise
Peter Beshar, the executive vice president and general counsel of Marsh & McLennan Companies, told the Senate Banking, Housing and Urban Affairs Committee last September that the insurance market probably could increase private coverage. But Beshar said there are limits to what the market can absorb in losses, particularly in the event of a large-scale conventional attack or a nuclear, biological, chemical or radiological (NBCR) event. NBCR is not required to be covered under TRIA. He suggested that TRIA be modified to require coverage for all forms of terrorism—including NBCR events and cyber terrorism. (Only in limited situations, is NBCR currently required.)
Critics of TRIA, including consumer watchdog groups and the influential Cato Institute, want to bring the program to a close or at least require the insurance industry to commit to more skin in the game.
Certain carriers are already issuing sunset clauses, allowing them the ability to cancel terrorism insurance in the event of a non-renewal of TRIA.
Wendy Peters, senior vice president, Willis
"A dozen years after the tragic events of 9/11, the terrorism marketplace has settled to the extent that it is past time for the government to step aside and let the private sector handle the portfolio," says Steve Ellis, vice president of Taxpayers for Common Sense, a nonpartisan budget watchdog. "If there is an extension, and we are not proposing there needs to be one, it should be for a short duration, charge reinsurance premiums, reduce the taxpayers' exposure to risk, and explicitly put this 'temporary' program on a path to ending."
Ellis says that any extension should be for two or three years and clearly state that it is the last extension. Additionally, he says any new extension should gradually increase the trigger for federal involvement to as much as $50 billion. Moreover, the deductibles should be increased throughout the extension, and the federal government should charge a premium for its reinsurance coverage.
Ernst Csiszar, an associate fellow at the R Street Institute, a public policy think tank devoted to a free-market economy, says Congress needs to move more risk onto insurers. Csiszar recommends Congress extend TRIA for five to 10 years but raise the $100 million loss trigger to as much as $25 billion. He also recommends raising the industry's deductible to 40% of the past year's direct earned premium for commercial lines subject to the law and increasing the co-pay arrangement for insurers to 25% (up from the current 15%) of losses that exceed an insurer's deductible.
He recommends the U.S. Treasury charge a risk-based price for the reinsurance coverage it extends to the industry and invest those premiums in risk transfer, including reinsurance, catastrophe bonds or other vehicles.
While some critics of TRIA call for scaling down the taxpayer burden, others want the federal backstop to go away for good. TRIA's opponents range from the libertarian Cato Institute, which calls it corporate welfare, to conservative groups such as Club for Growth and FreedomWorks.
"It's another temporary government program that has been allowed to survive for more than a decade now," says Patrick Hedger, a policy analyst at FreedomWorks. "It's a classic form of corporate welfare and wholly unnecessary. Insurance companies should not be allowed to collect 100% of the profits from risk-insurance premiums and then transfer liabilities to the taxpayers when costs exceed a certain threshold."
The federal government shouldn't be in the business of subsidizing private insurers to provide a product that the free market can do on its own.
Barney Keller, spokesman, Club for Growth
While 9/11 is the most significant man-made disaster in terms of its cost to the insurance industry, Hedger says, "the insurance market has proven capable of enduring losses from much more costly natural disasters, such as Hurricane Katrina, without similar federal assistance."
Adds Club for Growth spokesman Barney Keller: "The federal government shouldn't be in the business of subsidizing private insurers to provide a product that the free market can do on its own. We do not support terrorism risk insurance in any form. We will look to support legislation that achieves an end to the program."
Yet many in the industry do not believe there is enough private capital in the stand-alone market to warrant removing the federal backstop.
"While there is substantial capacity in the insurance market, it is debatable as to whether there is sufficient capacity to respond to another 9/11 loss, thus a final catastrophe backstop would be desirable," says Pamela Fox, a specialist in terrorism and political violence for Arthur J. Gallagher International in London.
Aon's Davis says removing the backstop would likely cause premiums to increase in the stand-alone market.
"The reality is there are certain markets that have limitless capacity, but that comes at a cost," says Davis. "You can very quickly come up with a situation where the cost of your insurance is so great that it makes the net operating income associated with those assets non-performing.
"Frankly, new projects are not going to be able to take place as far as terrorism insurance because the financing will require terrorism insurance and in certain zip codes in certain cities there just won't be enough capacity for them. We're already seeing that with a number of major projects that we are working on. It's why Aon is really advocating for this to be extended, because there really isn't an alternative out there in the private marketplace."
Support for extending TRIA comes from some powerful groups, including the U.S. Chamber of Commerce, the National Association of Realtors, the Real Estate Board of New York, the American Gaming Association, the Real Estate Roundtable, the American Hotel & Lodging Association, the American Insurance Association and the National Association of Mutual Insurance Companies. In sports, the extension is favored by Major League Baseball, the NFL, NHL, NBA, NASCAR, NCAA and the U.S. Olympic Committee.
An extension also has bipartisan support on Capitol Hill.
Major, essential economic engines in our country will grind to a halt if Congress does not extend TRIA. Hundreds of thousands of jobs across the country will be lost.
Rep. Carolyn Maloney, D-N.Y.
"The terrorism risk insurance program is perhaps the most successful example of a public-private partnership to date," Rep. Peter King, R-N.Y., told the House Committee on Financial Services last September. "It brought private insurers back into the business of protecting against terrorism following the devastating effects of 9/11, with only minimal federal administrative costs."
Maloney also supported extending TRIA when she testified before the financial services panel: "If Congress doesn't extend TRIA, major construction projects in New York, Boston, Chicago, L.A. and more will stop," Maloney said. "If Congress doesn't extend TRIA, Disney World, sports stadiums, and local infrastructure projects won't be able to get insurance. Major, essential economic engines in our country will grind to a halt if Congress does not extend TRIA. Hundreds of thousands of jobs across the country will be lost."
It's a critical decision, one that has insurers and insureds hanging on the outcome.
"At the end of the day I wish I felt that Congress was really going to evaluate this the way that they should because they certainly haven't in the past," Peters says. "Everything has been sort of a knee-jerk reaction or politically expedient—it's never been something that was based on critical decision-making and empirical data."