Travis West, CEO, Fringe Benefit Group
The business has changed so much in the past 20 or 30 years, but the people problems are pretty consistent.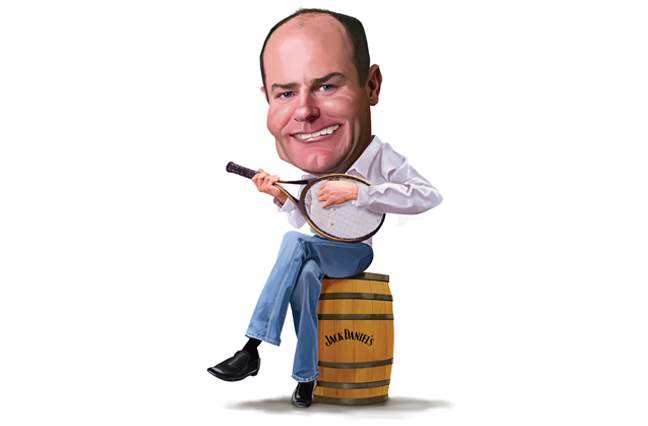 Q
You grew up in Austin. What's it like to live there now?
A
It's known as the "live music capital of the world." It's a neat combination, with the University of Texas, the state capitol. It's a very vibrant town.
Yet you went to Washington and Lee University in Virginia.
I wanted to see someplace else. It was a great experience, an awesome school. It's small—we had about 400 people in our class, from all over the United States. It's named after George Washington and Robert E. Lee, who both played important roles in its history, and it's just a special place. I played tennis there.
And you majored in politics.
I had ideas of going to law school, but I ended up working for my dad selling insurance after I got my MBA at the University of Texas—much to the chagrin of my mom.
Why the chagrin?
Moms want you to be doctors or lawyers.
Was it not always assumed you'd go to work for your dad?
Just the opposite. I wasn't intending to come into the business—certainly not right away, like it occurred.
It was not even on the radar?
It was there. I think it was just kind of assumed I would do something else and then come back to the business at some point.
What was your first job with your father's company?
I started in July 1993 calling on brokers on the West Coast. I got to spend a lot of time in California, the Northwest, Arizona, which was fun as a younger, single person.
What was your plan when you took over in 1998?
Initially it was, Hey, I just don't want to screw this up. Dad was confident I could run the business.
Have you made a lot of acquisitions?
No, we haven't. We've made three in the last 20 years—two this year. The rest of the growth has been organic, which has been nice.
Was your father your most influential business mentor?
Absolutely. I still talk to him weekly about some aspects of the business. The business has changed so much in the past 20 or 30 years, but the people problems are pretty consistent. Rarely do I come across a people problem he hasn't been exposed to.
When did you start playing tennis?
I was playing when I was 10. I did the East Texas travel circuit and was ranked as a junior.
Who were you childhood tennis heroes?
John McEnroe, Bjorn Borg, Jimmy Connors. McEnroe was always my favorite. He was entertaining, definitely a competitor.
What do you like to do when you're not working?
I enjoy spending time with my kids. The boys are into the outdoors and hunting. My daughter's in gymnastics. I play a lot of golf. That's my connection to my father.
How about a favorite vacation spot?
Crested Butte, Colorado. We have a home there. It's our sanctuary, I suppose. It's real small, and the kids can ride their bikes around. We don't have to worry about them.
And you have a family ranch outside Austin.
In Lampasas, Texas, about an hour outside of Austin. We bought it two years ago. We have horses, miniature donkeys. It's a hunting operation, so we have whitetail deer. We entertain through hunting, so we use it for clients and friends and family.
Has your business success surprised you?
It's wildly exceeded my expectations. It's fun, and we are helping people. That's why I'm doing it.
What makes it fun for you?
I like the problem-solving aspect. It's always something new. On the distribution level, how do we get a product out? On the carrier-partner level, how do we make money for our partners so they want to continue to work with us?
What's the most interesting thing in your office?
I'd have to say it's my single barrel of Jack Daniels. It was a 10-year anniversary gift from my dad. We spent the night on the master distiller's farm in Lynchburg. It was a real neat weekend. I ended up with 23 cases of Jack Daniels when they bottled it. And they give you the barrel to go with it.
If there were one thing about the insurance industry that you could change, what would it be?
From a tactical standpoint, we operate in all 50 states, and keeping up with 50 state licenses seems painful and unnecessary. It seems like it would be a pretty easy fix.
What gives you your leader's edge?
We're a niche business. Keeping our focus on those niches is important, just continuing to look into the future. We do our best to shape the future instead of seeing whatever happens happen.
The West File
Age: 44
Hometown: Austin, Texas
Family: wife, Sherri (married 15 years); stepson, Tyler, 23; son, Jackson, 12; daughter Georgia, 10
Last family vacation: Crested Butte, Colorado, last summer. ("We played golf. We rode bikes. We went to the park. We did some hiking. We fished.")
Wheels: Ford F-250