Tom Grealish, President, Henderson Brothers
We created one of the funniest buildings in America. I want you to know quotes from Caddyshack and Seinfeld.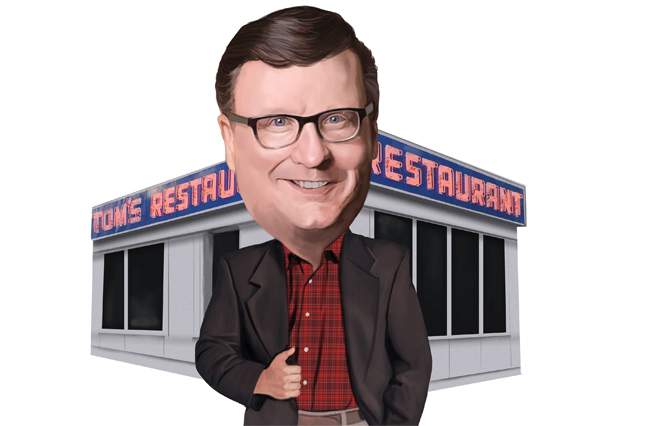 Q
Did you grow up in Pittsburgh?
A
I grew up in Pittsburgh and never left. Pittsburgh has been able to reinvent itself over the years. We lost big chunks of the steel industry back in the 1970s, and we've been through other recessions. We've not only managed to hang in there but grow and prosper.
How?
The corporate community is very civic-minded. Very big banks like PNC make their homes here and invest here. That's a big deal. I think the healthcare system is second to none. What people don't know about the city is how many universities there are—Duquesne, Carnegie Melon, the University of Pittsburgh, Robert Morris. We have 50,000 to 60,000 students. Also, a lot of industrialists came out of Pittsburgh—Carnegie, Frick, Mellon. They gave very generously to the city, and I think that's what saved us.
Tell me about Henderson Brothers.
We have one office, with 135 employees. We do property-casualty, employee benefits and personal insurance. We have a large retirement division. We've been members of The Council for a long time. My dad bought the business around 1960. The agency itself is 120 years old.
What's been your approach to stewardship of the business?
We try and establish a place where professionals and people that care about clients want to be. It's also one of the funniest buildings in America. I want to know that you know some quotes from Caddyshack and "Seinfeld."
Where does that come from?
I think that's a lot of me and Dan, my brother, who's chairman of the board. What we do is hard. Why not try and lighten it up a bit?
What's different about Henderson Brothers?
We got really good at recruiting young people. We started an internship program 10 years ago. We hired 15 people full-time. Everybody gets mad at the millennials. We embrace them. I think they have a lot to offer.
What's your favorite local sports team?
That would have to be the Penguins. I'm on the board. Mario Lemieux and a group bought the team out of bankruptcy. I was part of that.
How did you connect with Mario Lemieux?
A friend of mine hooked us up for a golf game. We were both in our twenties. He had already been here four or five years. I didn't know much about golf. He didn't know much about business, so we had a lot to talk about.
You're also involved in the Mario Lemieux Foundation.
It started right after he got diagnosed with Hodgkin lymphoma. We've raised and given away more than $20 million. We just gave a large gift to the Hillman Cancer Center for blood cancer treatment.
Do you live in the city?
I live right in the middle of the city. I walk to work almost every day. I'm 800 yards from my office. Weekends, a lot of times I'll put on a headset and walk through the city.
What's on your headset?
My favorite would be jazz. I played piano. I was given lessons by a guy named Vince Lascheid, a great jazz piano player. The local joke is: Who played for both the Pirates and the Penguins? It was Vince Lascheid. He played the organ for both teams.
Is there a good jazz scene in Pittsburgh?
The lobby of the Fairmont Hotel has jazz four nights a week. Pittsburgh has an unbelievably rich history in jazz, including the greatest piano player of all time, Erroll Garner.
Do you do a lot of traveling for work?
Not a lot. I do ride-along days. I'm gone from seven in the morning through dinner, spending the day with salespeople and account executives.
Why do you do that?
People don't listen enough. It really gives you a chance to find out what your clients are worried about and thinking about. It also gives you a lot of windshield time with your workers. Ten minutes in the office, they might not give in to you. Twelve hours in the car, you're going to hear it all.
What did your dad teach you about business?
He said to me—I was right out of college—"Let me give you two pieces of business advice." We're on a golf course. He said, "Never co-sign a note. Just give them the money. There's less stress." And he said, "Never open a bar or restaurant." I said, "That's it?" He said, "That's it." And he was right.
How would your co-workers describe your management style?
They'd call me very approachable. I come to decisions pretty quickly and don't panic when something goes wrong.
If you could change one thing about the insurance industry, what would it be?
If we would just listen more. You have to be more aware about how to read a room and what people are worried about and thinking about.
What gives you your leader's edge?
Being able to think strategically and then being able to communicate that.
Tom Grealish
Age: 54
Hometown: Pittsburgh
Last book read: The Escape, by David Baldacci
Last movie seen: American Sniper ("I felt exhausted at the end of it.")
Wheels: Hyundai Equus ("I'm wondering what I even need a car for.")