To Canada with Love
Toronto is commemorating the Canadian Confederation's 150th birthday with a year-long celebration.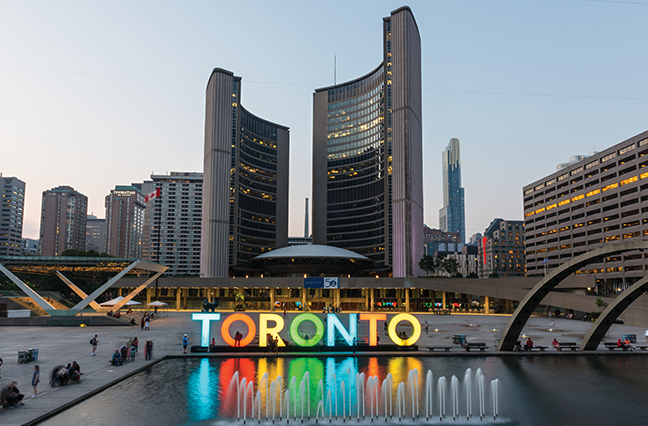 This year marks 150 years since the colonies of Canada, Nova Scotia and New Brunswick formed the Canadian Confederation on July 1, 1867. In honor of the sesquicentennial, the country kicked off Canada 150 last New Year's Eve, launching a year of commemorative events reflecting the history and heritage of each province.
Thirty official city-produced events will take place during Toronto's 150th birthday party, deemed TO Canada with Love. Many of the events, such as the Multicultural Canada Day Celebration, honor the city's rich diversity. From festivals to music to art, there is a lot going on, so if you are traveling to Toronto, check with your hotel's concierge to see what is on the calendar while you are in town.
The big event is Canada Days, which runs from June 30 to July 3 with the main celebration occurring on Canada Day, July 1. The four-day festival will include events at Nathan Phillips Square, where you can take a selfie with the illuminated 3D TORONTO sign in front of City Hall, which is sporting a new red maple leaf by the final "O." But many events, such as Canada on Screen, a showcase of 150 movingimage works from Canada's history, are ongoing. You can catch a screening of the features, shorts, documentaries, animation, television, experimental works, music videos, commercials and moving-image installations at the TIFF Bell Lightbox, the hub for the Toronto International Film Festival.
Likewise, the Toronto Symphony Orchestra will perform existing and new Canadian music throughout the year, from indigenous to indie to classical and cutting-edge. The government of Canada chose the orchestra to present Canada Mosaic, a Canada 150 Signature Project. As part of the project, the orchestra has co-commissioned two-minute works, "Sesquies," from 38 partner orchestras in every Canadian province, which will premiere in Toronto.
While there are no official restaurant events scheduled, homage must be paid to this global foodie city. To quote David Chang, who has five restaurants in Toronto and is widely considered to be among the best chefs in the world, "If people ask me, 'What do you think could improve in Toronto dining,' I'd say there's nothing to improve on." Nevertheless, Toronto chefs continue to raise the bar. Five of Toronto's restaurants made the top 10 on the 2017 Canada's 100 Best (alas, not 150) list: Alo (1), Edulis (5), Buca Yorkville (7), Canoe (8) and Dandylion (9). As the magazine's editor, Jacob Richler, says, "That is total domination of fine dining."