Tech-No-Savvy
Turn the light out, dear? No, I've still got 27 emails. Work doesn't end at the office door, and for many workers, it doesn't even stop at the bedroom door. […]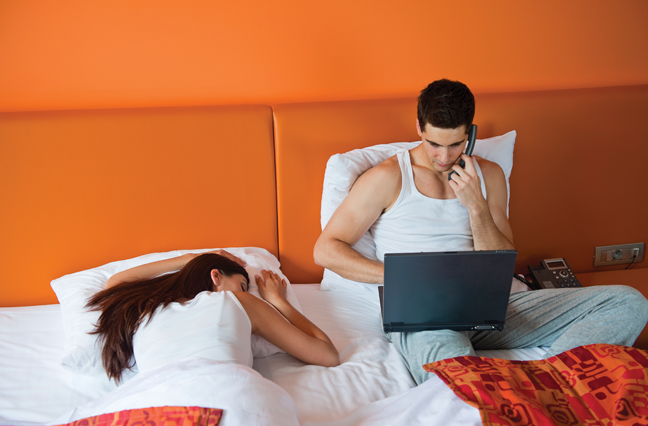 Turn the light out, dear? No, I've still got 27 emails.
Work doesn't end at the office door, and for many workers, it doesn't even stop at the bedroom door. Half of Americans read or respond to emails from bed, according to a survey by mobile security firm Good Technology. More than two thirds say they won't go to sleep without checking their work email first, and many check their emails when they wake up. The survey of U.S. working adults shows the 80% who continue to work outside the office clock 365 extra hours every year.
---
TECH Q&A
Innovation Fatigue
Mike Fitzgerald, Celent senior analyst, talks about innovation fatigue and consumer preferences.
What is innovation fatigue?
Innovation means so many things that people are just worn out on it. It's like social networking was last year and big data is this year. Where we were taking it with our research was: Do consumers really care about it overall? Do they make buying decisions based on a firm's reputation? If so, how is the insurance industry perceived in consumers' minds?
Too much talk, not enough specifics?
Yes. When something gets used so much, it means something different to everybody.
When it comes to innovation, what do customers want?
Brokers don't have to do much to appear innovative. It's a pretty low bar, but it's an opportunity for those seeking a little edge.
What should brokers do?
Introduce something now, if they haven't already, into the way they approach their customers that's seen as innovative, even if it's just a Facebook site or a Twitter account. They have to create a presence. This makes a positive difference to consumers.
---
A Better Mousetrap
Until smartphones let us swipe and tap our way through emails in bed, many of us were content to rely on the venerable mouse to click through our inbox at our desks. Now, wireless stand-alone track pads can bring that smartphone touch experience to desktop computing. For Apple fans, there's the Magic Trackpad ($69) that supports a variety of gestures. PC users may want to check out the Logitech t650 touchpad ($80) built to work with Windows 8.
---
Dr. McCoy to sickbay!
Real life gets closer to science fiction every day. "Star Trek" fans who remember the handheld scanner used by Dr. Leonard McCoy may see something similar in their own doctors' offices soon. Engineers at the University of Illinois at Urbana-Champaign have created a handheld 3D medical scanner that would enable primary care physicians to image sites they commonly examine and more, such as middle-ear bacteria colonies or the retinas of diabetes patients.
---
COOL APPS
2Do or Not 2Do
It's that time of year when you try to put a little more order in your life, set personal goals and (hopefully) reach them. But the clutter of daily living always gets in the way. New crises, demands and distractions pop up. Need a daily reminder to get back on course? These apps can help.
The Google Calendar app, now available for the general Android community, lets you see events from each of your Google accounts in one place, see non-Google calendars and quickly email all event guests. Free on Google Play.
Week Calendar for iPhone gives you a detailed view of your weekly appointments, provides pop-up balloons to make each event easier to read and syncs with all your other calendars. iTunes. $1.99.
Cozi Family Organizer, for iPhone and Android, lets you keep a family journal and manage your whole family's schedule with a shared calendar, shopping and to-do lists. Free. iTunes. Google Play.
2DO, for iPhone, iPad and Android, is an all-around manager for the to-dos in your life, from simple checklists to full-blown project management. Syncs multiple devices. $9.99, iTunes; $6.99, Google Play.