Stay, Eat, Do: Great Smoky Mountains
There's nothing like mountain living.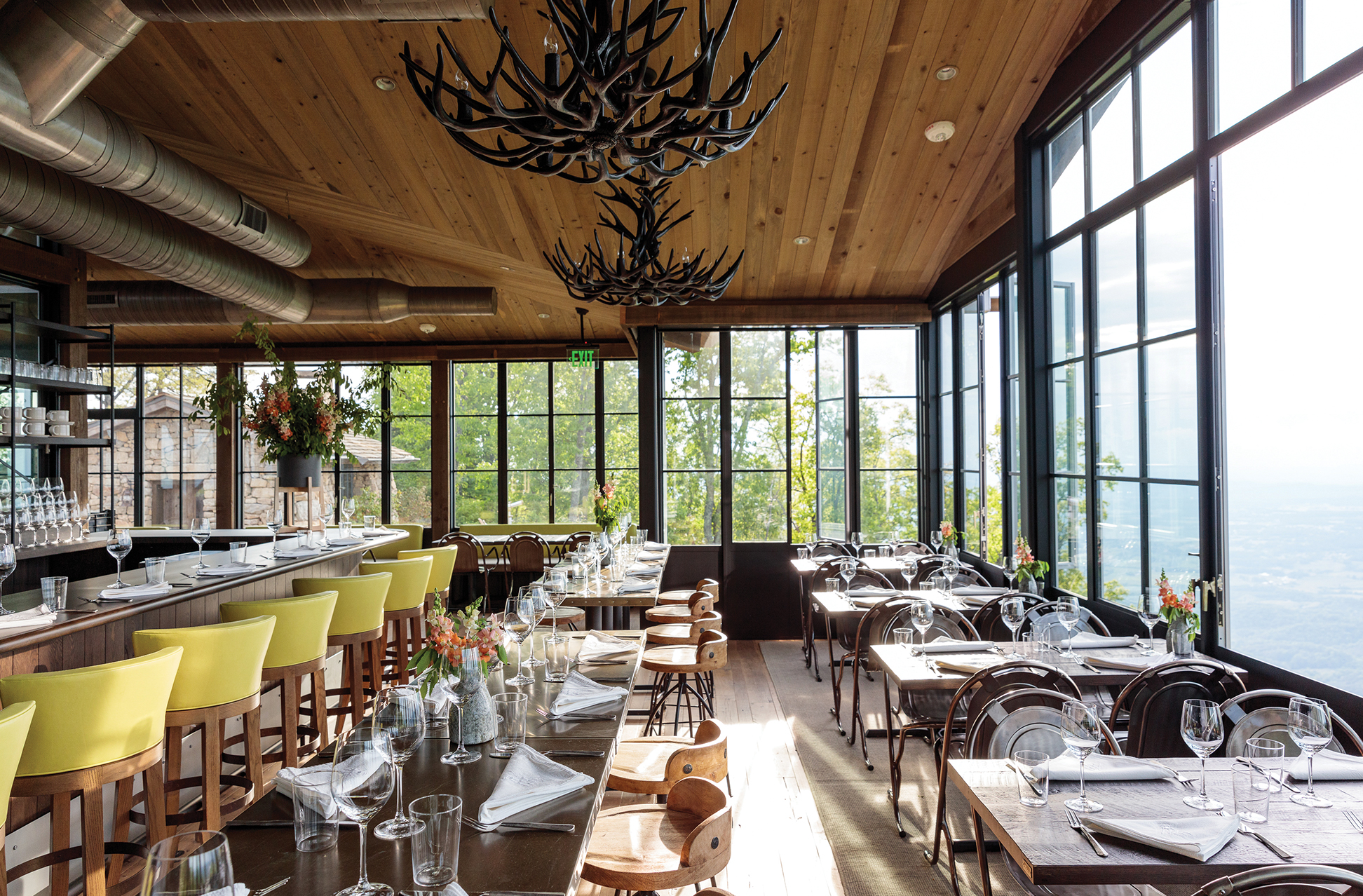 Michael Broadbent, a leading English wine authority, author and columnist, once said, "Drinking good wine with good food in good company is one of life's most civilized pleasures."
His are words of wisdom you can live by at Blackberry Mountain or Caldera House.
Blackberry Mountain's wine program is under the loving care of sommelier Andy Chabot. An alum of the Culinary Institute of America, he began his career at Blackberry Farm in 2002, taking a keen interest in the burgeoning wine program. In less than six years, the wine cellar grew from 17,000 bottles to 166,000, and in 2014 he won a James Beard Award for Outstanding Wine Program. His latest passion has been building the wine cellar at Blackberry Mountain, focusing on unadulterated, sustainably farmed wines that are made with a generational approach to winemaking. The cellar includes wines from classic regions and small family-owned wineries, each bottle telling the story of the people and place that make it special. Andy strives to fill the cellar with wines that are unique to the resort, either by vintage, vineyard or producer, so you might want to record your tasting notes as Mr. Broadbent did. (He filled more than 100 notebooks over his career!)
1
Stone Cottages >> These one-bedroom cottages, some of which have a full murphy bed for children, are close to the lodge and pool. Features like stone archways, reclaimed oak floors and white, rough-sawn walls have been crafted from mountain materials. Some have outdoor soaking tubs, and all have patios with wood burning fireplaces and views of the Smokys.
Azalea Gap and Mountain Homes >> The two-bedroom, two-story Azalea Gap homes have a full-size kitchen, laundry room, dining room, living room with stone wood-burning fireplace, and screened porch with a another wood-burning fireplace. The Mountain Homes can accommodate 10 to 12 people, so they are perfect for large families or a group of friends.
Watchman Cabins >> These secluded cabins are located at the peak of the mountain and the outdoor heated soaking tub, a romantic choice for couples. They're a 10-minute drive from the lodge, but the pantry is stocked and you can watch the sun both rise and set from the Adirondack chairs on the patio.
Eat: Local
2
Three Sisters >> Executive chef Josh Feathers, a native of Tennessee, helms the flagship restaurant. He utilizes foraged and regional ingredients and wild game, as well as international foods and techniques, to create the innovative small plates, entrées and desserts that reflect his love of both Southern cooking and international cuisines.
Firetower >> A restored 1950s lookout tower is the setting for this casual restaurant where sweeping views of the mountains compete with the seasonal fare.
Whippoorwill Lounge >> This all-day lounge is the spot for a hearty breakfast, poolside snack or fireside dinner.
Drinks >> Beers are from the Blackberry Farm Brewery. Roots, herbs, spices and other wild edibles are incorporated into the cocktails. Wines are sourced from sustainable producers.
Do: Soul Care
3
Art >> You can connect to your inner artist while throwing pottery, making ceramics, painting, sketching or hand-weaving baskets using grapevine from the mountain.
Nature >> Mountain adventures include hiking, mountain biking and horseback riding on the seemingly endless trails; fly fishing, boating and paddle boarding on nearby streams and lakes; and more adventurous experiences like rock climbing, aerial yoga and guided overnight backpacking and camping trips.
Wellness >> In addition to massages, yoga, and holistic healing and nutritional classes, there are several unique experiences that incorporate art and nature, including forest bathing, inspirational hikes, and guided watercolor and journaling meditations.