Rotem Iram, Founder and CEO, At-Bay
"The truth is, I trust my people more than I trust myself. So I give them a lot of space to execute."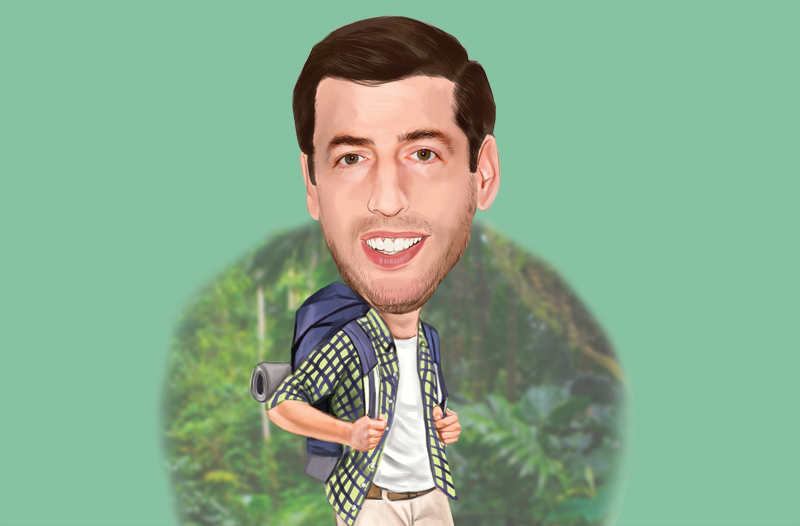 Q
You spent five years as a captain in an Israeli intelligence special unit that you compare to the U.S. National Security Agency. What can you tell us about that experience?
A
I was 18 when I entered, basically a kid. In a few short years, I was managing a pretty big unit, and I felt that I was playing a very important part in protecting my country. This sense of purpose, and living a mission-driven life, is something that has stayed with me since.
FAVORITE VACATION SPOT: "We just spent 10 days in the Canadian Rockies, and I could go back every year. Anywhere I go, if there is a mountain and beach, I'm happy."
FAVORITE MOVIE: John Wick ("I'm only half joking.")
FAVORITE ACTOR:
Ryan Reynolds ("I enjoy his sense of humor.")
FAVORITE MUSICIAN: Jack Johnson ("He's coming to Berkeley in a month. We're very excited.")
FAVORITE BOOK: Guns, Germs, and Steel by Jared Diamond ("As a young man, it helped me make sense of the world in a way that was missing earlier.")
FAVORITE PAOLO ALTO RESTAURANT: Ettan ("But I come from Tel Aviv, which has probably, next to New York, the best food you can get on the planet.")
FAVORITE DISH AT ETTAN: Passion fruit dessert
("In itself worth a visit.")
FAVORITE ISRAELI FOOD THAT YOU MISS THE MOST: Hummus ("The hummus here is very far from the original. I miss it a lot.")
Q
You also played semi-pro basketball in Israel. Tell me about that experience.
A
I still love the sport, probably too much for my own good. I wasn't good enough to make a career of it, but maybe that's actually a good thing. My youngest brother did turn pro, and by the time he was 32, he was already the old guy. There's nothing like sports to accelerate your perspective on getting older.
Q
You have traveled quite a bit, backpacked in East Africa and spent more than a year in South and Central America. Then you traveled the world working for McKinsey. What's the appeal of travel for you?
A
I'm a very curious person. I enjoy languages and cultures. And I love the outdoors. It is customary for Israelis leaving the military to take a few months off abroad, something akin to a gap year. But instead of doing a few months, I ended up doing multiple trips and spending more than a year. I picked up Spanish in the process.
Q
Tell me about the highlights of that year.
A
There are many, especially in Central America. My wife and I—we weren't married at the time—we went deep into the jungles without any guidance. We ran into pumas, tapir and wild boar, not to mention poisonous frogs and snakes. We went wreck diving in Honduras. And we spent a month in Cuba. The whole trip was just remarkable.
Q
You got your MBA at Harvard, and you said Harvard gave you the courage to be bold and ambitious. Tell me what you mean by that.
A
They instill in you a sense of ambition, that there needs to be a purpose for your life that is bigger than your own personal success. Harvard does a really good job at giving you the courage to expect more of yourself. I think that was invaluable.
Q
What's the most interesting thing in your office?
A
I have a Giannis Antetokounmpo bobblehead. I am a huge fan of this guy. He had an incredibly challenging starting point, but with grit and passion he has become the best player in the NBA. And he has not lost his humility.
Q
What three words would your co-workers use to describe your management style?
A
I would say I am analytical, caring and I delegate well. The truth is, I trust my people more than I trust myself. So I give them a lot of space to execute.
Q
If you could change one thing about the insurance industry, what would it be?
A
There is a startling lack of diversity in the insurance industry. It feels wrong. We focus intently on attracting the best talent from all walks of life, and by doing so we unlock the passion and motivation of our teams. We are building a company that truly looks like the world we want to live in.
Q
What gives you your leader's edge in this industry?
A
First, starting At-Bay from scratch, I have a blank page to work with, which is something every insurance executive dreams of. Second, I am a technology native, and we have built a technology company through and through. Having that amount of strong technical acumen—and a blank page—is incredibly powerful.