Rob Cohen, Chairman and CEO, IMA Financial Group
It's very complex, regulated business. Like everything in life, change happens only when the pain gets great enough.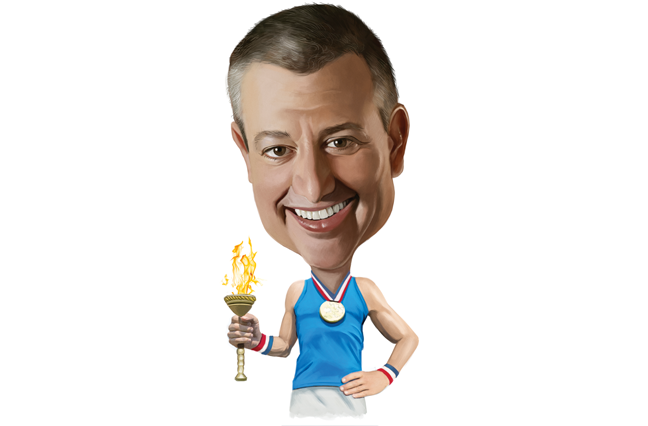 Q
You just became chairman of the CIAB board. What are three words that best describe The Council to you?
A
Advocacy, networking and relationships.
What's kept you in the business for so long?
If you're creative and innovative and work hard, you can succeed. At the same time, I want to have fun, and I enjoy the people I work with.
Your family has a history in the industry. Were you expected to follow?
A desire, but not an expectation. It's the same way I feel about my kids. I want them to do something they love.
What was it like growing up in Wichita, Kansas?
Wichita was a big enough town that it had everything I needed, yet it was small enough that it was a pretty tight community. I had a pretty carefree first 18 years of my life, other than the fact that my parents got divorced. I can't say I had much hoopla, but I didn't have much heartache.
Who were you heroes when you were growing up?
My grandfather and father—I looked up to them and admired them. Albert Einstein is somebody I always respected. And John F. Kennedy.
Why Einstein?
I've been enamored with Einstein since I was a young man—the more I've learned about him, the depth and intelligence he had, the patience, the fact that he figured out the theory of relativity but kept it to himself until he thought the public was ready for it.
Why JFK?
I think it was his presence and his power of communication, his ability to use humor, to be serious when he needed to be serious, to be authentically who he was.
What brought you to Denver?
A five-foot-four-inch blonde.
What do you like most about the city?
The combination of urban and the mountains is great. I wanted a career—that was important—but I love getting up into the mountains and hiking and camping and fishing and biking.
What does your perfect weekend look like?
Going to my ranch in the mountains. It's just outside Silverthorne, right on the Blue River.
Do you travel much for work?
Most of my work travel is domestic. I travel internationally because I'm on the U.S. Olympic Committee Foundation board.
How did that come about?
I started Denver Sports, which is the nonprofit organization that brings sporting events to Denver.
What events has Denver Sports brought to the city?
We've brought over 100 events in 15 years. The world fencing championship, the Final Four, college hockey's Frozen Four, the women's Final Four, the NBA All-Star game, the NHL All-Star game, the Major League Baseball All-Star game, the curling Olympic trials, the World Lacrosse Championship.
So what's the status of Denver's Olympic bid?
Right now Los Angeles is bidding on the 2024 summer games. Assuming they win, we will begin to look at 2030 or 2034.
What sports are you most passionate about?
I was a basketball player growing up, so that's my first love. I think sports is a microcosm for life. It teaches you teamwork. It teaches you hard work and perseverance and practice. It teaches you about hierarchy—there is a coach.
How would your co-workers describe your management style?
I think they would say I'm a team player that focuses on building consensus.
What is something your co-workers would be surprised to learn about you?
I rode a bull in college in a rodeo. How did that happen? Too much alcohol and being too gullible.
What is the best advice you ever got?
A word to the wise should be sufficient.
Who said that?
My father. I would bring him problems and expect him to solve them for me. At the end I would say, "What should I do?" He would say, "A word to the wise should be sufficient."
If you could change one thing about the industry, what would it be?
The use, adoption and forward thinking around technology. We are way, way, way behind the world.
Why do you think that's so?
It's a very complex, regulated business. Like everything in life, change happens only when the pain gets great enough.
Last question:
What gives you your leader's edge? My work ethic and my ability to convert strategy into action.
The Cohen File
Favorite movie: Gladiator. I like history. It's a lot about overcoming obstacles.
Favorite actor: John Belushi. I'm not sure he's a great actor, but he was funny as hell.
Favorite musician: James Taylor. Maybe Bruce Springsteen. Jackson Browne would be a close third.
Favorite book: Good To Great, by Jim Collins. It's a very practical book with analogies I use to this day.