Jörg Schmidt's Weinfelden, Switzerland
Good food, wonderful wine, breathtaking surroundings and great hospitality impress every visitor from all over the world.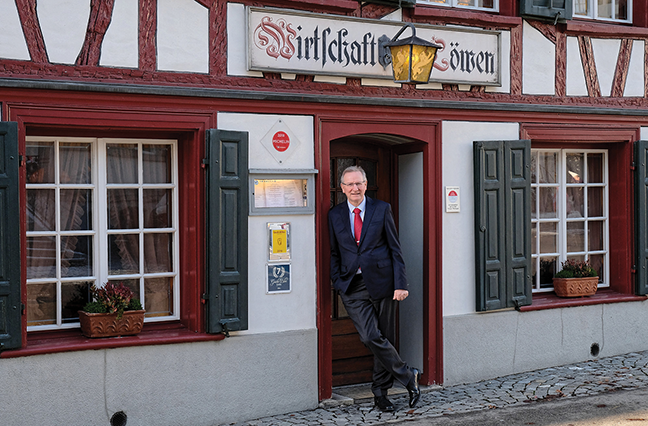 Jörg Schmidt, President of Schmidt Versicherungs Treuhand, shares his local favorites.
The scoop >> Weinfelden is situated about 40 miles northeast of Zurich, very close to the German border and Lake Constance. You can reach our little town by train or car from Zurich in about 50 minutes. About 15,000 people live here. Life is quiet and luckily not as hectic as in the larger cities of Switzerland. We speak Swiss German, which is a dialect of the German language.
What's to love >> It's worth spending a week in this part of Switzerland. Our area is a wonderful place with lots of little hills. Almost everything is within walking distance (my commute is only 10 minutes). Good food, wonderful wine, breathtaking surroundings and great hospitality impress every visitor from all over the world.
Cuisine >> Our cuisine is similar to the rest of Switzerland. A classic meal is roesti (like hash browns) with minced veal in a creamy sauce. Since Weinfelden lies in the heart of the Canton Thurgau, the main producer of apples and pears in Switzerland, many of our dishes contain this fruit. However, as small as we are, we have a large choice of restaurants, from Italian and Chinese to steakhouses and Thai.
Favorite restaurant >> Ristorante Pulcinella. The chef has run this Italian restaurant for more than 20 years and still provides the same great quality. Their pasta and all of the food on the menu is prepared in their own kitchen every day. My favorite dishes are scaloppine al limone or saltimbocca with risotto.
Stay >> The best hotel in the area is the Golf Panorama, a four-star-plus resort next to a wonderful golf course in Lipperswil. It is only a 10-minute drive from Weinfelden.
Wine >> Our vineyards grow mainly red grapes for Burgundy and Merlot, but they also produce Rieslings and Sauvignon blancs. The best wines are Wolfer Pinot Noir Grand Vin, Sequana (a rich red blend) and Sauvignon blanc; Schlossgut Bachtobel Pinot Noir No. 3 and Sauvignon blanc; Broger Weinbau Blauburgunder Weinfelden (classic Pinot noir); and Müller Thurgau (a fruity, mineral white).
Hiking >> Hike through the vineyards on the Wine Trail for wonderful views. You can see as far as the Swiss Alps. I would also suggest hiking (if you are in great shape) or taking the cable car up to the mountain Säntis, the highest mountain in northeastern Switzerland, an hour's drive from here.
Don't miss >> Lake Constance and the city of Constance. The city is located directly at the lake, and the old part of town is really worth visiting. The thing to do is rent a bicycle and ride on dedicated pathways around the lake.